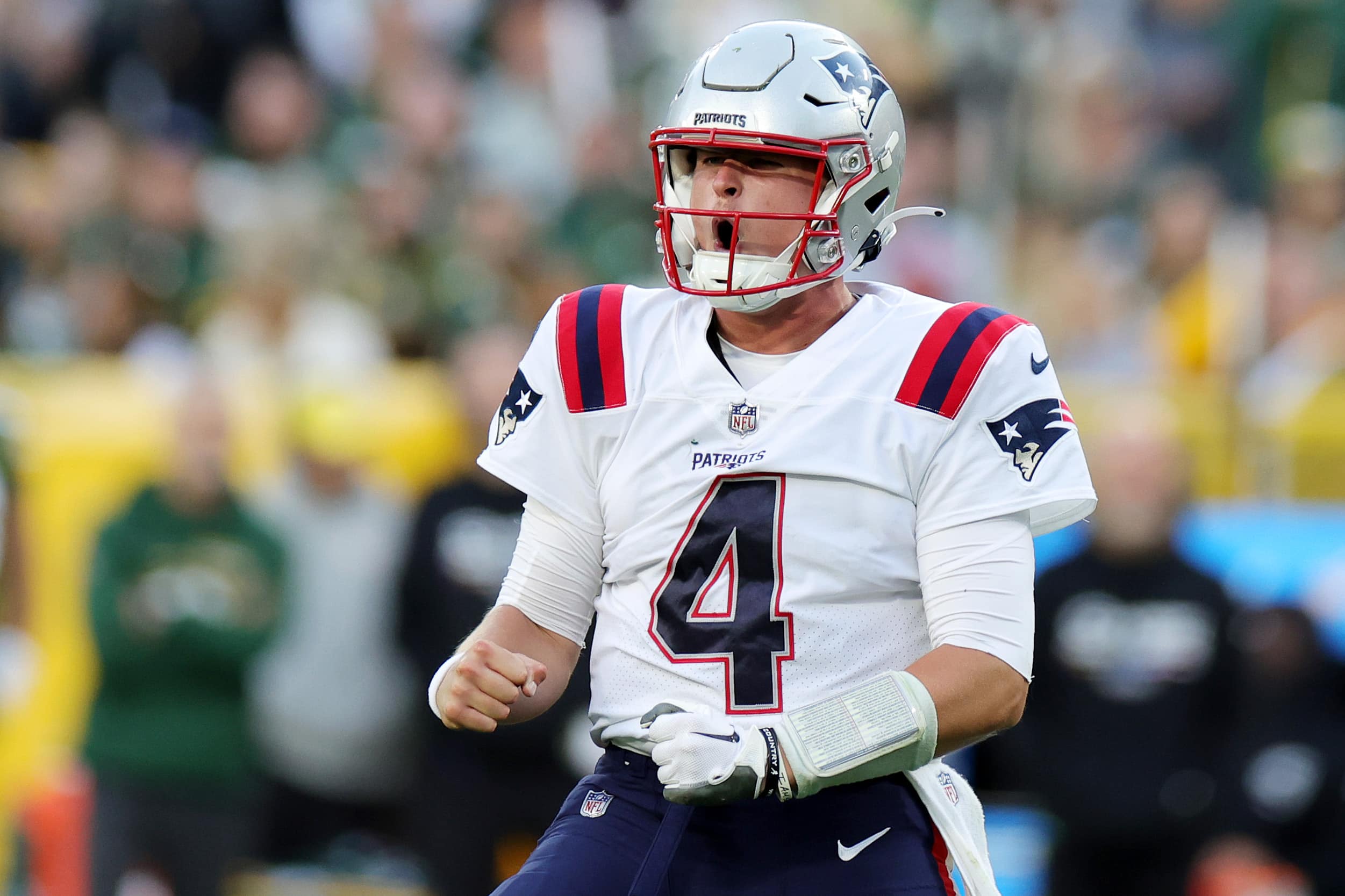 For Bailey Zappe, It's Not About Moral Victories
New England Patriots rookie quarterback Bailey Zappe played well Sunday but isn't interested in moral victories.
If there's ever an example of moral victories, rookie quarterback Bailey Zappe and the New England Patriots had one Sunday against the Green Bay Packers.
Already entering the game as a 9.5-point underdog with backup quarterback Brian Hoyer starting in place of the injured Mac Jones, the Patriots nearly pulled off the impossible. They took Aaron Rodgers and the Packers to overtime in front of an enthusiastic Lambeau Field crowd. For Zappe, who made his NFL debut after Hoyer got injured in the first quarter, there are no moral victories.
Bailey Zappe was thrown into the fire and more than held his own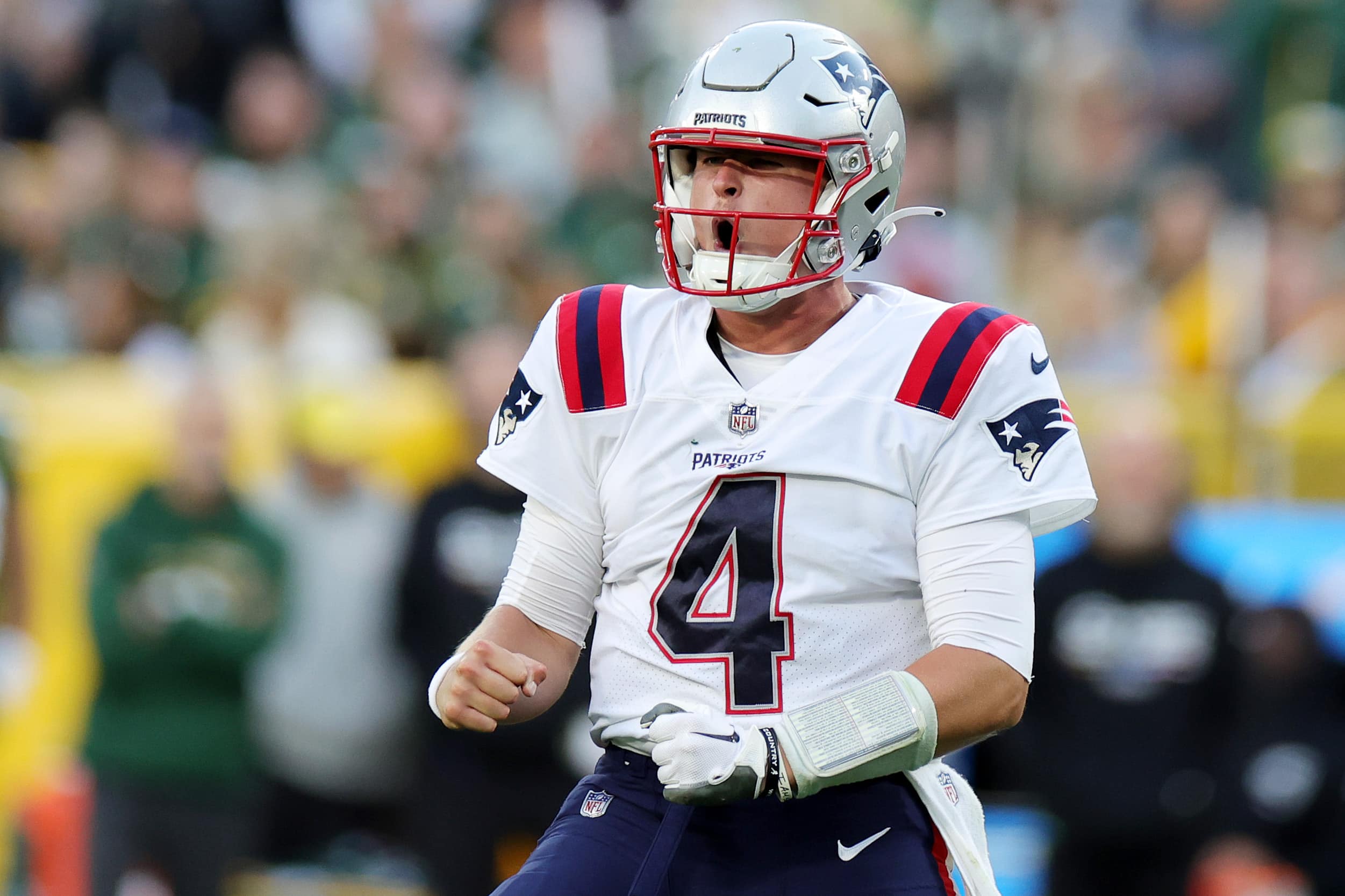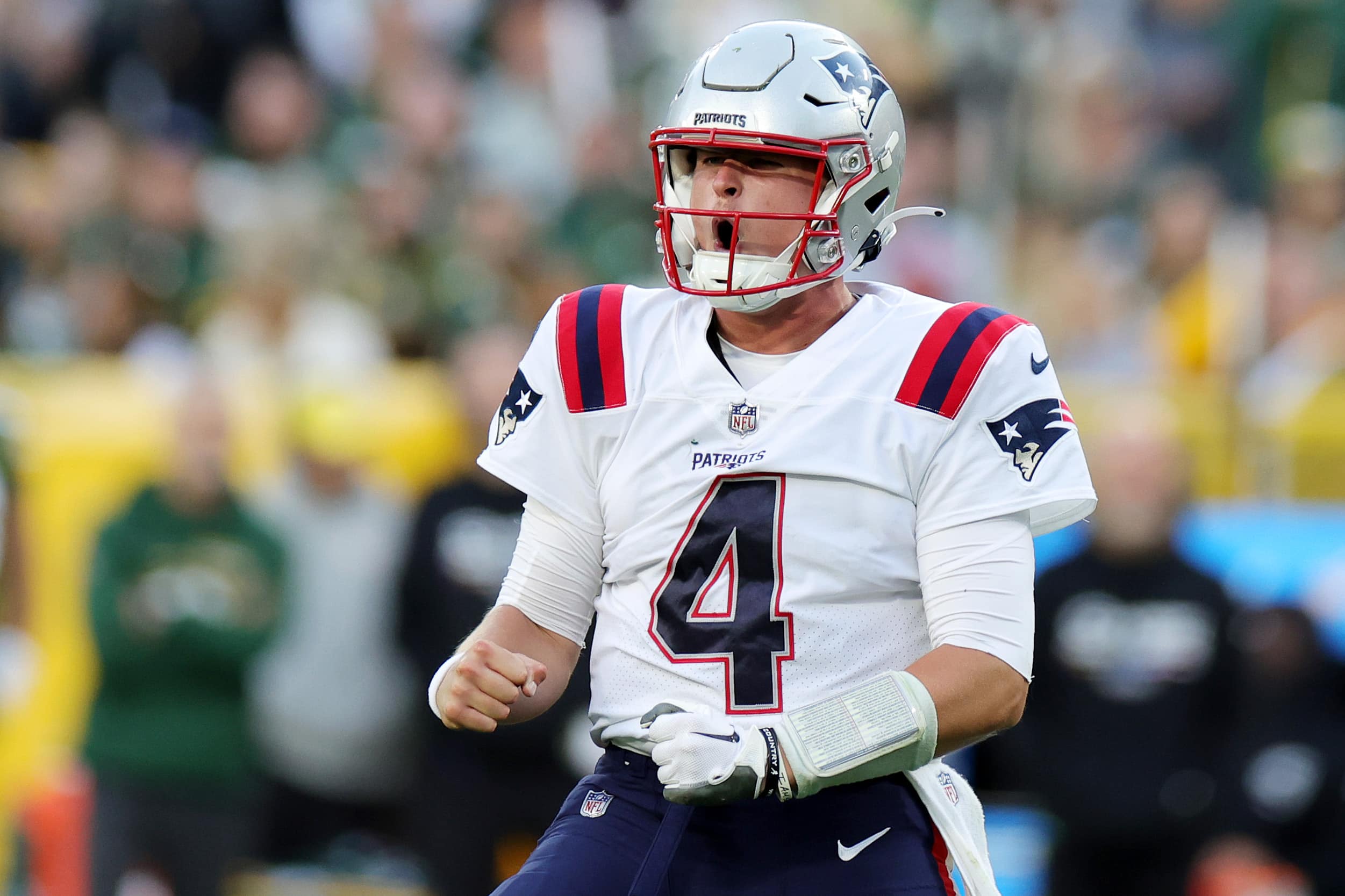 The Patriots elevated Zappe to backup quarterback for Sunday's game against the Packers. Jones was injured on the final series of New England's loss to the Baltimore Ravens and the team ruled him out for Week 4 on Friday.
The veteran Hoyer made the start at quarterback but was sacked in the opening quarter and went to the locker room with a head injury. He never returned.
That left Zappe, a rookie out of Western Kentucky, to make his unexpected debut. The fourth-round pick more than held his own in a game where he went against a four-time MVP in Rodgers on the road. The Patriots took the Pack to overtime, using a strong defense and solid running game, along with Zappe's 10-for-15 performance.
The Patriots didn't ask Zappe to carry the team, but he threw a go-ahead touchdown to DeVante Parker. Zappe stayed calm under pressure, lofting a 25-yard pass to Parker for the first touchdown pass thrown by a rookie quarterback this season. Zappe's touchdown pass gave New England a 17-14 lead with 4:52 left in the third quarter.
After the Packers tied the game with a late third-quarter field goal, Zappe and the Pats marched down the field and took the lead on a 5-yard Damien Harris touchdown run that put them ahead 24-17 with 11:14 left. Rodgers engineered a game-tying drive, and the Patriots eventually fell 27-24 in overtime.
For Zappe, there are no moral victories
The Packers sacked Zappe three times. He only threw for 99 yards, but he kept New England in a game they had no business being in.
Zappe earned the respect of his teammates, and he earned the right to start again should Jones be out for any length of time. The rookie admitted that facing Rodgers at Lambeau was "exciting," but he won't accept a moral victory as the Patriots fell to 1-3.
"Of course, it was exciting at first," Zappe told reporters after the game. "It was a dream come true to play in an NFL game. It's obviously not the outcome we wanted at all.
"First, I give credit to my teammates. They kept me calm, getting the nerves out of me. They kept me in my space, cool, calm, and collected. Everybody played well tonight. O-line played well tonight, we ran the ball well tonight. It really just comes down to me, I've got to make more plays, and the outcome is different."
Zappe will be back. He'll get another chance. He showed poise in a hostile environment, and this experience will only help him. That's not what he thought about after the game.
"Losing a game is always the worst thing," he said. "Everybody will look back and look at the things we could have done differently."
Zappe passed the test. It may not be the outcome he wanted, but he opened plenty of eyes Sunday.
Like Sportscasting on Facebook. Follow us on Twitter @sportscasting19 and subscribe to our YouTube channel.