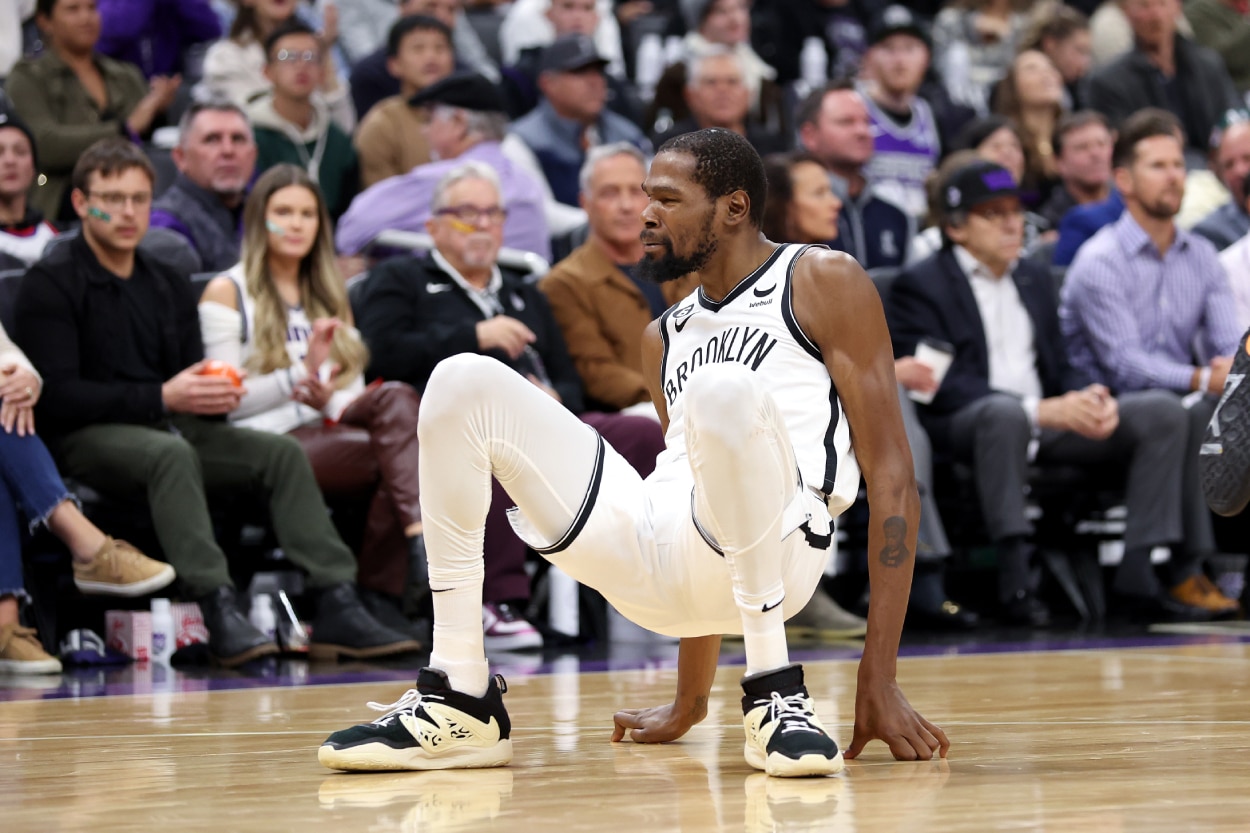 For Kevin Durant's Mount Rushmore of Small Forwards, 3 out of 4 Ain't Bad
Brooklyn Nets star Kevin Durant gave his opinion on the Mount Rushmore of all-time NBA small forwards.
In his 15th NBA season, Kevin Durant is still dominating. He's 34 years old and shows no signs of slowing down. Through 15 games this year, the Brooklyn Nets star is averaging 30.3 points.
Durant was even quick with his response when he was asked to name his Mount Rushmore of the NBA's all-time small forwards. His spot on the list was a given, so Durant was asked to add three others next to him. He rattled them off quickly, and two of them are legit.
Kevin Durant an easy choice for a spot on the Mount Rushmore of small forwards
At 6-foot-10, Durant has proven to be a tough matchup throughout his career. His versatility, ball-handling skills, and shooting touch make it a nightmare for defenders.
Durant led the league in scoring four seasons, and he's a 12-time NBA All-Star and has made All-NBA 10 times. During the 2013-14 season, Durant was named the league's MVP after leading the league in scoring at 32.0 points per game. He also pulled down 7.4 rebounds and dished out 5.5 assists.
In an interview with media personality Chris Henderson, Durant was put on the spot as Henderson asked him for his picks for the Mount Rushmore of small forwards to ever play in the NBA. Henderson told Durant he had to be on it, so he needed three others.
"You're on the Mount Rushmore," Henderson said. "I don't want you to be modest. You're on the Mount Rushmore, so who are the other three?"
Without much hesitation, Durant responded.
"LeBron, Kawhi, Larry Bird," Durant said.
Three out of four ain't bad for Durant's Mount Rushmore
It's Durant's list, but Durant, Bird, and LeBron are three players many would have no argument with. Kawhi Leonard is another story.
Leonard is a top-notch player, but he hasn't played more than 60 games in a season in six years. When healthy, he's one of the best two-way players in the business. The problem is he's never healthy.
In two of the last six years, Leonard hasn't played more than nine games in a season. This year, he's appeared in two games. There's no way Leonard can be one of the top four players ever at his position with that resume.
If we're going all-time, players like John Havlicek, Julius Erving, and Elgin Baylor are far more worthy of a spot on the list than Leonard. Scottie Pippen and Dominique Wilkins are also deserving. It's no knock on Leonard as a player. It's just that he's played more than 66 games in a season two times in his 10-year career.
Durant has his opinion, and we respect it. We'll agree with 75% of what he said.