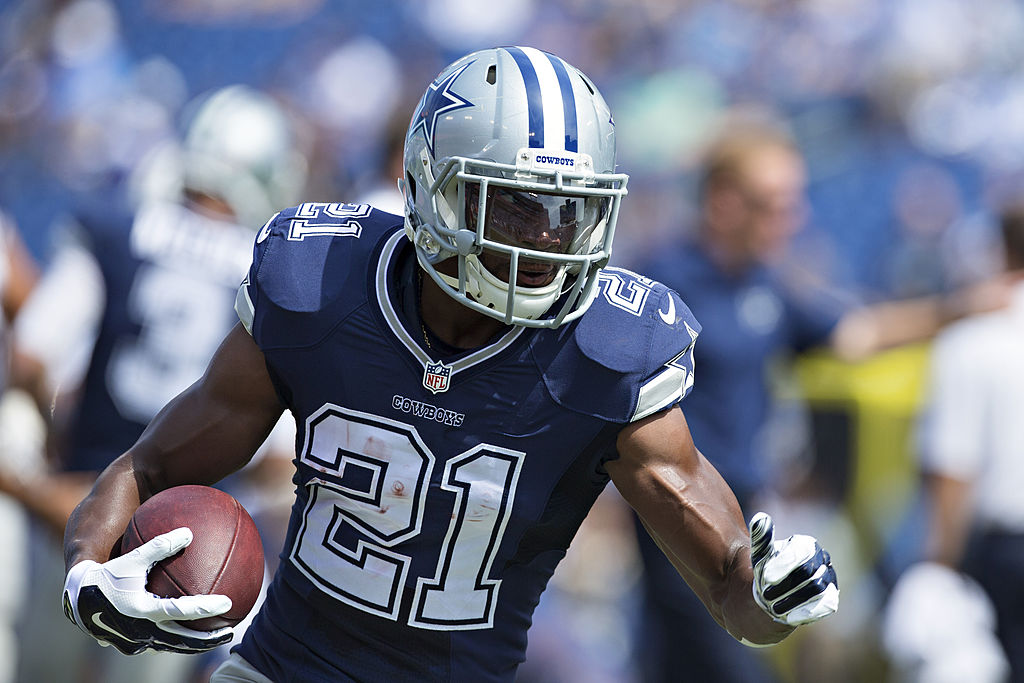 Former Dallas Cowboys RB Joseph Randle's Drastic Fall: From Stealing Underwear to Suspicion of Rape
Former Cowboys RB Joseph Randle was living large, but a series of arrests, followed by a rape accusation, turned his life upside down.
Joseph Randle had broken through for the Dallas Cowboys in 2013. He was just a rookie running back but managed to play in 13 games, starting a pair of them. In 2014, Randle played in all 16 of the Cowboys games, finishing with 343 rushing yards. By November of 2015, Randle had accumulated three arrests off the field, matching his career-high for touchdowns in a season, and was cut by the team. It's been all downhill ever since for the much-maligned Randle.
Joseph Randle's football career
Joseph Randle played his college football at Oklahoma State, playing three seasons for the Cowboys. In his sophomore season, he exploded onto the scene with 1,216 rushing yards and 24 touchdowns. He followed that up with another impressive season, accumulating 1,417 rushing yards and 14 touchdowns.
Randle was First-Team All-Big 12 in those two seasons at Oklahoma State. His 24 touchdowns in 2011 are the second-most in school history behind Barry Sanders' 37 during the 1989 season. His 1,417 rushing yards as a junior were tops in the Big 12 Conference.
After his junior year at Oklahoma State, Randle declared for the NFL draft. He was selected in the fifth round of the 2013 NFL draft by the Dallas Cowboys. He played in three seasons with the Cowboys, primarily as a backup. Randle finished his NFL career with nine touchdowns in 35 games. He finished with 822 yards. After a series of off-the-field problems, he was cut by the Cowboys.
Randle arrested in 2014 for attempting to steal underwear
In October of 2014, Randle was in the middle of one of his most productive seasons with the Dallas Cowboys. He averaged 6.7 yards per carry that season, his second in the NFL. In October of 2014, however, Randle was arrested for shoplifting, attempting to steal underwear and cologne from a department store in Texas.
Randle played out the rest of the season, but in July of 2015, he pleaded guilty to misdemeanor theft and was placed on probation. In February of 2015, police responded to a domestic case at a hotel where Randle was staying with the mother of his child. He was arrested on a marijuana charge, but there was no evidence of domestic abuse and the case was dropped.
In November of that same year, Randle was charged with two counts of disorderly conduct after becoming violent at a casino. the Cowboys released Randle after that charge. During that 2015 NFL season, Randle started all six games he played and was on his way to having a big season. He had four touchdowns and had carried the ball 76 times.
Troubles continue for Randle as he's arrested on suspicion of rape
In September of 2018, Joseph Randle hit an all-time low. Court documents state that on Sept. 6, 2018, Randle was charged with 12 different counts, including two counts of aggravated kidnapping, two counts of rape, seven counts of aggravated criminal sodomy, and one count of aggravated battery. A woman, who is the mother of Randle's son, said Randle "busted her lip and had been making her do sexual acts for the past three hours."
In February of 2019, Randle pleaded not guilty on the rape charges and the judge ordered a date of June 24 for the trial to begin. According to the Wichita Eagle, Randle appeared in court in February and vehemently denied the charges, yelling "She didn't tell me" and "She never said nothing. She never said no. So how am I supposed to know?"
Randle's June case was then put off so Randle could undergo a mental evaluation. According to TMZ Sports, a Kansas court was ordering Randle to take the evaluation to see if he could stand trial. If he didn't pass the evaluation, he will be placed in a state mental institution until he can "regain competency."