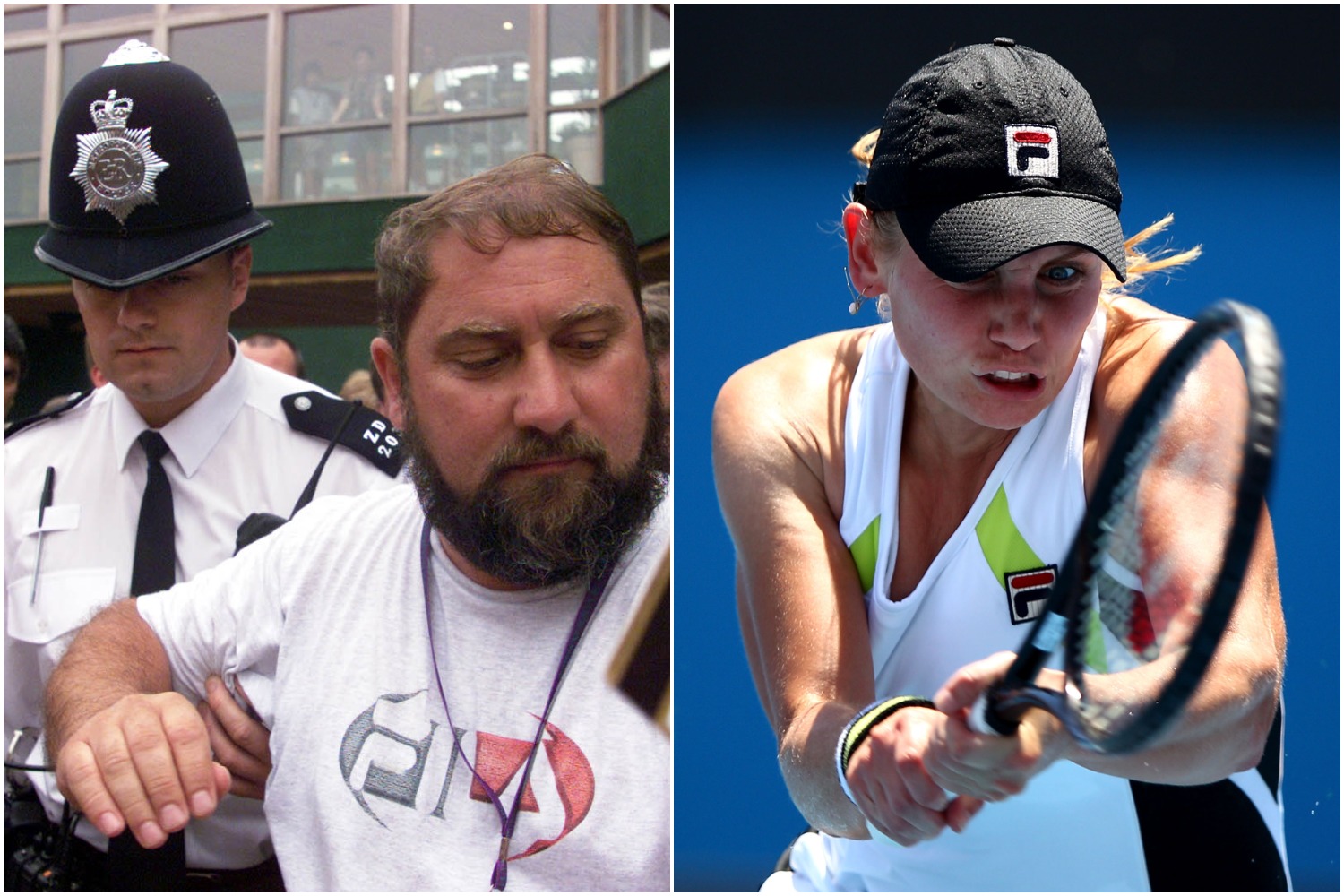 Jelena Dokic Was Beaten Unconscious By Her Own Father During a Tennis Career That Included Bizarre Incidents Involving Nazis and Salmon
Tennis legend Jelena Dokic finally cut ties with her abusive father, Damir Dokic, after bizarre incidents involving Nazis and salmon.
At 37 years old, Jelena Dokic no longer plays tennis professionally. But more than two decades ago, the Yugoslavian native started her journey to becoming one of the top players in the world.
During her athletic career, she received plenty of support (both wanted and unwanted) from her family. In fact, Damir Dokic served as his daughter's own coach.
Ultimately, though, the tennis star had to cut ties with her dad. Only it took some truly bizarre incidents involving Nazis and salmon for that to happen.
However, Jelena Dokic suffered more than just embarrassing moments as a result of her father's behavior. Because in her 2017 autobiography entitled Unbreakable, she alleged that her father physically and mentally abused her, too.
Jelena Dokic earned millions for her skills on the court
Shortly after her family emigrated to Australia from Serbia, Jelena Dokic played her first events on the International Tennis Federation (ITF) Circuit. Her junior career success set the stage for a breakout 1999 season.
At Wimbledon, Dokic shocked everyone by upsetting the No. 1 player in the world, Martina Hingis. At the time, the budding tennis pro only ranked 129th overall. But by year's end, she reached the No. 37 spot.
She continued to climb up the rankings over the ensuing years, peaking at No. 4 in August of 2002. Along the way, she racked up 348 wins and six titles as a singles player. And thanks to her skills on the court, Dokic also stuffed her bank account.
In total, she earned $4,481,044 in prize money.
Unfortunately for the talented tennis star, her athletic and financial success came at a price.
Bizarre incidents involving Nazis and salmon led to Damir Dokic getting the boot
Damir Dokic maintained a constant presence in his daughter's life. Considering Jelena Dokic starting traveling around the world to play pro tennis as a teenager, that made sense.
However, as spectators at her matches quickly discovered, Damir Dokic didn't behave like the other dads. In many cases, his outbursts captured more attention than what actually transpired on the court.
And it started from the get-go.
During a 1999 tournament in Birmingham, England, he got ejected for being drunk and calling officials "Nazis."
How did he respond to getting kicked out?
Damir Dokic blocked traffic by sitting in the road and got arrested.
His most embarrassing moment, however, came in 2000.
According to the New York Times, Jelena Dokic's father got barred from the U.S. Open after a series of confrontations. The United States Tennis Association banned the unruly coach/tennis dad after he cursed out a cook in the players' cafeteria. He also threw a plastic credential at a Women's Tennis Association official, shoved another official, and resisted security's attempts to remove him from the grounds.
So what was his issue with the menu?
In a scene somewhat reminiscent of Will Ferrell in Step Brothers, Damir Dokic had a big problem with a plate of salmon.
When line cook Mattie Jones served him a portion of fish priced at $12.50, Dokic cursed her out and called her "a cow." He apparently did not think he got his money's worth, which led to an altercation that ultimately resulted in him getting the boot.
Once the situation reached a breaking point, Jelena Dokic fired her father as her coach and hired Borna Bikic from Croatia as his replacement.
The former tennis star later accused her father of mental and physical abuse
Jelena Dokic spent a sizable chunk of her tennis career under her father's direction. While she excelled on the court, she also had to worry about what her dad did in the stands, or in one case, the cafeteria line.
In 2017, we learned more about the well-documented relationship between the former tennis star and her former coach.
And based on the accusations she made in her autobiography, Damir Dokic's salmon and Nazi incidents seem far less troublesome than what occurred outside of the public eye.
According to ESPN, Jelena Dokic alleged that her father beat her so badly after a first-round loss in a 2000 tournament that she lost consciousness. She also said Damir Dokic whipped her with a leather belt, spit in her face, and pulled her hair and ears for any number of reasons, including a "mediocre training session" or simply for being in "a bad mood."
The alleged abuse wasn't just physical.
"Not just the physical pain but the emotional [pain], that was the one what hurt me the most," she said in the book. "When you are 11, 12 years old and hear all those nasty things … that was more difficult for me."
All statistics courtesy of the Women's Tennis Association.