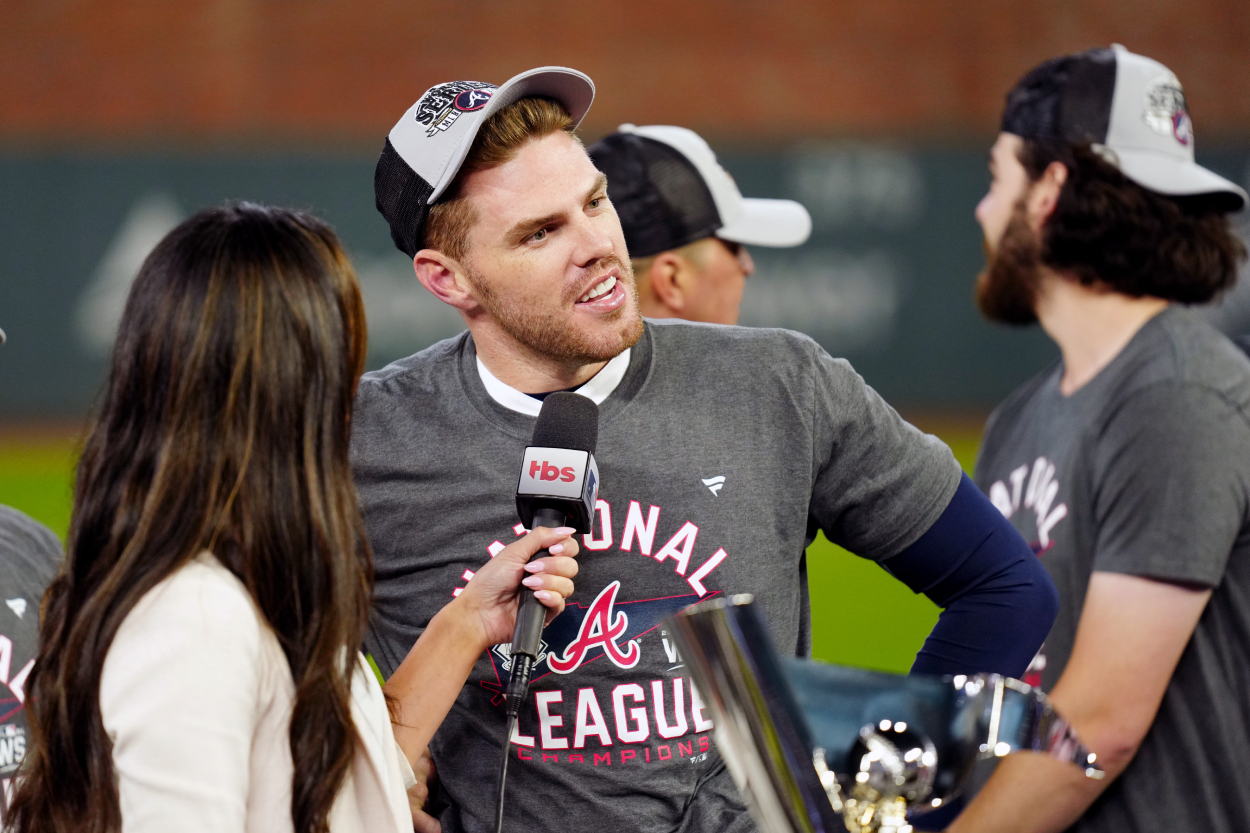 Freddie Freeman Has Always Had an Agenda in His Conversations With Opposing Players at First Base
Members of the Houston Astros might not want to speak with Freddie Freeman when they reach first base.
If you're a member of the Houston Astros and reach first base during the World Series, you might not want to engage in conversation with Atlanta Braves first baseman Freddie Freeman. By all accounts, Freeman is a nice guy, but he may not be that nice. The five-time MLB All-Star once said that when a runner reaches base, he'll talk him up, but it's more than just striking up a friendly conversation.
Freddie Freeman in the final year of his deal with the Atlanta Braves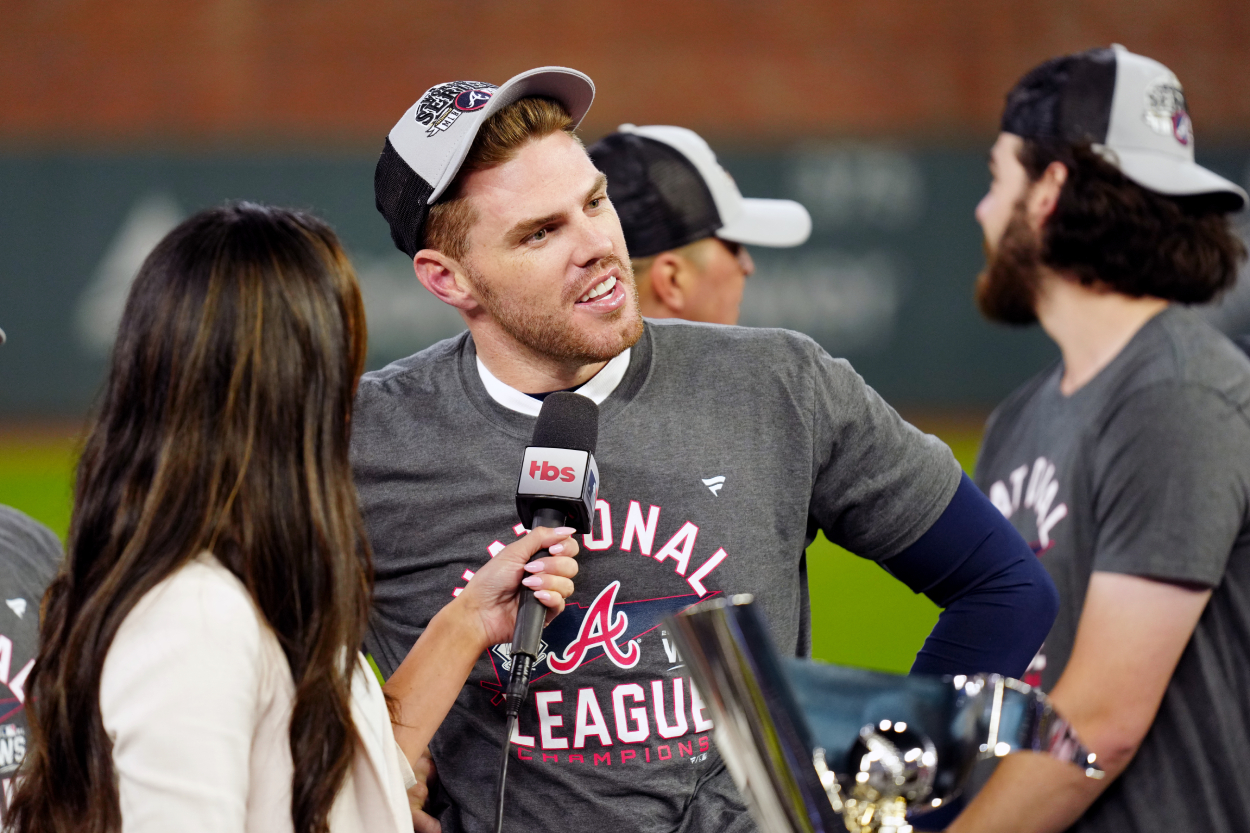 The Braves can't let Freeman walk, can they?
As the Braves prep for their World Series battle with the Astros, the decision on what to do with their first baseman has to be on the minds of their front-office folks. Will they pay their franchise player what he's worth?
Freeman is in the final year of the eight-year, $135 million extension he signed in 2014. His base salary this season is $22 million. He will be 32 years old next year, but he's playing at a high level. Freeman was the National League MVP in 2020, securing 28 of 30 first-place votes.
The 2020 season was cut short because of the pandemic. In 60 games, Freeman led the league in runs (51) and doubles (23). He also smacked 13 home runs, drove in 53 runs, and hit .341. This season, he was tops in runs scored (120) and hit .300 with 31 home runs in 159 games.
Last month, MLB insider John Heyman reported via Twitter that Freeman and the Braves weren't close to a deal and free agency was surprisingly a "strong possibility." According to USA Today, Freeman has hinted he doesn't want to leave the only team he's played for in the big leagues.
Freddie Freeman has always had an agenda when talking to players at first base
The Braves drafted Freeman out of El Modena High School (Orange, California) in the second round of the 2007 MLB Draft. He made his big league debut on Sept. 1, 2010, against the New York Mets. He became a full-time starter for the Braves the following season when he played in 157 games. Freeman finished second in the Rookie of the Year voting after hitting .282 with 21 home runs and 76 RBIs.
He made his first MLB All-Star appearance in 2013 and returned in 2014. That year, the team rewarded him with his eight-year extension worth $135 million.
It was in 2014 when Freeman sat down with Fox Sports Live and gave away a little secret. He is frequently seen at first base chirping with an opposing player, and he was asked what that topic of conversation usually is.
"Most of the time, I don't really talk about hitting," Freeman said. "I'm trying to get their mind off baseball, so I can pick them off.  If they do get a hit, I'll say 'nice hit' because getting a hit in the big leagues is very tough.  I try to talk to them, get their mind off it, and all of the sudden, they're thinking of something else. There's always a little agenda behind me talking to them."
Freeman could become the next Chipper Jones
If the Braves re-sign Freeman in the offseason, he'll look to become the next Chipper Jones.
Jones is a Braves icon who spent his entire 19-year MLB career with the Braves. He is beloved by Atlanta fans for what he did on the field during his time with the organization. He said he still has people thanking him for what he did.
"For three hours every night, people invited me into their homes," he once said on Marty Smith's America Podcast. "They turned on their TV, and I became a part of their family for two decades. I think that's the strong connection I have with Braves fans all over the country.
"It blows me away every time somebody says thank you. That's where you really get that feeling that you're a part of their family. When they say thank you, I'm thinking to myself, 'Man, all I did was play a damn kids game.'"
Right after he signed his eight-year extension with the Braves in 2014, Freeman said duplicating what Jones did would be special.
 "It would mean a lot," he said. "After this contract is up, it'd be 11 years for me, all with the Braves.  I'd be 32 years old at that time.  We'll see how I'm playing in eight years. You never know what would happen. I'd definitely love to be an Atlanta Brave for my entire career. They gave me the opportunity out of high school in 2007, and they've treated me with nothing but respect. They are a special organization."
Freeman has certainly lived up to his end of the bargain. It's now up to the Braves to make the next move.