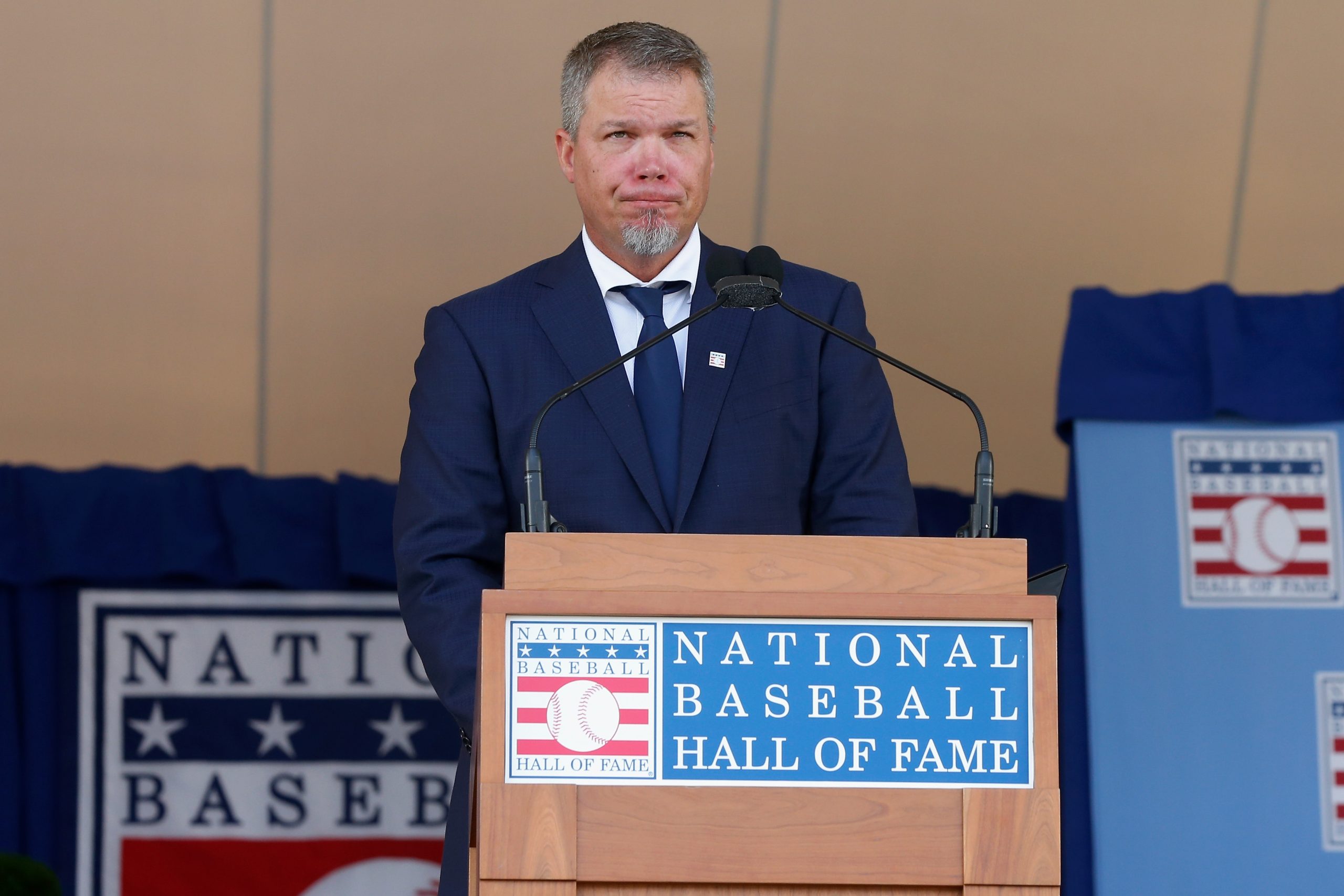 Chipper Jones Revealed 1 of the Most Intimidating Moments of His Life and the 2 Words Braves Fans Still Say to Him
Chipper Jones revealed one of the most intimidating moments of his life and the two words fans still say to him.
For nearly two decades, Chipper Jones was the face of the Atlanta Braves franchise. He remained with one team for 19 years, played in front of thousands of fans, won a World Series, and is a member of the Pro Baseball Hall of Fame. Despite the accolades and fandom, Jones recalled the most intimidating moment of his baseball career and the two-word message he still gets from fans.
Chipper Jones reached the World Series in his first full season with the Atlanta Braves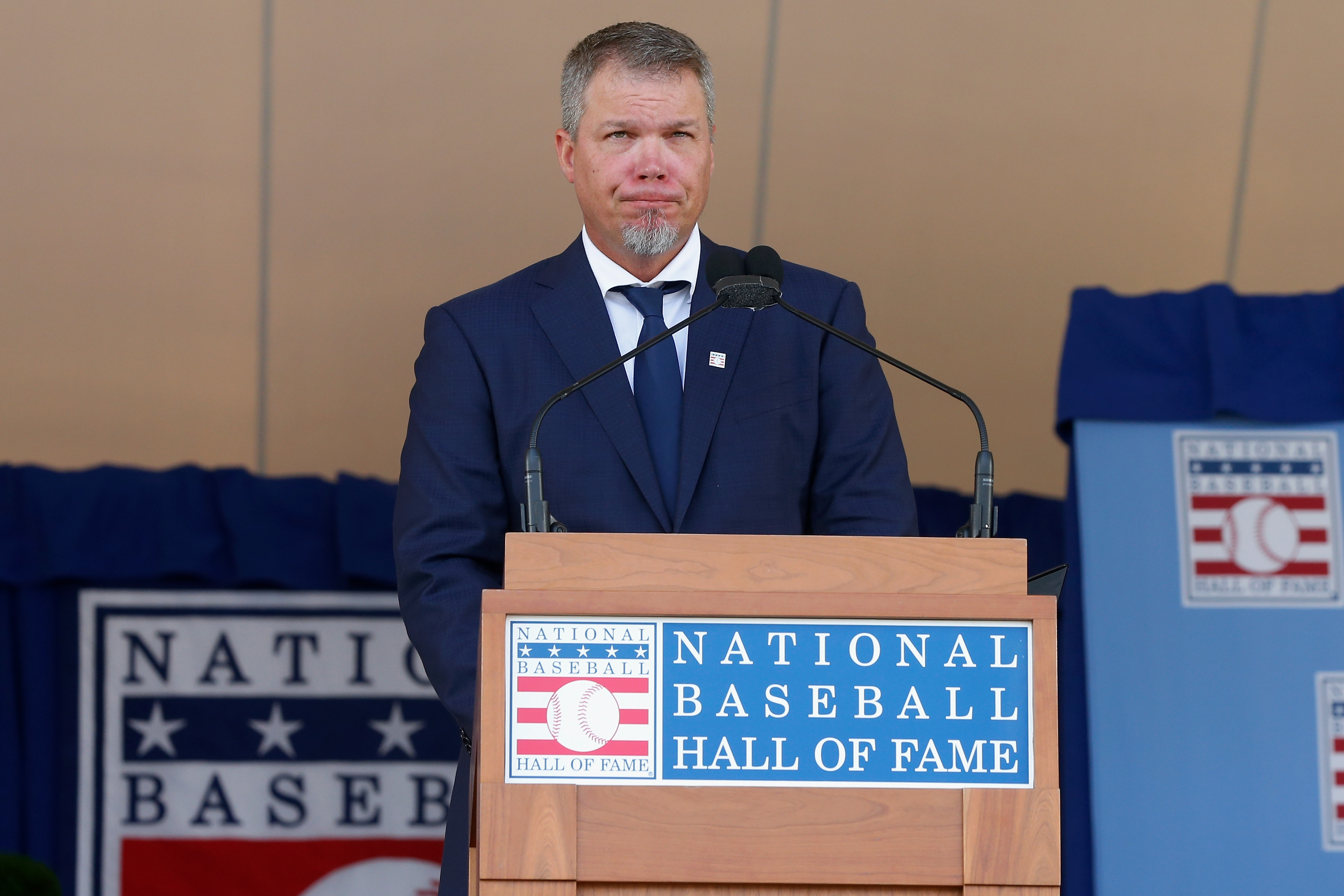 Jones was a hot-shot prospect at Bolles High School in Jacksonville, Florida. He passed on a baseball scholarship to the University of Miami, and the Braves made him the top pick in the 1990 MLB Draft. In September 1993, he made his big-league debut and appeared in eight games the remainder of the season.
Projected to crack the starting lineup in 1994, Jones tore his ACL during spring training and missed the entire season. In 1995, Jones settled in with the Braves, playing 140 games and leading all rookies in RBIs (86) and runs scored (87). He finished second to Los Angeles Dodgers pitcher Hideo Nomo in Rookie of the Year voting.
Jones played a major role in getting the Braves to the World Series in 1995 when they outlasted the Cleveland Indians in six games. He and the Braves returned to the World Series the following season but fell to the New York Yankees in six games.
Jones was named the National League MVP in 1999 when he hit .319 with 45 home runs and 110 RBIs. He's an eight-time MLB All-Star and led the league in hitting with a .364 batting average in 2008. He was inducted into the Pro Baseball Hall of Fame in 2018.
Chipper Jones revealed one of the most intimidating moments of his life
On the field, Jones was calm and cool. That wasn't always the case off it. More specifically, it wasn't the case when he had to address the crowd during his Hall of Fame speech in 2018. Shortly after the ceremony, he spoke about how "intimidating" and "frightening" that moment was.
"Probably one of the most intimidating, frightening moments of your life," Jones admitted on Marty Smith's America Podcast. "First and foremost, you don't want to forget anyone or leave anybody out. Secondly, for someone who doesn't speak professionally, we have trouble coming up with the words to properly describe things from time to time and our feelings on certain things.
"I guess that's why they gave us about six months to prepare. I think each guy did a pretty good job of celebrating their baseball career, but I think most of us will tell you when we got done, maybe we could've done it a little better. To be the face of the franchise and to be known as an Atlanta Brave for basically two decades, that's what I wanted to do, strike home the point what Braves' country means to me and what I mean to them.
"It was pretty nerve-wracking. I took a public-speaking class when I was in high school, but that took it to a whole new level. I was OK with the 40,000 people sitting in front of me, but the 60 (Hall of Famers) sitting behind me made me a little nervous."
Jones says he still gets a two-word message from Braves fans wherever he goes
Jones is a Braves icon. He always will be. The former all-star third baseman said he still hears it from fans whenever he's seen in public.
"For three hours every night, people invited me into their homes," he said. "They turned on their TV, and I became a part of their family for two decades. I think that's the strong connection I have with Braves fans all over the country."
What do those fans say to him?
"Thank you," Jones said. "It blows me away every time somebody says thank you. That's where you really get that feeling that you're a part of their family. When they say thank you, I'm thinking to myself, 'Man, all I did was play a damn kids game.'
"I wasn't really thinking about being in all those homes and being a part of all those families. My only response is, 'Brother, it was my pleasure.'"