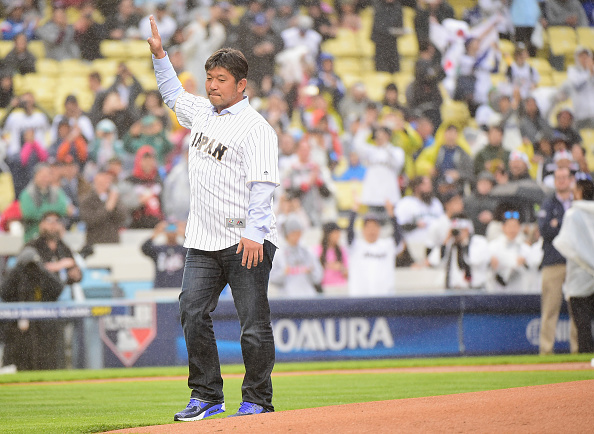 What Happened to Former MLB Pitcher Hideo Nomo?
Hideo Nomo pitched 12 seasons in MLB and threw two no-hitters.
Some baseball fans today may not be familiar with Hideo Nomo, but he was a well-known pitcher during his time in MLB. Before coming to the big leagues, he was a star pitcher in the Nippon Professional Baseball Organization, Japan's highest baseball level.
Nomo pitched in the United States for 12 seasons and had success for multiple teams. He was known for a slow windup that threw batters' timing off, and he was effective with every pitch.
But what's happened to him after his impressive career?
Hideo Nomo's MLB career
Hideo Nomo made his MLB debut with the Los Angeles Dodgers in 1995, and he didn't struggle at all in his first season. The right-hander finished with a 13-6 record, a 2.54 ERA, and 236 strikeouts, made the All-Star squad, and was named the National League Rookie of the Year.
People quickly learned about the rookie sensation taking the league by storm, and his success carried over beyond his first year. Though his 236 strikeouts as a rookie remained his career high, he finished with a winning record in each of his first three seasons with the Dodgers, going a combined 43-29.
Nomo only made one All-Star team but still had plenty of success throughout his career. He played for six different teams (the Dodgers, New York Mets, Milwaukee Brewers, Detroit Tigers, Boston Red Sox, Tampa Bay Devil Rays, and Kansas City Royals), including two stints with the Dodgers. He also won 16 games in three different seasons: 1996, 2002, and 2003.
Nomo's two no-hitters
Most notably, Hideo Nomo tossed two no-hitters during his career.
He was the first Japanese pitcher to throw a no-hitter in MLB. His first came with the Dodgers in 1996 when he struck out eight batters and walked four against the Colorado Rockies. His teammates mobbed him when he struck out the last batter.
His second no-hitter came as a member of the Boston Red Sox in 2001. Nomo faced off against the Baltimore Orioles and struck out 11 batters while only walking three. As he said afterward, per Baseball Almanac, "This was really something for me. I had command of my pitches and got into a rhythm as the game went on."
He remains one of only 35 players in MLB history with multiple no-hitters.
Hideo Nomo now
Hideo Nomo's last MLB appearance came with the Kansas City Royals in 2008. He finished his career with a 123-109 record, a 3.15 ERA, and 1,204 strikeouts. Not only is his career remembered in Japan, but he's part of the collective baseball consciousness thanks to his performance on the mound.
In 2014, Nomo was elected to the Japanese Baseball Hall of Fame, becoming the third player (Victor Starffin and Sadaharu Oh) selected in their first year of eligibility and the youngest player to join the club. The latter record was broken by Hideki Matsui four years later.
After his retirement, Nomo joined Japan's Orix Buffaloes in 2009, sometimes traveling with the team and working with the pitching staff. One year later, he became an adviser for the Hiroshima Carp before founding the Nomo Project, which was designed to help Japanese players grow accustomed to playing baseball in the United States.
Beginning in 2016, the right-hander also spent time with the San Diego Padres as an adviser for baseball operations whose goal was both to help the organization with player development — passing along knowledge of his splitter, for example — and to expand the club's international presence.