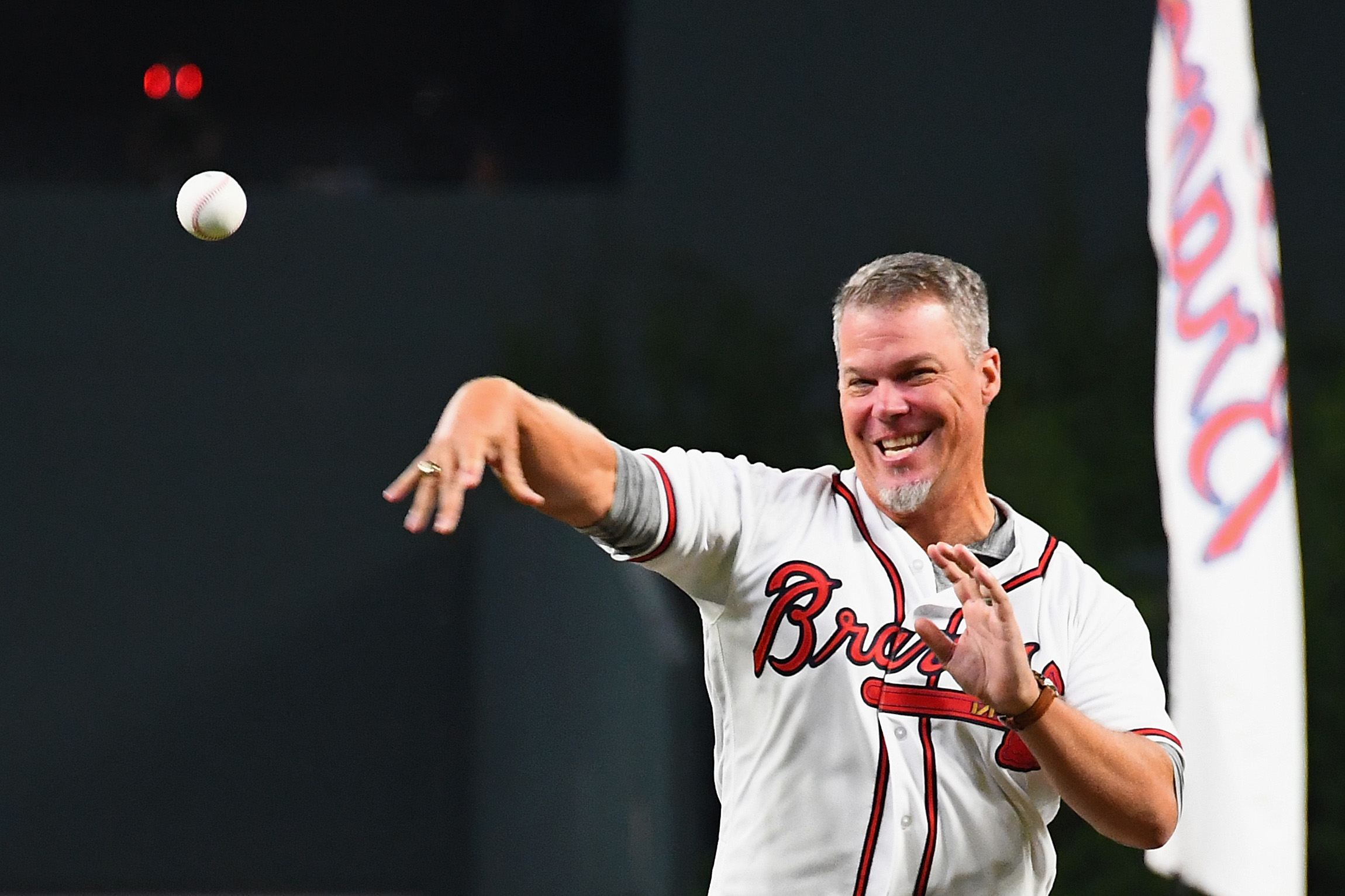 Dale Earnhardt Jr., Chipper Jones Talk Cheating in NASCAR and Baseball
Dale Earnhardt Jr. and Chipper Jones talked a little cheating on Junior's podcast.
Cheating goes on in all sports. Chipper Jones, the former Atlanta Braves star and MLB Hall of Famer, was an unlikely guest on Dale Earnhardt Jr.'s Dale Jr. Download podcast this week, and the topic was cheating in sports. It happens in NASCAR and has been a hot topic in baseball lately.
Major League Baseball has recently gone through an embarrassing stretch in which umpires have been constantly checking pitchers for using illegal substances. New York Yankees pitcher Gerrit Cole found himself in a tough spot in early June when he was confronted by a reporter who asked if he used the sticky substance Spider Tack. A flustered Cole said he didn't know how to answer that question.
Dale Earnhardt Jr. and Chipper Jones talk a little baseball and the recent MLB cheating issues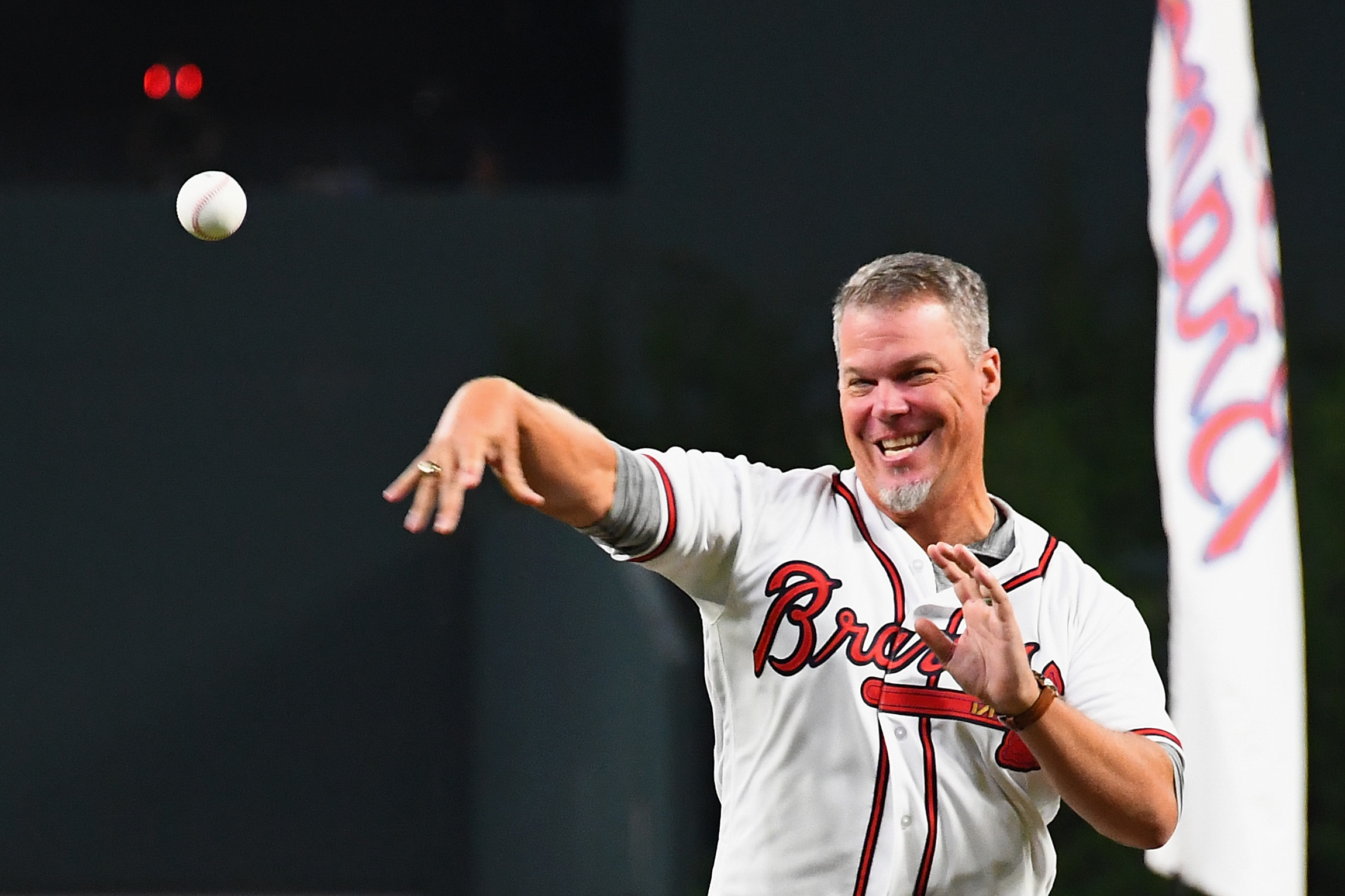 Although Earnhardt Jr. didn't really get into much of the NASCAR cheating, he did say that 99% of his podcast guests are usually NASCAR drivers. He told Jones that there's always a little behind-the-scenes talk about "innovation."
"Ninety-nine percent of the time we have racers in this room and we talk about innovation," Earnhardt Jr. said as he sat across from Jones on the Dale Jr. Download podcast set. "Some people call it cheating, but we call it innovation. We get some pretty good stories out of these guys about some of the things they've done to their race cars. There's a lot of rumors and conversations, particularly now, in baseball about what guys do to get an advantage."
Jones, who played in MLB's Steroid Era, kept much of the focus on today's game, particularly what's been going on with the pitchers and that Spider Tack.
"You have two substances that are allowed in baseball," Jones said. "Rosin, you see the rosin bag behind the mound, and you have pine tar. Pine tar is only allowed by the hitters. The hitters can use both rosin and pine tar. Dab a little pine tar on your bat, throw a little rosin on it to give it some substance, and then hit the pine tar again.
"Pitchers are only allowed rosin, which I never understood. I think we could take care of everything that's going on right now if Major League Baseball allowed pitchers to be able to use a finite bit of pine tar for grip."
Chipper Jones weighed in on Spider Tack
Throughout the last month, MLB has cracked down on pitchers using "foreign substances." Many pitchers believe rosin isn't enough for gripping the ball on those hot summer days. Some pitchers have gone beyond the rosin and have experimented with Spider Tack, a sticky substance upon which MLB is cracking down. A reporter asked Cole if he used it. Cole struggled to answer.
"I don't know if, uh … I don't quite know how to answer that, to be honest," Cole said.
Jones weighed in on Spider Tack.
"The stuff they're talking about right now is called Spider Tack," he told Earnhardt Jr. "You can literally rub the stuff on those two fingers and pick the ball up and have it hang off your two fingers. It's that sticky. I never put it on my fingers before. I needed a razor blade to scrape it off my fingers.
"This is a substance that Major League Baseball felt like they needed to curtail right away. For them to do it in the middle of the season and not at the beginning was a little bit curious."
Dale Earnhardt Jr. asked Jones what cheating he saw in his career
Spider Tack wasn't a thing back when Jones played, but there were always other ways of gaining an advantage. Performance-enhancing drugs were big in Jones' era, but he didn't touch that in the interview. He did mention Sammy Sosa getting caught when his bat exploded, shooting cork everywhere.
"Sammy Sosa got caught corking his bat," he said. "All you do is drill a hole in the top of your bat, and you stuff cork in it. You have a 35-inch bat that maybe weighs 33 ounces. That's a big bat in today's game. If you hollow out the middle and stuff cork in there, cork is a lighter substance than wood. Now you're making a 33-ounce bat a 31-and-a-half or 32-ounce bat. More bat speed.
Earnhardt Jr. asked who corks the bat?
"Oh, you gotta do that yourself," Jones said. "There's not a cork guy. I've never run into the cork guy."