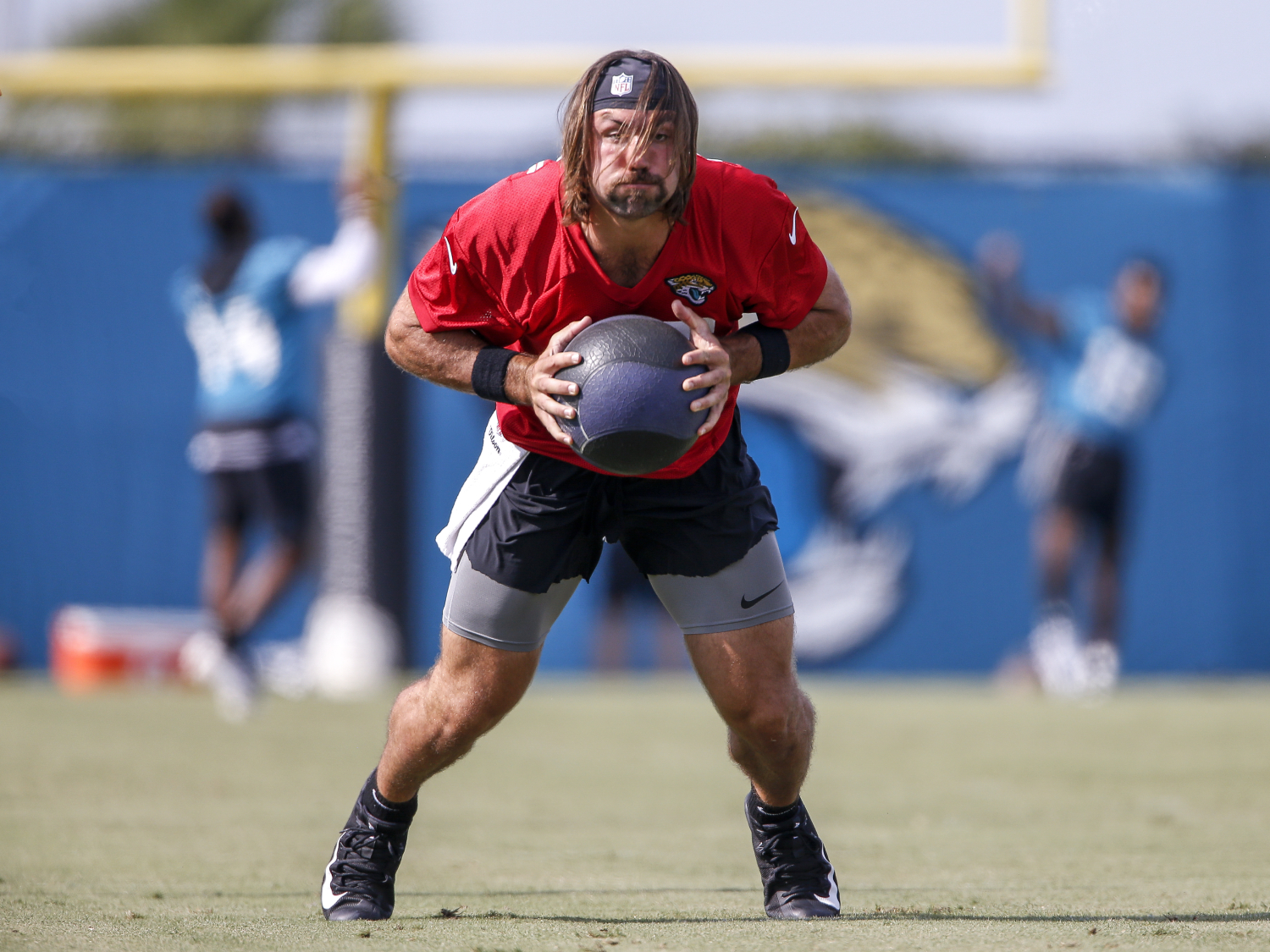 Gardner Minshew Hoping to Feed off Experienced Coaching Staff With Jaguars
Young Jacksonville Jaguars quarterback Gardner Minshew is hoping to feed off the team's experienced, offensive-minded coaching staff.
Jacksonville Jaguars quarterback Gardner Minshew might not have a whole lot of NFL experience just yet. His new coaching staff certainly does. Minshew, a sixth-round draft pick with just 12 NFL starts under his belt, hopes to feed off those coaches when the 2020 season kicks off next month.
Gardner Minshew's wild ride to the NFL
After beginning his college football career at Northwest Mississippi Community College in 2015, Gardner Minshew transferred to East Carolina in 2016. In his first year, Minshew played in seven games, starting two. The Pirates went 1-6 in games Minshew played.
In 2017, Minshew was putting up big numbers despite the team not having much success. He was splitting time as the starter at quarterback and in three consecutive starts, he threw for better than 350 yards. He collected 2,140 yards through the air and tossed 16 touchdown passes. In December of 2017, Minshew earned his bachelor's degree.
In 2018, Minshew enrolled at Washington State as a graduate student and was able to play immediately. As a graduate student, he didn't have to sit out a year after transferring. Playing under Mike Leach, an offensive-minded coach, Minshew went 11-2 as the starting quarterback and threw for 4,776 yards and 38 touchdowns. He was the Pac-12 Offensive Player of the Year. He was drafted in the sixth round of the 2019 NFL draft by the Jacksonville Jaguars.
Minshew becomes a fan favorite with the Jaguars
After being taken with the 178th pick in the 2019 NFL draft, not a whole lot was expected out of Garner Minshew, especially not in the first year. When newly signed free agent Nick Foles went down with a Week 1 injury, however, Minshew came in. He completed 22 of 25 passes and threw two touchdowns in a loss to the Kansas City Chiefs.
Minshew Mania took over in Jacksonville as the guy with the cool mustache went on to play 15 games, starting 12 of them. Foles returned to the starting role from his broken clavicle later in the season, but Minshew was reinserted as the starter as Foles struggled.
Minshew threw for 3,271 yards in 2019 and added 21 touchdown passes against six interceptions. He also showed his mobility by rushing for 344 yards. Minshew enters the 2020 season as the Jaguars clear-cut starter s Foles is now battling for a starting job with the Chicago Bears.
Big things expected from Minshew
It's Gardner Minshew's job to lose as quarterback for the Jacksonville Jaguars in 2020. He showed he can handle playing with the big boys of the NFL. He's also got a couple of offensive-minded former head coaches in the league to assist him. Jay Gruden, last year's head coach of the Washington Redskins, is his offensive coordinator, while Ben McAdoo, former head coach of the New York Giants, is his quarterbacks coach.
Offense shouldn't be a problem in Jacksonville. With Gruden, McAdoo, and Minshew all putting their heads together in the quarterback meetings, there should be no lack of creativity when it comes to moving the ball. Combine that with a year of experience under Minshew's belt and Jacksonville could put up some big numbers.
"We've got freaking mad scientists in there," Minshew said to jacksonville.com. "Eventually, we all get to the same point. It's fun with those conversations kind of talking through things. Both of them have so much experience. It's fun with those conversations talking through things. I'm appreciative of all the lessons they're teaching me."