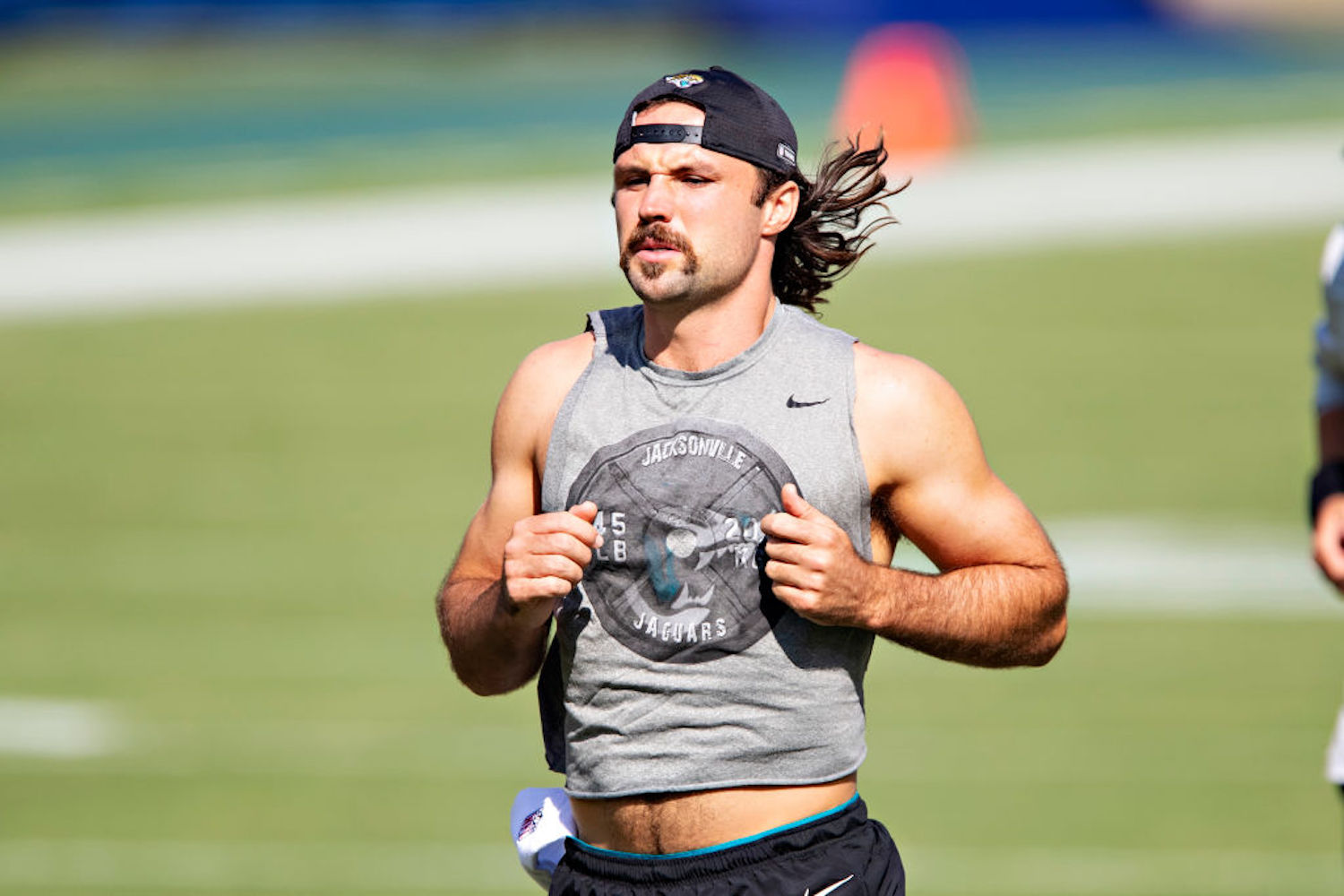 Gardner Minshew Was Almost Named Beowulf Until His Parents Decided Against It
Gardner Minshew is one of the most electric players in the NFL, but he could've been an even bigger fan-favorite as Beowulf Minshew.
It's almost impossible to believe Gardner Minshew II could be any more fascinating than he already is.
The most interesting man in the NFL, Minshew has captivated football fans across the globe with his late-game heroics and epic facial hair. The electrifying country boy has almost single-handily kept the Jacksonville Jaguars afloat after the front office sold away all the talent they had left. The only thing that would make Minshew's rise to stardom better is if his family went with his grandfather's idea for a first name — Beowulf.
Gardner Minshew is one of the most widely beloved quarterbacks in the NFL
Find us a football fan who hates Gardner Minshew and we'll show you a pig that can fly. Minshew is a walking underdog story, and he's quickly ascended to the top of the list of the most beloved NFL players.
Minshew walked on at Troy University in 2015 and eventually found his way to Mike Leach and Washington State. As a senior in 2018, he led the NCAA in pass attempts, pass completions, and passing yards per game. He finished the season second behind Dwayne Haskins in passing yards and fifth in passing touchdowns.
Minshew's stellar final season earned him a selection in the sixth round of the 2019 NFL draft. It didn't take long for Minshew to spring into the starting role in Jacksonville, and he performed rather well in year one.
He led the Jags to a 6-6 record last season, which was beyond impressive considering the roster around him. 'Minshew Mania' had officially begun, and NFL fans couldn't get enough.
Minshew was named after his father, Gardner Flint
If Minshew is the most interesting man in the NFL, his father has to be the most interesting NFL dad in the league. Gardner Flint Minshew I is a football guy through and through, and he might be able to handle himself on the field for a game or two. Minshew's father is so jacked that Minshew can't even keep up with him in the weight room.
He goes by Flint, but he is the first Gardner in the family. Minshew's parents named him after his father, but they almost named him something much more unique.
Minshew's family almost named him Beowulf
Before they decided on Gardner II, Minshew's parents had some pressure from his grandfather to name him after the Old English epic poem — Beowulf.
Beowulf is a Scandinavian tale about a warrior who travels the world slaying the most ferocious monsters and beasts. Almost like Minshew traveling the country slaying Lions, Bears, Vikings, and more. It would've been a perfect fit, but Minshew's parents eventually decided against it.
"That story's true," Minshew's father told Yahoo! Sports. "His grandfather wanted to name him that. But his grandfather didn't have to live with it every day. So it didn't happen."
As incredible as Beowulf Minshew would be, NFL fans are perfectly fine with Gardner for now. Either way, 'Minshew Mania' will live on forever, just as Beowulf the warrior has.