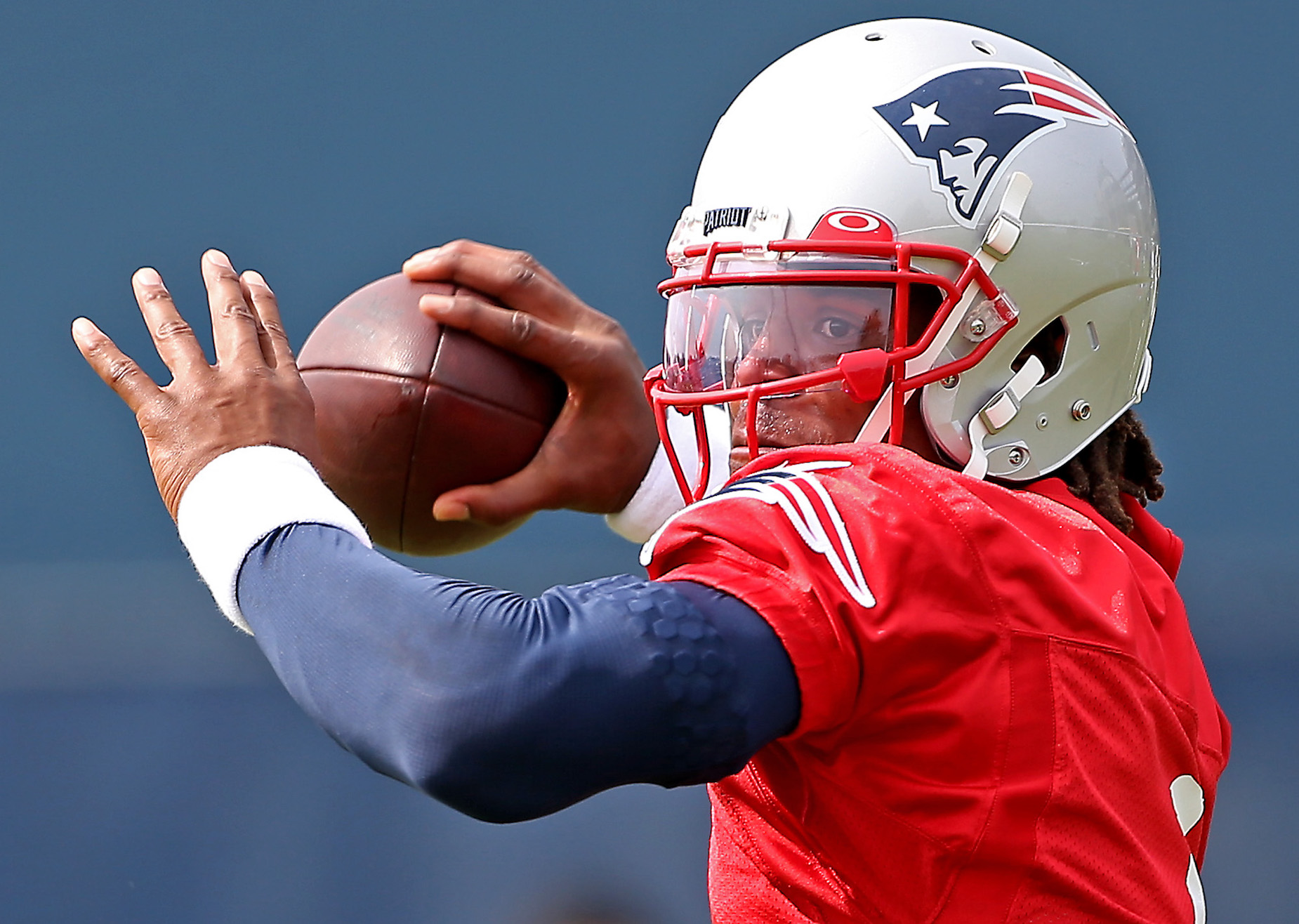 Shannon Sharpe Believes the Patriots Are Better Off With Cam Newton Than Tom Brady
Are the New England Patriots better off with Cam Newton than they'd be with Tom Brady? Shannon Sharpe thinks that's exactly the case.
For the past two decades, Tom Brady has been the physical embodiment of the New England Patriots. While you could argue that Bill Belichick was more important, the quarterback became the face of the franchise; as he grew from a scrawny rookie to a living legend, the Patriots also became a modern dynasty. As of 2020, however, Cam Newton has taken over under center.
While the former Carolina Panther has looked good during his first two games under Bill Belichick, Shannon Sharpe recently took things a step further. On a recent episode of Undisputed, he speculated that the Patriots are actually better off with Cam than they would be with Tom Brady.
Cam Newton and Tom Brady both took a spin on the quarterback carousel
Given their importance to a team's overall success, big-name quarterbacks don't usually hit the open market. 2020, however, bucked that trend.
While plenty of other signal-callers, like Philip Rivers and Teddy Bridgewater, changed teams, Tom Brady monopolized most of the headlines. After two decades in Foxborough, he decided to shake things up; the veteran quarterback, of course, packed his bags and headed south to join the Tampa Bay Buccaneers.
Faced with the options of surviving a season with Brian Hoyer or Jarrett Stidham under center, the Patriots also turned to the free-agent market and brought in Cam Newton. Thanks to his injury history, the quarterback came at an incredible bargain.
Shannon Sharpe believes that the Patriots are in a better place without Tom Brady
Given his history of success in New England, it seems almost blasphemous to suggest that the Patriots could be better off without Tom Brady. Shannon Sharpe, however, recently took that exact stance.
"Given where they are right now, I would say yes [the Patriots are better off with Cam Newton under center]," Sharpe said on a recent episode of Undisputed. "I don't think there's any question that Cam through the first two games has looked better than Tom Brady has."
Sharpe cited the improved performances of both N'Keal Harry and Julian Edelman as proof of his point. It is worth noting, though, that there are some mitigating factors; Harry is entering his second season with the club, and Edelman is healthier than he was last season. To Sharpe's credit, he did acknowledge those potential realities.
"This is what we know," he concluded. "These guys are playing better this year than what they played last year for Tom Brady."
Despite some iffy logic, Shannon Sharpe does have a point about Cam Newton
As you might expect from a televised sports debate show, Shannon Sharpe's logic isn't 100% water-tight. Despite that reality, though, he does make a valid point about Cam Newton.
It goes without saying that two games aren't a reliable sample size, especially given the unique challenges of the 2020 NFL season. For all we know, Newton and the Patriots could be running hot. On the other side of the equation, it's possible that Brady simply needs a bit more time to adjust to Bruce Arians' offense. There are also some additional complicating factors, like N'Keal Harry's extra year of NFL experience; for all we know, he would have taken a step forward independent of his quarterback.
Sharpe does deserve some credit, however, for pointing out that Newton has a unique skill set; he's simply capable of doing things that other quarterbacks can't.
"Cam can get out of harm's way, keep plays alive," Sharpe explained. "Tom normally had to stay on script. That's what he was. He was as good as we've ever seen going by the script. Cam can get off script." That ability might not be "better" than what Brady could do, but it does give New England's offense a different dimension. Whether it's a designed run or an improvised scramble to move the chains, there's some legitimate value to having a mobile quarterback.
Asking if the Patriots are better off with Cam Newton than Tom Brady is tough to answer right now; two weeks into the season, there isn't enough evidence to make a legitimate conclusion.
It does seem clear, however, that Cam Newton is still a talented quarterback with all of the physical tools to succeed. If you're going to move on from Tom Brady—and that day would have eventually arrived, no matter what—you could do worse than having him under center.