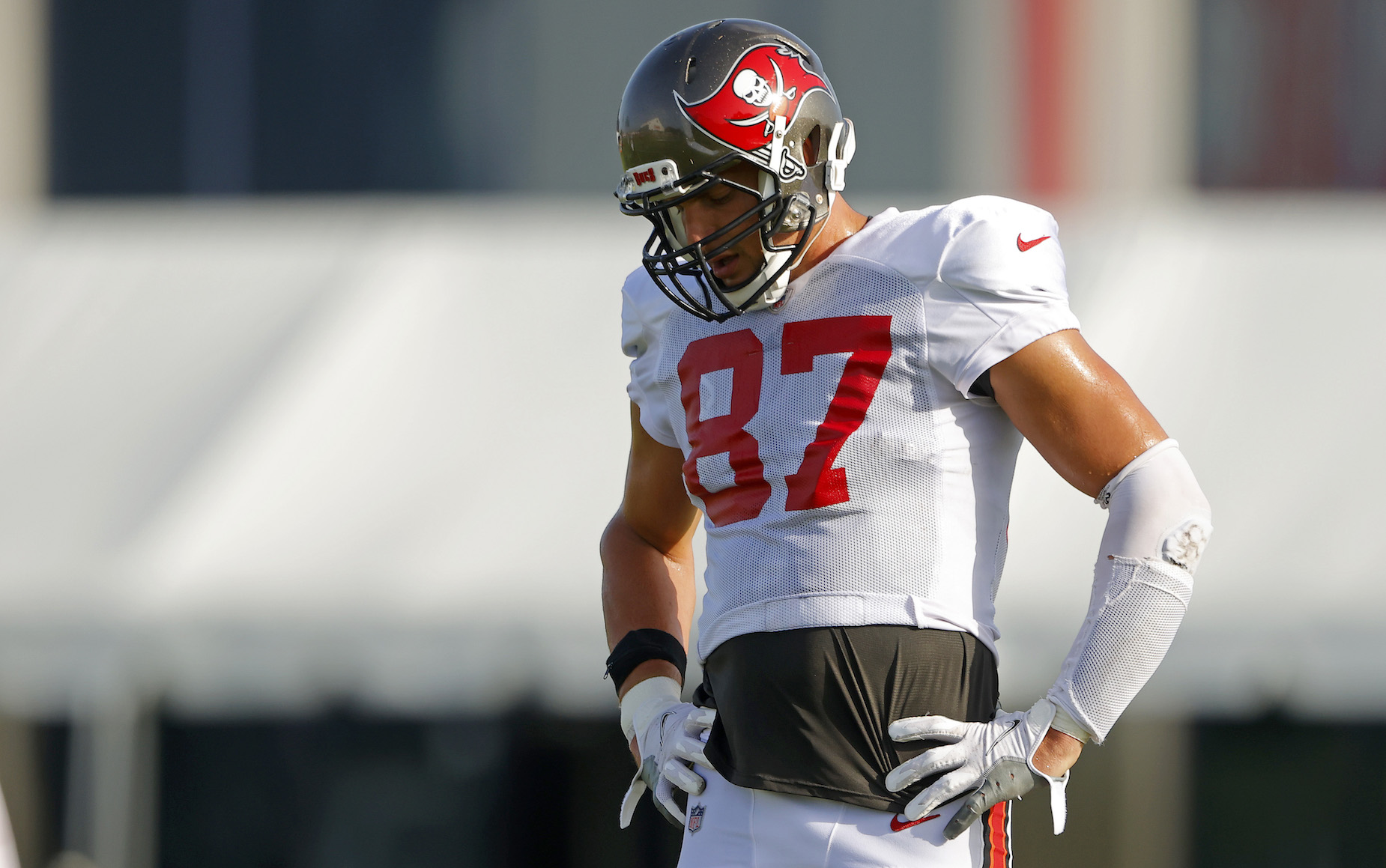 Bruce Arians' Explanation of Rob Gronkowski's Struggles Suggests There's an Even Bigger Problem in Tampa Bay
When Rob Gronkowski joined the Tampa Bay Buccaneers, he was supposed to make their offense unstoppable. Instead, he's barely made an impact.
During their time in New England, Tom Brady and Rob Gronkowski were a dynamic duo. Between the quarterback's feel for the game and the tight end's sheer size and freakish athleticism, things almost seemed unfair; when in doubt, throwing the ball to Gronk was never a bad idea. In Tampa Bay, though, things have unfolded a bit differently.
Through their first two games in Florida, Brady and Gronkowski haven't rekindled their old magic. Something's going on in Tampa Bay; as of now, though, it's not exactly clear what's wrong.
Rob Gronkowski retired, then came back to reunite with Tom Brady
In the modern NFL, tight ends aren't just big bodies brought in for short yardage plays; they're legitimate athletes capable of doing legitimate damage. During his time in New England, Rob Gronkowski was one of the best.
Despite falling asleep during a pre-draft visit, Gronk joined the Patriots as the 42nd-overall pick of the 2010 draft. Once in the NFL, the tight end proved that he belonged; he possessed the size and strength to outmuscle any opponent, but could also move like a wide receiver. It didn't take long for Tom Brady to identify the rookie's talent and put him to good use.
Gronkowski became a star in New England, piling up 521 catches for 7,861 yards and 79 touchdowns over nine seasons, but everything wasn't perfect. The big man suffered more than his share of injuries and, after the 2018 campaign, decided to retire.
While he had no problem keeping busy, Rob Gronkowski couldn't pass up the chance to play football in Florida. With Tom Brady joining the Buccaneers, Gronk came out of retirement; the Buccaneers acquired his rights, and the big tight end joined a stacked offense.
Bruce Arians explains Gronk's lack of production
Given his time away from the game and adjustment to a new offense, it would be understandable for Rob Gronkowski to get off to a slow start. No one, however, expected him to be this quiet.
Through the first two games of the 2020 season, Gronkowski has only been targeted four times; he's caught two of those passes for a grand total of 11 yards. While that might be a drag for those who drafted Gronk in fantasy football, Buccaneers' head coach Bruce Arians isn't too concerned about his tight end.
We're not throwing the ball 50 times to tight ends – that's what we have receivers for [and] that's the way our offense is built," Arians told reporters, according to WEEI. "Gronk's playing great run blocking in the fourth quarter, so I'm not concerned with his pass catches or his targets." He also explained that Tom Brady has license to make reads on offense, rather than feeling like he has to force-feed Gronkowski.
"Tom has the ball [and] he decides where it's going, so he's reading the defenses and he's taking whatever they're giving him," Arians continued. "We don't force passes to anybody."
Regardless of what Bruce Arians says, there's a bigger problem with Rob Gronkowski
While Bruce Arians gave his public explanation of Rob Gronkowski's struggles, there might be a bit more to the story. No matter what's really going on, it seems like there's a bigger issue.
During training camp, Arians told reporters that Gronkowski was "in New England shape" rather than "Florida shape" and fighting against Florida's mix of heat and humidity. While there are some complicating factors—Gronk's conditioning has surely improved since then, and the Buccaneers' first game took place indoors—those comments could suggest a potential complicating factor. No matter how fit the tight end is, he still spent a year away from pro football.
If Gronk is in game shape, that doesn't completely solve the issues. A $9 million asset is still being under-utilized, and, when push comes to shove, someone has to be responsible.
If Brady is in charge of making reads on offense, it seems strange that he would only target his tight end four times; even if Gronkowski isn't the player he once was, you'd think that the quarterback would still make some use of his partner in crime. That would seem to suggest the problem is Arians. He did say, after all, that his system isn't built around tight ends and OJ Howard has also had a quiet start to the season.
While there's something to be said for sticking to your guns and installing a system, the best coaches know how to adapt. If Bruce Arians brought in Tom Brady and Rob Gronkowski, only to use the former player as a glorified lineman, then it's simply bad asset management.
No matter what's going on in Tampa, though, the Rob Gronkowski situation doesn't seem ideal. Bruce Arians, however, didn't sound too concerned about it. Take that as you will.