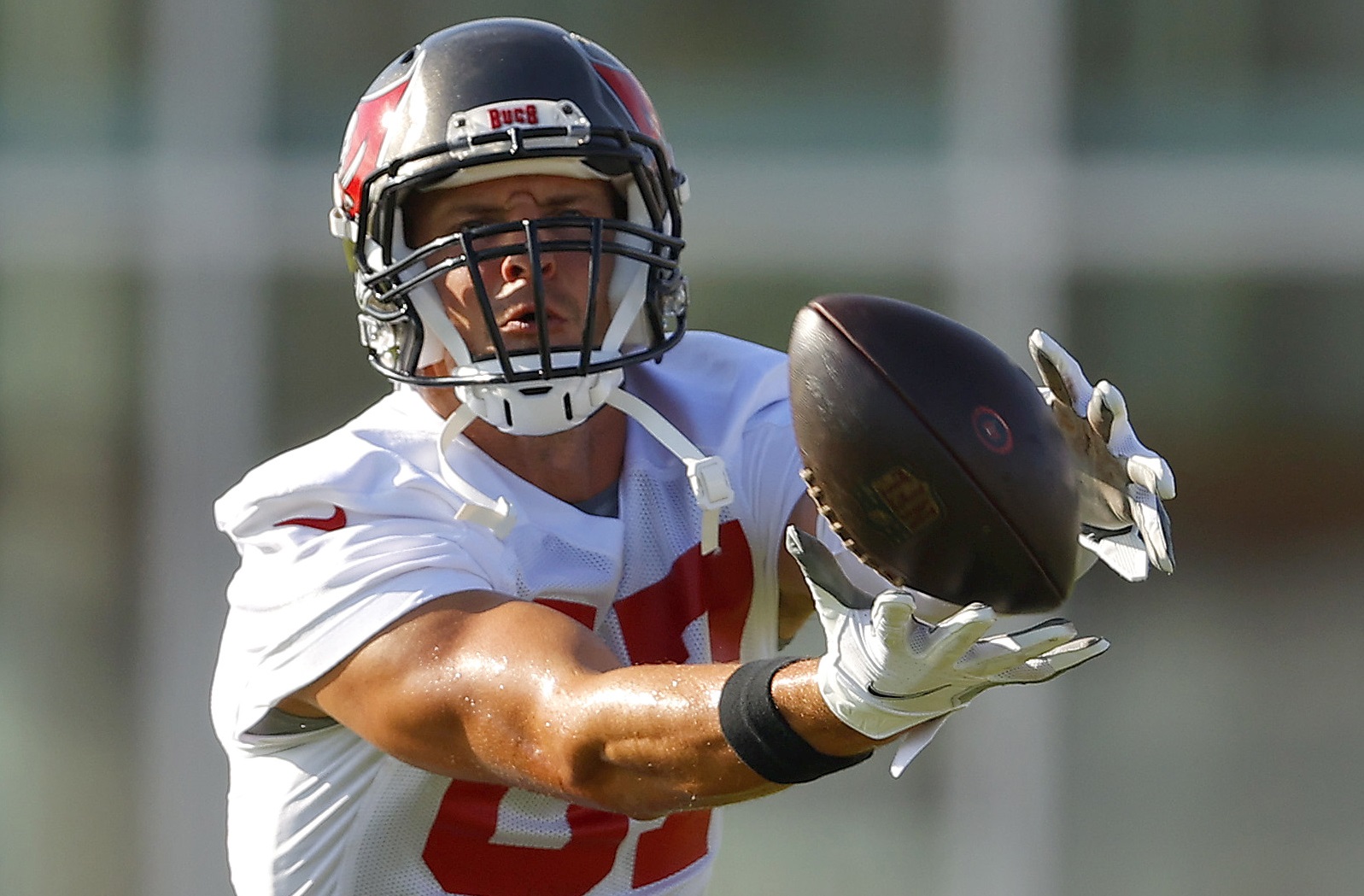 Rob Gronkowski Should Be Worrying the Buccaneers More Than He Is
Rob Gronkowski's injury history in his last few seasons with the New England Patriots suggests his return to the NFL could be a rough one.
Bruce Arians professes not to be worried about Rob Gronkowski struggling with the Florida heat in the early stages of Tampa Bay Buccaneers practice. It's not unreasonable for Arians to be giving the four-time, first-team All-Pro the benefit of the doubt regarding conditioning at this point in the preseason.
However, it might be time for the Buccaneers to acknowledge they should be lowering their expectations.
It's not the heat, it's the humidity
There's being in shape and then there's being in football shape. Rob Gronkowski undoubtedly took his conditioning work seriously once he made the decision in the offseason to return to the NFL after taking the 2019 season off. However, he has been sucking wind during the first week of official practices with the Tampa Bay Buccaneers. And coach Bruce Arians has noticed.
"He's probably in New England shape right now. He's not in Florida shape," Arians said, laughing. "The heat's kicking his ass pretty good. It's different, man. When you train in New England and come down here, it's different."
Still, Arians likes what he sees. "As far as playing a game, he's more than ready right now," the coach added.
Although Bill Belichick might disagree, Arians was speaking about a star player the way one might expect a good coach to come to his defense. Besides, Gronkowski probably will be 100% ready to go when the Buccaneers open against the New Orleans Saints on Sept. 13.
The real reason to worry about Rob Gronkowski
Rob Gronkowski returning to football after taking a year off is a great story. Tampa Bay Buccaneers fans were positively giddy over the prospect of the standout tight end reuniting with former New England Patriots quarterback Tom Brady, who signed as a free agent.
The problem is that playing football isn't like riding a bicycle. You do, in fact, forget how to do things. More importantly, perhaps Gronk forgot over the course of his sabbatical just how much of a beating that his body had taken.
He sustained a season-ending back injury in Week 12 of the 2016 season and required surgery. In 2017, Gronkowski left a Week 2 game with a groin injury and sat out in Week 5 with a thigh contusion. A concussion in the AFC championship resulted in him being cleared barely in time for Super Bowl 52.
In Super Bowl 53 following the 2018 season, Gronkowski took a hit resulting in a deep quad injury that was slow to heal.
"I got done with the game and I could barely walk," Gronkowski told ESPN. "I slept five minutes that night. I couldn't even think. I was in tears in my bed after a Super Bowl victory. It didn't make that much sense to me. And then, for four weeks, I couldn't even sleep for more than 20 minutes a night. I was like, 'Damn, this sucks.' It didn't feel good."
Rob Gronkowski isn't Tampa Bay's only option
The question regarding Rob Gronkowski boils down to whether the year away from the game is what he needed after a noticeable dropoff in performance in 2018. His 47 catches, 682 yards, and three touchdowns were all his lowest full-season totals since his rookie year. Tom Brady, the man throwing the ball, also experienced a dropoff – but much less significant.
It's telling that Tampa Bay held on to its two experienced tight ends even after acquiring Gronk from the New England Patriots. O.J. Howard has ripped off 15.5 yards per catch on 94 receptions in three seasons. Cameron Brate has 195 catches and 27 touchdowns over six seasons.
The Tampa Buccaneers are expected to use a lot of two tight-end sets this fall, so three reliable players at the position is a necessity. On the other hand, they are also blessed with exceptional wideouts who'll be the focus of the offense no matter how many or which tight ends are on the field.
Given Gronkowski's injury history in his later years with the New England Patriots, that is a good thing.