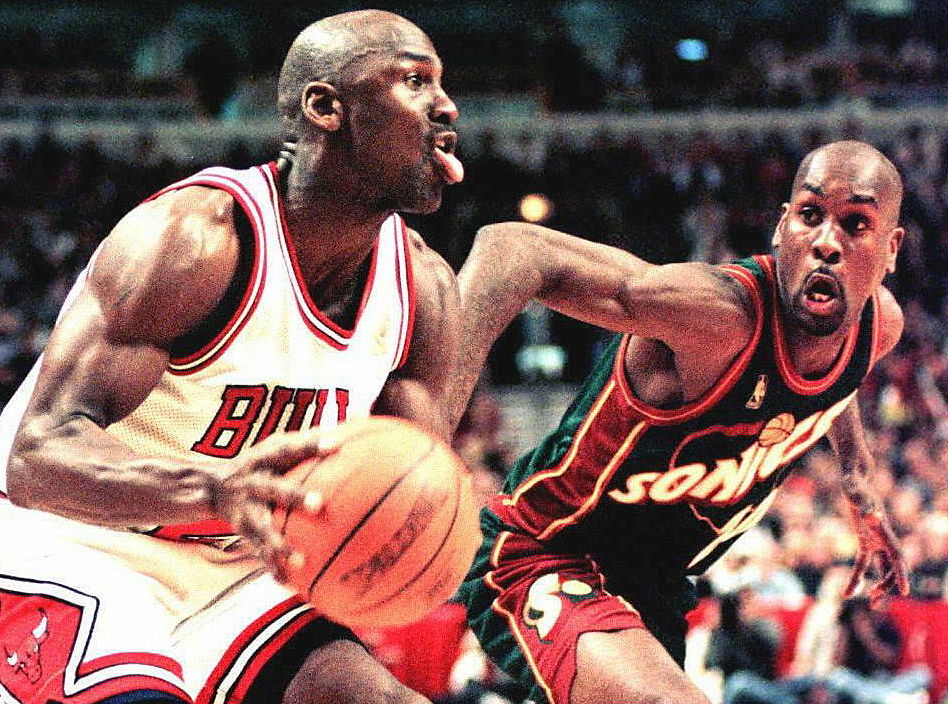 Gary Payton Didn't Think Michael Jordan Was the Toughest Player He Ever Guarded
Michael Jordan may be an all-time NBA great, but he wasn't even the toughest player Gary Payton had to guard.
Playing defense might not be flashy or fun, but it's a key part of NBA success. Gary Payton understood that reality. During his 17-year career, the guard established himself as an elite defender; when the Seattle SuperSonics went up against the Chicago Bulls, you knew who would be tasked with slowing Michael Jordan down.
Despite His Airness' obvious talents, Payton didn't believe he was the toughest man to guard. That honor actually went to another NBA star.
Gary Payton's impressive NBA career
During his time in high school, Gary Payton's basketball talent was obvious. His attitude, however, scared many college programs away; the guard was suspended for half a season due to bad grades, wore diamond earrings, and cut dollar signs and champagne glasses into his hair. Oregon State still took a chance on him, though. That move paid off in spades.
During his time with the Beavers, Payton's star continued to rise. He averaged 12.5 points and 7.5 assists per game as a freshman; during his senior year, that jumped to 25.7 points and 8.1 assists per outing, en route to consensus first-team All-American honors.
The Seattle SuperSonics selected Payton then selected Payton with the second overall pick in the 1990 NBA draft. While it took some time for the guard's offense to adjust to the professional game, The Glove soon emerged as one of the association's dominant point guards, capable of scoring, assisting, and playing lockdown defense with equal ease.
While he bounced around toward the end of his career—the guard was traded from Seattle to Milwaukee, before spending time with the Lakers, Celtics, Heat—that didn't diminish Payton's legacy. He averaged 16.3 points, 6.7 assists, and 1.8 steals per game over his 17 professional seasons, earning a reputation as an incredibly complete guard.
John Stockton was tougher to defend than Michael Jordan
During his NBA career, Gary Payton was tasked with locking down the opposition's marquee player. While that meant plenty of matchups with Michael Jordan, The Glove actually found it tougher to stop John Stockton than His Airness.
That may sound shocking at first blush, but Payton was also known for his trash talk. He claimed that he could get inside Jordan's head, but couldn't crack Stockton's resolve.
"Those battles [with Jordan] were a little easier," Payton told Marc J. Spears in 2013. "I would have Jordan get mad at me and go back at me. He knew he was really talented and could do whatever he wanted to. But [Stockton] was more of a challenge to me than guarding someone that would talk back to me. When you talk back to me and say something to me, it made my game go to another level. John was one who wouldn't say nothing, and you couldn't figure him out. He'd keep going in the pick and rolls, and he and Karl Malone would score a big bucket. At times I would guard Jordan and get him mad and into other things."
Gary Payton defended Michael Jordan as well as you possibly could
While it's easy to write Gary Payton's claims off as a mixture of braggadocio and rose-colored retrospection, he does seem to have a point. During the 1996 NBA Finals, The Glove defended Jordan as well as anyone could have.
Once the Bulls grabbed a commanding 3-0 lead in the series, Sonics head coach George Karl allowed Payton to guard Jordan; while Chicago still won the title, that move almost changed everything. Jordan averaged 31 points per game and shot 46 percent from the floor during the first three games. In games four, five, and six, however, he scored less than 24 points per outing and shot 36.7 percent, including an abysmal 11.3 percent on three-pointers. As Thomas Johnson of the Washington Post laid out, the Bulls still maintained a stylistic advantage, it's hard not to wonder what would have happened if Karl put The Glove on Jordan from the start.
Especially in the era of The Last Dance, it's hard to look at Michael Jordan as anything other than an unstoppable force of nature. Gary Payton, however, wasn't intimidated.