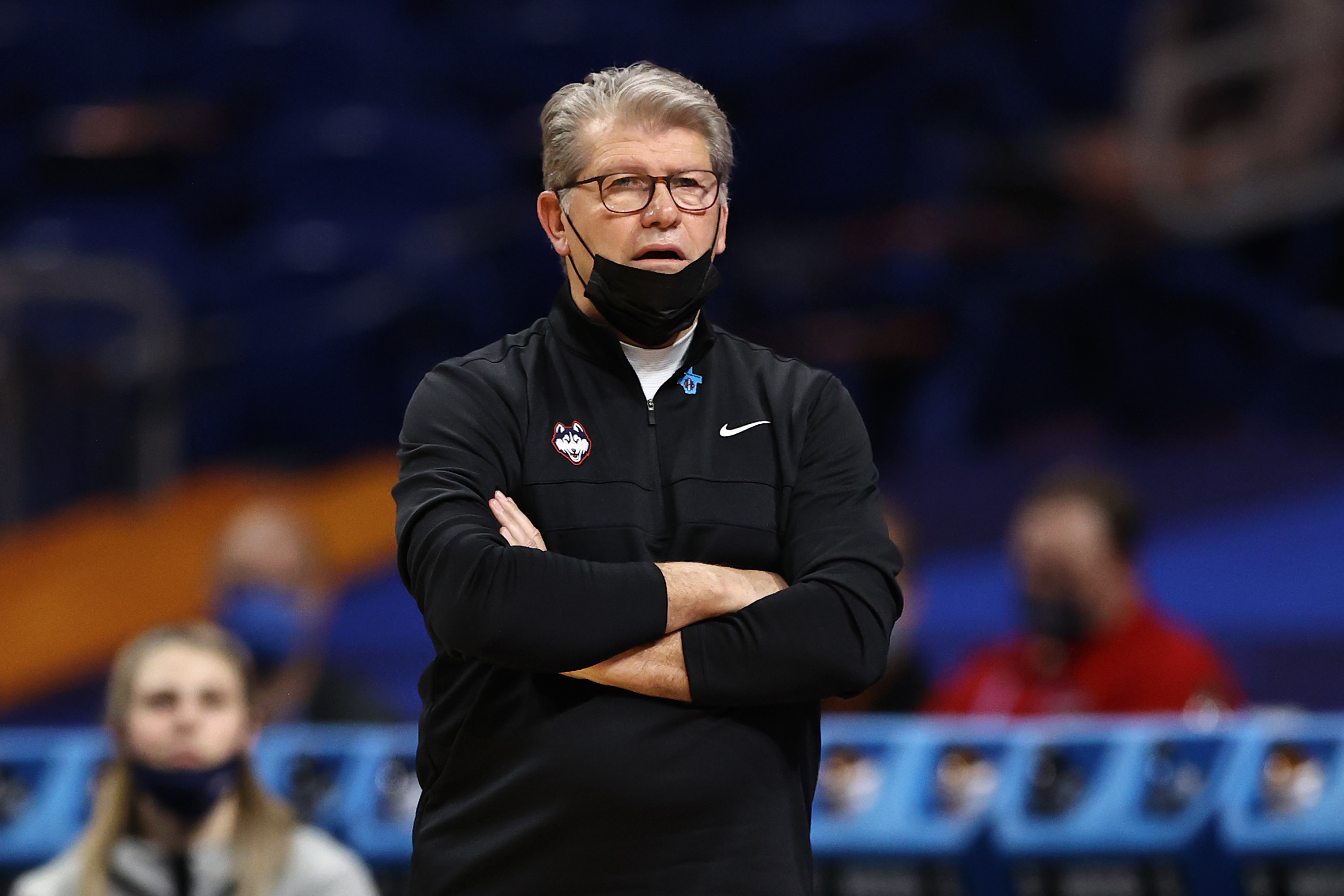 Geno Auriemma Doesn't Mince Words in Calling Out 'Immature' Connecticut Team and AP Player of Year Paige Bueckers
Geno Auriemma didn't hold back in criticizing his "immature" team, including star freshman Paige Bueckers.
In the span of 25 years, Geno Auriemma went from an unknown coach of an unproven team at the University of Connecticut to become the greatest coach of the best program in women's college basketball history, winning an incredible 11 NCAA Tournament titles during that time.
While the Huskies have made 13 consecutive Final Four appearances, the team hasn't won a title since 2016 — a considerable drought by Auriemma's standards. Following his team's latest defeat against the Arizona Wildcats in the Final Four semifinals, the 67-year-old head coach didn't mince words about his team and freshman star and Player of the Year Paige Bueckers.
Geno Auriemma and Connecticut advance to Final Four after controversial finish
In a battle to advance to the Final Four, Geno Auriemma and the Connecticut Huskies faced a familiar foe in the Baylor Bears during the Elite 8 of the 2021 NCAA Tournament. Many pundits suggested the matchup was a blunder by the selection committee, and Baylor was deserving of a No. 1 seed, which would have had the teams meeting in the Final Four.
It didn't happen that way. Instead, Baylor, which has won three titles since 2005 and was the team that snapped UConn's 98-game home winning streak in 2020, played even with the Huskies throughout much of the contest and led by 10 in the third quarter. 
Huskies freshman guard and Player of the Year Paige Bueckers scored 28 points and led the team back to a 69-67 win that included a controversial no-call when a pair of UConn players fouled Baylor's DiJonai Carrington in the final seconds, but referees swallowed their whistles. 
NBA superstar LeBron James, among others, took to Twitter after the no-call on UConn.
"Cmon, man!!! That was a foul!!" James tweeted. 
UConn upset fourth year in a row in Final Four semifinals
If there was ever a prototype situation for an emotional letdown after the Baylor win, Connecticut facing the Arizona Wildcats in the semifinal matchup of the Final Four fit that scenario. Geno Auriemma's team followed that script right out of the gates.
The No. 1-ranked Huskies fell behind from the opening tip to the No. 3-seeded Wildcats, making their first-ever Final Four appearance. Arizona guard Aari McDonald was the star for her team from the outset and led all scorers with 26 points. 
Bueckers finished with a rather pedestrian 18 points, two below her season average, on 5-of-13 shooting. The freshman's production was limited due in large part to a suffocating Arizona defense. According to ESPN Stats & Information research, UConn finished a pathetic 6-of-31 shooting on contested shots for the night. 
All of it combined for a 69-59 Arizona upset victory and another disappointment for Auriemma and his Huskies, who have now lost in four straight Final Four semifinals.  
Geno Auriemma calls out team and star Paige Bueckers for being immature
Not surprisingly, after coming so close to winning another title but falling short yet again, Geno Auriemma was understandably upset with his squad's performance and called out his team for the immaturity it's shown all season.
"You never know what's in a player's mind, or what's in a team's mind," Auriemma said. "I've said all along this year to those that have followed us: We have a very immature group. Not just young, a very immature group. When we're high and when we're on top of the world, we think everything's great. And when things don't go our way, there's a poutiness about us, there's a feeling sorry for ourselves about us that you don't win championships when you're like that unless you get lucky."
Auriemma also made a point to call out his star Bueckers. 
"As good as Paige was this year, and she carried our team through most of the season, that's not how you win championships, with one player having to do everything," he said. "She needs to get a lot better. As good as you all think she is, and she's really good, if we're going to be here the next couple years with her at Connecticut, she needs to get a lot better. I don't mean just on the court either."
If there's a coach who knows what it takes to get the most out of his players and win trophies, it's Geno Auriemma. And if that means stepping on a few toes along the way, so be it. He understands better than anyone that championships have a funny way of erasing any hurt feelings.