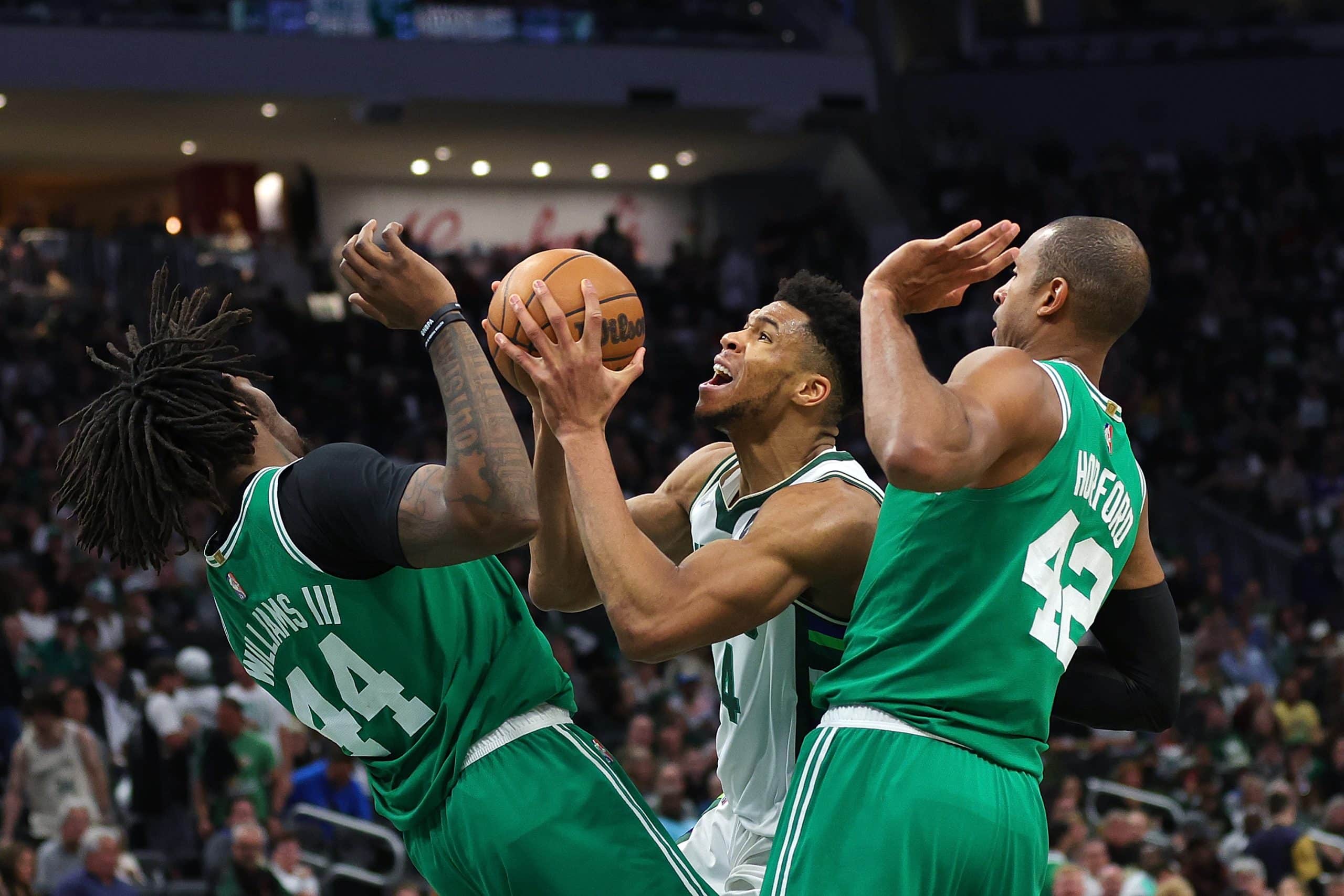 Giannis Antetokounmpo Was Funny in His Press Conference, but Why Is He Questioning the Refs?
Giannis Antetokounmpo thought better about making a comment about the officiating after Game 3, but what exactly would his beef be?
Much of the storyline from Game 3 of the Boston Celtics vs. Milwaukee Bucks series centered around the officiating. Players and coaches from both sides fielded calls on the referees when the Bucks took a 2-1 series lead after Saturday's thrilling 103-101 victory.
Bucks star Giannis Antetokounmpo stole the show with 42 points and 12 rebounds. He also stole the postgame press conference with a little humorous jab at the officiating, leaving many to wonder what his issue was with the zebras.
Giannis Antetokounmpo was the best player on the court in Game 3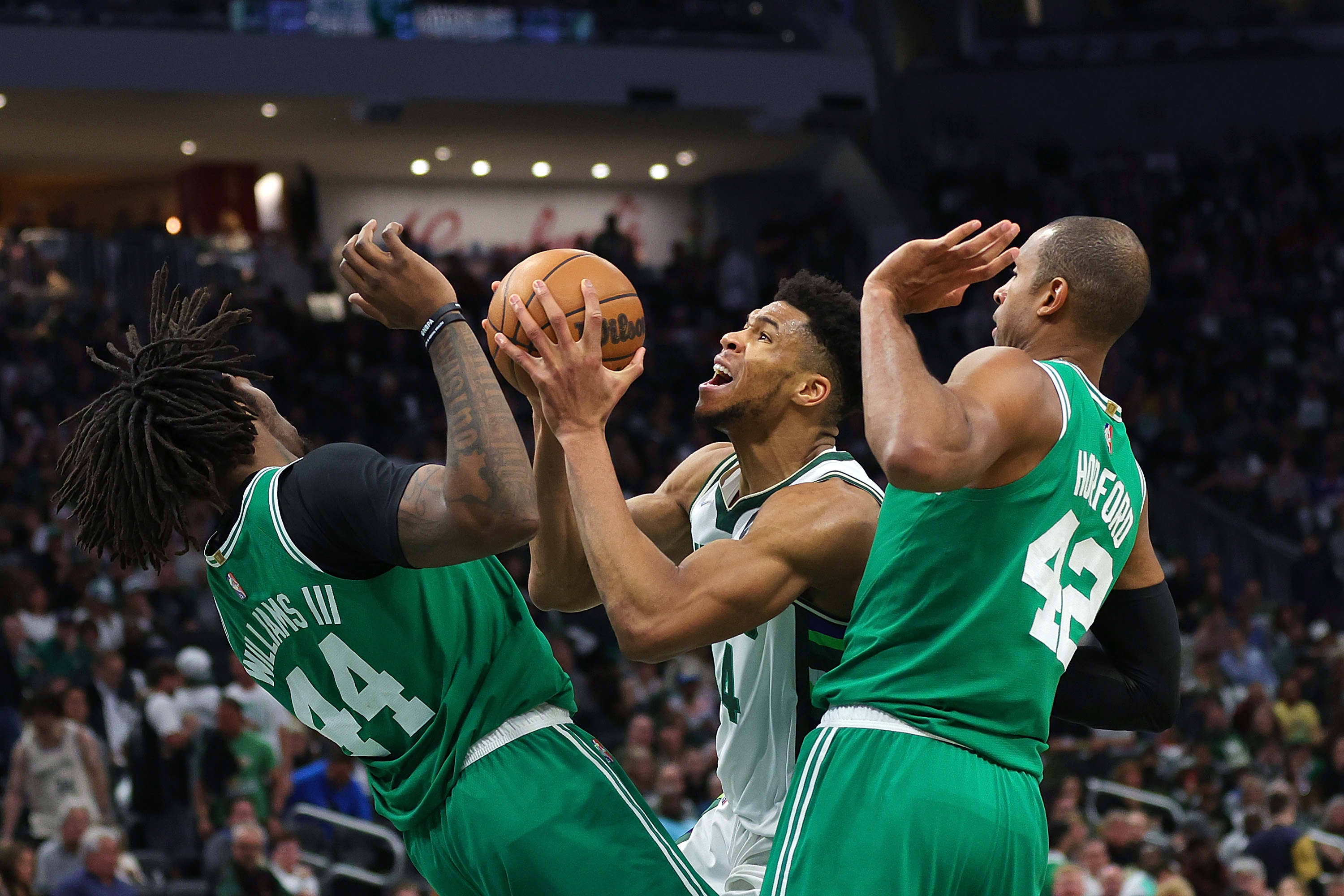 It was only a matter of time before Antetokounmpo busted loose in this series. After shooting a combined 20-for-52 in the first two games, the Greek Freak went 16-for-30 from the floor and erupted for his 42 points.
The Bucks led by as many as 14 points late in the third quarter and held a 13-point lead with 10 minutes to play. The Celtics, despite a poor showing by their All-Star Jayson Tatum, made a frantic run to take the lead, only to come up short at the buzzer.
Tatum was woeful. He missed 15 of his 19 shots and finished with 10 points. Although Antetokounmpo was outstanding and Tatum struggled, the talk centered around the officiating.
The Celtics disputed a call with 4.6 seconds left when Marcus Smart was fouled with his team down by three. Smart and the Celtics argued he was in the act of shooting. The referees disagreed.
Statistically, it appears most calls went in Boston's favor. The Celtics shot twice as many free throws for the game, taking 34 to Milwaukee's 17. There were complaints from both sides.
Giannis Antetokounmpo was entertaining at his press conference
Both sides were asked about the officiating after the game. Celtics first-year coach Ime Udoka didn't hold back when talking about that call on Smart in the final seconds.
"It was a foul," he said. "He caught the ball and was turning it into a shot with both feet set. You can't say that's a sweep when you're going into a shot.
"Poor call. Poor no-call. You can clearly see it. I saw it in person but also on the film that I just went and looked at. It's a shot. He's curling into a shot. He's getting fouled on the way up. Bad missed call."
Antetokounmpo took a different approach when asked about the officials.
"How much does it cost if I say something, a comment about the ref?" Antetokounmpo asked. "Is it $20,000? It's a lot of money. So I should not do it. I'll save my money. I've got to pay for diapers."
Then he made one simple comment about the refereeing.
"I just got to play through it," he said.
It's tough to understand why Antetokounmpo would have a beef with the officiating
Yes, the Celtics shot 34 free throws to Milwaukee's 17, but Antetokounmpo attempted more free throws than any player in the game. He took 12 foul shots. Jaylen Brown of the Celtics was next at 11.
What would Antetokounmpo's beef be with the referees?
The biggest problem in the officiating game this series revolves around Antetokounmpo. He's much bigger, faster, and stronger than anyone on the court. Establishing what is and isn't a charge has yet to happen.
Antetokounmpo runs over and through defenders (seemingly taking more than the two allowed steps). It's a guessing game when contact is made as he drives to the hoop. He also may have gotten away with a goaltending call that wasn't whistled.
Antetokounmpo is a superstar. He's a two-time MVP starring for the defending champs. He'll get more calls than most. That just comes with the territory.
It would have been nice to see him forfeit those diapers and take a quick shot at the officials, just to see what he actually had to complain about.
Like Sportscasting on Facebook. Follow us on Twitter @sportscasting19 and subscribe to our YouTube channel.