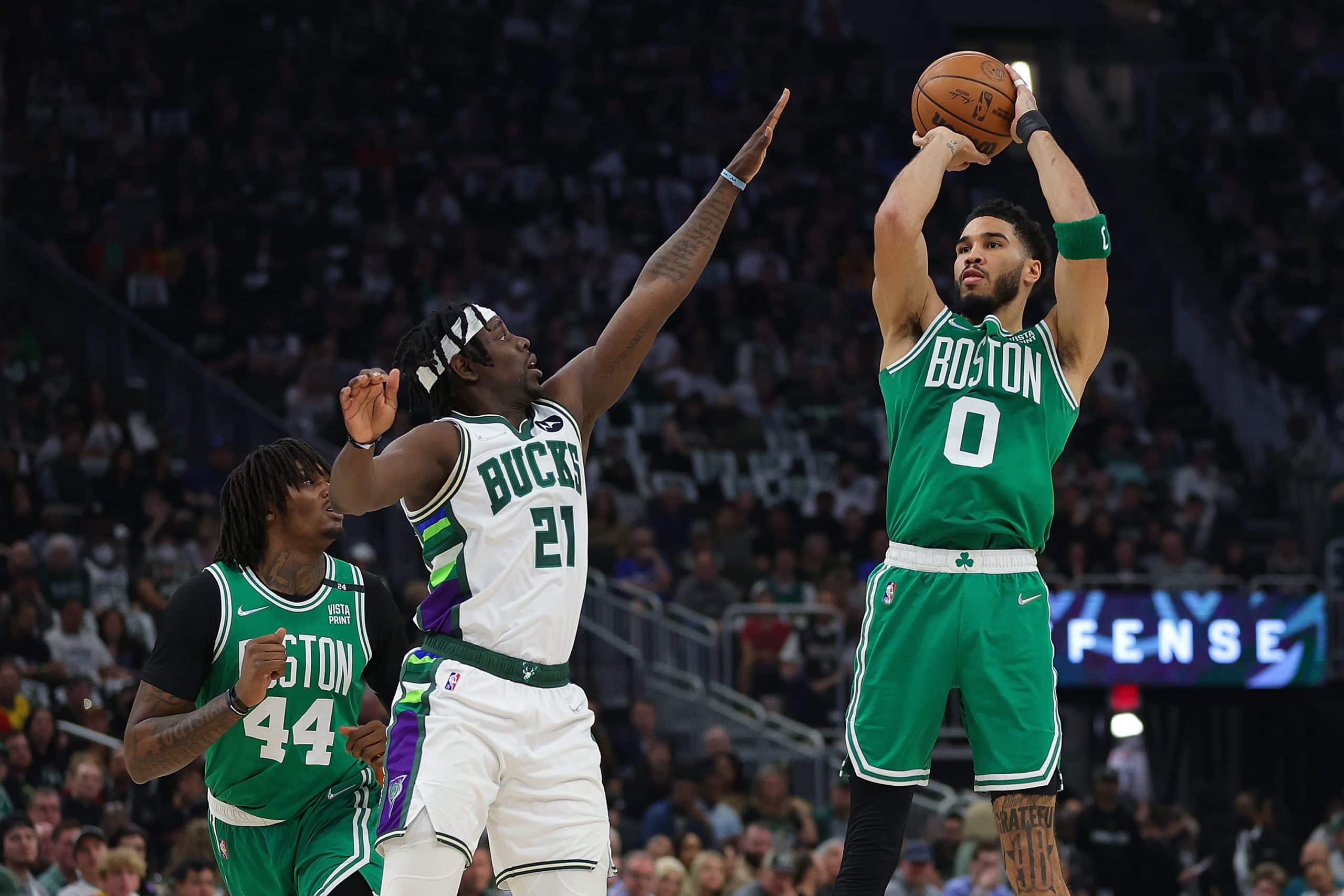 Jayson Tatum Was Horrible, but If the Boston Celtics Stopped Whining, They May Have Beaten the Bucks
Jayson Tatum and the Boston Celtics need to bounce back quickly on Monday against the Milwaukee Bucks.
As has been the case with many NBA playoff games, the officiating was questionable at best. In a physical series between the Boston Celtics and the defending champion Milwaukee Bucks, fouls were ignored, bodies were flying all over the place, and complaints were at an all-time high.
Jayson Tatum struggled mightily during Milwaukee's 103-101 victory over Boston that put the Bucks up 2-1 in the series. While Tatum wasn't at his best, it might have been that complaining to the referees that cost the Celtics the game.
Jayson Tatum had a miserable shooting game for the Boston Celtics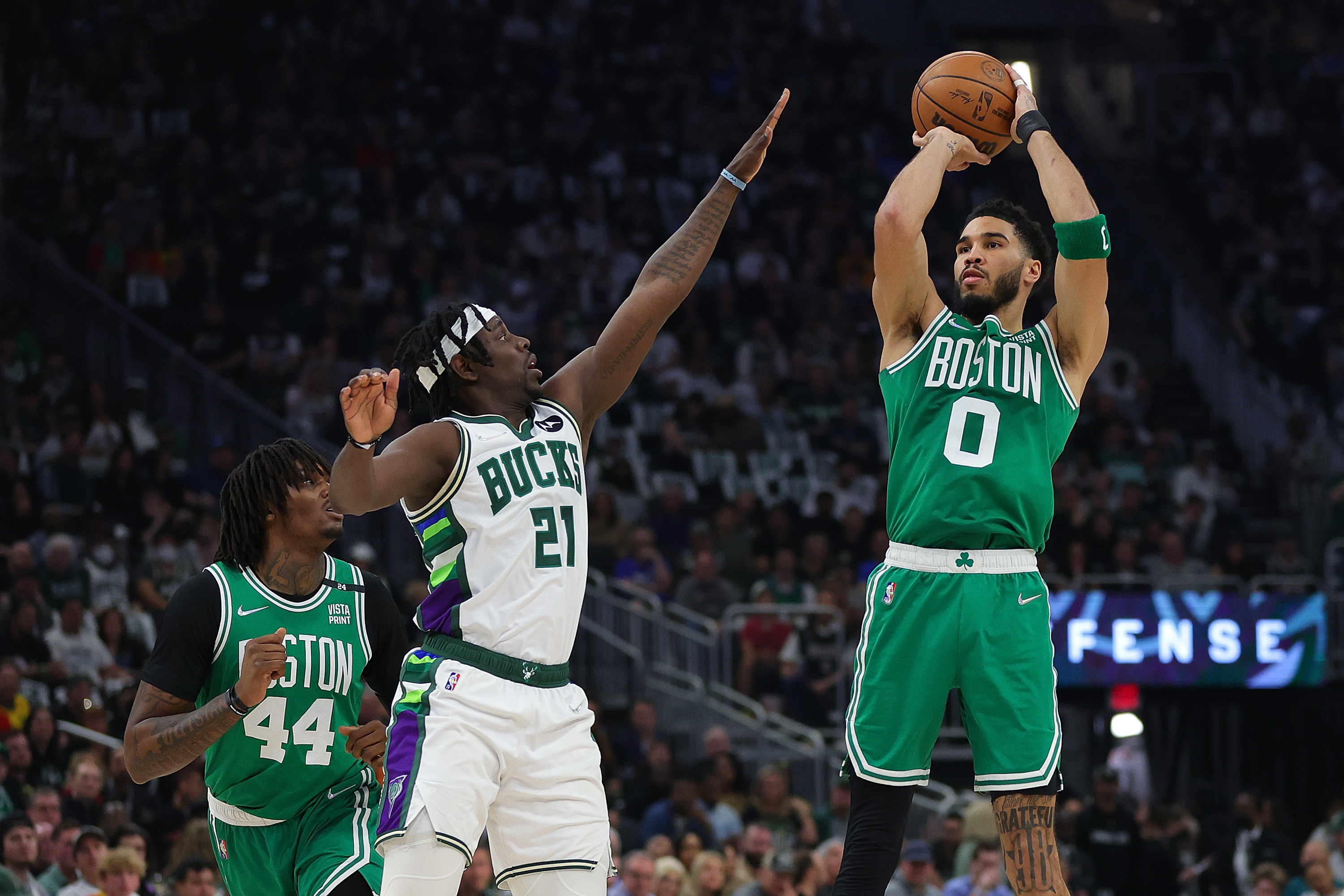 If Tatum had a mediocre game, the Celtics might be holding a 2-1 series lead. Boston's three-time All-Star missed 15 of his 19 shots from the floor. He went 0-for-6 from three-point range and finished with 10 points. It was a game to forget for Tatum.
"Today was just a one-off. I probably was thinking a little bit too much," Tatum said in his postgame press conference. "It all comes down to I just gotta make better reads and a lot of times it was for myself today that I passed up. Obviously, I expect to play better and just come in here Monday trying to get a win.
"I'm not going to make it about me or anything like that. I gotta be better. I know that, my teammates know that. I'm sure I will be and we'll make some adjustments to just be a little bit better on Monday."
Tatum injured his left wrist on a hard foul from two-time MVP Giannis Antetokounmpo but didn't use it as an excuse for his poor performance.
"That's something I've been dealing with for probably like two months now," he said. "It wasn't anything abnormal. When I fell on it, it bothered me. but nothing I haven't been dealing with the last two months."
Jayson Tatum and the Celtics did too much complaining, and it proved costly
The Celtics trailed by 14 late in the third quarter and by 13 with 10 minutes to play. Still, the game came down to the wire.
Marcus Smart was fouled beyond the three-point line with 4.6 seconds remaining. Smart and the Celtics believed he was in the act of shooting, but the referees didn't see it that way. Trailing by three, Smart made the first free throw but intentionally missed the second. He got his own rebound, threw up a shot, and missed. Robert Williams and Al Horford missed tip-ins before Horford finally scored just after the buzzer sounded.
While the game came down to the final buzzer, Celtics coach Ime Udoka made it a point to mention his team's reaction to the officiating. Their complaining may have cost them the game.
"We have up at least two or three baskets that I noticed when we were complaining a little bit to the refs and they're out getting threes," Udoka said. "(Pat) Connaughton got one and Portis got one.
"As much as they're gonna let you play, you gotta play through that and have our composure. If they're going to call it that way, consistently on both ends, we gotta play through it and not bitch about calls and get back.
"We invite that physicality and don't want to be the team crying about it."
Udoka did complain after the game
Udoka did complain about the officiating when the game was over. At his press conference, he said Smart should have been at the line to shoot three shots after he was fouled.
"It was a foul," he said. "He caught the ball and was turning it into a shot with both feet set. You can't say that's a sweep when you're going into a shot.
"Poor call. Poor no-call. You can clearly see it. I saw it in person but also on the film that I just went and looked at. It's a shot. He's curling into a shot. He's getting fouled on the way up. Bad missed call."
The good news for Celtics fans is it was a two-point game despite Tatum's woeful performance. They come right back Monday and look to even the series.
A couple more Tatum baskets and fewer complaints should help the Celtics in Game 4.
Like Sportscasting on Facebook. Follow us on Twitter @sportscasting19 and subscribe to our YouTube channel.