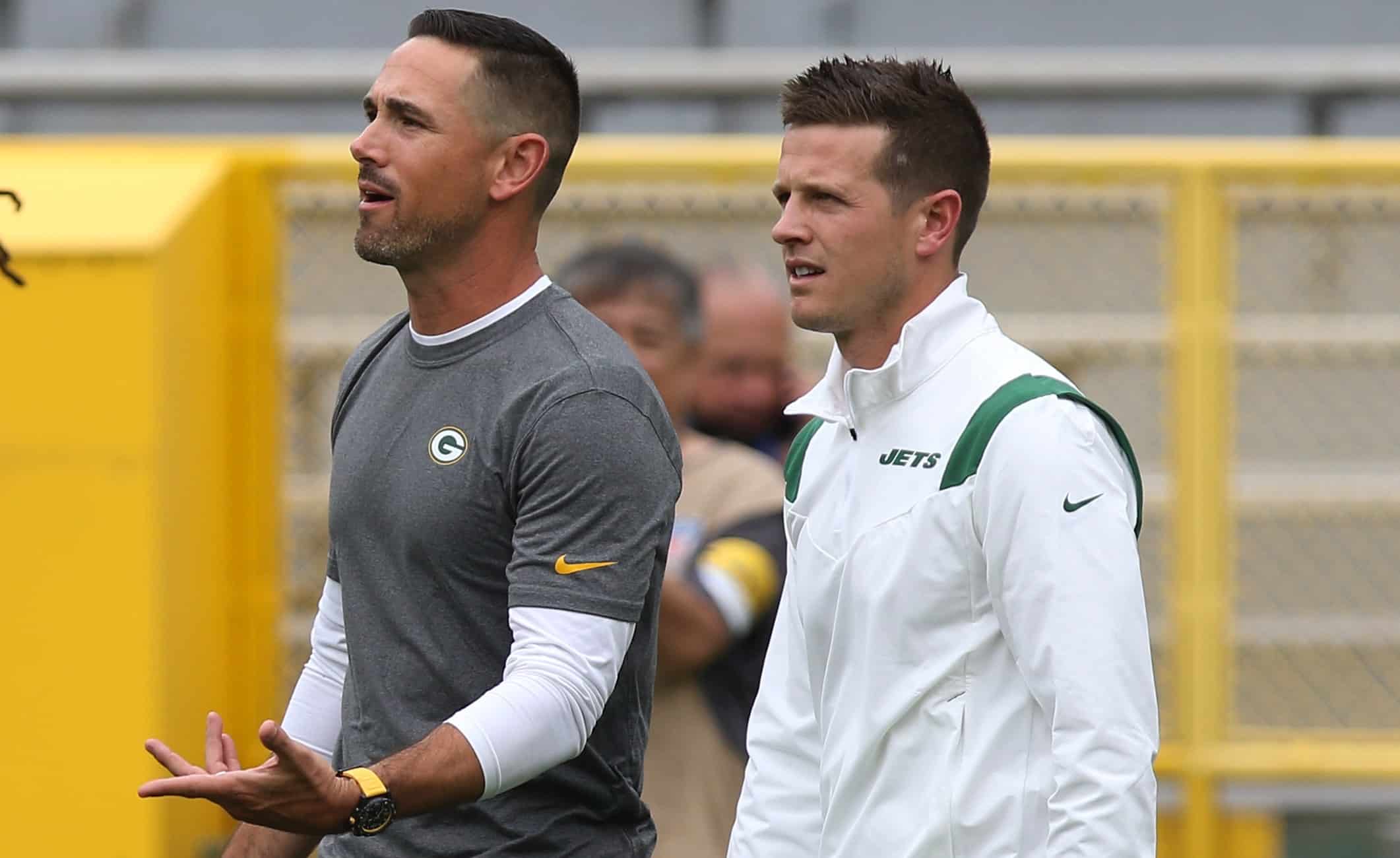 Green Bay Packers vs. New York Jets Isn't the Battle of LaFleurs — So They Say
Brothers Matt and Mike LaFleur will be staring at each other across Lambeau Field this weekend.
It's a pretty cool storyline, but Mike LaFleur doesn't want anything to do with it. LaFleur is the offensive coordinator for the New York Jets, who head to Lambeau Field on Sunday to take on the Green Bay Packers.
On the opposite side of the field will be Packers head coach Matt LaFleur. Matt and Mike are brothers, and they're close. Both coaches made it clear that this Sunday is strictly Jets vs. Packers and not Mike vs. Matt.
Mike LaFleur is facing the Green Bay Packers, not his brother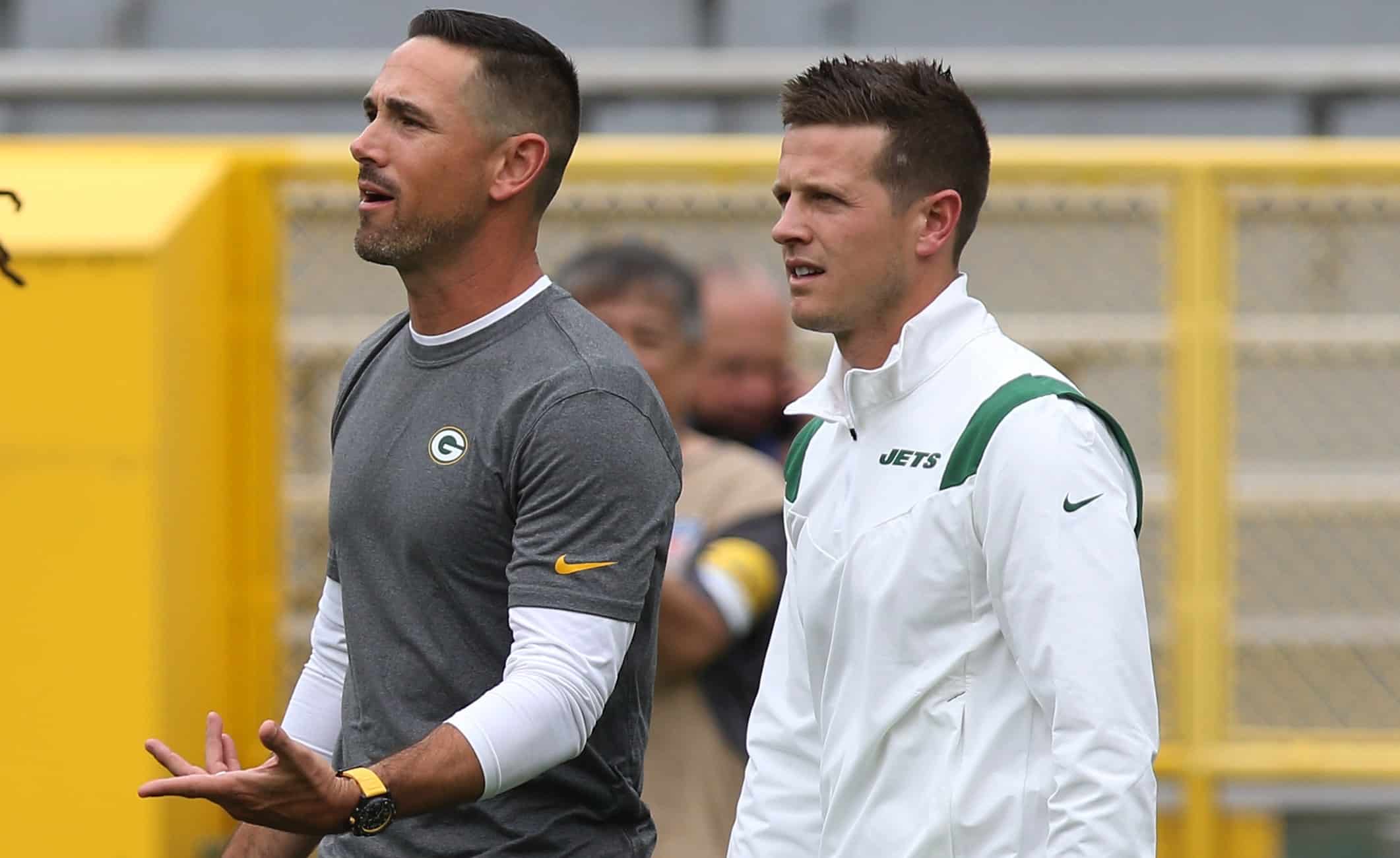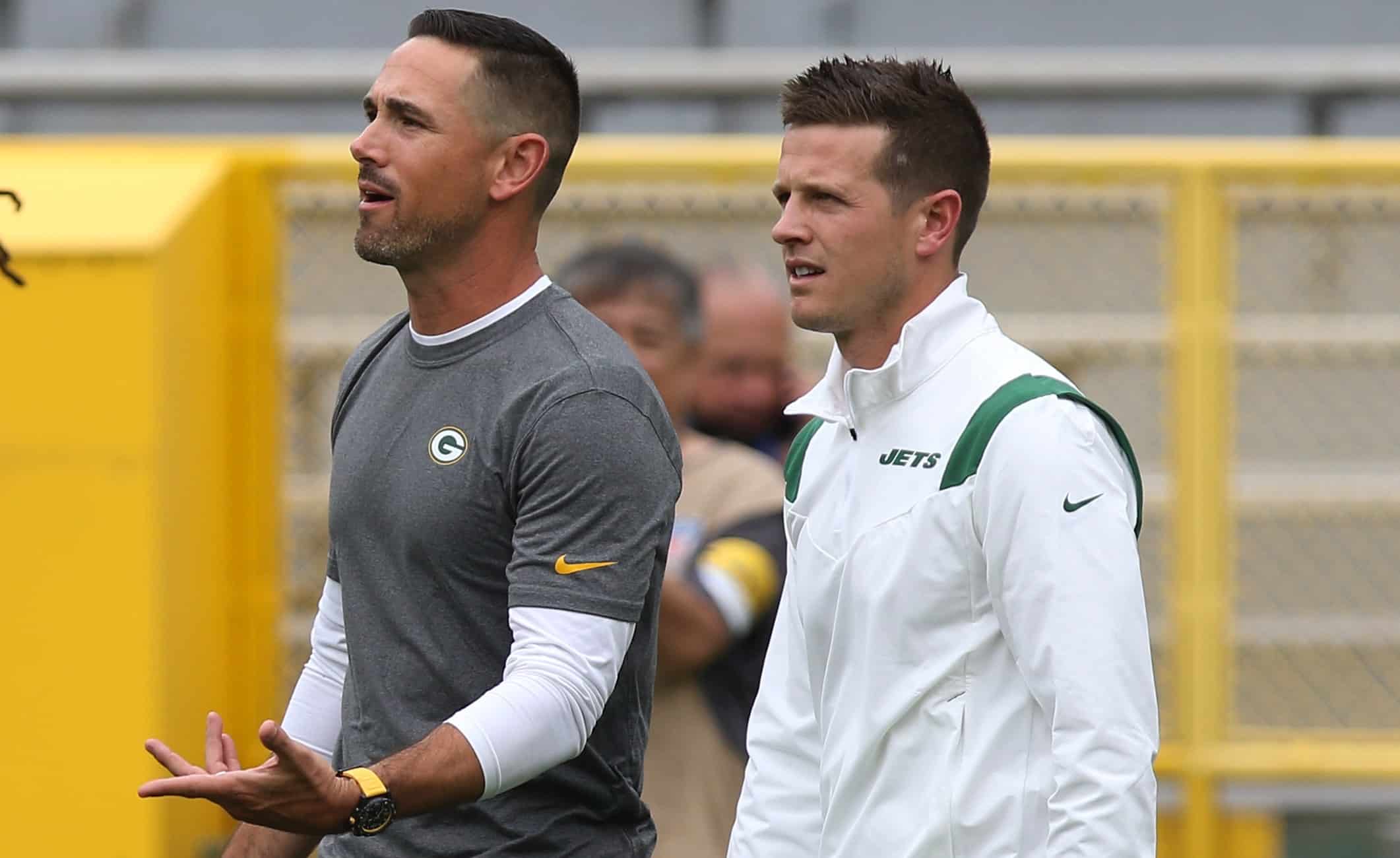 The Packers and Jets enter Week 6 with identical 3-2 records but are coming off very different performances.
The Packers return from their first-ever London trip and hope to rebound from an ugly collapse against the New York Giants. Green Bay saw a 20-10 halftime lead disappear as its offense went stagnant in the second half, failing to score a point. The Packers' lone second-half points came on a late safety as the Giants rallied for a 27-22 victory.
Meanwhile, the Jets exploded for 40 points in a 40-17 victory over the short-handed Miami Dolphins. The Dolphins were down to their third-string quarterback, but quarterbacks don't play defense. The Jets, under Mike LaFleur, put up 40 points for their second straight win.
The LaFleur brothers are on opposite sides, but Mike insists it's something he's not thinking about. He knows it's a logical sidebar but says he doesn't dwell on a matchup against his brother.
"No. Truly, you're so focused on your players and attacking this defense,'' Mike LaFleur said, per The New York Post. "That (playing against his brother) is not crossing my mind at all.
"Obviously, I knew this was going to happen in terms of the questions and stuff like that, and I respect that, but my mindset is solely on these players, putting (quarterback) Zach (Wilson) and the rest of the offense in the position to go out and get the results that they want."
Matt LaFleur says it's just another game, but Packers QB Aaron Rodgers thinks otherwise
Matt LaFleur echoes his brother's comments, saying he, too, doesn't think much about the personal matchup. For Matt, it's not just his brother he'll see across the way. He was also the best man at New York Jets head coach Robert Saleh's wedding. Despite the personal connections, Matt says it's no big deal.
"To tell you the truth, I really don't think about it for two seconds. I really don't," Matt LaFleur said, per Sports Illustrated. "It's about trying to prepare our team. Everybody is just the next opponent. Certainly, it's great to see those guys.
"I always joke with Sean (McVay, coach of the Rams), we call it, 'Champagne problems.' Right? I mean, we're in these positions. It's a great honor and privilege to be in this spot. Ultimately, you hate beating up on your buddy in this league, but it is what it is."
Packers quarterback Aaron Rodgers doesn't believe his coach for a second when he says he doesn't think about facing his brother and friend.
"Look, he's going against his brother and his best friend. This game, for sure, means more to him," Rodgers said. "He does a good job of not bringing that in, but Matt operates at an anxiety base level of about 7. So, honestly, you can't really tell the difference between a week going against Rob and Mike compared to a week going against guys he doesn't know as well."
Both coaches are saying the right things, but do they really mean them?
Have thoughts on this topic? Keep the conversation rolling in our comments section below.