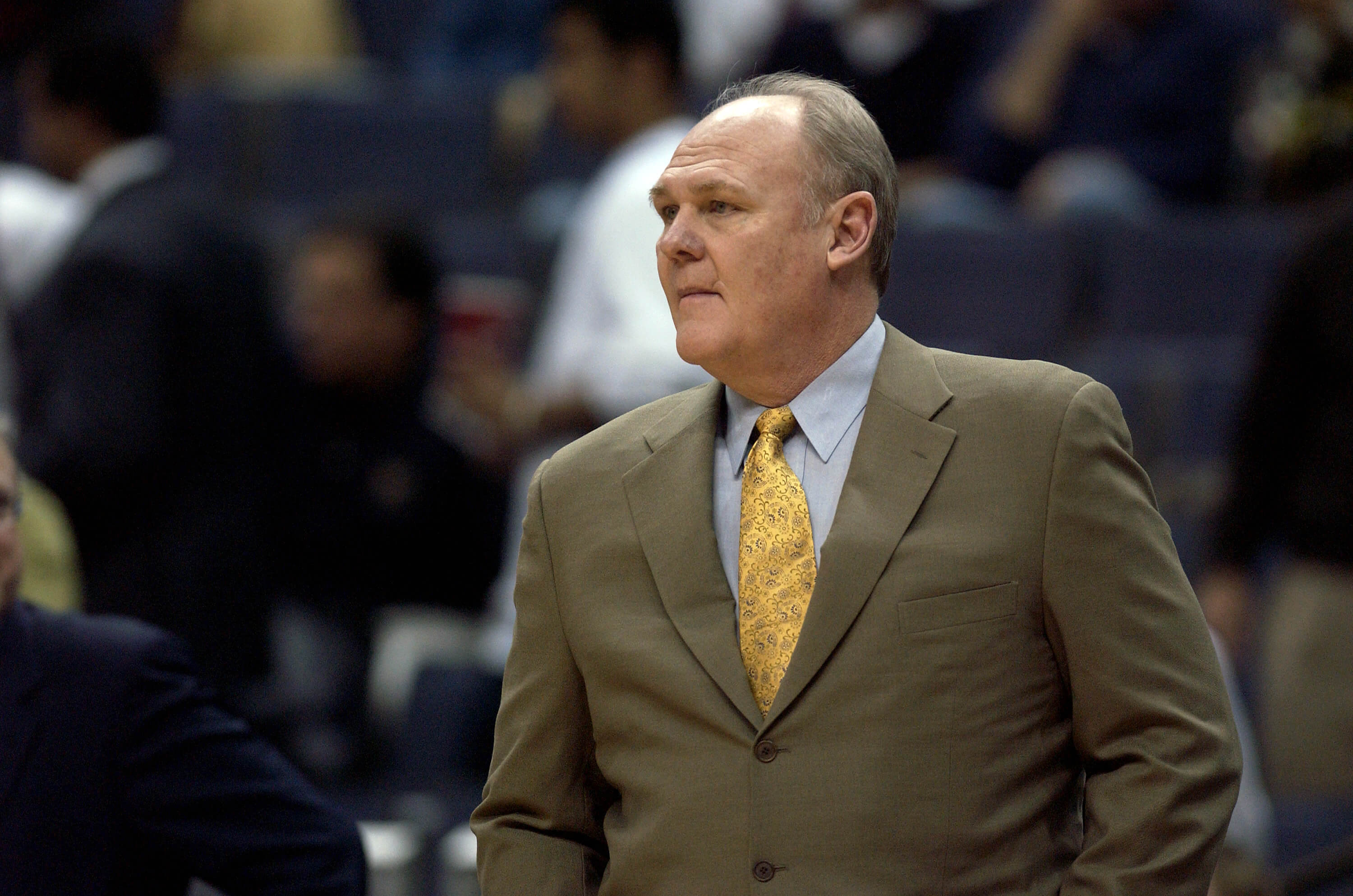 HOF Coach George Karl Makes a Comment That Will Rile Up Larry Bird Fans
George Karl may have gotten a little carried away with his Larry Bird comments this week.
There's no question Naismith Memorial Basketball Hall of Fame coach George Karl knows his basketball. He was a head coach in the NBA for 27 seasons, leading six different teams. Karl also played five years of professional basketball in the ABA/NBA.
The 72-year-old Karl is active on social media and certainly has his ties to the Denver Nuggets, a team he spent nine seasons with as head coach. The Nuggets are headed to the 2023 NBA Finals, and Karl recently made a comment that may not sit well with Larry Bird fans.
George Karl never had a losing season with the Denver Nuggets
George Karl began his head coaching career in the NBA during the 1984-85 season when he landed with the Cleveland Cavaliers. He lasted just two years after a pair of losing seasons and a combined record of 61-88. He spent the next two seasons as the head man of the Golden State Warriors, where he had his first winning season (42-40) before going 16-48 during the 1987-88 season and resigning in March 1988.
Karl returned to the head-coaching scene in January 1992 when he replaced former Boston Celtics coach K.C. Jones as head coach of the Seattle SuperSonics. He went 27-15 in the final 42 games and upset the Warriors in the first round of the playoffs. In the next six years, he never won less than 55 games in any season. Under Karl, the Sonics won four division titles, and he posted a record of 384-150 in seven seasons in Seattle.
He continued his coaching career with the Milwaukee Bucks, where he went 205-173 in five years before landing a job with the Nuggets for the 2004-05 season. In his third season with the team, he became the 12th NBA coach to reach 800 career wins.
With the Nuggets, Karl posted a record of 423-257. He spent nine years with the Nuggets despite being diagnosed with prostate cancer in his second season. After the NBA All-Star Game in 2010, it was announced Karl had a treatable form of throat cancer. After the 2012-13 season, Karl earned his first Coach of the Year award after a 57-25 season.
Karl finished his career by coaching two seasons with the Sacramento Kings. He went 44-68. Karl was inducted into the Hall of Fame in 2022.
Karl makes a comment that might irk Larry Bird fans
It's clear Karl knows basketball. It's also clear he has a little bit of bias when it comes to the Nuggets.
This week, Karl has been active on the social media front. Why not? He's excited the Nuggets are headed to the NBA Finals. With all the excitement, he may have gotten carried away with his comparison of Nuggets center Nikola Jokic and Larry Bird.
"A former pro hoops owner told me this week Jokic is the most complete offensive player he's ever seen," Karl tweeted on Saturday. "I give him a slight nod there over Bird because of his passing skills. And there is a ton of (Arvydas) Sabonis and Duncan in his game. But I do think Jokic is one of one."
Bird is the best passing forward ever to play. In fact, he might be the best passer ever to play. I'm not sure saying someone has a "ton of Sabonis" in his is a great way to argue that someone is better than Bird. Jokic is a tremendous passer. He has great vision and has been a triple-double machine. With all due respect, George, Jokic has a way to go to be in Bird territory.
Karl wasn't done.
"IF Jokic wins a couple championships, all u Bird fans are going to need to accept that Nikola > Larry," he tweeted. "Start preparing yourself in advance."
So two championships would mean Jokic surpasses Bird as the better player? Easy, George. Bird is arguably a top-five player in NBA history. He won three titles and three straight MVPs. Putting a player, even one as talented as Jokic, in Bird's class is bold.
Clearly, Karl has taken some heat for the comments. He even fired back.
"I only smile when Casuals tell me my pro hoops takes are dumb," he wrote. "I don't care egotistically, it's just that I know a few things about this sport after 50+ years inside it!!"