Gary Payton Wanted To Kill George Karl 'Every Other F***ing Day'
Longevity matched by few NBA players factors into the equation, but Gary Payton most definitely exhibited a lot of anger during an otherwise commendable NBA career. From the looks of it, some of that hostility remains intact 14 years after his retirement.
Nearly two decades after last playing for him, Payton still speaks about coach George Karl in language that's definitely not safe for work.
Gary Payton earned his Hall of Fame honor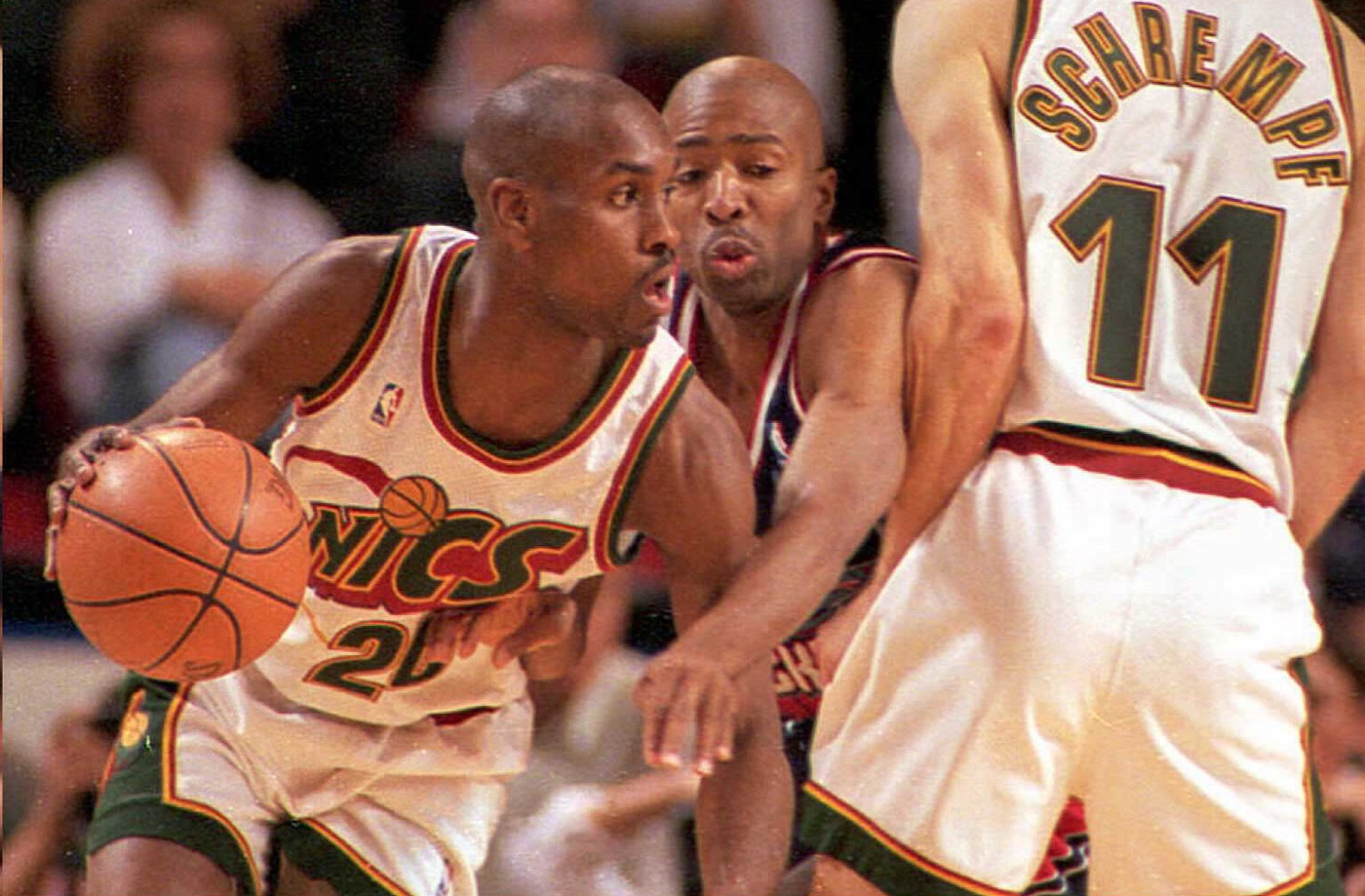 RELATED: Gary Payton Launched His Own Cannabis Business Because of His Mom
Naismith Memorial Basketball Hall of Fame voters may have had issues with Payton's 250 technical fouls and the fact that he wasn't a full-time starter with the Miami Heat in his one NBA championship season. However, his body of work in 17 pro seasons after starring at Oregon State merited his induction in 2013.
Payton was a nine-time NBA All-Star and nine-time first-teamer on the All-Defensive Team. Nicknamed "The Glove" for the way he guarded opponents so effectively, Payton earned the league's Defensive Player of the Year Award in 1996.
The Seattle SuperSonics made Payton the No. 2 overall pick of the 1990 NBA draft (behind Derrick Coleman), and he became an instant starter as a rookie. The point guard averaged at least 5.5 assists per game in 14 of his first 15 seasons and 20 or more points eight times.
Payton finished his career with averages of 16.3 points and 6.7 assists in the regular season, and 14.0 points and 5.3 assists in the playoffs. He completed his resume with gold medals at the Olympics in Atlanta (1996) and Sydney (2000).
The trash talk sometimes went too far
RELATED: Gary Payton Has a Large Net Worth After Dominating on the Seattle SuperSonics
Payton was temperamental toward referees throughout his career. However, a good number of his 250 technical fouls resulted from trash talk. Most of it was harmless stuff to throw the opponent off his game. However, Payton crossed the line at least once with a teammate.
During the Sonics' 1993 playoff series against the Denver Nuggets, Payton got into a spat with SuperSonics teammate Ricky Pierce, and the situation started to spiral out of control, as recalled by Karl, who was in his second season as Seattle's coach.
"I didn't see the first outbreak, but (Payton) and Ricky Pierce got into some kind of a discussion at halftime of the first Denver game, and they were threatening to get guns," Karl recalled to the New York Times. "The players told me they had guns in their bags. It was, 'I'll kill your family.' It was crazy."
After coaching Payton for seven seasons in Seattle plus a portion of one with the Milwaukee Bucks, Karl knew the occasional darker side of Payton's personality.
In fact, later in the same series, tempers boiled over again. This time it was Payton and Karl getting into it following a Game 4 loss.
"Tim Grgurich (an assistant coach) had to step in," Karl said. "It's just a different type of mentality. Players and coaches don't do this. I've fought players before, but those were guys that should be fought — but not your best player. You never take on your best player."
Payton apparently hasn't forgotten those days
RELATED: George Karl Has a History of Taking Shots at People
Payton and Kenyon Martin were never teammates, but they shared a mutual dislike of Karl on Martin's Neat & Unfiltered podcast. As transcribed by BasketballNews.com, Payton said he was initially happy to see Karl replace K.C. Jones after the guard's rookie season.
The joy did not last. Payton and Martin each said Grgurich, formerly a Division I coach at UNLV, related to them better than Karl and was a much-needed buffer at times.
"I used to want to kill George's a** every other f***ing day," Payton said. "I wanted to beat his head in, you know what I'm saying?"
Karl also butted heads with Carmelo Anthony during their time together with the Denver Nuggets. He last worked as a head coach with the Sacramento Kings in 2016. He posted a 1,125-874 record with six teams but took only one club – Seattle in 1996 — to an NBA Finals.
Payton said Karl was big on rules.
"Don't put all that boundaries on us," Payton said. "Man, let us get loose, let us do what we got to do! And that's why we all love (Grgurich) to death because he knew what we needed.
"I get it because some nights on them teams, you're gonna to want to kill somebody."
All stats courtesy of Basketball Reference.