Gary Payton Took His Epic Trash Talk Too Far When He Threatened to Pull a Gun on His Own Teammate and Kill His Family
Gary Payton is one of the greatest trash talkers in NBA history, but he took it way too far when he threatened to kill his teammate's family.
Gary Payton didn't back down to anyone in the NBA when it came to trash talk, not even Michael Jordan. He might've been one of the smallest players on the court most of the time, but he was always the loudest and most brash competitor on the floor.
For the most part, Payton's relentless competitiveness gave his team a much-needed edge. But sometimes his temper boiled over the top and he wound up taking his trash talk too far. In one particular instance, Payton actually threatened to pull a gun on his own teammate and kill his family. Yes, you read that right.
Gary Payton was the NBA's king of trash talk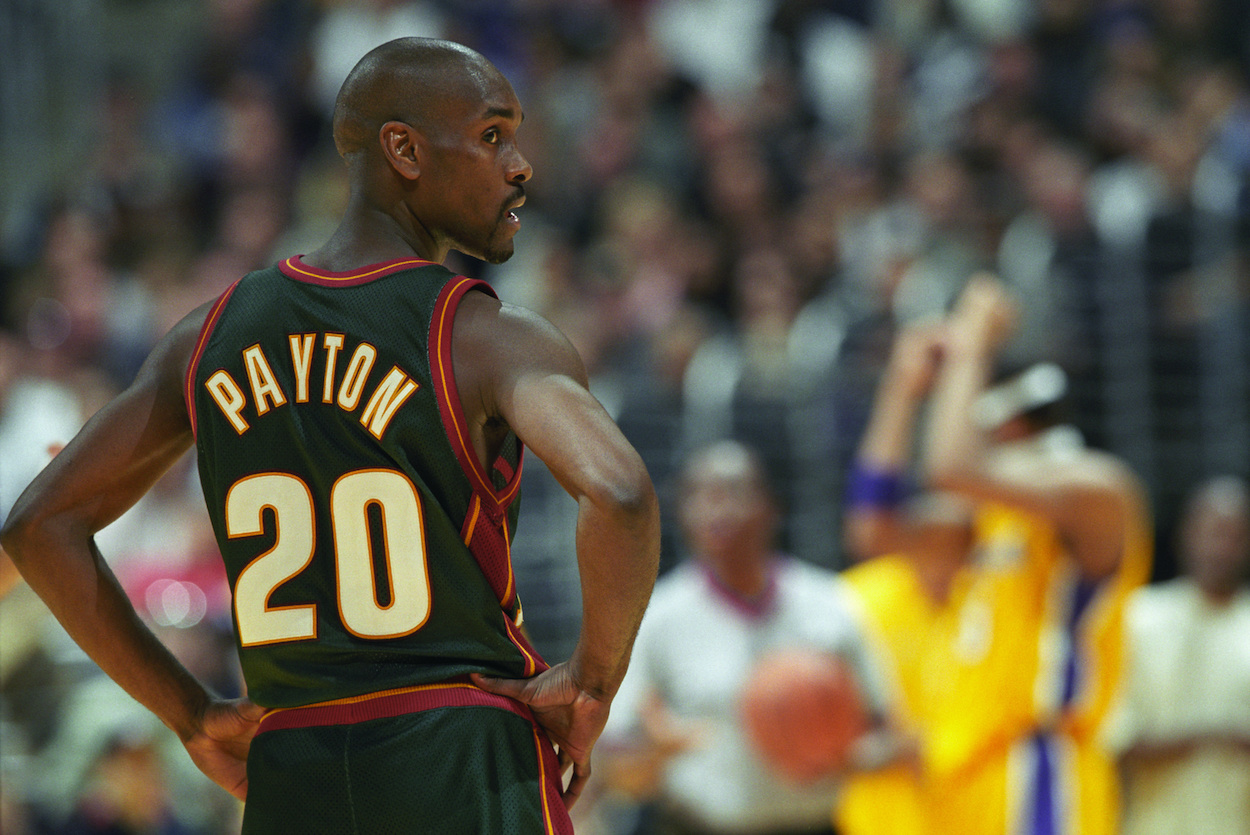 When fans think back on Gary Payton's NBA career, they remember him as a ferocious defender, an unselfish teammate, and a fearless leader. But what "The Glove" might be remembered for most is his epic trash talk that irritated even the most even-keeled players in the NBA throughout the 1990s and 2000s.
Payton could get under nearly anyone's skin on the court. He even believed he was successful in defending Michael Jordan because of his physical defense and incessant trash talk.
"A lot of people backed down to Mike. I didn't," Payton said in Episode 8 of The Last Dance. "I made it a point, I said, tire him out. Tire the f*ck out of him. You just gotta tire him out. And I kept hitting him and banging him and hitting him and banging him, it took a toll on Mike."
Shockingly, Jordan disagreed.
The tales of Payton's trash-talking ways are endless. From yelling "Sit down, you smurf" to former Minnesota Timberwolves head coach Sidney Lowe to telling Jamie Feick "Man, you won't even be in the league next year," Payton was never afraid to go there.
Payton once threatened to pull a gun on his own teammate and kill his family
Most of Payton's trash talk was harmless and playful. Your mama this, you suck that. Sometimes he would get personal with his jabs, but it was all love once the buzzer sounded.
One time, though, Payton let his temper get the best of him. During a 1993 playoff series against the Denver Nuggets, Payton got into an intense verbal altercation with Seattle SuperSonics teammate, Ricky Pierce. Words quickly turned into threats, and Payton took his trash talk way too far.
George Karl, who was Seattle's head coach at the time, told the story to the New York Times in 1996.
"I didn't see the first outbreak, but [Payton] and Ricky Pierce got into some kind of a discussion at halftime of the first Denver game, and they were threatening to get guns," Karl told the NYT. "The players told me they had guns in their bags. It was, 'I'll kill your family.' It was crazy."
The funny part? The SuperSonics actually won the game. What could've possibly been serious enough that night to warrant threats of that nature?
Payton tried to fight George Karl in the same playoff series
Gary Payton was always an angry player, but he was especially irritated during that 1993 playoff series against the Nuggets. After threatening his own teammate and his family with guns, he almost fought his head coach a few days later.
"So, we settled it down and we worked it out and, bam, we come back and lose Game 4, and it's like a war," Karl told NYT. "It's like [Payton]'s taking me on, and I'm ready to get after him, Sam Perkins is ready to get after him, and Gurg is holding everybody back. It's a war zone.
"He took me on, and I got up, and Gurg had to step in. It's just a different type of mentality. Players and coaches don't do this. I've fought players before, but those were guys that should be fought — but not your best player. You never take on your best player."