Michael Jordan Proved Leroy Smith Was No Myth by Giving Him a Hall-Of-Fame Shoutout
So did Michael Jordan, arguably the greatest basketball player ever, really get cut from his high school basketball team? Or was this just an exaggerated piece to add to the legacy of the greatness of Air Jordan? Rumor has it that a player named Leroy Smith made the team instead of Jordan. During his Hall-of-Fame speech back in 2009, Jordan proved Smith was no myth by giving him a shoutout, and he was there to hear it.
Michael Jordan was inducted into the Hall of Fame in 2009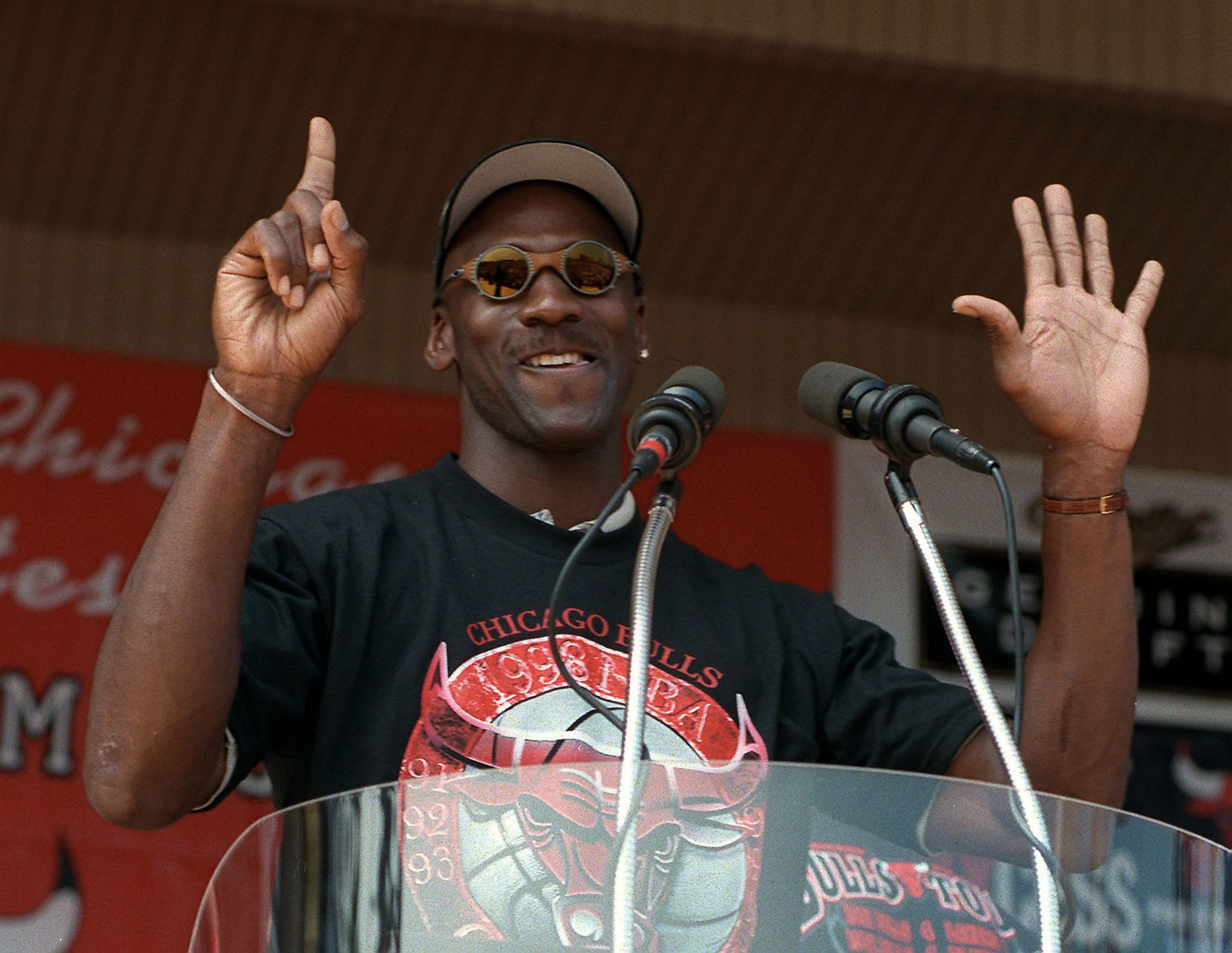 RELATED: Even When Michael Jordan Is a Blur, He's the Center of Attention — and Focus of a Lawsuit
After playing three seasons of college basketball at North Carolina, Michael Jordan was selected in the first round of the 1984 NBA draft. Jordan was selected third overall by the Chicago Bulls. Going first that year was center Hakeem Olajuwon, taken by the Houston Rockets. Center Sam Bowie went second to the Portland Trail Blazers.
As well as Olajuwon played during his lengthy career with the Rockets, Jordan was clearly the steal of the draft. Not only did Jordan turn the Bulls into a winning franchise, but he also changed the landscape of the league. Jordan's high-flying dunks and flashy style of play helped make the NBA a global game.
The Jordan brand became a household name, and the Bulls became regulars in the NBA Finals. Under Jordan, Chicago claimed two three-peats for six championships. Jordan was named the MVP of the league five times and averaged 30.1 points per game for his career. He was inducted into the Naismith Memorial Basketball Hall of Fame in 2009.
Michael Jordan gave Leroy Smith some love during his HOF speech
RELATED: Michael Jordan's Father Was the Reason His Tongue Was Always Sticking Out
Some have a tough time believing that Michael Jordan, arguably the GOAT of the NBA, was cut from his high school basketball team. Jordan failed to make the varsity team as a sophomore. At the time, Jordan was just 5-foot-11, and his friend, Leroy Smith, was 6-foot-7. Smith was the lone sophomore to make the varsity.
During his Hall-of-Fame speech, Jordan brought up Smith, who was in attendance. He wanted to make sure that Smith was real and so was the story. "There's Leroy Smith, and you guys think that's a myth," Jordan said during his speech. "Leroy Smith was a guy when I got cut, he made the team, the varsity team.
"He's here tonight. He's still the same 6-7 guy and he hasn't gotten any bigger and his game is about the same. When he made the team and I didn't, I wanted to prove, not just to Leroy Smith or to myself, but to the coach who actually picked Leroy over me. I wanted to make sure you made a mistake, dude."
Leroy Smith was no basketball bust
RELATED: Michael Jordan Always Taunted Derek Jeter About Having More Championships
Leroy Smith did beat out Michael Jordan for a varsity spot as a sophomore. He also continued his basketball career past the high school level. Smith went on to play collegiately at the University of North Carolina at Charlotte, earning a four-year scholarship. He led the Sun Belt Conference in rebounds his senior year.
He played basketball professionally overseas for various teams. He's gone on to make a name for himself in the media industry. During his professional career, Jordan would often use Leroy Smith's name when checking into hotels.
All stats courtesy of Basketball Reference.