Even When Michael Jordan Is a Blur, He's the Center of Attention — and Focus of a Lawsuit
Michael Jordan is the center of attention even when he's not the center of attention. His presence way in the background of a photo has him in the middle of an ongoing lawsuit between two trading card companies. While Jordan himself isn't part of the suit, the former Chicago Bulls star has his name all over it.
Michael Jordan has always been a wanted man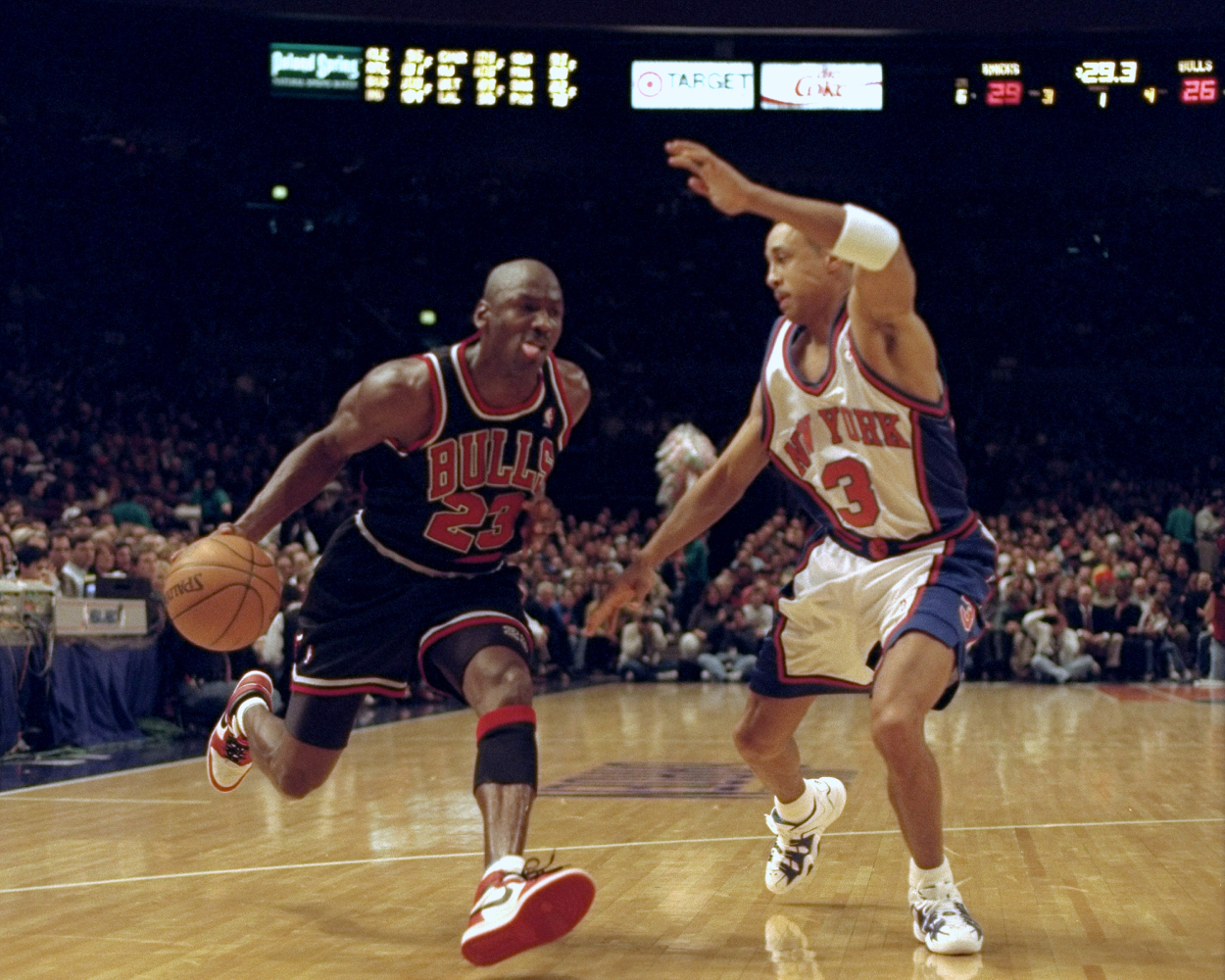 Michael Jordan has been a marketing machine since he came into the NBA. He was the third pick in the 1984 NBA draft, selected behind Hakeem Olajuwon and Sam Bowie. The Chicago Bulls snagged him, and he not only turned them into a winning franchise but also helped reshape the NBA.
The Jordan brand took over the league as he wowed the NBA with his high-flying dunks and overall athletic ability. Jordan led the league in scoring 10 times and was named the MVP of the league in five seasons. He is a six-time NBA champion.
Jordan helped turn the NBA into a global game. The marketing of the Air Jordan brand has gone worldwide. He helped boost television ratings, which, in turn, helped get players bigger contracts. He had as much of a presence off the court as he did on it.
Upper Deck and Michael Jordan joined forces in 1992
By 1992, Michael Jordan was already a mega-star. He also still had plenty of work to do. Upper Deck, a company that was relatively new to the hobby business, inked a deal with Jordan that gave the company exclusive rights to Jordan memorabilia. Upper Deck became the sole producer of authenticated collectibles, trading cards, and memorabilia, according to Forbes.
In 2015, the company announced a long-term extension with Jordan as the market for Jordan items became more in demand. "We have worked diligently to bring the highest quality, most innovative Jordan memorabilia to collectors. We will continue to maintain the same level of service and authenticity that fans and collectors have come to expect from Upper Deck," said Upper Deck president Jason Masherah in 2015.
According to Forbes, back when the extension was signed in 2015, a study was done to show Jordan's sales. Jordan trading cards, collectibles, and memorabilia sales were $9.7 million — or almost six times the sales of LeBron James items. The sports memorabilia and trading card market has only gotten bigger. There's still nothing hotter than Jordan items despite the fact he's been out of the league since 2003.
Upper Deck's lawsuit vs. Panini
In January 2020, Upper Deck filed a suit against Panini America, a rival trading card company. The suit revolves around images of Jordan that appear in three of Panini's basketball sets. In those images, Jordan appears in the background of the photos. Upper Deck claims its exclusive contract with Jordan is violated by those pictures.
According to Sports Collectors Daily, the lawsuit alleges that Panini "hatched a scheme" to trade on Michael Jordan's image "without paying a dime of those rights." Panini has had an NBA license since 2009. Upper Deck argued Jordan is not allowed to be shown on a card. That holds true even if he's not the main focus of the photo.
"This lawsuit is about Panini America, Inc. falsely representing to consumers that it possesses the rights to sell trading cards of the greatest, most famous basketball player of all time: Michael Jordan," Upper Deck alleged in court documents. "Panini has never had those rights, and likely never will."