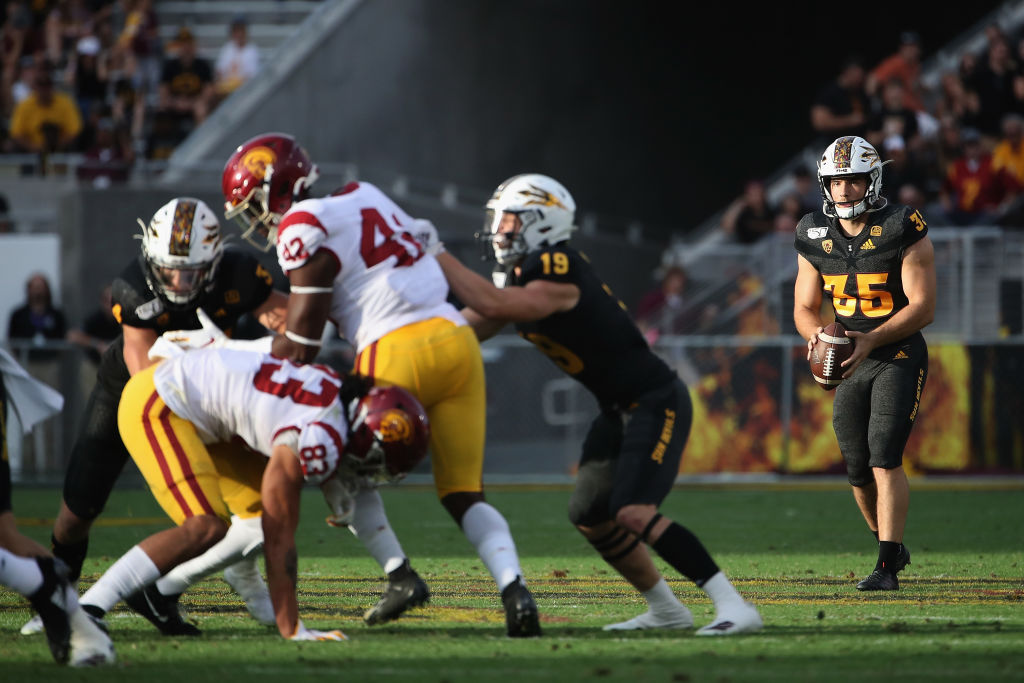 How 1 Punter Turned Heads and Made History at NFL Combine
Michael Turk is known for putting up big numbers as a punter. Turk put up big numbers at the NFL Combine in the bench press and made history.
Every year the NFL combine generates some interesting storylines as college players set out to impress NFL teams with their athletic ability displayed in a variety of standardized on-field drills. This year's combine was the same yet very different as one of the biggest headline makers was Arizona State University punter Michael Turk.
Who is Michael Turk?
If associating the last name Turk with the position of punter feels familiar, it should. Michael Turk is the nephew of former punter Matt Turk, who made three Pro Bowl appearances in his 19-year career, and Dan Turk, who played 15 seasons in the NFL as a center and deep snapper.  
The younger Turk played his freshman year at Lafayette, an FCS school in the Patriot League, before transferring to Arizona State in 2018. Before 2019, Turk's first and only season in Tempe, he was named to the preseason watch list for the Ray Guy Award, which is given annually to the nation's best college punter. 
Turk didn't wait long to impress as a Sun Devil. His first game of the season he set an NCAA, Pac-12 and ASU record for highest average yards per punt in a game with a minimum of five attempts (63.0 yards per punt) in ASU's season-opening 30-7 win over Kent State.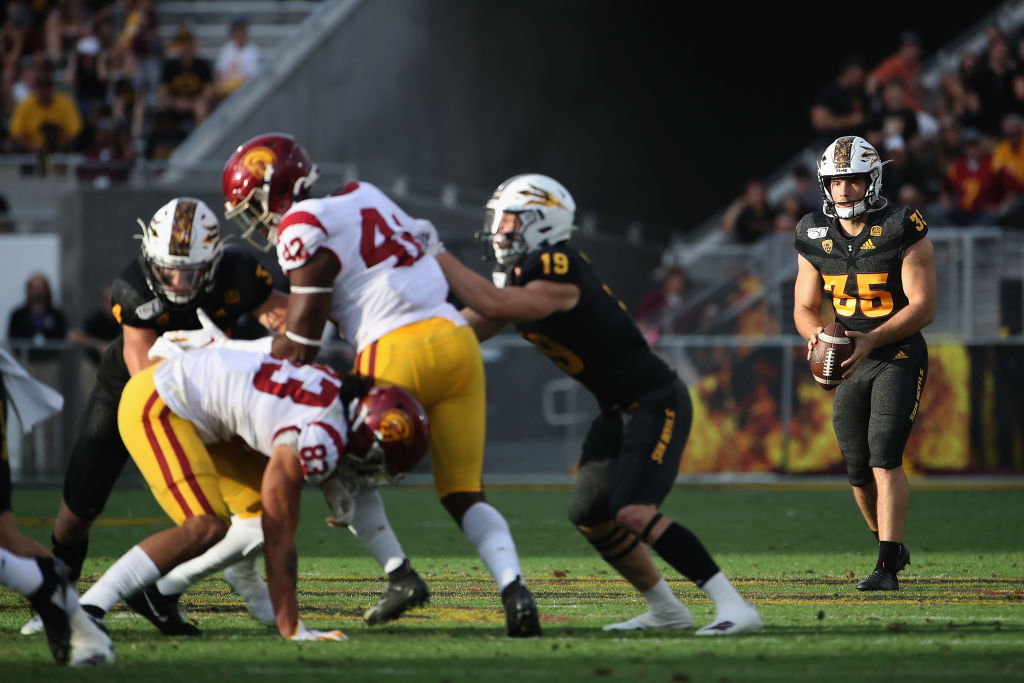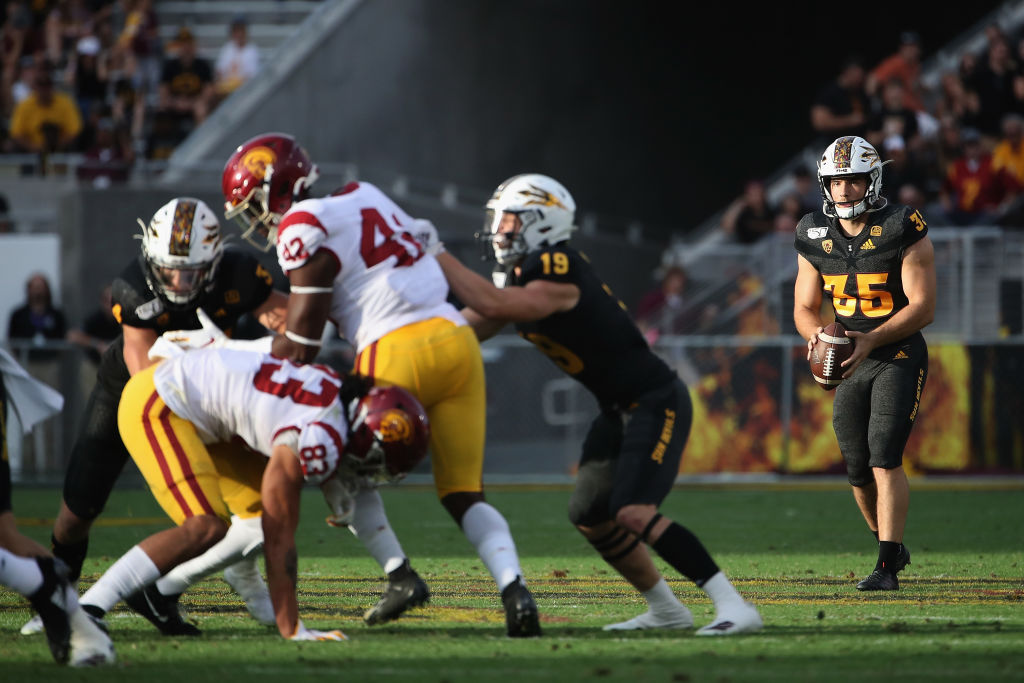 He punted five times for 315 yards with blasts of 64, 62, 65, 49 and 75 yards in his Sun Devil debut. Turk broke the NCAA record previously held by Braden Mann of Texas A&M (60.8 yards per punt average vs. Alabama on Sept. 22, 2018). For his effort, he was named the Pac-12's Special Teams Player of the Week and Ray Guy Award Punter of the Week. 
Turk finished the season averaging 46 yards per punt, had 23 punts of 50-plus yards, and was named to the Pac 12's first team.
Michael Turk sets record at NFL Combine
Michael Turk, who at 6-foot-1/2-inch tall and 226 pounds physically resembles a skilled position player more than a punter, was the only kicker or punter to take part in the bench press at the combine. And he didn't just take part, he dominated by recording 25 reps of 225 pounds in bench-press testing. The mark is a modern record as it's the most reps by a punter since 2003, according to NFL Research.
The punter's total bettered 19 offensive linemen at the combine, including top prospects in Iowa's Tristan Wirfs (24) and Louisville's Mekhi Becton (23), and more than all 33 wide receivers who took part in the drill. 
What's more impressive, Turk's 25 reps were more than current NFL veterans Frank Clark (19 in 2015), Jadeveon Clowney (21 in 2014), DeMarcus Lawrence (20 in 2014), Devin White (22 in 2019), Chandler Jones (22 in 2012) and Michael Bennett (24 in 2009).
Could Turk play another position besides punter?
Turk's strength and physique reveal he's got the body type to play a position in addition to punter such as a receiver or even quarterback. If it happened, it wouldn't be the first time a punter also played another position. 
The last prominent player to do it was former Dallas Cowboys quarterback Danny White, who ironically also played for Arizona State. White was one of the most successful players to punt and play quarterback and handled both of those responsibilities for America's Team from 1980-85. 
Don't expect the same from Turk on Sundays. While he undoubtedly has the size and put up impressive numbers at the combine, he skipped his final two years of NCAA eligibility for one reason—to become an NFL punter. Nothing more. With his bloodlines and success in college, it appears Turk has made the right decision.