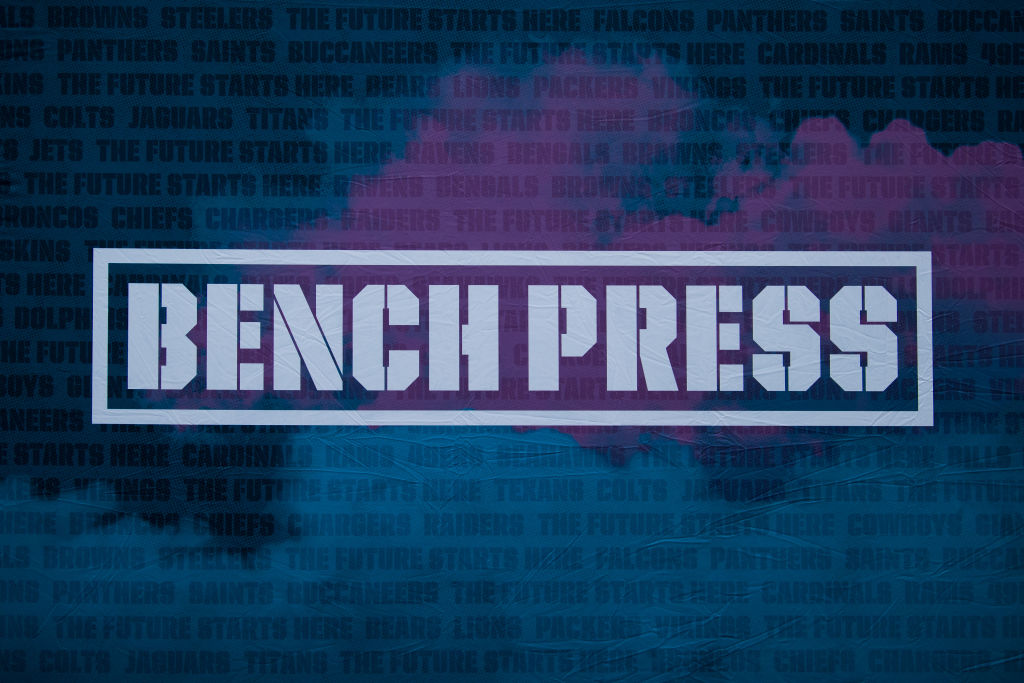 Top 5 NFL Combine Bench Press Performances in History
A look at the top five bench press performances in NFL Scouting Combine history.
The NFL Scouting Combine wasn't always the spectacle that it is today.
When the combine began in 1982, collegiate players from around the country hoping to either get noticed or up their NFL draft status would run a few drills for coaches and scouts with nobody paying any real attention. These days, a national television audience tunes in to watch hundreds of players, all of whom need to secure an invitation, run through a variety of tests. The most popular event is arguably the 40-yard dash.
However, the bench press test has jumped in status over the years and sits just behind the 40 in popularity. In this event, players attempt to press 225 pounds as many times as they can as fans cheer them on from the stands. It's quite the scene and obviously a huge test of strength and stamina. Offensive and defensive linemen have the most to gain from this test and it's not surprising that players from those positions make up the top five bench press performances in NFL Combine history.
Since 1999, only five players have hit 45 or more presses. J.J. Watt didn't even get to 40 (he only did 34 at the 2011 NFL Combine).
T3. Mitch Petrus, G, Arkansas, 2010 (45 reps)
Mitch Petrus was a guard at the University of Arkansas in the late 2000s. He walked on to Arkansas as a fullback but was moved to guard in 2007 and would later become an All-SEC selection as one of the main blockers for Darren McFadden and Felix Jones. Petrus pressed 225 pounds an astounding 45 times at the 2010 NFL Combine.
The seventh guard selected that year, Petrus was taken by the New York Giants in the fifth round of the 2010 NFL draft. He was a member of the 2011 Super Bowl-winning team and spent parts of three seasons in New York. He was released by the Giants in 2012 and split the remainder of the year with the Patriots and Titans. Petrus tragically died of heat stroke in July 2019.
T3. Mike Kudla, DL, Ohio State, 2006 (45 reps)
Just the fourth man to hit 45 presses was Ohio State defensive lineman Mike Kudla in 2006. A member of the 2002 national championship team, Kudla finished his collegiate career with 91 tackles and 14.5 sacks, three of which came in his final college game as the Buckeyes rolled over Notre Dame, 34-20.
Following his impressive showing at the 2006 NFL Combine, Kudla surprisingly went undrafted but was picked up by the Pittsburgh Steelers. Unfortunately, he sustained a hamstring injury that derailed his career and he never played a snap in the NFL. Kudla passed away in July 2018. The cause of death was not revealed.
T3. Leif Larsen, DT, UTEP, 2000 (45 reps)
UTEP defensive end Leif Larsen was just the second man in NFL Combine history to get to 45, doing so at the 2000 NFL Combine.
Larsen played his collegiate ball at UTEP and was drafted by the Buffalo Bills in 2000 with the 194th overall selection, five spots ahead of Tom Brady. Larsen played just 16 games in Buffalo from 2000-2001 and retired to pursue a boxing career.
2. Stephen Paea, DT, Oregon State, 2011 (49 reps)
New Zealand native Stephen Paea fell just one short of 50 reps at the 2011 NFL Combine and just two short of the all-time record. A consensus All-American defensive tackle at Oregon State, Paea was drafted in the second round of the 2011 NFL draft by the Chicago Bears.
Paea played in 55 games in the Windy City over a four-year span, starting 40 of them. He racked up 12 sacks for the Bears before heading to the Washington Redskins in 2015. He would also play for the Browns and Cowboys before retiring in 2017.
1. Justin Ernest, DE, Eastern Kentucky, 1999 (51 reps)
Only one man has reached 50 presses at 225 pounds since the NFL Combine began, Eastern Kentucky defensive end Justin Ernest. Unfortunately, Ernest had an injury-plagued senior year and setting the record with 51 presses didn't do much to elevate his draft status.
Ernest went undrafted in 1999 but was picked up by the New Orleans Saints as an undrafted free agent. He never played a snap in the NFL.