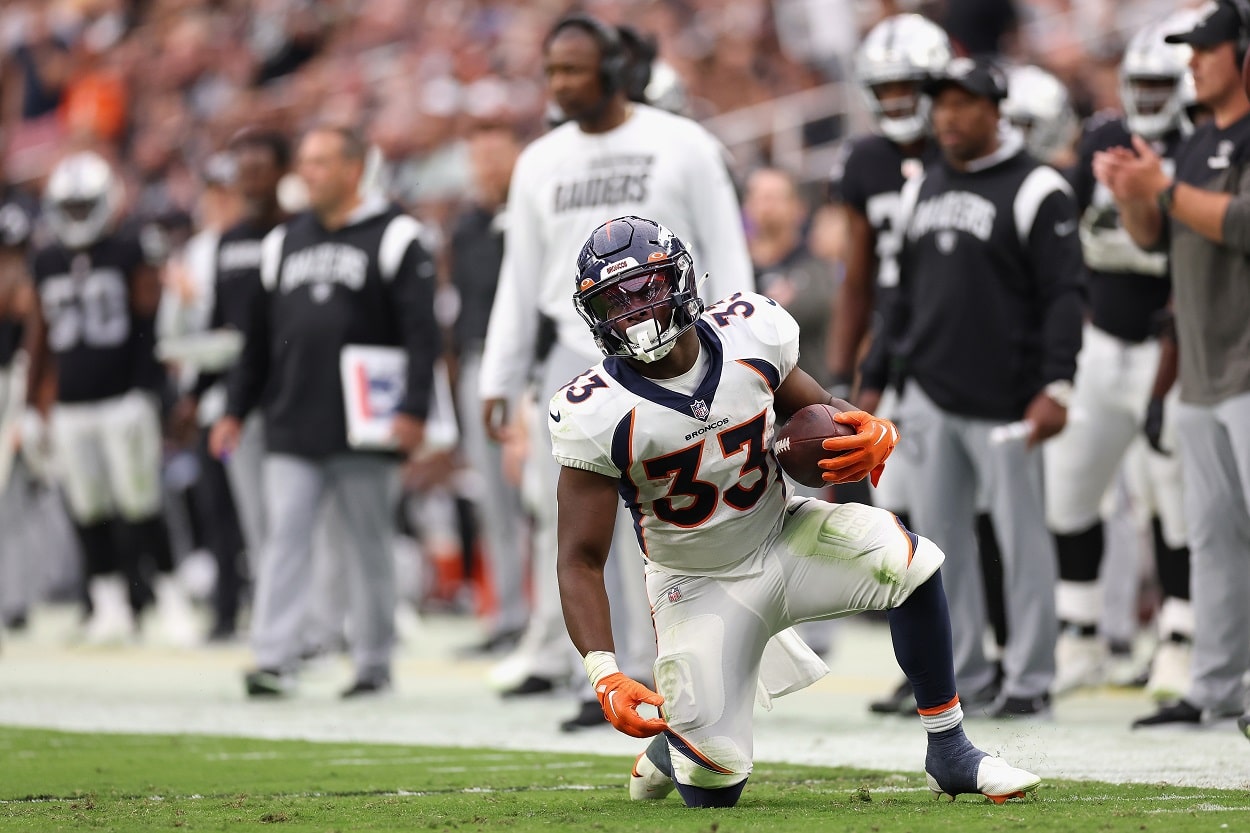 How Bill Belichick Could Save the Day for Denver After the Broncos Suffered a Crushing Loss With Javonte Williams' Season-Ending Injury
The season-ending injury to Javonte Williams opens the door for an interesting conversation between the Broncos and Patriots.
Not only did the Denver Broncos drop a key divisional game on Sunday, but their 32-23 loss to the Las Vegas Raiders came at the expense of perhaps their best overall player. With Javonte Williams going down with a season-ending injury, there will be even more pressure on Russell Wilson's shoulders moving forward. 
However, if Broncos GM George Paton wants to bolster the team's depleted backfield, he could have a viable trade partner: Bill Belichick. 
In fact, with the New England Patriots looking at least a year away from being a Super Bowl contender, this could be Belichick's opportunity to sell high on one of the few draft picks he's hit on in recent years.
The Broncos suffered a huge blow to their offense in Week 4
The entire course of Denver's season changed in Week 4. 
Javonte Williams watched his promising second NFL campaign come to a swift end Sunday on the first play of the second half. The Broncos' leading rusher suffered a severe right knee injury that caused him to be quickly ruled out for the rest of the game. 
On Monday, it was reported Williams tore the ACL and LCL in his right knee. Instead of spending the next few months carving up defenses, the dynamic back will be dealing with the rehabilitation process. 
"Losing Javonte is so important, [he's] a dynamic player in this league," Broncos head coach Nathaniel Hackett said at his Monday press conference.
Obviously, Williams' absence leaves a gaping hole in an offense that relied on his tackle-breaking ability to move the chains and put up points. While Melvin Gordon brings plenty of experience and a solid track record of production, he's already fumbled four times on just 88 snaps. 
So, where will Denver go from here?
Bill Belichick could offer a potential solution to the loss of Javonte Williams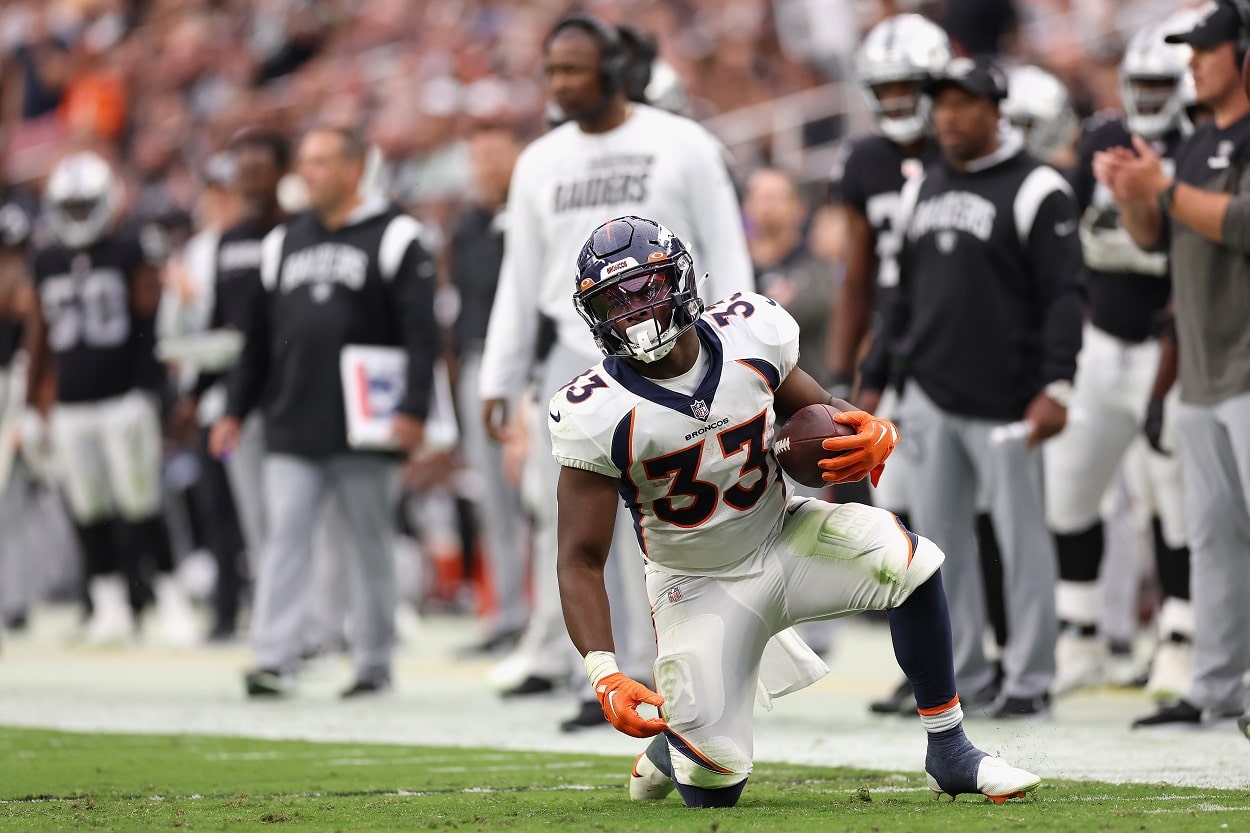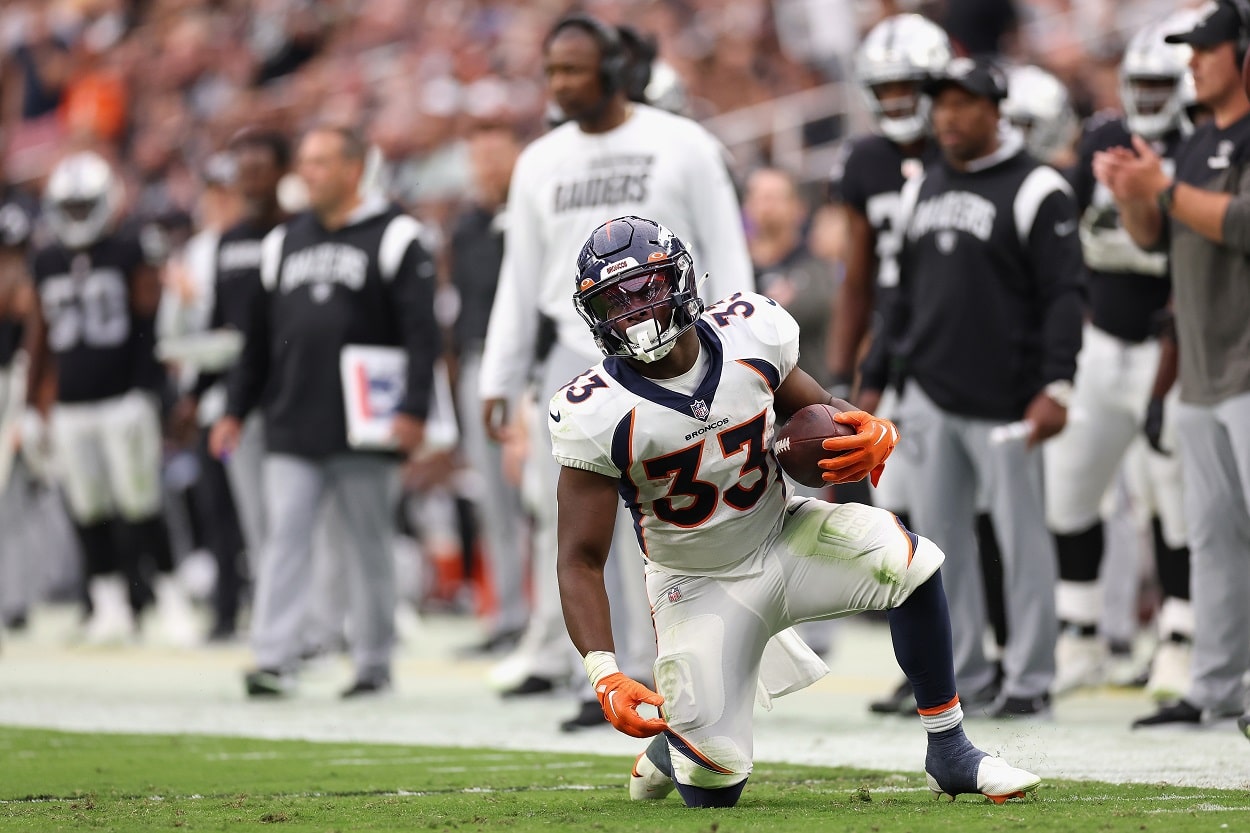 If the Broncos believe they're capable of contending for a championship this season, they should consider doing business with Bill Belichick. 
Although it's tough to see Denver knocking off the Kansas City Chiefs or Buffalo Bills in a playoff scenario, the roster definitely has sufficient talent to give Russell Wilson some semblance of a shot at winning ring No. 2. However, it will take more than an uptick in usage by Gordon to give the Broncos a chance to string together victories consistently. 
And that's precisely why Paton should get on the phone with Belichick and discuss Damien Harris' future. 
Now in the final year of his rookie deal, the 2019 third-round pick has flashed star potential as New England's primary running back. Last season, Harris recorded 15 rushing touchdowns, and he's maintained that pace by finding the end zone three times while averaging 4.6 yards per carry through the team's first four games. 
Obviously, the Patriots are a better team with Harris on the roster. But with Rhamondre Stevenson seemingly taking over as an every-down option, it would be an upset to see his older teammate wearing the same uniform in 2023. 
At this point, Belichick should consider recouping draft capital for a player who looks poised to enter the free-agent market this spring. Instead of letting Harris walk for nothing, New England could gain a conditional third- or fourth-round pick that would be tied to his playing time. 
As for the Broncos, acquiring a back with 20 touchdowns in 29 career starts would make sense on multiple levels. First, Harris could immediately step in and play the majority of the snaps, ceding some touches to Gordon on passing downs. 
Another plus? 
If Harris plays well, the Broncos could franchise him and pursue a trade. Or, if Williams' recovery doesn't go as planned, they could sign Harris to a multi-year deal and confidently pencil him in at the top of the depth chart.
A win-win deal for Denver and New England
Should Denver explore a trade for an established back? 
Considering the investment the team made in Russell Wilson, it would make sense to do everything possible to try to win during his waning championship window. Plus, after falling short in Seattle for so many seasons, you can bet the future Pro Football Hall of Famer wants to prove he's still elite by leading his new team to a title. 
Trading for Harris would allow the Broncos to have a two-headed tandem for the remainder of the season that defenses would have to respect. Plus, they would have the flexibility to tag-and-trade him, extend his stay, or let him sign a big deal and gain a compensatory draft pick in 2024. 
Meanwhile, Patriots fans would certainly be sad to see another solid player and well-respected leader leave. However, with the roster still in progress, the future of the franchise looking murkier than ever, and Rhamondre Stevenson on a cheap deal, moving on from Harris rather than holding onto him for a few more months would provide more of a long-term payoff for the Patriots. 
Of course, maybe Bill Belichick still thinks he can coach his way to another postseason berth. But if that's the case, New England has bigger problems to worry about than figuring out what to do with Damien Harris.
Stats courtesy of Pro Football Reference
Like Sportscasting on Facebook. Follow us on Twitter @sportscasting19 and subscribe to our YouTube channel.