Did Bill Belichick Take a Shot at Tom Brady With His Aaron Rodgers Comment?
Did Bill Belichick go overboard in his praise for Green Bay Packers quarterback Aaron Rodgers?
The New England Patriots face a tough test Sunday. They head to Lambeau Field to tackle the Green Bay Packers without their own starting quarterback, and they face one of the game's best in four-time MVP Aaron Rodgers.
Patriots coach Bill Belichick heaped praise on Rodgers, who has been named the league's best player the last two seasons. Belichick may have even gone overboard with his assessment of Rodgers that may have some Tom Brady backers up in arms.
Bill Belichick and the New England Patriots have their hands full Sunday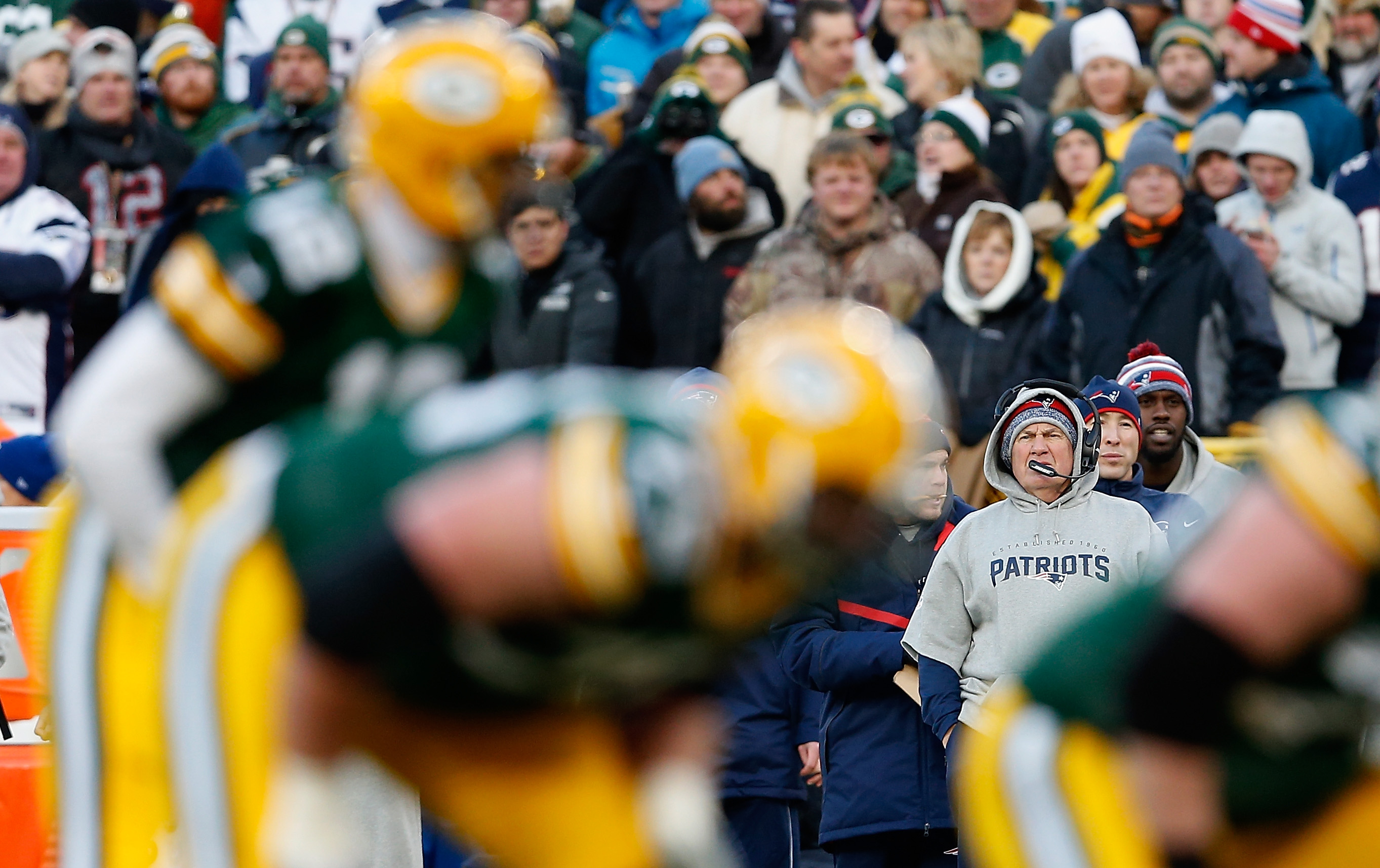 The Patriots are off to a rocky start this season, and things took a turn for the worse on the final series of Week 3's loss to the Baltimore Ravens. Quarterback Mac Jones suffered an ankle injury and was officially ruled out of Sunday's game on Friday.
New England enters Week 4 with veteran backup quarterback Brian Hoyer under center. The Patriots are the biggest underdogs on the week's slate (+9.5) and face a Packers team on a two-game win streak.
Jones' status for the week never looked promising after getting helped off the field last Sunday. Frustration seemed to build with Belichick during the week as reporters asked for updates on the quarterback situation.
"What do I look like, a doctor? An orthopedic surgeon? Like, I don't know," Belichick said. "Talk to the medical experts."
In typical Belichick fashion, he provided zero worthwhile information, saying they were going "day by day" with Jones. He said those words 11 times during the press conference.
He did, however, let the media know he wasn't a doctor.
"Day by day," Belichick said. "What difference does it make to me? You think I'm going to read the MRI? That's not my job."
Meanwhile, Belichick's defense will face Rodgers and a young wide receiving corps that's starting to gel after an ugly Week 1 loss. The Packers only put up 14 points last week in a 14-12 win over Brady and the Tampa Bay Buccaneers, but got a nice eight-catch performance from rookie Romeo Doubs, who also added a touchdown reception.
Belichick praises Rodgers, but did he take a shot at Brady while doing so?
Belichick and Brady put together the best NFL run in history. Together, they won six Super Bowls, but ever since Brady bolted for Tampa Bay, things haven't gone so well in New England.
When the two were together, the big question was whether it was Belichick or Brady who was most responsible for New England's success. The answer became pretty clear when Brady won a Super Bowl in his first season with the Bucs, while Belichick failed to make the playoffs in his first year without Brady. Belichick has a record of 72-81 without Brady as his quarterback.
On Sunday, he faces Rodgers, a gifted quarterback who has only collected one Super Bowl in his illustrious career. Belichick offered much praise to Rodgers and might've slipped in a little cheap shot at Brady.
"I don't think anybody is any better than Aaron Rodgers through the years," Belichick said, per NESN. "End of games, two-minute, four-minute, fo­­ur-minute ahead, two-minute behind, all those situations. One play type situations, cadence. He just takes situational football to a much higher level.
"We always study them and of course, we face them. We're dealing with all the things that we studied and watched him and the Packers do going back to when Mike (McCarthy) was there. Of course now with coach (Matt) LaFleur, but it just continues to be very impressive."
Nobody has been better through the years? Brady might have a little something to say about that.
Like Sportscasting on Facebook. Follow us on Twitter @sportscasting19 and subscribe to our YouTube channel.