How Close Have Sammy Sosa and Mark McGwire Come to the Hall of Fame?
In 1998, St. Louis Cardinals first baseman Mark McGwire and Chicago Cubs right fielder Sammy Sosa took baseball fans on a wild ride in pursuit of Roger Maris' single-season home run record, a season that some still say saved baseball. The story of the legendary home run race is the subject of ESPN's latest documentary, Long Gone Summer, which premieres Sunday night.
Both would surpass Maris' 61 homers, McGwire winning the race with 70 while Sosa hit 66 long balls, including an MLB-record 20 in the month of June alone, en route to winning National League MVP. Unfortunately, both are tied to performance-enhancing drugs, which has kept both out of the Hall of Fame, a trend that seems likely to continue given the dismal numbers both have received in the voting over the years.
So exactly how close have Sammy Sosa and Mark McGwire come to being voted into the National Baseball Hall of Fame?
Sammy Sosa and Mark McGwire both have Hall of Fame credentials
Under normal circumstances, Sammy Sosa and Mark McGwire would likely both have been first-ballot Hall of Famers.
In 16 years with the Oakland A's and St. Louis Cardinals, Mark McGwire was a 12-time MLB All-Star, the 1987 American League Rookie of the Year, a five-time home run leader, a three-time Silver Slugger Award winner, and won a World Series title in Oakland in 1989. He finished his career with a slash line of .263/.394/.588 and hit 583 home runs, currently good for 11th on the all-time list, and added 1,414 runs batted in.
In 18 years with the Texas Rangers, Chicago White Sox, Chicago Cubs, and Baltimore Orioles, Sammy Sosa was a seven-time All-Star, the 1998 NL MVP, a two-time home run and RBI leader, a six-time Silver Slugger Award winner, and remains the only player in MLB history to have hit 60 or more home runs in a season three times. While he may have lost the '98 race to Mark McGwire, he won the overall battle, belting 609 career home runs, good for ninth on the all-time list.
Those are easily Hall of Fame-worthy numbers for both. But given their ties to PEDs, it's likely never going to happen.
Both are tied to performance-enhancing drugs
During that famed '98 season, Mark McGwire admitted to using androstenedione, an over-the-counter muscle enhancer that had been banned by numerous sporting organizations. But, at the time, Major League Baseball was not one of them. But that certainly wasn't the only product he was using at the time. In 2010, McGwire admitted to using steroids off and on for close to a decade, including the 1998 season.
Sammy Sosa, however, has never admitted to using steroids and has long denied that he ever took them in his playing days. Unfortunately, his name showed up on the now-infamous list of players that tested positive for PEDs in 2003 as part of what was supposed to be an anonymous survey. It's obviously had quite an effect on Hall of Fame voters.
How close have Sammy Sosa and Mark McGwire come to the Hall of Fame?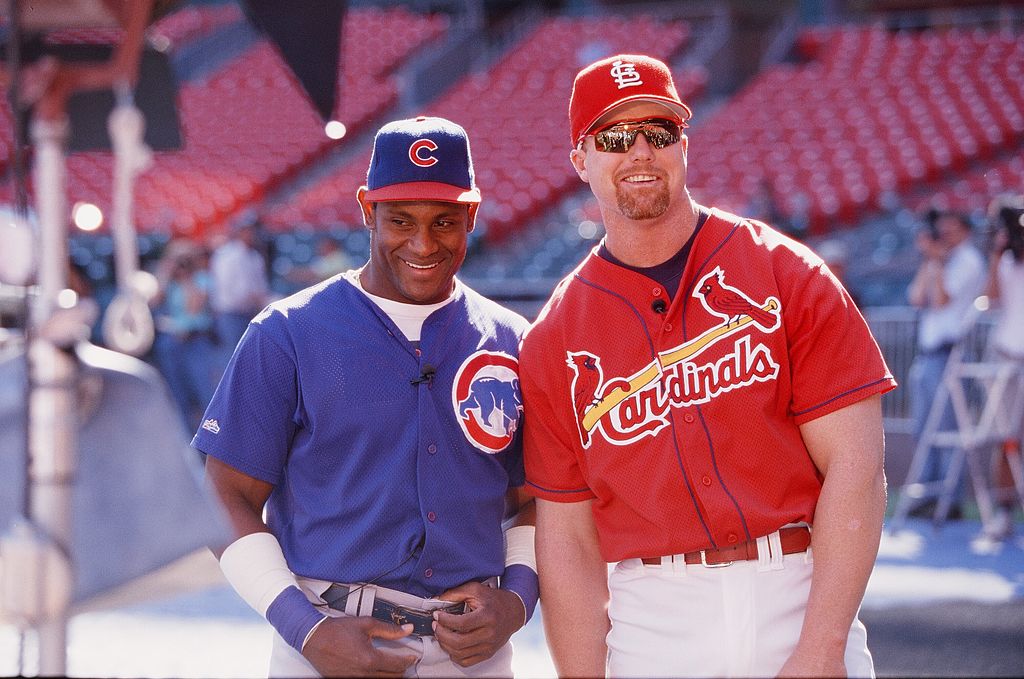 To be inducted into the National Baseball Hall of Fame, a candidate must receive 75% of the vote from the Baseball Writers Association of America. A player is eligible to be on the ballot for 10 years, unless they receive less than five percent of the vote at any time, at which point he falls off the ballot until 16 years after his retirement. If the 10 years pass and the player isn't voted in, he can still make the Hall if he's voted in by what's now called the Eras Committee (formerly the Veterans Committee). Mark McGwire and Sammy Sosa haven't come even remotely close to being inducted.
Here's a look at how the vote has gone since each has become eligible.
Mark McGwire
2007: 23.5%
2008: 23.6%
2009: 21.9%
2010: 23.7%
2011: 19.8%
2012: 19.5%
2013: 16.9%
2014: 11.0%
2015: 10.0%
2016: 12.3%
Sammy Sosa
2013: 12.5%
2014: 7.2%
2015: 6.6%
2016: 7.0%
2017: 8.6%
2018: 7.8%
2019: 8.5%
2020: 13.9%
2021: 17.0%
Mark McGwire has obviously not been voted in by the Eras Committee since he was last on the ballot in 2016 and Sammy Sosa now has just one more chance.
*All stats courtesy of Baseball-Reference