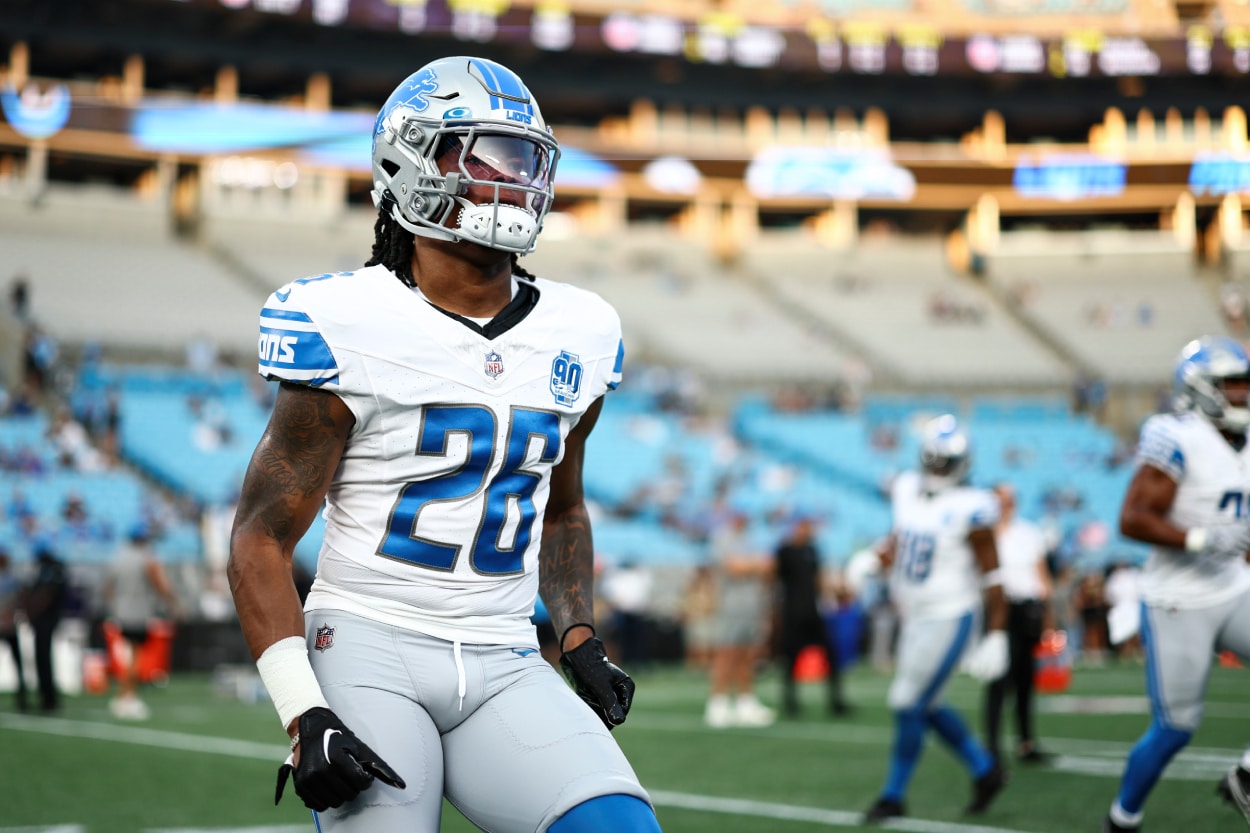 How Good Is Detroit Lions Rookie RB Jahmyr Gibbs? He's Out to Prove the Doubters Wrong
Jahmyr Gibbs makes his NFL debut on Thursday when his Detroit Lions travel to face the Super Bowl champion Kansas City Chiefs.
My, how things have changed for the Detroit Lions. After years of futility, the Lions find themselves on national television to kick off the 2023 NFL season. A year ago, they finished with a 9-8 record, their first winning season since 2017, and played spoiler by preventing the Green Bay Packers from reaching the playoffs by going into Lambeau Field and pulling out a Week 17 win.
They are the new-look Lions. Now they have a new look in the backfield after making Jahmyr Gibbs one of two running backs taken in the first round of the 2023 NFL Draft. How good is the former Alabama star?
The Detroit Lions surprisingly took Jahmyr Gibbs at No. 12
Some called it a reach when the Lions used the No. 12 pick in the 2023 NFL draft to select Jahmyr Gibbs. In 2022, the Lions had the NFL's leader in rushing touchdowns in Jamaal Williams, who carried the ball 262 times for 1,066 yards. They also just signed former Chicago Bears running back David Montgomery.
Gibbs played three years of college football, suiting up the first two seasons at Georgia Tech before transferring to Alabama. In those three years, he never had a 1,000-yard season. In his lone season with the Crimson Tide, he rushed 151 times for 926 yards and seven touchdowns in 12 games.
The Lions made him the second of two running backs drafted in the first round last year. The Atlanta Falcons took Bijan Robinson of Texas at No. 8.
Gibbs isn't one to do a whole lot of talking. He prefers to let his actions on the field speak for him. During rookie minicamp, a reporter asked Gibbs to respond to those who said the Lions reached when selecting him so high in the draft.
"Everybody is entitled to their opinion," Gibbs said, per ESPN. "I really don't care."
All eyes will be on Gibbs Thursday night
Thursday night, when the NFL kicks off its 104th season, Gibbs' Lions will travel to face Patrick Mahomes and the Kansas City Chiefs. All eyes will be on Gibbs to get an idea of why the Lions made such a bold pick at No. 12.
Those eyes include Steve Spagnuolo's. Spagnuolo is the defensive coordinator of the Chiefs and will be responsible for trying to contain the speedy and elusive Gibbs.
"It's all eyeballs on number 26 when he goes in the game," Spagnuolo said of Gibbs, per The Detroit News. "That's one of the things we've been talking about, know where he is and if he's in the game because we certainly think with a guy that's that explosive, they're going to try to find a way to get him the ball.
"He didn't play a lot in preseason. There were a couple snaps there, but we have looked at Alabama film. They found good ways to get him the ball on the perimeter. We expect the Lions to do the same thing."
Despite what others say, Gibbs is full of confidence heading into his rookie year. When asked if he could duplicate Christian McCaffrey's season of 1,000-plus rushing yards and 500-plus receiving yards, he was quick to answer.
"Most definitely," Gibbs told ESPN, "especially with this system."