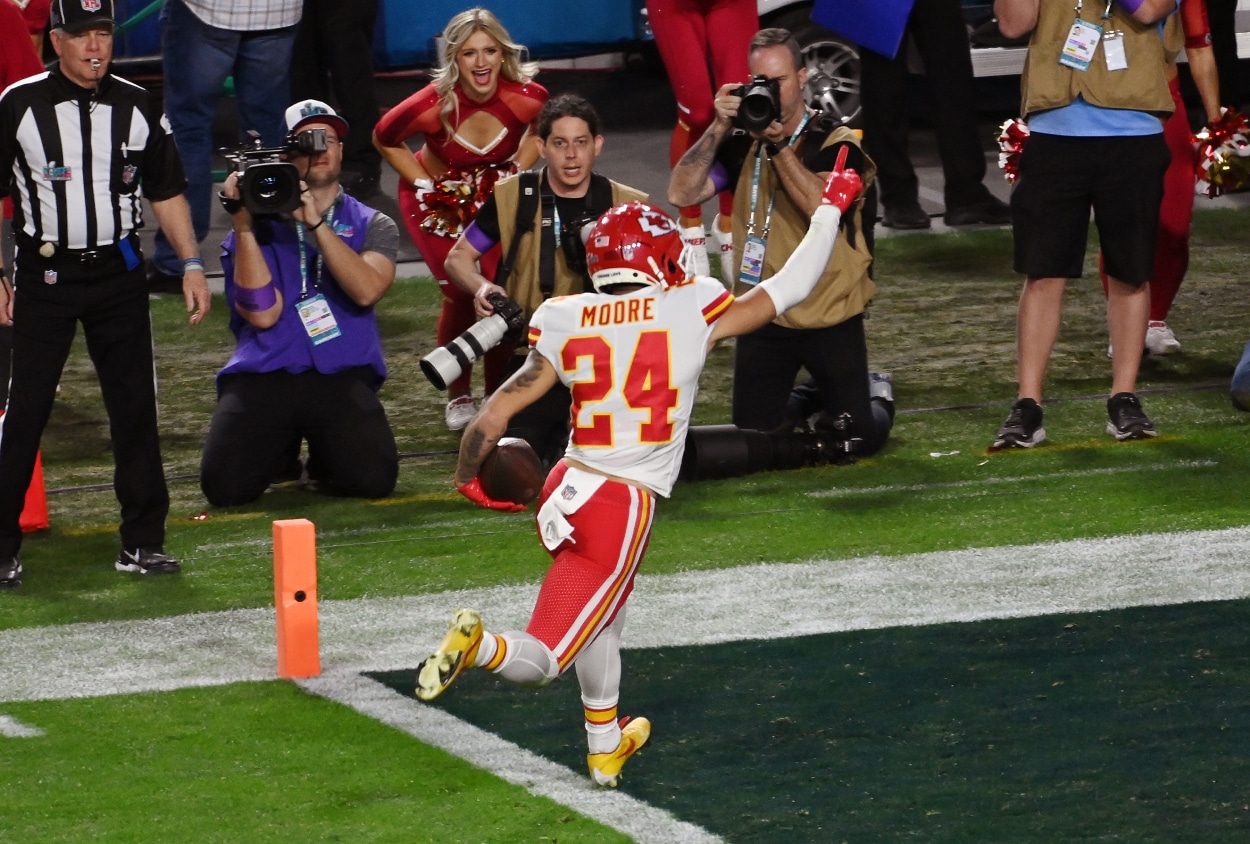 Budding Chiefs Superstar Skyy Moore Has 1 'Awkward' Thing About Him, Says Steve Smith
There are high expectations for second-year Kansas City Chiefs wide receiver Skyy Moore this season.
Count former All-Pro wide receiver Steve Smith as a believer in Skyy Moore. Moore enters his second season with the Kansas City Chiefs and is expected to play a much bigger role catching passes from two-time MVP Patrick Mahomes this season.
As a rookie out of Western Michigan, Moore caught 22 passes for 250 yards last year in the Chiefs' Super Bowl season. Like many, Smith expects big things from Moore this year. He said he's a superstar in the making, and there's only one "awkward thing" about the 22-year-old receiver.
Big things are expected from Skyy Moore this season
When speedy wide receiver Tyreek Hill left Kansas City for the Miami Dolphins, some expected a dropoff in the Chiefs offense. That was far from the case.
Mahomes still managed to pick apart defenses, racking up an NFL-best 5,250 yards and was also tops with 41 touchdown passes. He guided the Chiefs to a 14-3 record and their second Super Bowl title in five years.
After getting his feet wet in the NFL, many believe Moore is ready to take off in the Kansas City offense. Moore is excited to show off more of what he can do.
"I feel like a lot of people — our fan base — hasn't really got to see me really work yet, you know what I'm saying?" Moore told The Kansas City Star on Monday. "I know who I am, and I know what I'm capable of. And so I'm excited to just show the world."
Mahomes, too, is excited to see what Moore can bring after that year of experience. He told The Star that Moore has taken things to "another level" during camp.
 "He's always been talented, but how comfortable he is within the offense, getting more opportunity … I'm excited for him to go out there and show everybody what I've been seeing," Mahomes said.
Steve Smith expects 1,200 yards from Moore this year
Smith has high expectations for Moore entering the 2023 season. The 16-year veteran said Moore has all the tools and only has one "awkward" thing about him.
"The only thing that's awkward about Skyy Moore is his jersey number," Smith said of the No. 24 Moore wears that's typically not worn by receivers, per NFL.com. "Other than that, he is a bona fide superstar on the rise.
"Since they have taken him off punt returns, he's primarily starting to focus on being a more well-developed wide receiver. I believe he will be a 1,200-yard receiver this year."
Moore looks at his rookie year as a learning experience. Now, he's focused on being a better and smarter football player.
"That's what I felt like I worked on, just being a smarter player," Moore said, per The Star. "My college coach always said, 'A smarter player is a better player.' So I feel like that's gonna take it to the next level. I'm on Level 2 of the NFL now."