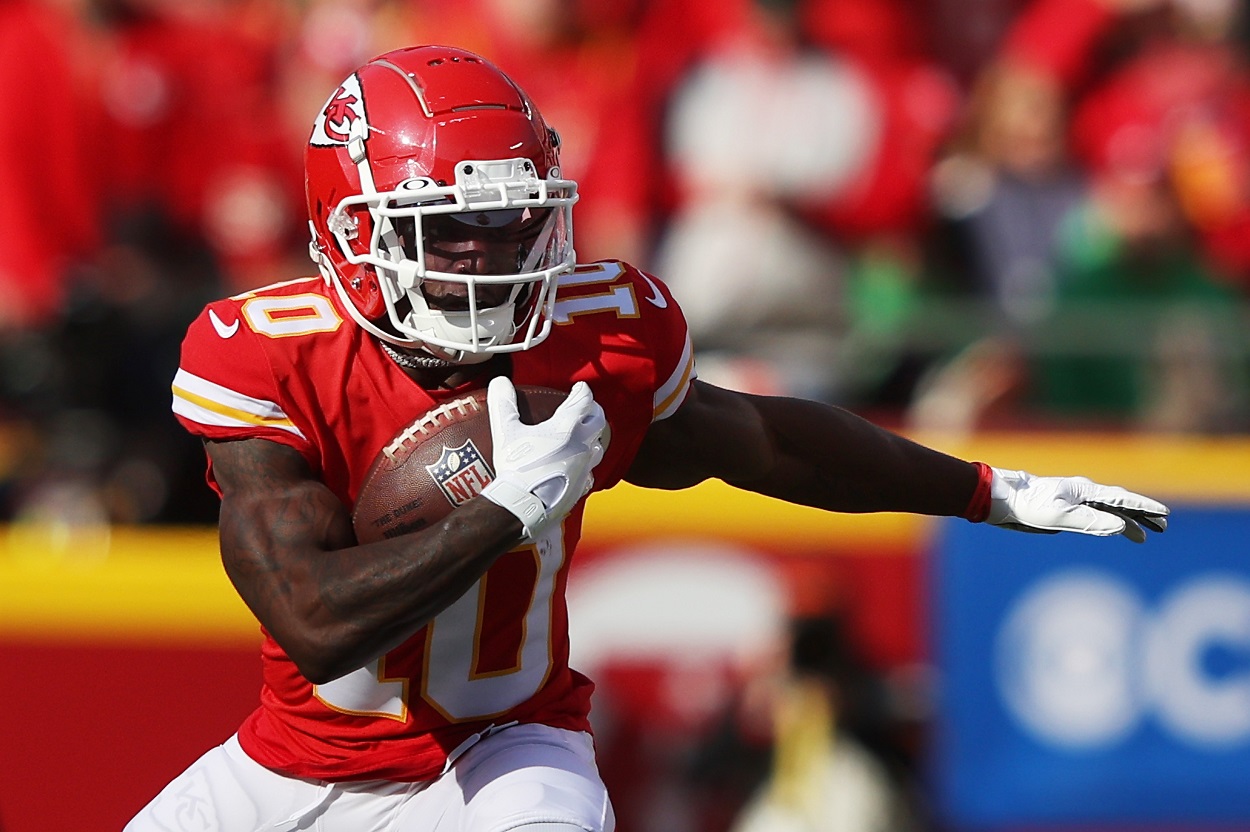 Tyreek Hill Traded to Miami Dolphins
The Kansas City Chiefs have traded six-time Pro Bowl wide receiver Tyreek Hill to the Miami Dolphins.
Easily one of the most stunning moves of this wild 2022 NFL offseason, the Kansas City Chiefs have traded wide receiver Tyreek Hill to the Miami Dolphins.
Hill, a six-time Pro Bowler, had one season remaining on the three-year/$54 million contract he signed with KC just ahead of the 2019 campaign, and it was widely believed the two sides would work out an extension. But word got out Wednesday morning that Hill's agent had been permitted to seek a trade. And this was apparently after the Chiefs had made the Georgia native an offer that would have made him one of the highest-paid receivers in the NFL.
Early reports had the Dolphins and New York Jets as early frontrunners, and Miami has won out. ESPN's Adam Schefter reports that Hill will also sign an extension in South Beach and that the Chiefs have received five draft picks in return, including the No. 29 overall pick next month.
After being taken in the fifth round (No. 165 overall) of the 2016 NFL Draft out of West Alabama, Hill appeared in 91 regular-season games for the Chiefs over six seasons, catching 479 passes for 6,630 yards and 56 touchdowns. He's also racked up 1,393 yards and five touchdowns as a punt/kick returner and 719 rushing yards with six scores.
In 13 postseason appearances for Kansas City, the speedster caught 84 passes for 1,081 yards and five touchdowns. Hill recorded nine receptions for 105 yards in the Chiefs' 31-20 victory over the San Francisco 49ers in Super Bowl 54.
He now joins a Miami offense that ranked 25th in total yards per game (307.0) and 17th in passing yards per game (214.8). Tua Tagovailoa is expected by most to be the Dolphins' starting quarterback when the 2022 season begins, but Teddy Bridgewater might have something to say about that.
The Sportscasting Spin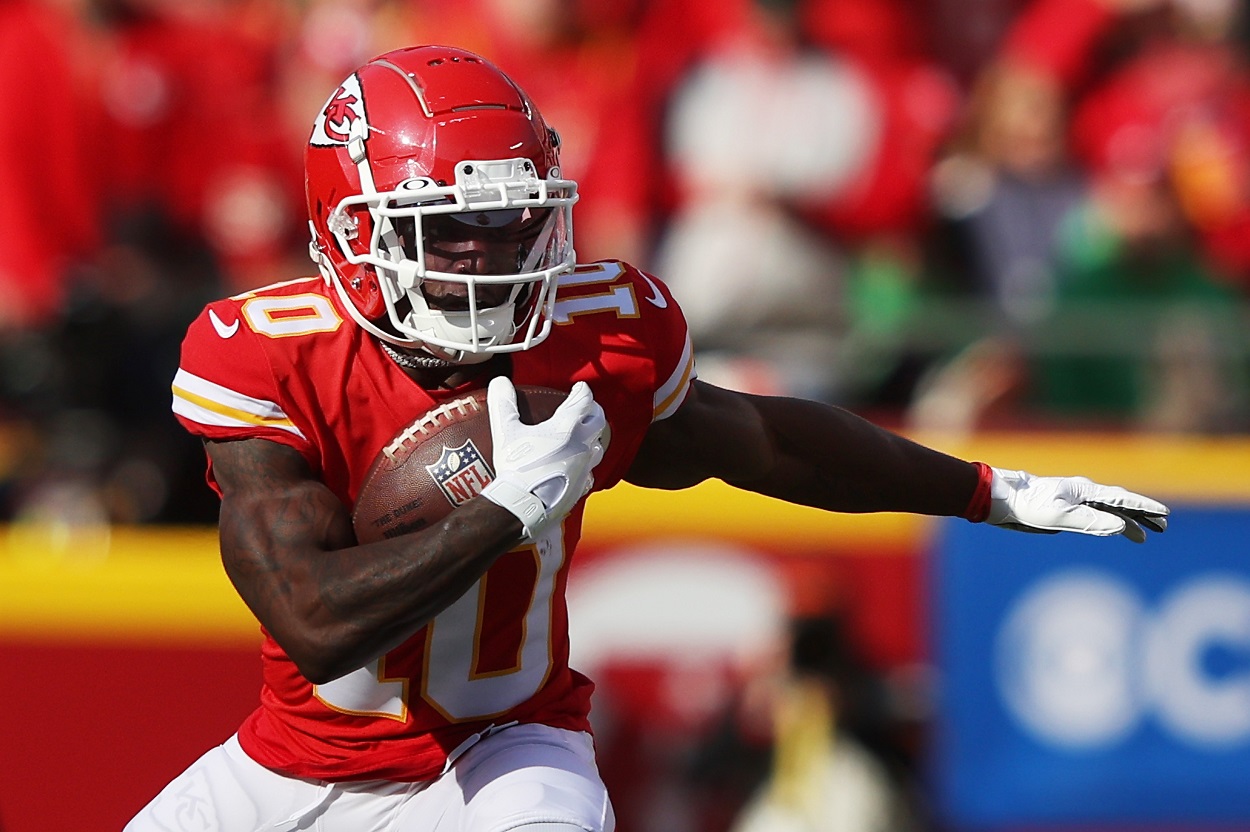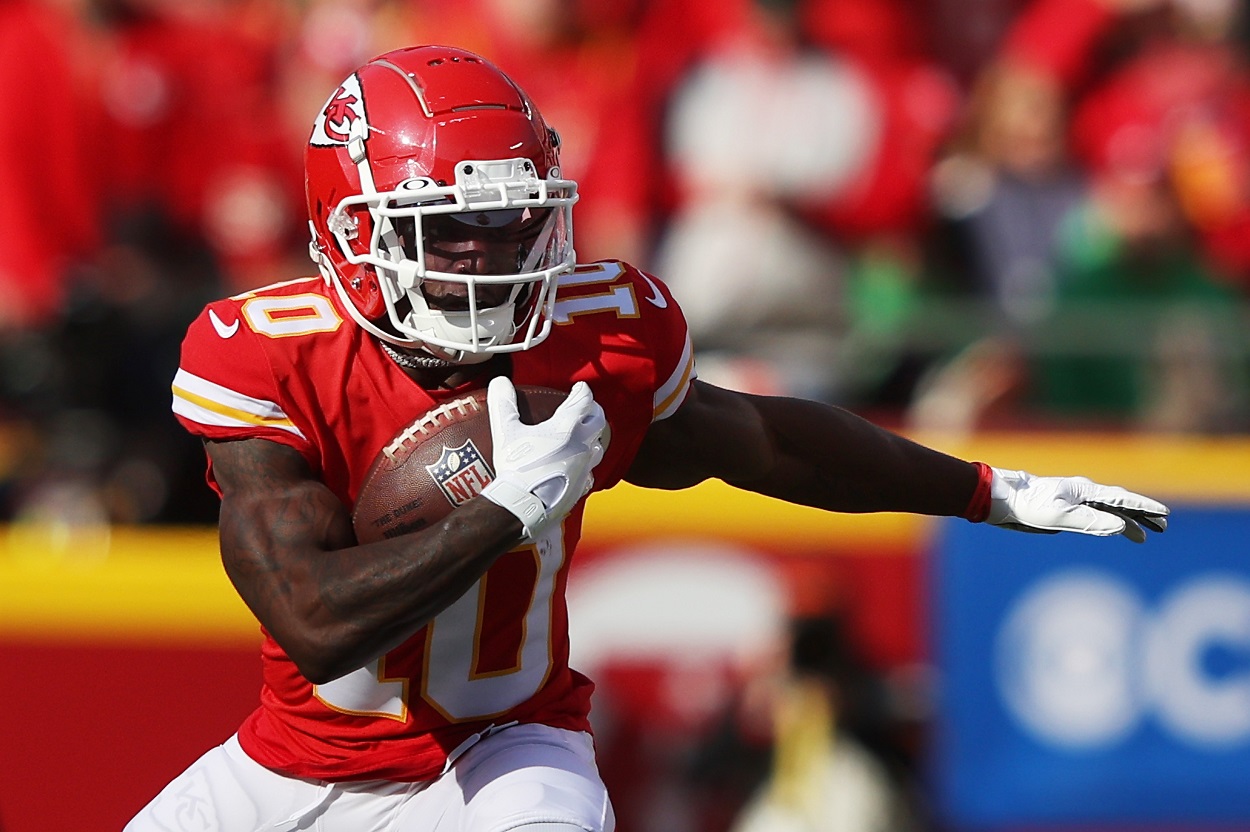 The Tyreek Hill Trade Is a Painful Lesson for Chiefs Fans About Appreciating What You Have — Joe Kozlowski
Kansas City Chiefs 3-Round Mock Draft Following Tyreek Hill's Departure — Matt Wadleigh
Tyreek Hill Trade: What It Means for Dolphins QB Tua Tagovailoa — David Esser
Kansas City Chiefs: 4 Wide Receivers to Pursue After Trading Tyreek Hill — Bob Garcia IV
What Are the Miami Dolphins' Draft Needs After Trading for Tyreek Hill? — Jake Elman
2022 NFL Draft: 5 Under-the-Radar WRs the Chiefs Should Target to Replace Tyreek Hill — Brandon Austin
Stats courtesy of Pro Football Reference