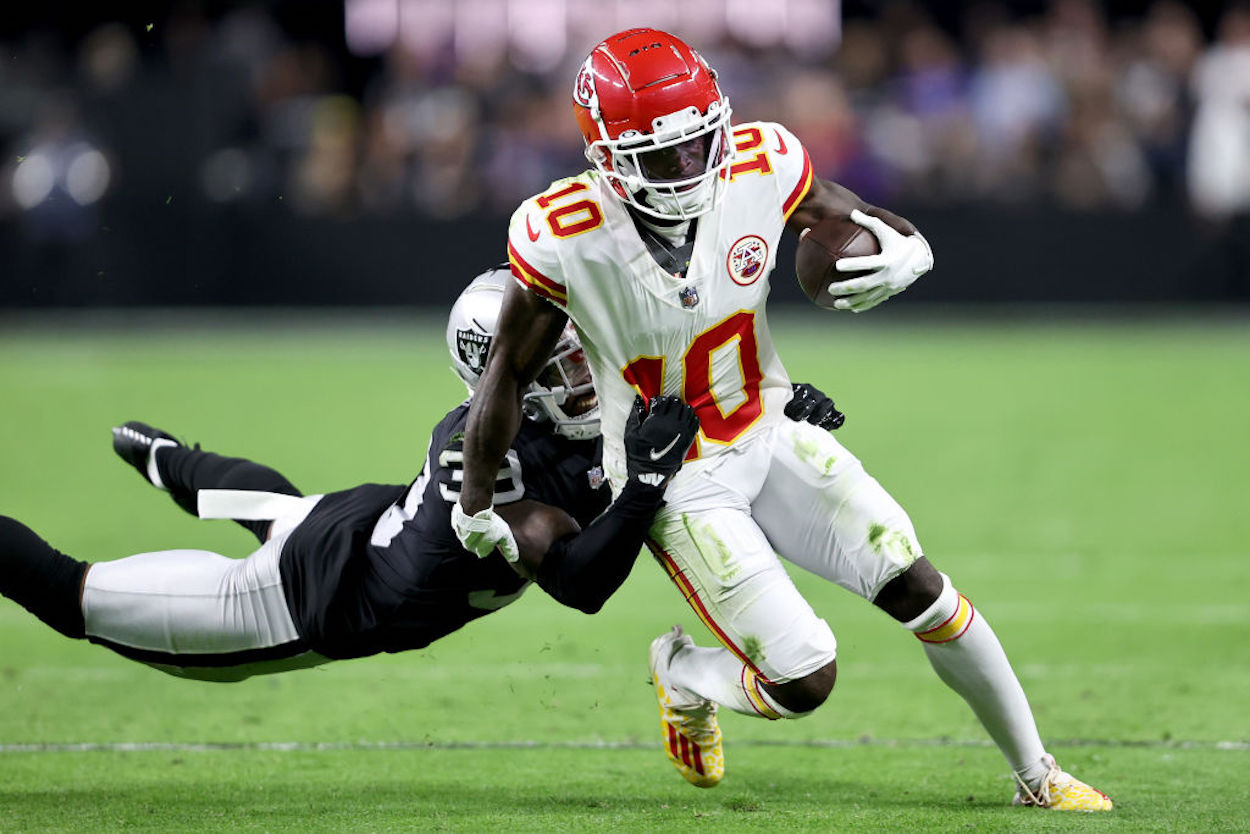 The Tyreek Hill Trade Is a Painful Lesson for Chiefs Fans About Appreciating What You Have
While the Tyreek Hill trade obviously shakes up the NFL landscape, it also provides an invaluable reminder about appreciating the journey as a sports fan.
After four trips to the AFC Championship, things suddenly feel much different for the Kansas City Chiefs. Even if you can set aside a disappointing loss to the Cincinnati Bengals, the offseason has been a series of gut punches. As if losing Tyrann Mathieu and seeing all three AFC West opponents strengthen their rosters weren't enough, Tyreek Hill has now left town in a shocking trade. Patrick Mahomes is still under center, but even he can only inspire so much optimism.
Setting aside the on-field impact, though, this trade is a painful reminder of an unshakeable reality. While Chiefs fans might not want to hear it right now, nothing is ever guaranteed, meaning you should enjoy the journey as much as the final destination.
Tyreek Hill leaves Kansas City after six seasons
At the risk of leaning on a cliche, your quarterback is the heart and soul of any successful offense. If Patrick Mahomes was the one driving the bus for the Kansas City Chiefs, then Tyreek Hill was sitting firmly in the first row.
The West Alabama alum came to Arrowhead in 2016, starting out as a kick returner and depth receiver. His speed provided an instant impact and, when the next season began, he was a key part of the offense. From there, the rest is (modern) history.
Hill, however, can't be spoken about in isolation. By placing him alongside Mahomes and Travis Kelce, the Chiefs assembled an incredibly complimentary trio. The receiver had speed to burn and, on the whole, a surprisingly steady set of hands. The tight end had the size and smarts to hold his own underneath but also possessed the athleticism to essentially play wide out. And, under center, Mahomes had the arm strength and adaptability to get them the ball anywhere on the field.
They seemed like the perfect match, the three cornerstones of a potential dynasty.
While there's not too much value to restating raw stats, it is worth remembering what Hill did in Kansas City. Across six campaigns, he pulled in 479 catches for 6,630 yards and 56 touchdowns. He, of course, helped the Chiefs reach four AFC title games, winning two, and lift the Lombardi Trophy in February 2020.
The Tyreek Hill trade is a reminder to appreciate the journey, even if things don't go according to plan
It goes without saying that the Kansas City Chiefs must have something up their collective sleeve; you simply don't trade an elite player without knowing your next move. Barring a few more surprise deals, though, it's impossible to think that the reigning AFC West champs won't take even a small step backward next season.
Right now, the vast majority of Chiefs fans are probably stunned, angry, upset, or some combination of those emotions. They've gone from seeing having a potential dynasty on their hands to losing one of the cornerstones of their success. With that being said, though, this move is the reminder of a larger reality: You simply don't know what you have until it's gone.
For the sake of full disclosure, I'm a Kansas City Chiefs fan. Growing up in Brooklyn, my dad picked them as his team, and then he passed them down to me. As a kid, I endured following a team that was rarely on TV. I had to play with Trent Green in Madden instead of Michael Vick, and I suffered through the Todd Haley/Romeo Crennel/we don't actually have a quarterback era. Then, seemingly out of nowhere, that changed.
Andy Reid and Alex Smith changed the club's fortunes. Then, Patrick Mahomes took things to the next level. I went from never seeing a playoff win to watching the Chiefs shine in the Super Bowl. All of a sudden, success was an expectation.
Expectations are both a gift — they mean you're doing something right — and a curse. The Chiefs were now supposed to win; losing was a failure.
Reaching the Super Bowl for the first time in decades felt like a dream come true. Reaching the second in two years felt like the weight of the world was on the franchise's shoulders. They played like it, and it hurt to watch. I almost didn't make it to the final whistle.
Then came this season's AFC Championship. The Chiefs were the favorites, had the lead, and then blew it.
Again, in the spirit of full disclosure, my dad and I were at that game. We'd never been to Arrowhead Stadium and drove halfway across the country to see the Chiefs play at home. While there are plenty of memories, both good and bad, from that trip, two, in particular, seem incredibly prescient now.
The first was just how much fun we had, even though our team had collapsed in classic Kansas City fashion. The second was how that fun clashed with just about every caller on the postgame radio show. Unsurprisingly, the dominant emotions that evening were disappointment and frustration. This team was supposed to be a dynasty, and it fell flat on its metaphorical face.
Those emotions once again seem relevant in light of the Tyreek Hill trade. It's impossible to feel like this current run isn't over, but it also seems like everyone, myself included, was missing the point over the past few years. At the risk of being Pollyanna and giving out a metaphorical participation trophy, the Chiefs have played some pretty good football. I simply failed to appreciate it.
As I already mentioned, I never saw the Chiefs win a home playoff game until I was in my 20s. I remember the team struggling to win two games; they've won now at least 10 games for the past seven years, with plenty of playoff success and a Super Bowl title to boot. To be frank, I never thought that would ever happen.
That's not to suggest we can't hold our favorite teams to standards and be disappointed when they lose. That would be naive to even suggest, and it defeats the purpose of being a fan. With all of that being said, though, sports should be fun. Winning is enjoyable, and, no matter how disappointing the season-ending loss may be, that one defeat shouldn't overshadow 10+ victories.
The Tyreek Hill trade is a perfect reminder of that. I never thought twice about him over the past few years. He was good, he was a Chief, and that was it. Now, he's heading to Miami and will be scoring touchdowns for another team. The same can be said for overall success. You don't know what you have until it's gone.
For all we know, the Chiefs will only win a handful of games next year and sink to the bottom of the AFC West. Maybe their next Super Bowl appearance won't come for another 50 years. At this point, we'll just have to wait and see.
Come next season, though, I know that I'll be appreciating each win, not to mention the fact that I'm getting to watch Patrick Mahomes and Travis Kelce.
Stats courtesy of Pro-Football-Reference