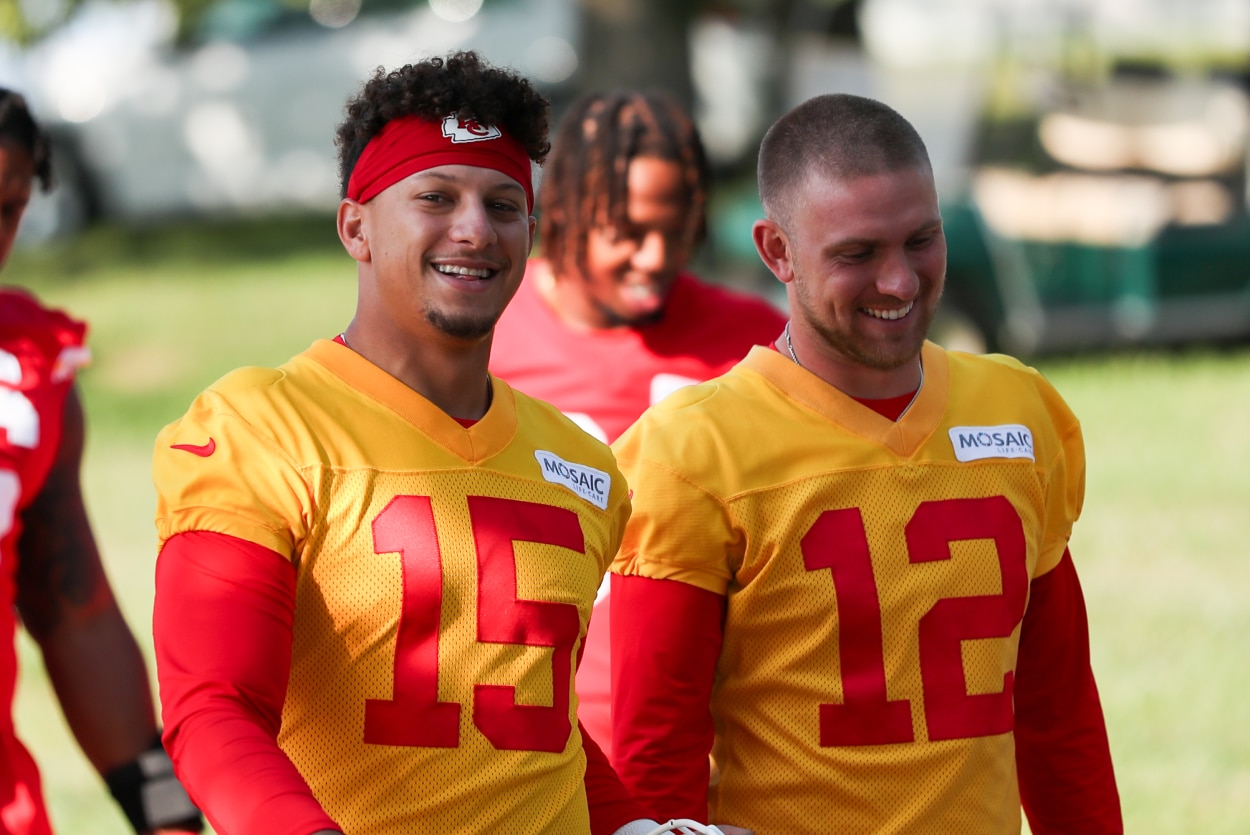 Patrick Mahomes vs. Shane Buechele: Whose Father Was the Better MLB Player?
Patrick Mahomes and Shane Buechele both have fathers who played 11 seasons of Major League Baseball. Who was the better player?
There's no question Patrick Mahomes is cemented as the starting quarterback with the Kansas City Chiefs. It's the backup job that's in question. With the retirement of veteran Chad Henne, it appeared Shane Buechele, the former Texas/SMU quarterback, would have the slight edge at becoming Kansas City's No. 2 man behind Mahomes.
The Chiefs, however, added veteran Blaine Gabbert in April, so Buechele's role is far from a given, although he played well in KC's preseason opener. Mahomes and Buechele veered off the paths of the famous fathers, who both played Major League Baseball. Which of the fathers had the better career?
Patrick Mahomes and Shane Buechele both have fathers who had lengthy MLB careers
Shane Buechele wanted to be like his father. Steve Buechele played 11 years of Major League Baseball, eight with the Texas Rangers. He was a solid third baseman, who hit .245 and smacked 137 home runs in his career. Before turning to football, the younger Buechele admitted he wanted to have a baseball career.
"Growing up, I always wrote in my yearbooks in elementary school that I wanted to be an MLB baseball player," Buechele said to the Tyler Morning Telegraph. "It's a little different playing football. But once I realized I could go to school and get (his education paid for) for playing football, that's when I realized this game is going to work out for me. I also fell in love with the game, as well."
Mahomes sang a similar tune. His father, Pat Mahomes, also spent 11 years in the big leagues as a pitcher. For quite some time, it appeared he, too, would follow in his father's footsteps.
At Whitehouse High School in Whitehouse, Texas, the younger Mahomes was named Max Preps Male Athlete of the Year in 2014. He threw a no-hitter and struck out 16 and was drafted by the Detroit Tigers in the 37th round. Had he not already committed to play football at Texas Tech, he would have been a much higher draft pick.
Who had the better MLB career: Steve Buechele or Pat Mahomes?
Steve Buechele played eight seasons with the Rangers and added short stints with the Chicago Cubs and Pittsburgh Pirates. With Texas, he had his best season in 1991, a year in which he was traded to the Pirates in late August. For the season, he smacked 22 home runs (18 with Texas) and drove in 85 runs. He also hit .262.
Buechele was steady throughout his career. Never an All-Star, he was a sure-handed infielder. He was also reliable, playing 153 or more games in three of his first four MLB seasons and four of his first six.
Like Buechele, Pat Mahomes was solid in his craft. A hard-throwing right-hander, Mahomes played for six different teams in his 11-year career.
Mahomes made 63 starts in his career and finished with a W-L record of 42-39. His best season as a starter came in 1994 with the Minnesota Twins when he finished 9-5 with a 4.73 ERA in 21 starts. As a reliever, he went 8-0 with the New York Mets in 1999 when he threw 63.2 innings.
While both players were solid, we have to give the edge to Buechele as the slightly better player. Although he never had the offensive equivalent of an 8-0 season, he contributed much more, playing in 1,334 games.
Mahomes bounced back and forth from starter to reliever. He began his first three seasons as a full-time starter, finishing with a 13-14 record in 39 starts. His career ERA is 5.47.