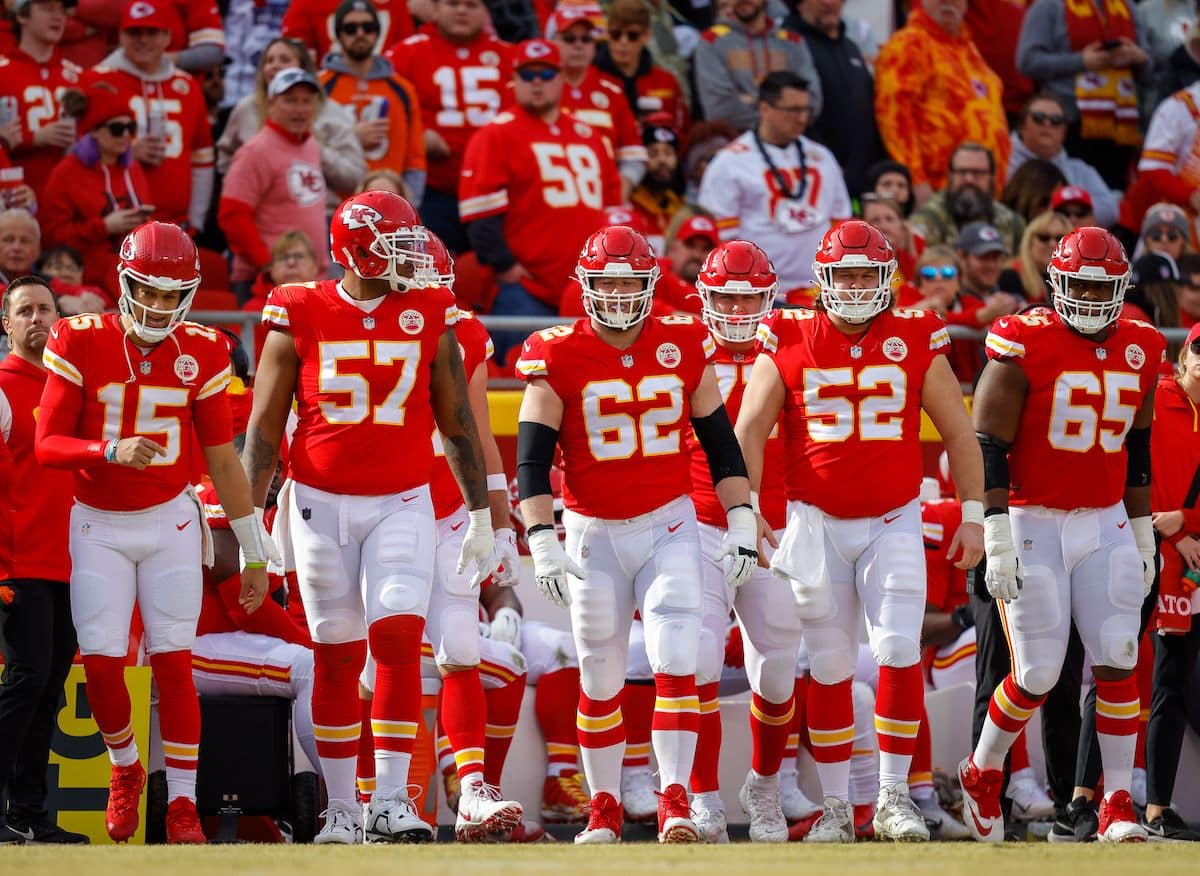 Patrick Mahomes Owes 5 Teammates a Huge Favor for Helping Him Inch Closer to Tom Brady
Two years removed from getting roughed up by the Tampa Bay Buccaneers in the biggest game of the season, Patrick Mahomes enjoyed the exact opposite experience thanks to his Chiefs protection squad.
Patrick Mahomes still needs five rings to tie the recently-retired Tom Brady for the most in NFL history. Ironically, the Kansas City Chiefs star just earned his second thanks to five teammates who rose to the occasion in Super Bowl 57.
Given the sizable gap between Mahomes and the GOAT in terms of career championships, he should show his offensive line all the love during Valentine's Day week for stepping up against a stacked Philadelphia Eagles front. 
Patrick Mahomes' protection squad kept him out of harm's way against the NFL's best defensive line
Talk about a tale of two Super Bowls. Two years removed from the Tampa Bay Buccaneers roughing him up in the biggest game of the season, Patrick Mahomes enjoyed the exact opposite experience facing a vaunted Eagles defensive line that totaled 70 sacks during the regular season.
Despite fielding a dangerously deep depth chart featuring the dynamic duo of Haason Reddick and Josh Sweat, Philadelphia failed to register a single sack. 
Considering how much pressure Mahomes dealt with in his last trip to the Super Bowl — the Buccaneers recorded three sacks and nine quarterback hits in their 31-9 victory — the fact he had ample time to find open receivers was surprising given the opponent. 
However, the Chiefs' tackle tandem of Orlando Brown Jr. and Andrew Wylie came through clutch when it mattered most. And Mahomes' blindside protector made sure to let everyone know about it, too. "Zero sacks. Put it on a f***ing t-shirt," Brown said, according to Pro Football Talk. "This is a historic offensive line."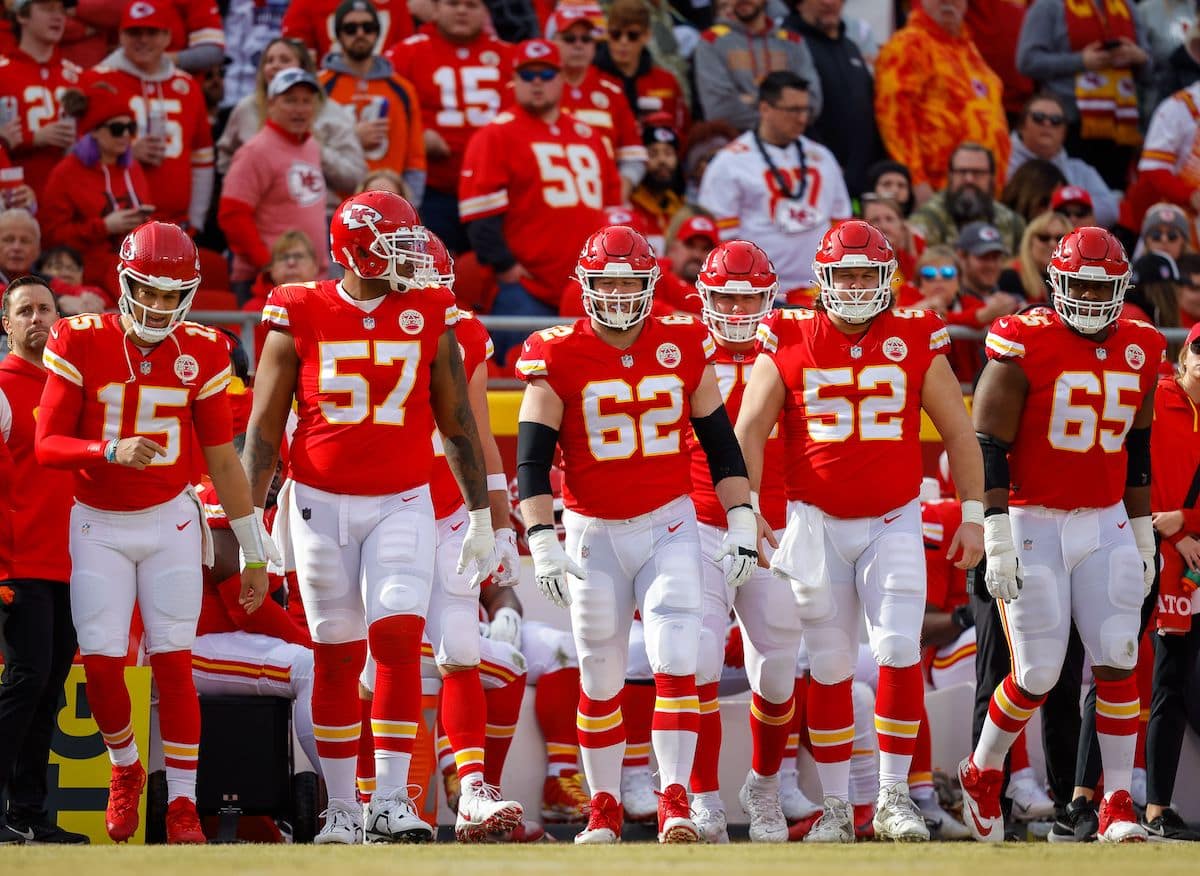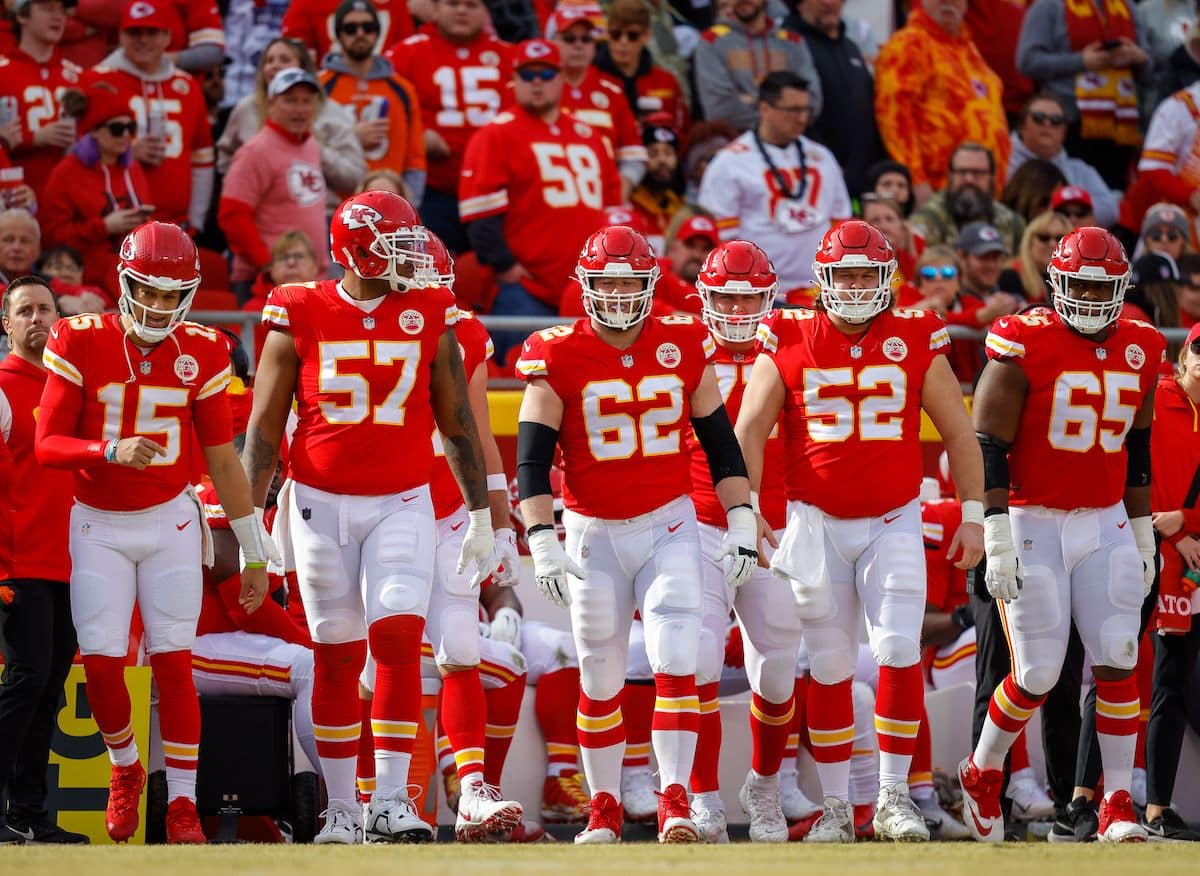 The performance of a unit comprised of Brown (left tackle), Joe Thuney (left guard), Creed Humphrey (center), Trey Smith (right guard), and Wylie (right) shouldn't have been a total shock, though. After all, Thuney joined the Chiefs as a high-priced free agent after earning multiple Super Bowl rings with the Patriots. 
Meanwhile, Humphrey arrived as a second-round pick in 2021. He's already earned Pro Bowl honors by quickly becoming one of the league's top centers. Smith, who fell to the sixth round of the 2021 NFL Draft due to medical concerns, finished as Pro Football Focus' 12th-ranked guard out of 77 players graded at the position. 
Wylie entered the game with something to prove after a rough outing in the Chiefs' Super Bowl loss to the Buccaneers. The veteran elevated his game in a big way, allowing just a single pressure on 29 pass-blocking snaps. 
The Chiefs' second Super Bowl win in four seasons puts Patrick Mahomes closer to Tom Brady in the GOAT conversation 
Pitching a shutout against Philadelphia's vaunted front put Mahomes in the perfect position to pick apart a secondary that saw James Bradberry admittedly commit a costly holding penalty in crunch time. Plus, Andy Reid undoubtedly delivered an A+ coaching performance in a victory that certainly strengthened an already Canton-worthy resume. 
But in a matchup in which their opponent's offensive line entered the game with all the hype, the Kansas City Chiefs' front five sent a powerful statement by stifling the Eagles' collection of pass rushers. The group paved the way for Mahomes, Isiah Pacheco, Jerick McKinnon, and Skyy Moore to rack up 158 yards on the ground.
From a legacy perspective, Mahomes' offensive line helped him inch closer to becoming the LeBron James to Tom Brady's Michael Jordan. If the uber-talented quarterback suffered a second straight loss in the Super Bowl, he couldn't be in the same sentence as someone who went 7-3 in 10 trips during his 23-year NFL career.
Now, though, Mahomes has a 2-1 Super Bowl record and two NFL MVP awards to his name — all at the age of 27. With a head coach and tight end who will earn busts in the Pro Football Hall of Fame, the league's savviest general manager in Brett Veach, and plenty of young, talented players around him, the NFL's biggest star has a realistic chance of winning two more titles by 30.
Factor in Mahomes' propensity for putting up video-game-like numbers in a league designed to let quarterbacks thrive, and it's fair to say Brady should have at least some concern about whether he will eventually be eclipsed by perhaps the most physically gifted quarterback to ever play football.
If Patrick Mahomes plans on taking away the GOAT title from Brady, he should show his offensive linemen some serious appreciation this offseason for making his job just a little easier.