Patrick Mahomes Reveals How He Tricked Andy Reid Into Drafting Him, With Some Help From Matt Nagy
In 2017, Andy Reid and the Kansas City Chiefs traded picks No. 27 and 91 (third round) and a 2018 first-round pick to the Buffalo Bills to move up to No. 10. With that pick, the Chiefs selected Texas Tech quarterback Patrick Mahomes. Four Pro Bowls, 22,526 passing yards, 180 touchdowns, two Super Bowl appearances, and one Lombardi Trophy later, the rest, as they say, is history.
While the Chiefs look like geniuses for picking the son of a former MLB relief pitcher who is building a resume that could become the greatest of all time, the marriage between team and quarterback may never have happened if Mahomes and then-Chiefs offensive coordinator didn't conspire to help the college QB impress his future head coach.
Patrick Mahomes told the story of how Matt Nagy helped him impress Andy Reid
Matt Nagy is now best known for his time as the much-maligned head coach of the Chicago Bears who presided over the failed Mitchell Trubisky Era in the Windy City. What got Nagy that head job, though, was his four seasons under Andy Reid as quarterbacks coach and one as offensive coordinator in 2017.
While Nagy mostly coached Alex Smith during his one season as OC in Kansas City, he played a major role in getting Patrick Mahomes to the franchise.
Ahead of Week 13, Mahomes joined his All-Pro tight end Travis Kelce on his New Heights podcast, which Travis hosts with his brother, Philadelphia Eagles center Jason Kelce. On the pod, Mahomes told the story of how he became a Chief.
The QB described his first meeting with Andy Reid at the Chiefs facility as the team and player geared up for the 2017 draft, where Reid and Mahomes went through Chiefs offensive plays so that Reid could get a feel for Mahomes' football acumen.
Mahomes obviously did well, but he revealed to Jason and Travis Kelce that he had a leg up.
"I'm going to just give you all the inside scoop," Mahomes told the Kelces. "Matt Nagy, who was the offensive coordinator then, he really liked me, so he gave me the plays they were going to go over the night before. So, Coach Reid is finding out here, live on New Heights podcast."
"Of course, I crushed the meeting," Mahomes added. "I stayed up all night studying those plays."
The quarterback also revealed that he tipped off Reid and company that he wasn't going to slide past the Houston Texans (who would draft Deshaun Watson) at No. 12 because he wanted to be in Kansas City, which is why the Chiefs made the trade with the Bills.
Matt Nagy confirmed the Chiefs QB's story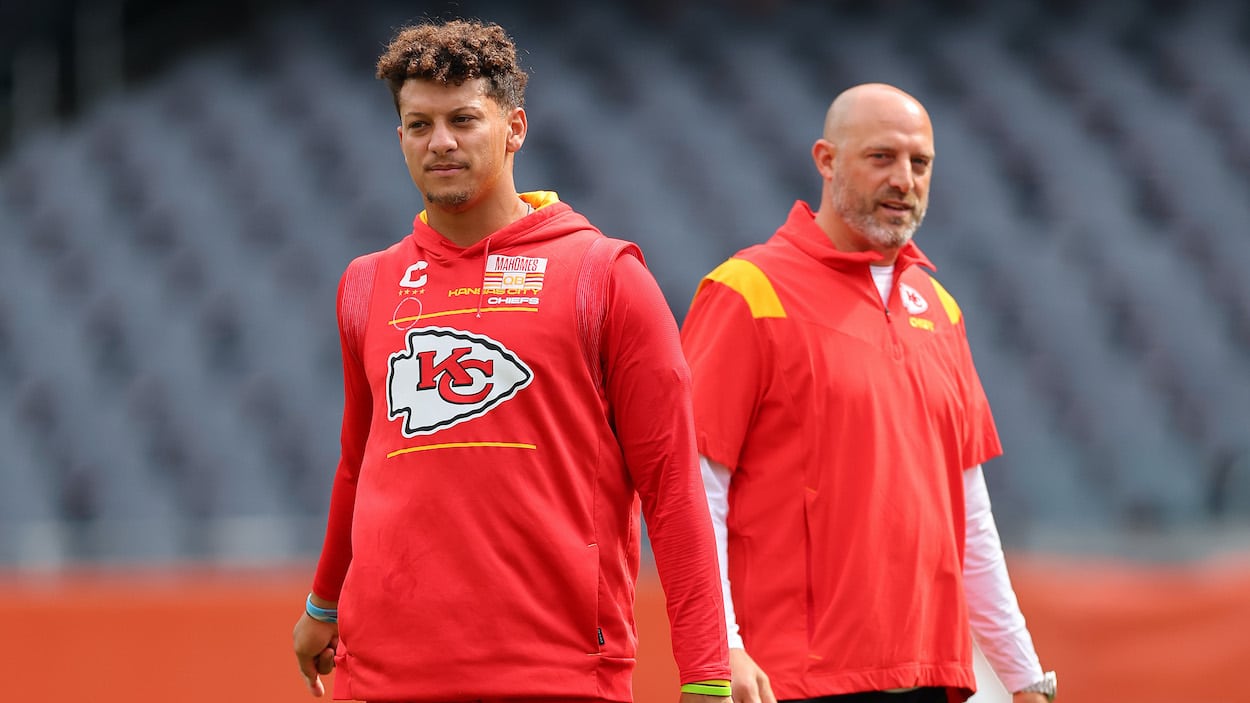 After a 6-11 season in 2021, the Chicago Bears fired Matt Nagy as head coach. Shortly after that, though, he hooked right back up with his old boss Andy Reid in Kansas City. In 2022, Nagy is now back as the quarterbacks coach of Reid's team.
Following Patrick Mahomes' New Heights interview, the Kansas City beat writers obviously pounced on the story above and quickly asked Nagy about it at his first media availability.
At first, Nagy played coy and told reporters that it wasn't just him who liked the Texas Tech signal-caller. The QB coach described the feeling around Mahomes as a "major consensus" among the coaches and front office, and Reid grilling him on the plays was "just a part of the process," per Sports Radio 810 WHB in Kansas City. 
When pressed on whether he had actually slipped Mahomes the plays the night before, Nagy admitted, "Yeah, maybe a little bit," before adding, "Some may have known a little bit, and some may have not."
While Nagy might not be the most popular guy in Chicago, the good people of Kansas City should throw him a parade. We'll never know whether Reid would have fallen in football love with Patrick Mahomes without Nagy's intervention. But the fact that the assistant coach had the foresight to give his boss a nudge in Mahomes' direction is an incredible feather in Nagy's cap.