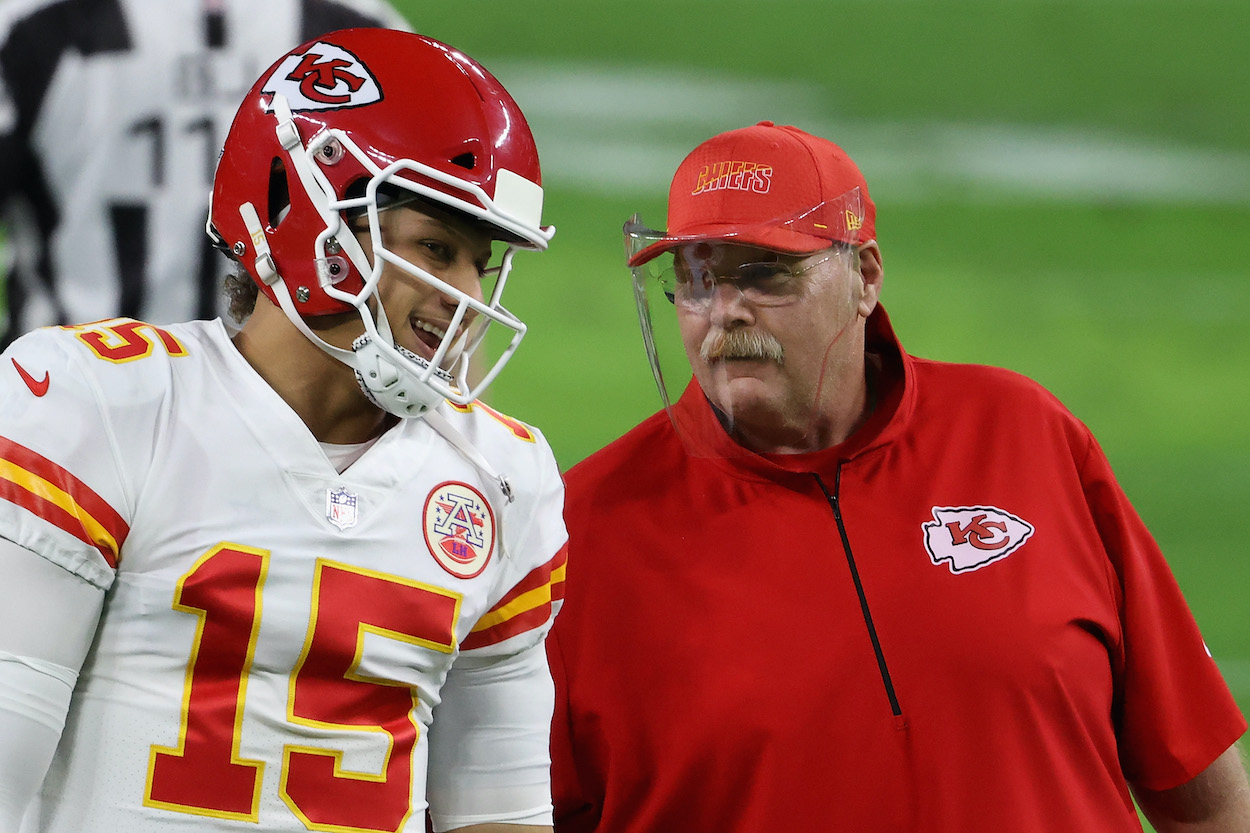 Andy Reid Gives Patrick Mahomes Advice About Changing Diapers and It's Exactly What You'd Expect From an NFL Coach
Andy Reid and Patrick Mahomes were already close on and off the field, but the coach teaching the QB's to change diapers is above and beyond.
The Kansas City Chiefs Andy Reid is an experienced, decorated, respected head coach. He has coached up his passing protégé, Patrick Mahomes, to become one of the best players in the NFL. In the 2021 offseason, Mahomes added a new title to his already impressive resume and is now a father. Just like Reid prepares Mahomes to go into an NFL game, he's also helping the QB prepare for an even tougher battle: changing diapers.
Patrick Mahomes welcomed a baby girl in the offseason
Patrick Lavon Mahomes II is in his fifth season in the NFL. The former Texas Tech passer has already established Hall of Fame-level credentials in just a short period of time. 
After sitting out most of his rookie season, Mahomes has taken the league by storm. He's a three-time Pro Bowler and an All-Pro. He's also been to two Super Bowls, won one, and taken home both Rookie of the Year and NFL MVP honors.  
As great as all those accomplishments are, Mahomes began his most important role this offseason when he and his fiancé, Brittney Matthews, welcomed their first child. 
On February 21, Mahomes posted a picture on Instagram of Matthews' neck and a necklace with "Sterling" written in diamonds. Below the necklace was a tiny baby hand gripping Matthews' finger. The caption read, "Sterling Skye Mahomes 2/20/21." 
His daughter's birth meant that in less than two weeks, Mahomes went from the Super Bowl to changing diapers. Luckily, he had coach Any Reid to help in both situations. 
Andy Reid is coaching Mahomes up on diaper changing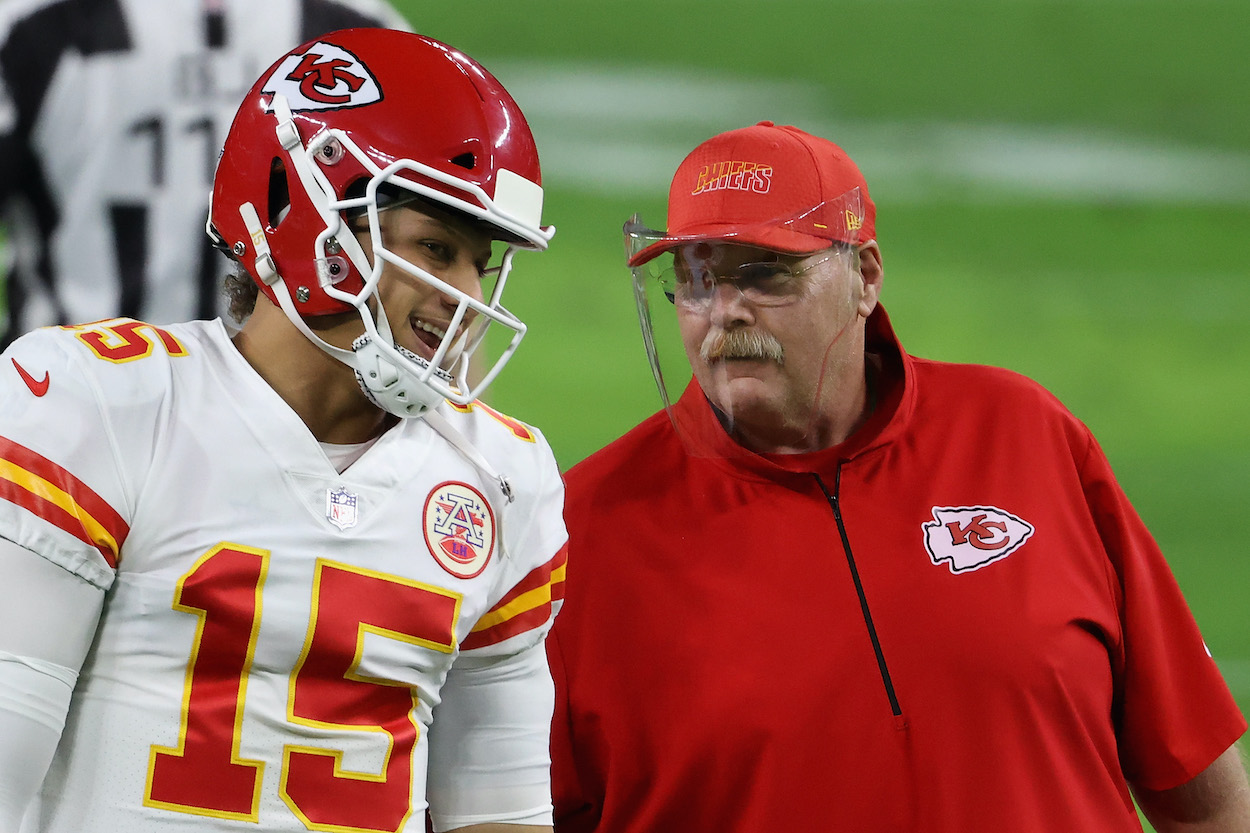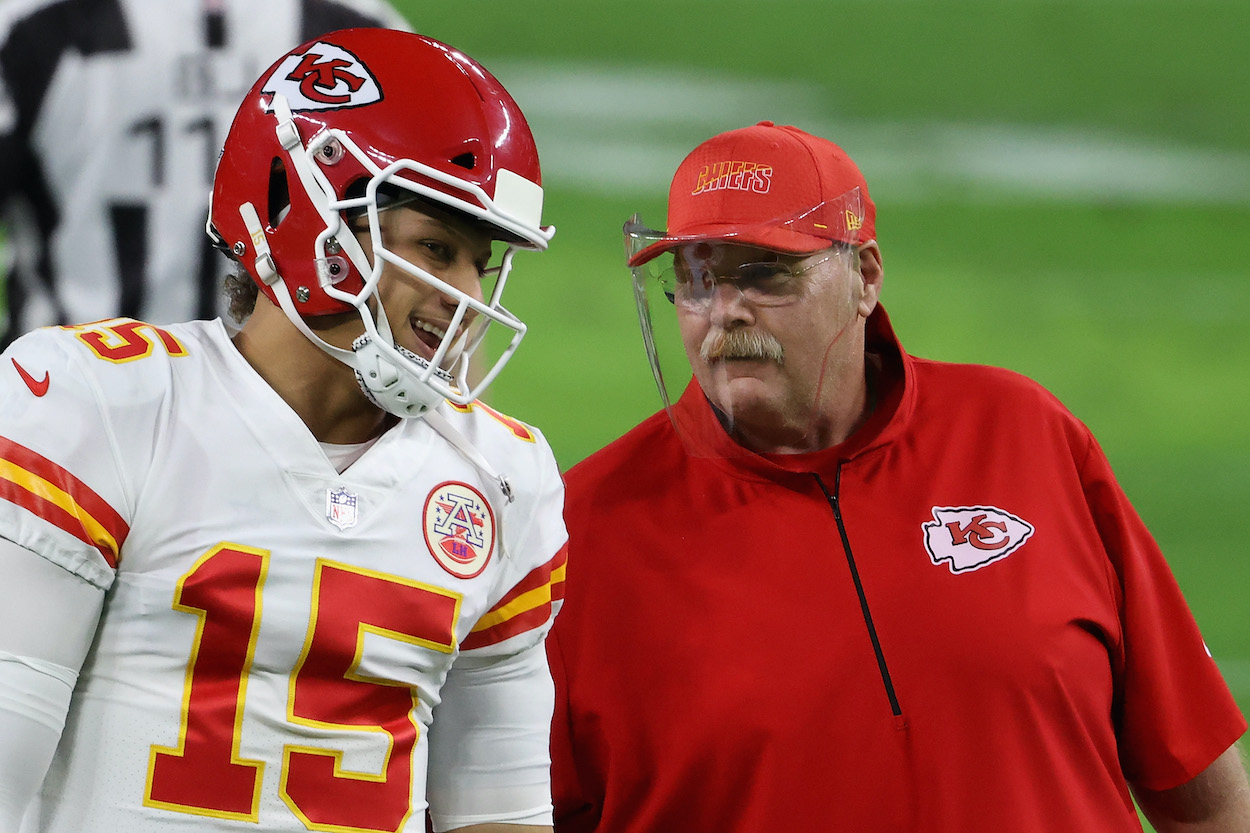 Coach Andy Reid and QB Patrick Mahomes are close both on and off the field. This makes it no surprise that Reid doesn't just offer Mahomes tips on reading a 4-3 defense. He also advises the young signal-callers in other areas of his life.
Mahomes shared one such area when he sat down with Kay Adams on the NFL Network pregame show ahead of Week 1 of the NFL season.
"Your coach, Andy Reid, told me he is teaching you how to change diapers," Adams relayed to Mahomes. "Is this true?"
Mahomes confirmed the host's information was accurate. Then he explained exactly what Reid tells him:  
He actually is. I've gotten alright at changing diapers. I'm not the best. I'm not gonna lie to everybody. But I think if you gave me the dummy baby and I could do it on paper, but as far as applying it to a moving baby that's screaming a little bit, crying a little bit, that's where I crack a little under the pressure … You gotta have the right mentality going in. I think that's the biggest thing [Reid] preaches to me is that you gotta have the right mindset going in to know you might face some adversity while you're there.

Patrick Mahomes on Andy Reid's advice on changing diapers
Spoken like a true coach.
Mentality, mindset, and adversity are precisely what you think an NFL coach would preach in any situation, whether it's taking the field against the Pittsburgh Steelers or diving elbow-deep into diaper duty.
The Chiefs coach and QB are off to a fast start once again in 2021
With Brittney Matthews and Sterling Mahomes watching on, new dad Patrick Mahomes took the field for the first time in the regular season against Baker Mayfield's Cleveland Browns in Week 1.
The team that the Chiefs beat in the 2020 divisional playoff round jumped out to a quick start and took a 22-10 lead on the defending AFC champions. In the second half, though, Mahomes and company showed the upstart Browns and the rest of the world why they are once again a favorite to reach and win the Super Bowl.
The Chiefs' comeback started with a Travis Kelce touchdown coming out of the half. That was followed by a Nick Chubb fumble which led to a field goal to make it 22-20. The Browns got one back on a Kareem Hunt TD, but in the fourth quarter, KC poured it on.
The play of a game was a scrambling, off-balance throw by Mahomes that led to a 75-yard touchdown catch and run by Tyreek Hill to make it 29-27. The Chiefs would take the lead for good just under three minutes later when a muffed punt snap led to another Kelce score.
How were Mahomes and the Chiefs able to win this game? As Reid says — just like with diapers — they had the right mentality, they had the right mindset, and they were ready to overcome adversity when it came.
All stats courtesy of Pro Football Reference