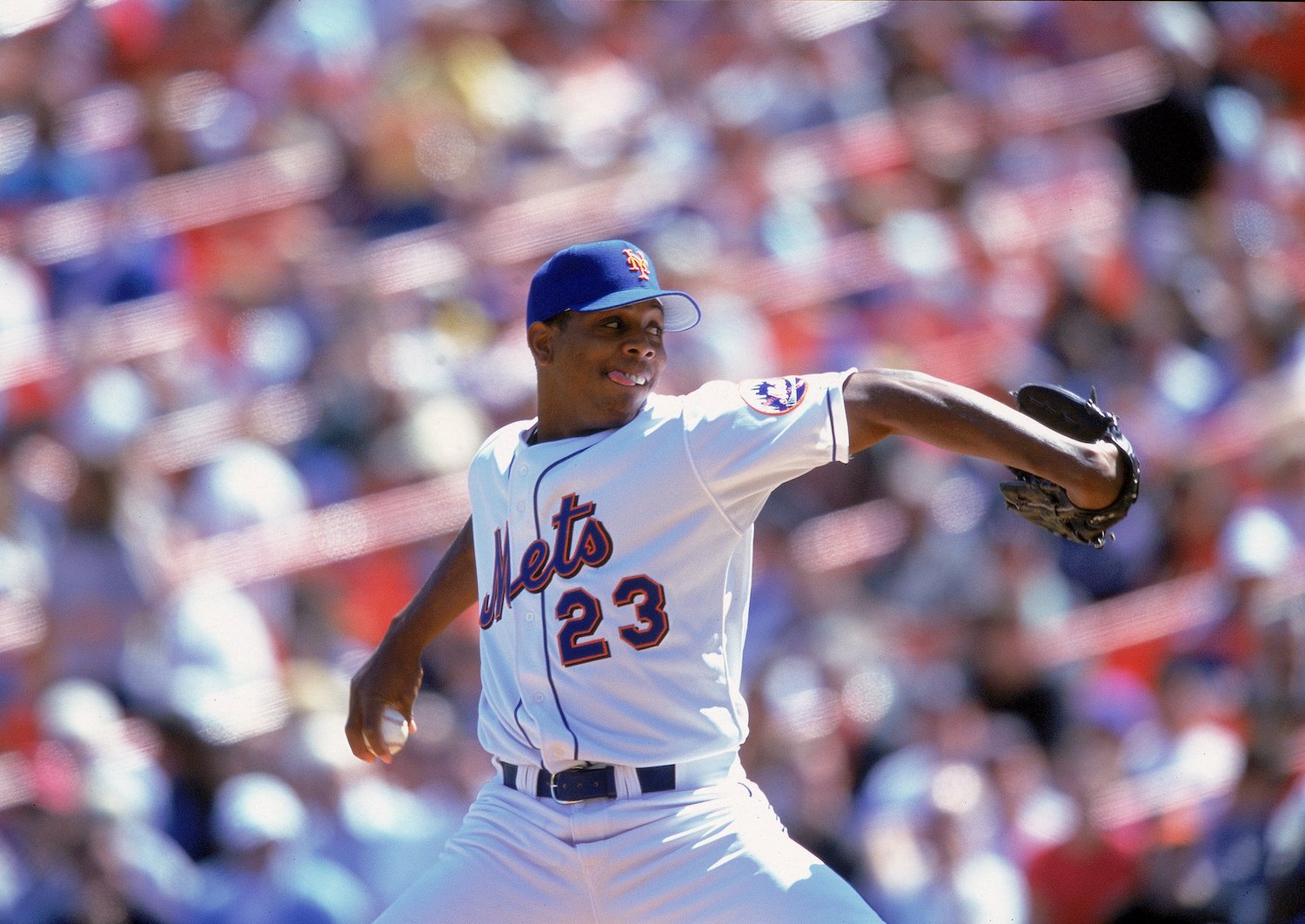 How Good Was Patrick Mahomes' Dad as a MLB Pitcher?
Patrick Mahomes' dad, Pat, was a MLB pitcher for 11 seasons. He was very influential in teaching his son the ropes of being a professional athlete. How good was Pat in MLB?
In Patrick Mahomes' three seasons in the NFL, the last two as a starter, he's been beyond impressive. During that short span, he's received numerous honors, including two Pro Bowls, an All-Pro, an NFL MVP in 2018, and a Super Bowl MVP in 2019 after leading the Kansas City Chiefs to victory. 
His early success could be attributed to his talent, but that's only part of the reason. The 24-year-old Mahomes has also excelled early in his young career because he has been groomed for this moment since he was a young kid. He literally grew up around professional sports in MLB clubhouses as Patrick Mahomes' dad, Pat, was a pitcher for 11 seasons. Playing 11 seasons of MLB is an accomplishment by itself, but how good was Pat Mahomes? 
Patrick Mahomes' dad begins MLB career
Patrick Mahomes' dad made his MLB debut at the ripe age of 21. That's a year younger than Patrick made his first NFL start. The elder Mahomes started his career with the reigning world champion Minnesota Twins in 1992. 
In his first appearance, Mahomes surrendered a three-run home run blast in the first inning to Texas Rangers slugger Juan Gonzalez. The young pitcher maintained his composure, pitched five shutout innings, and settled for a no-decision.
Mahomes pitched for five seasons with the Twins appearing in 114 games, which included 51 starts. In 1995, Patrick Mahomes II was born.
Patrick Mahomes' dad introduces him to baseball
In 1996, the Twins traded Patrick Mahomes' dad to the Boston Red Sox, where he played sparingly as a relief pitcher in parts of two seasons. In August 1997, the Red Sox released him, and he headed to Japan. 
Mahomes played through the 1998 season in Japan before returning stateside, where he signed with the New York Mets. He had his best season in MLB that year working exclusively out of the bullpen. He made 39 relief appearances, finished with an 8-0 record, and was an important part of a pitching staff that helped the Mets reach the playoffs, where they lost to the Atlanta Braves in the National League Championship Series. 
It was during this time in New York when Patrick Mahomes' dad introduced him to the game. The father quickly discovered his five-year-old son's athletic talent. During pre-game, when his father was off working in the cage or performing other duties, the youngster was in the outfield shagging fly balls. 
"That's when I really first starting remembering being around the guys my dad played with," Patrick told the Minneapolis Star-Tribune. "Mike Hampton and all those guys. Going out and shagging fly balls and stuff." 
Mahomes excels in sports and chooses football
Patrick Mahomes' dad pitched for three more seasons in the majors, including a stop with his hometown team, the Texas Rangers in 2001. After 2003, Mahomes left MLB but continued pitching for six more years in the minors and various independent leagues. He made his final professional outing in 2009 at age 38.
While the elder Mahomes toiled those last few years at the lower levels of professional baseball, his son began to flourish on the diamond as well as on the football field and basketball court. The three-sport star considered giving up football his junior year in high school to focus on baseball, where he was throwing in the 90s. His mother convinced him to continue his pursuit of football. 
The younger Mahomes was a top prospect in the 2014 MLB draft. However, because he had told MLB teams he was firm in his commitment to playing football at Texas Tech, no teams were willing to risk a high draft pick. The Detroit Tigers took a shot and drafted him in the 37th round. He never signed. 
While Patrick has received all the accolades in the last couple of years, he definitely has his father and his father's teammates to thank for showing him what it takes to be a professional all those years in MLB clubhouses. There's no doubt all those experiences helped prepare him for life as a professional athlete. And he has his mom to thank for guiding him into football.  
Stats courtesy of Baseball Reference.