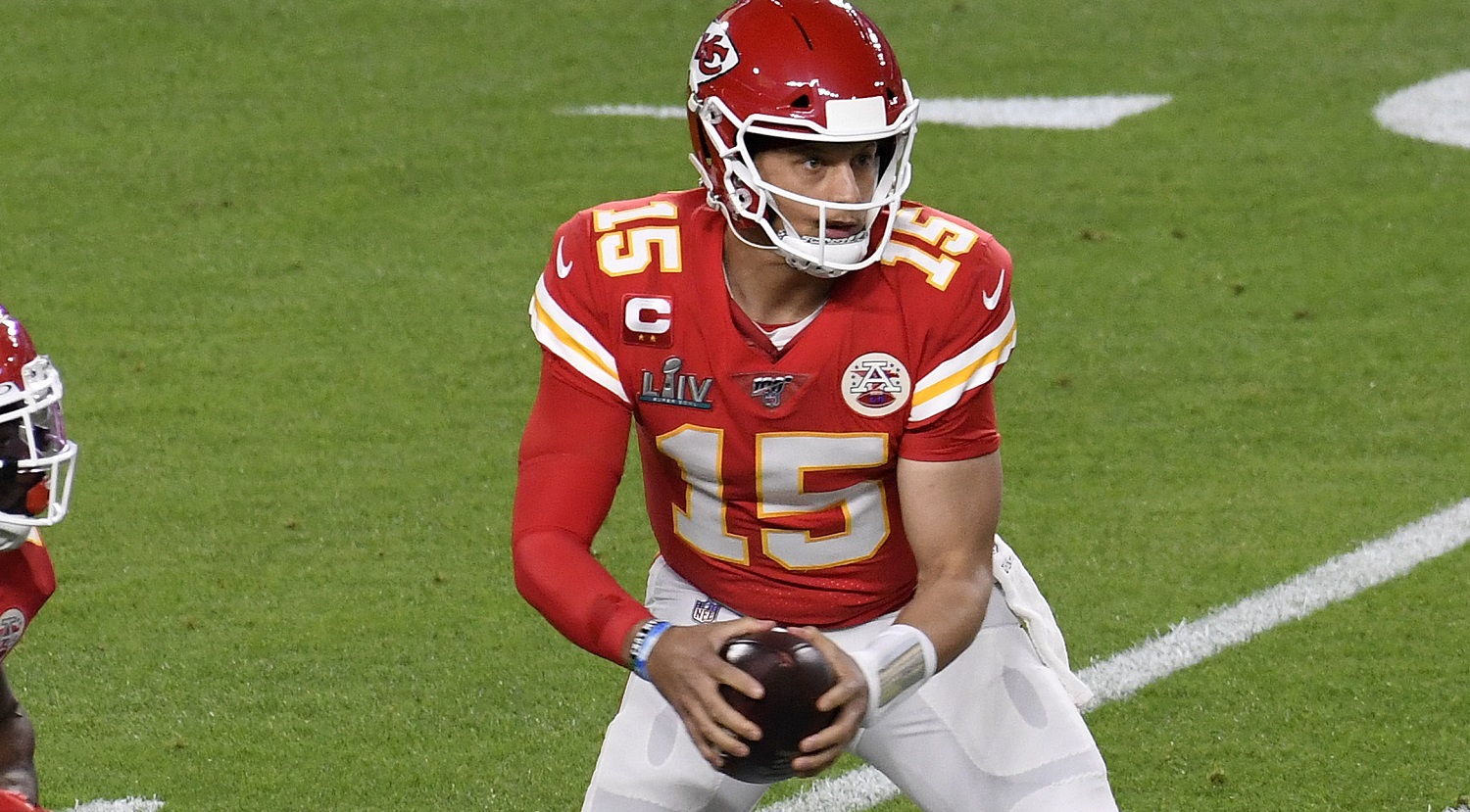 Patrick Mahomes Thinks He Knows the Best Kept Secret in Sports
Patrick Mahomes has signed a deal with BioSteel, his first endorsement since the Kansas City Chiefs won Super Bowl 54.
The Patrick Mahomes who led the Kansas City Chiefs to victory in Super Bowl 54 is nothing like the Patrick Mahomes who is building a financial juggernaut. Deals like the one the quarterback just struck with BioSteel are why Mahomes may be on his way to a net worth in excess of $1 billion.
Rather than improvising on the fly to make something out of nothing, throwing from all angles, and taking long shots down the field, Mahomes has shown a patient and calculating nature with his latest endorsement.
Patrick Mahomes calls BioSteel the 'best kept secret in sports'
The wins just keep coming for Patrick Mahomes in 2020. The man who led the Kansas City Chiefs to a victory in Super Bowl 54 vs. the San Francisco 49ers recently signed an astonishing new contract. He has also executed every sports fan's dream by buying into a pro team and now has added to an impressive portfolio of endorsements in a way that could be more lucrative than any of his previous deals.
The Kansas City Chiefs quarterback has signed a multi-year deal to become an equity partner in BioSteel Sports Nutrition, Fox Business reported.
"The best kept secret in sports is only getting better," Mahomes wrote on Twitter.
The value of the deal was not disclosed, but Fox's report that Mahomes has become an equity partner in BioSteel is significant. While there is risk involved, taking an ownership stake in a lesser-known company rather than just collecting an annual check can turn into a bonanza, especially if the company goes public.
LeBron James has reportedly already reaped a tidy sum from his investment in the Blaze Pizza chain and figures to make much more once the company issues an IPO that is anticipated to be coming in 2022 or '23. With names like Patrick Mahomes, Dallas Cowboys running back Ezekiel Elliott, and New York Yankees infielder Gleyber Torres endorsing the company, there is the potential for BioSteel to emerge in the same fashion and create a windfall for those already owning a piece of the company.
BioSteel is Patrick Mahomes' first endorsement since Super Bowl 54
Patrick Mahomes, who'll turn 25 in September, has shown wisdom beyond his years by pumping the brakes on endorsements since Super Bowl 54. Other than the requisite "I'm going to Disney World" schtick that comes with winning Super Bowl MVP honors, the Kansas City Chiefs QB had not promoted any new products until now.
That's despite the fact that offers pour in from all corners of the country for sports stars of Mahomes' stature. Between his contract extension with the NFL champions and his impressive lineup of existing endorsements, Mahomes doesn't need to make a money grab every time a proposal lands on his desk.
According to Forbes, Mahomes already has agreements with Adidas, Bose, DirecTV, Electronic Arts, Essentia Water, Head and Shoulders, Oakley, and State Farm.
The Kansas City Chiefs QB took notes from Michael Jordan
Kansas City Chiefs quarterback Patrick Mahomes told Forbes that seeing Michael Jordan in The Last Dance documentary on ESPN made an impression on him and that he's also learned by seeing how Kobe Bryant and LeBron James conducted business.
"I'm trying to formulate a plan where I can take those next steps off the field," he said.
Part of it involves staying connected to the community, which led to Mahomes investing in MLB's Kansas City Royals.
There's also a need for discretion, which is why Mahomes has gone with well-known, reputable brands to this point. Though Canadian Canopy Growth, a cannabis firm, bought a majority stake in BioSteel with the intent of promoting CBD products, Mahomes is not involving himself in that aspect of the business.