Andy Reid's Journey to Super Bowl LVII Is a Numerical Story of Fives
The Kansas City Chiefs have had a hard road back to this year's Super Bowl. A major reason for their success involved head coach Andy Reid. Despite losing their best receiver in Tyreek Hill and watching their star quarterback hurt his ankle during the playoffs, Reid kept the team in control. 
The 64-year-old has experienced one of the best NFL coaching careers. Taking a closer look at Reid's success, you'll notice an interesting pattern of fives. 
Andy Reid led the Philadelphia Eagles to five NFC championship games
Many young football fans may only know Reid as the head coach of the Kansas City Chiefs. That's certainly for a good reason. He's spent a decade in KC and turned the franchise into one of the most successful in the NFL. But Reid laid the foundation for his future success in another place: Philadelphia. 
Before taking the reins for the Chiefs, Reid led the Eagles to five NFC Championship games. He didn't exactly have a sterling record there — he went 1-4 — but just to get his team that deep into the playoffs on a consistent basis was impressive. 
Reid coached the Eagles from 1999-2012 with an overall playoff record of 10-9. He took the team to one Super Bowl appearance in 2004, but they came up short against the New England Patriots. 
Reid is currently the fifth-winningest coach in NFL history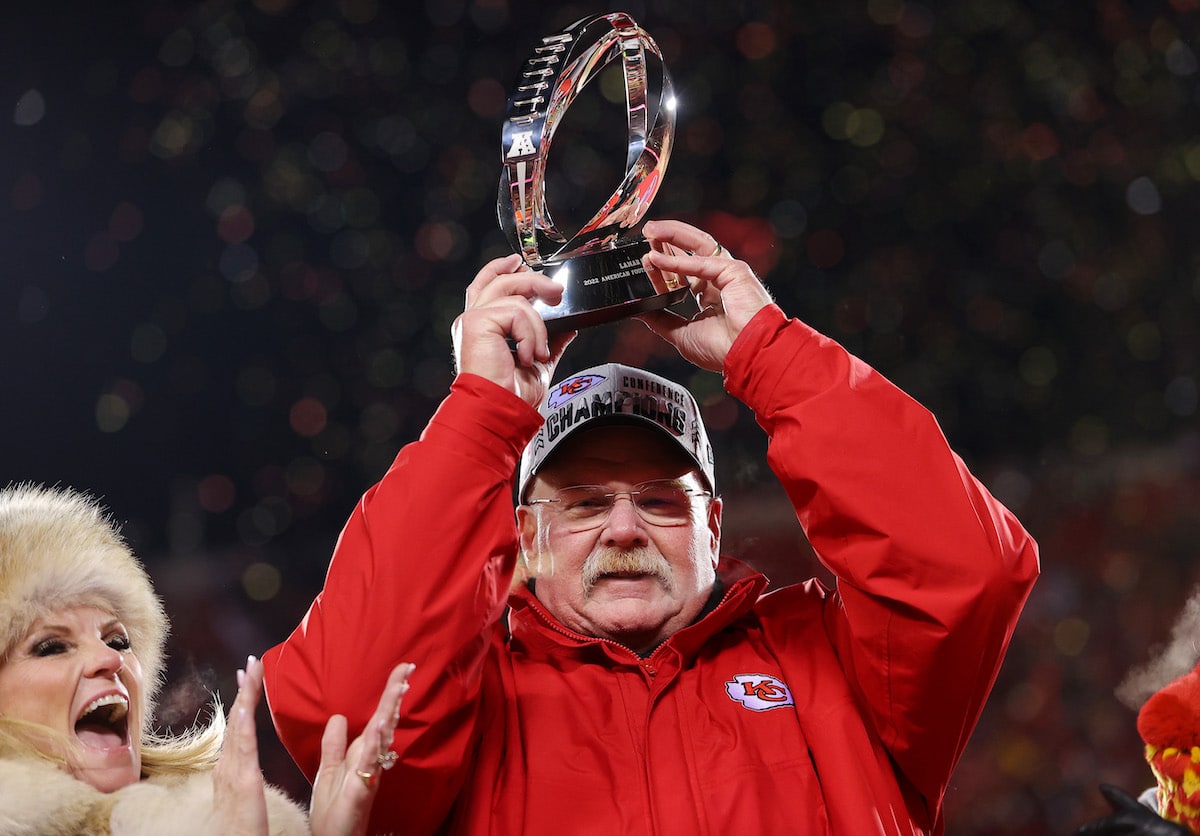 When you look at Reid's entire body of work in both Kansas City and Philadelphia, you realize you're looking at the track record of a Hall of Famer. Reid is without a doubt one of the best head coaches in NFL history. He ranks fifth overall on the all-time list for wins. The only names ahead of him are certified legends: Don Shula, George Halas, Bill Belichick, and Tom Landry. 
In 24 seasons as a head coach, he has a record of 247-138-1. His teams qualified for the playoffs in 18 of his 24 seasons. Reid went quite a long time until he won the ultimate prize of a Super Bowl. But even without that championship, he'd unquestionably be bound for Canton. 
Andy Reid is the fifth coach to ever face his former team in the Super Bowl
Both fans and media alike look for compelling storylines heading into each Super Bowl, and this year's edition has a big one: Reid is facing the team he coached for more than a decade.
Interestingly enough, however, he's not the first coach to be in this position. He's one of five head coaches to face their former team in the big game, according to CBS Sports. Here's how the other coaches did in a similar spot:
Weeb Ewbank led the New York Jets to a shocking upset of the Colts in Super Bowl III. 
In Super Bowl XXXIII, Dan Reeves saw the Atlanta Falcons come up short against his former team, the Denver Broncos. 
Super Bowl XXXVII featured the Tampa Bay Buccaneers against the Oakland Raiders. Jon Gruden, only a year removed from leaving the Raiders, led Tampa to a convincing victory with a roster built for success by Tony Dungy. 
Before Pete Carroll was a success at both USC and in Seattle, he was a middling NFL coach for the New England Patriots. Carroll won a Super Bowl in Seattle but failed in his next attempt against his former squad. 
After Super Bowl LVII, Andy Reid will seek his fifth appearance next season
As mentioned earlier, Reid went to one Super Bowl in Philadelphia. This is his third appearance with Kansas City. No matter the result of this year's contest, next year will see Reid competing for his fifth overall appearance. 
It's hard to argue against the Chiefs having a good shot. While Buffalo and Cincinnati make worthy foes, the Chiefs have built quite an infrastructure. As long as Patrick Mahomes is healthy, he's liable to take his team on a deep playoff run.
The real question will be if prized Reid assistant Eric Bienemy stays on for another season. He interviewed with the Indianapolis Colts for their head coaching position. Whether he returns or not, it's clear Reid will have his team ready to compete for years to come. 
Stats courtesy of Pro Football Reference.