Andy Reid Coaching Tree: How Many NFL Coaches Worked for the Chiefs Boss?
Most NFL coaches come from other NFL coaches' staffs. It's rare for a coach to go to the NFL with only college experience (Urban Meyer) or straight from a broadcast studio (Jeff Saturday) with no pro coaching experience. And when it does happen, it never goes well. What does work is tapping the right NFL coaching tree, and Kansas City Chiefs coach Andy Reid knows all about that. He comes from the most successful coaching tree in league history, and the Andy Reid coaching tree has become impressive in its own right.
The Andy Reid coaching tree has many branches in the NFL in 2023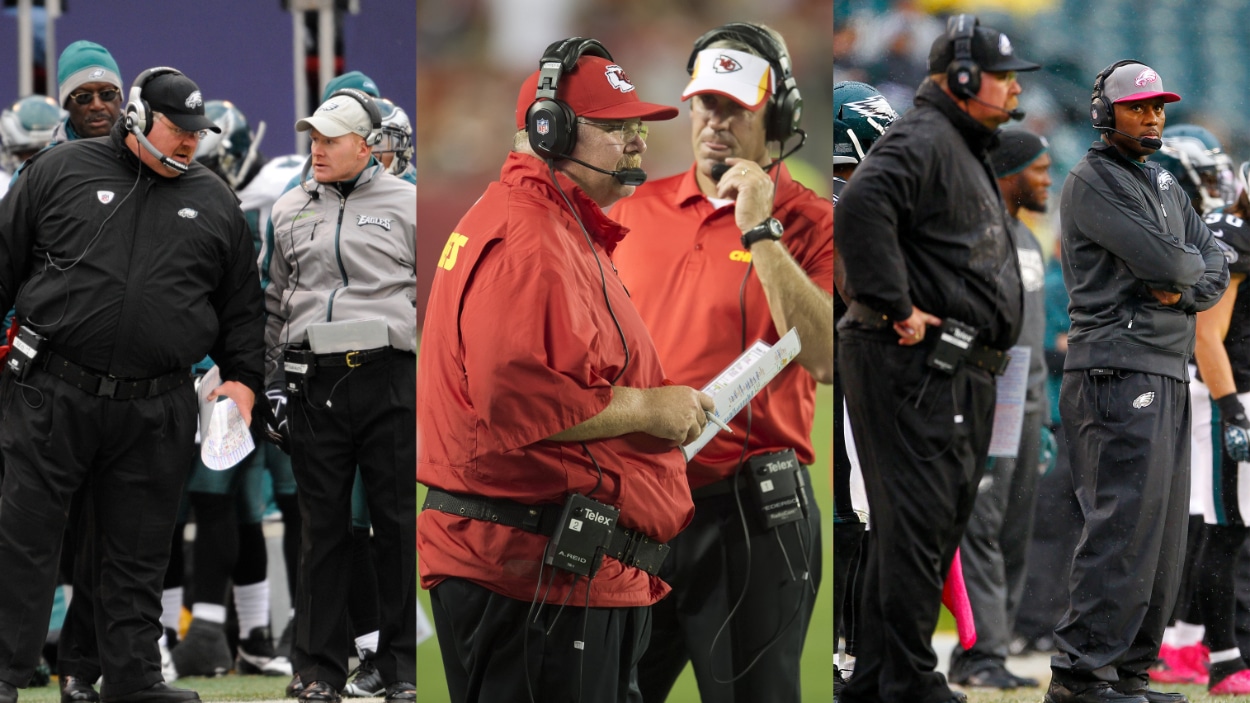 When looking at the NFL coaching landscape in 2023, many current team leaders owe their success to the Andy Reid coaching tree.
Reid started his pro coaching career under Mike Holmgren with the Green Bay Packers in 1992. Five years later, he was the head coach of the Philadelphia Eagles, where he racked up an impressive 130-93-1 record in 14 seasons but could never win the big one.
After leaving Philly in 2012, Reid took over the Chiefs, where his record is now an even better 117-45, and he finally got his Super Bowl title.
In these 24 years at the helm of NFL teams, the Andy Reid coaching tree has sprouted many impressive branches. Of the 28 currently filled jobs in the league, eight coaches are part of this network.
John Harbaugh (special teams), Doug Pederson (offensive), and Todd Bowles (defensive) were coordinators under Reid. Ron Rivera, Sean McDermott, Frank Reich, Nick Sirianni, and Matt Eberflus were all lower-level coaches under Reid or coordinators under Reid's disciples.
The tree also includes several former NFL head coaches like Steve Spagnuolo (current Chiefs DC), Matt Nagy (current Chiefs QB coach), Steve Wilks, and Pat Shurmur.
Current Chiefs OC Eric Bieniemy could become another branch on the Andy Reid coaching tree as he has interviewed for multiple jobs during the last several coaching cycles.
Reid is part of the greatest NFL coaching tree of all time
It shouldn't come as a shock that the Andy Reid coaching tree is one of the best in the NFL. He comes from one of the great NFL coaching trees in league history, and when you trace his roots back further, he's part of the greatest coaching network of all time.
In 1994, Packers coach Mike Holmgren had an incredible coaching staff with three Super Bowl-winning coaches working underneath him. Those coaches were Reid, Steve Mariucci, and Jon Gruden.
Additionally, in his time with the Packers and Seattle Seahawks, Homgren produced several other NFL coaches, including Dick Jauron, Ray Rhodes, Marty Mornhinweg, Mike Sherman, and Jim Zorn.
Holmgren started his pro coaching career on the staff of legendary 49ers coach Bill Walsh. That NFL coaching tree is the best in league history.
Since Holmgren won his Super Bowl tile in 1997, 18 coaches have lifted the Lombardi Trophy. Of these 18, only four (Bill Belichick, Dick Vermeil, Bill Cowher, and Tom Coughlin) can't trace their roots back to Walsh.  
The other 14 — Mike Shanahan, Brian Billick, Gruden, Tony Dungy, Mike Tomlin, Sean Payton, Mike McCarthy, Harbaugh, Pete Carroll, Gary Kubiak, Pederson, Reid, Bruce Arians, and Sean McVay — all come from Walsh when you trace their lineage back.