Petition to Dump Jeff Saturday as Colts Head Coach Draws 3,400 Signatures and Counting
Indianapolis Colts fans are done. They are done with the disappointment, they are done with the losing, and most of all, they are done with Jeff Saturday as the Colts head coach. Owner Jim Irsay installed the club legend as interim head coach after firing Frank Reich following a 3-5-1 start. It was a shocking choice, as Saturday's post-playing career involves coaching at the high school level and analyzing the NFL on ESPN. And, unsurprisingly, it did not go well. Now reports have Saturday as the favorite to get the job full-time, but fans have put together a Jeff Saturday petition in the hopes of convincing Irsay otherwise.
Fans started a Jeff Saturday petition to ask Jim Irsay not to hire him as Colts head coach
After winning a Super Bowl in 2017 as the Philadelphia Eagles offensive coordinator, Frank Reich took over as Colts head coach in 2018. The former NFL quarterback put up a decent record (40-33-1). However, after last year's improbable playoff miss and this year's slow start, it wasn't a shock Jim Irsay let him go.
What was a shock was Irsay installing ESPN analyst Jeff Saturday as the interim head coach. There were several more qualified candidates already on staff, but Irsay turned to his Super Bowl-winning center for some reason.
At the time, Irsay explained the choice by saying he wanted someone with no NFL experience to make unique, bold decisions. However, after an initial win, the wheels fell off, and the Colts season ended in a train wreck (more on that below).
Now, Irsay is on to his second interview with Saturday for the full-time job in 2023, and rumblings out of Indy are that the interim coach is the leader in the clubhouse right now for the job.
This is a bridge too far for Colts fans.
One fan, Shawn Ward, went so far as to start a petition on change.org, begging Jim Irsay not to hire Saturday as the next Colts head coach. On the site, Ward wrote:
To Mr. Irsay,

We as Colts fans will always love the memories of the SB XLI team; we love the former players and the people they've become, but we don't want Jeff Saturday as the head coach of this team going forward.

Please hire someone with experience and save your fan base from revolting and losing interest.

Jeff Saturday petition on change.org
The petition went live in early January, but as the potential Saturday hiring picked up steam, so did the petition's signatures. As of Friday, January 27, 2023, the appeal was closing in on 3,000 signatures (update: is now over 3,400 signatures) from upset Colts fans.
Among the comments from petition signers, some expressed anger, some desperation, and others even threatened to cancel their season tickets. Still others thought the petition didn't go far enough and asked Irsay to fire general manager Chris Ballard as well.
Saturday was a bust as an NFL head coach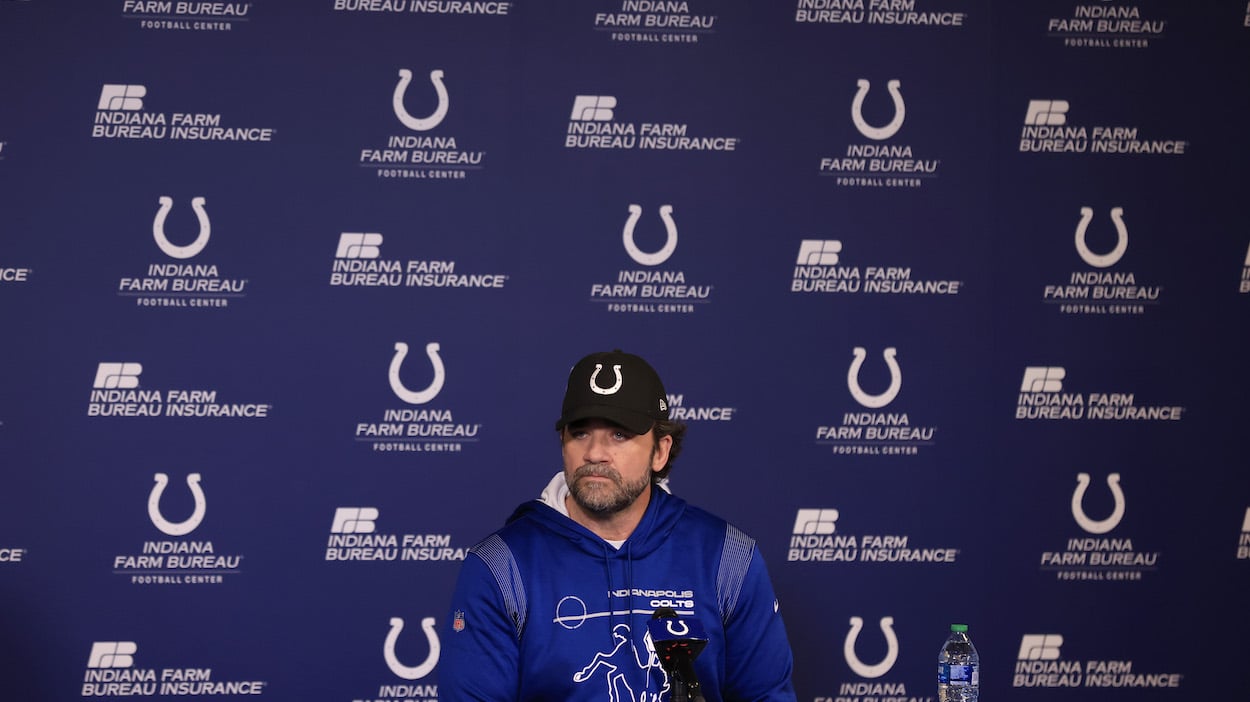 The Jeff Saturday petition stems from the fact that Jim Irsay's bold (stupid?) move of hiring him in the first place didn't work out.
The Saturday Era actually started with promise, as the Colts took down the (equally disappointing) Las Vegas Raiders 25-20 in Saturday's inaugural game. That was as good as it would get for Peyton Manning's longtime center, though.
Indianapolis would go on to lose its last seven in a row under Saturday. And it's not just the losses that made his tenure a disaster. It was how they lost the games — two games in particular.
In Week 13, the Colts played the Dallas Cowboys to a near draw at 21-19 through three quarters. Then the Cowboys ripped off 33 points in the fourth quarter, the second-most in NFL history, to get a 54-19 win.
After the Week 14 bye, things got even worse for Saturday and company. The Colts took a 33-0 lead at halftime vs. the Minnesota Vikings, only to have the NFC North team pull off the biggest comeback in NFL history, winning the game 39-36 in overtime.
These games are exhibits A and B as to why Saturday shouldn't be back in 2023 as Colts head coach, and Jim Irsay shouldn't need a Jeff Saturday petition to know that.