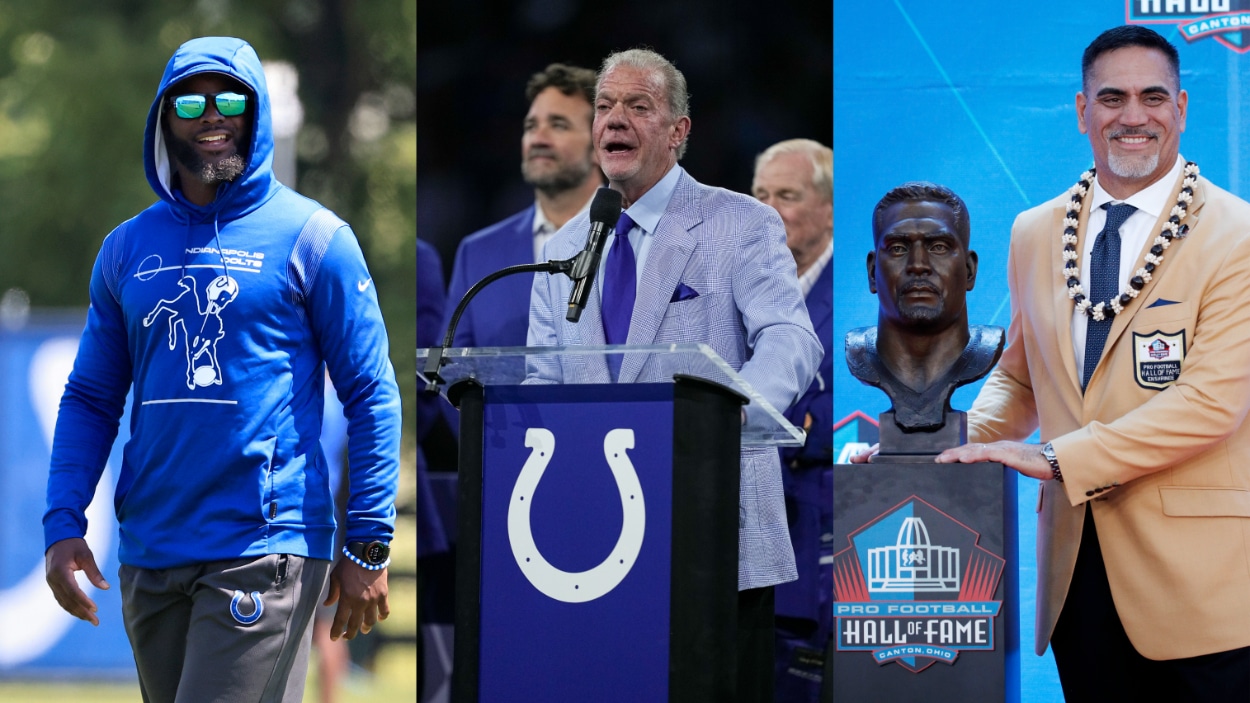 Jim Irsay Passed up More Qualified Minority Ex-NFL Players on Colts Staff to Hire Jeff Saturday
When Colts owner Jim Irsay hired ESPN analyst Jeff Saturday, he passed up several more qualified minority candidates on the team's staff.
When Indianapolis Colts owner Jim Irsay fired Frank Reich on the Monday after Week 9, he could have turned to several coaches on his staff with high-level NFL coaching — even head coaching — experience to be the interim head coach. However, he instead reached out to legendary Colts center and current ESPN analyst with no NFL coaching experience, Jeff Saturday, to take the job. The problem with this is, whether he wanted a former Colts player, a club legend, or even a better NFL center, Irsay had minority candidates already on the team's coaching staff who fit those bills. Instead, he went with Saturday.
The Colts staff is filled with minority ex-NFL players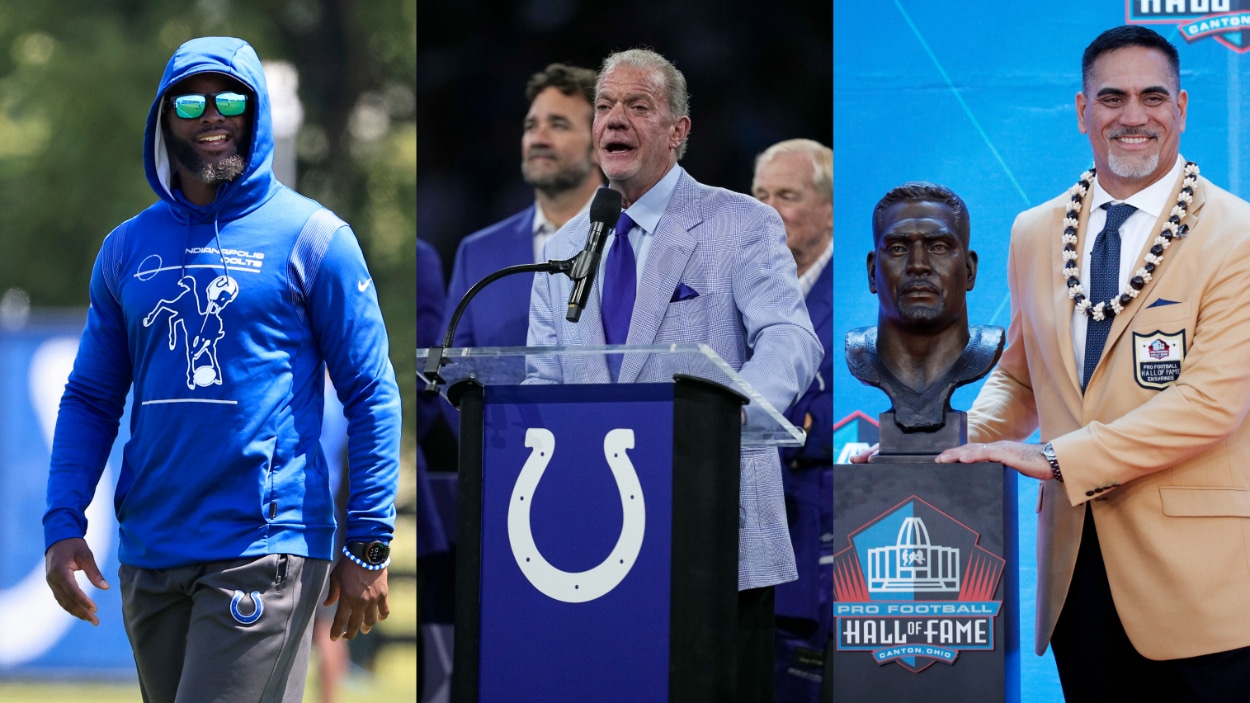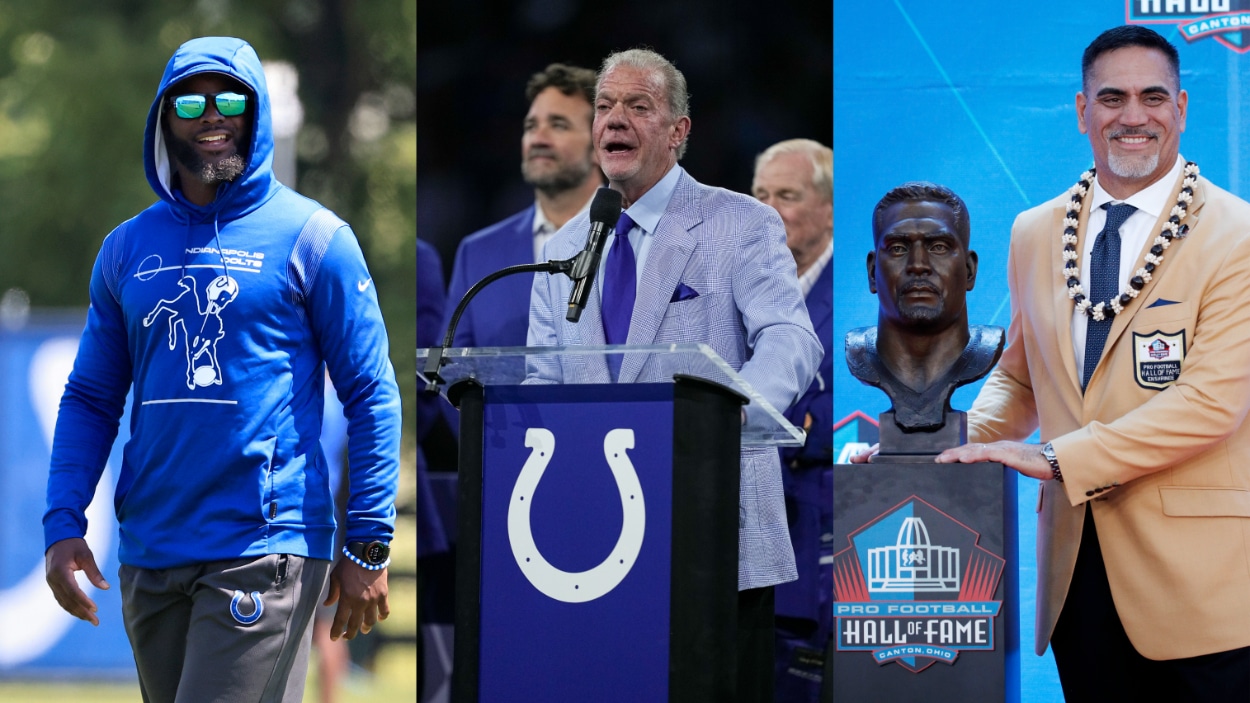 In 2022, the NFL doesn't have enough minority head coaches. One of the reasons often cited is that there aren't enough former players who are minorities with coaching experience. It's the issue that the Rooney Rule and other NFL diversity hiring programs are trying to address.
The 2022 Colts coaching staff doesn't have this problem. There are several minority ex-NFL players in various positions on the sideline. However, that makes it even more problematic that Jim Irsay decided to tap Jeff Saturday as interim head coach.
Saturday is an excellent former Colt who won a Super Bowl with the franchise and is one of the best centers of his generation. Instead of tapping an ESPN analyst with no NFK coaching experience, though, Irsay could have gotten all these things with minority coaches on his staff.
Here are the minority Colts coaches the owner passed up to hire Saturday.
Cato June — A sixth-round pick of the Colts out of Michigan in 2003, June played the first four seasons of his seven-season career in Indianapolis. The linebacker made one Pro Bowl and retired after the 2009 season. He also started all 16 games at ROLB on the Colts' 2006 Super Bowl team.
Since then, June has racked up 11 years of coaching on his resume. He's been a head coach at the high school level, a positional coach and run game coordinator at the college level, and is currently the Colts' assistant linebackers coach.
Reggie Wayne — Looking for a Colts legend on par with Jeff Saturday? Look no further than the 10th-ranked wide receiver in both receptions and receiving yards in NFL history, Reggie Wayne. The Colts picked the Miami WR 30th overall in the 2001 NFL Draft, and Wayne played his entire 14-year career with the horseshoe on his helmet.
Like Saturday, Wayne was a key piece of the 2006 Super Bowl team and is a borderline Pro Football Hall of Famer. The wideout was a volunteer assistant wide receivers coach for the Colts in 2018 and took that position full-time in 2022.
Kevin Mawae — When Jeff Saturday takes over the Colts on Sunday, he won't even be the best center on the sideline. That honor goes to assistant offensive line coach Kevin Mawae. The 1994 second-round pick by the Seattle Seahawks is half native Hawaiian on his father's side and one of the best centers in NFL history.
In his time with the Seahawks, New York Jets, and Tennessee Titans, Mawae made eight Pro Bowls, three All-Pro teams, and in 2019, was inducted into the Pro Football Hall of Fame. The 2022 season is his second season coaching up the Colts O-line.
Irsay could have chosen any of these former players with much more practice coaching experience than Saturday and given a minority candidate a shot. Apparently, though, that's not what he was looking for.
Irsay says he wanted Saturday because of his lack of experience
After shocking the NFL world by hiring Jeff Saturday, Jim Irsay took to the mic to defend his unorthodox decision on Monday night.
In Saturday's introductory press conference, Irsay said all sorts of things. He celebrated the fact that the Colts have been "the fourth-winningest team since 2000. That means in the upper quartile of winners. We're in the top quartile of that upper quartile." And he noted that while he doesn't know how to make sausage, he does know how to make winning football teams.
When discussing Saturday's complete lack of experience, Irsay said, "Now, I am glad he doesn't have any NFL experience. I'm glad he hasn't learned the fear that's in this league because it's tough for all of our coaches."
He also took aim at experience coaches, saying, "They're afraid. They go to analytics, and it gets difficult. I mean, he doesn't have all that. He doesn't have that fear, and there was no other candidate."
Irsay didn't mince words, and he stood by his hire with the strongest of convictions. It is the kind of move that will make him look like a genius if it works out or open the owner up to massive and long-lasting ridicule if it doesn't.