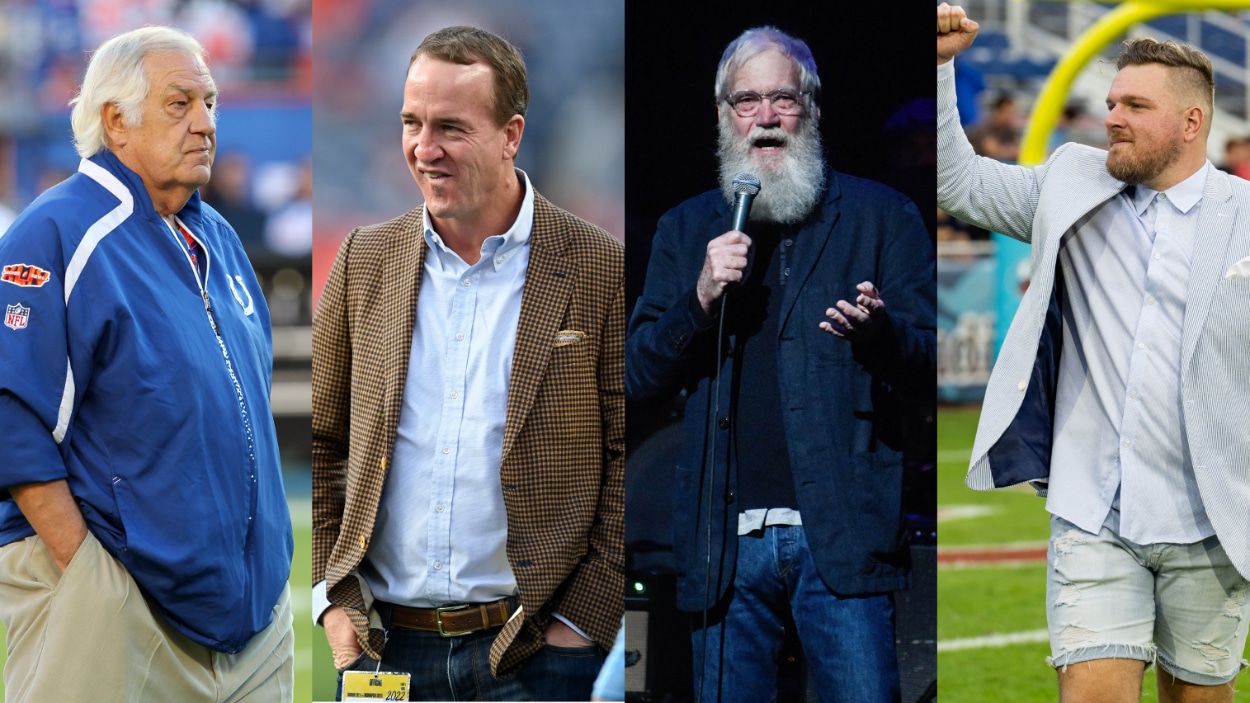 Ridiculous (Or Maybe Realistic) Moves Colts Could Make Next After Hiring Jeff Saturday as Interim Head Coach
After shockingly hiring Jeff Saturday to coach the Colts after firing Frank Reich, who could Jim Irsay hire next?
The Indianapolis Colts fired Frank Reich on the Monday after Week 9's 26-3 loss to the New England Patriots. That move didn't come as a major surprise after the disaster of missing the playoffs last season and this year's 3-5-1 start. However, owner Jim Irsay hiring franchise legend and former center Jeff Saturday as interim head coach came as a complete shock. Saturday was a six-time Pro Bowl center, a cerebral lineman, and an excellent analyst on ESPN. He has no high-level football coaching experience, though, to speak of. So, if this is the (way) outside-the-box direction Irsay is going, who else could Irsay hire in Indianapolis? Maybe Peyton Manning or Pat McAfee? And that's just a start!
Peyton Manning, General Manager
Let's start with getting the "right" general manager once current GM Chis Ballard is inevitably fired like Frank Reich. There's no other choice here than "The Sheriff."
Peyton Manning is the franchise's all-time greatest player and the only person not named Johnny Unitas to win the Colts a Super Bowl.
Manning has some sweet gigs right now — hosting the Manningcast for Monday Night Football and becoming a media mogul with Omaha Productions — so he won't want the day-to-day grind that comes with being a coach. However, he seems to want back into football in some way, and this would be the ideal setup.
He could pick the players for his former center, Saturday, and try to build a Colts team like they had in the early 2000s. Plus, Manning and Saturday screaming at each other on the sideline after a manning draft pick dropped a pass like they used to do as teammates would be priceless.
Tom Moore, Offensive Coordinator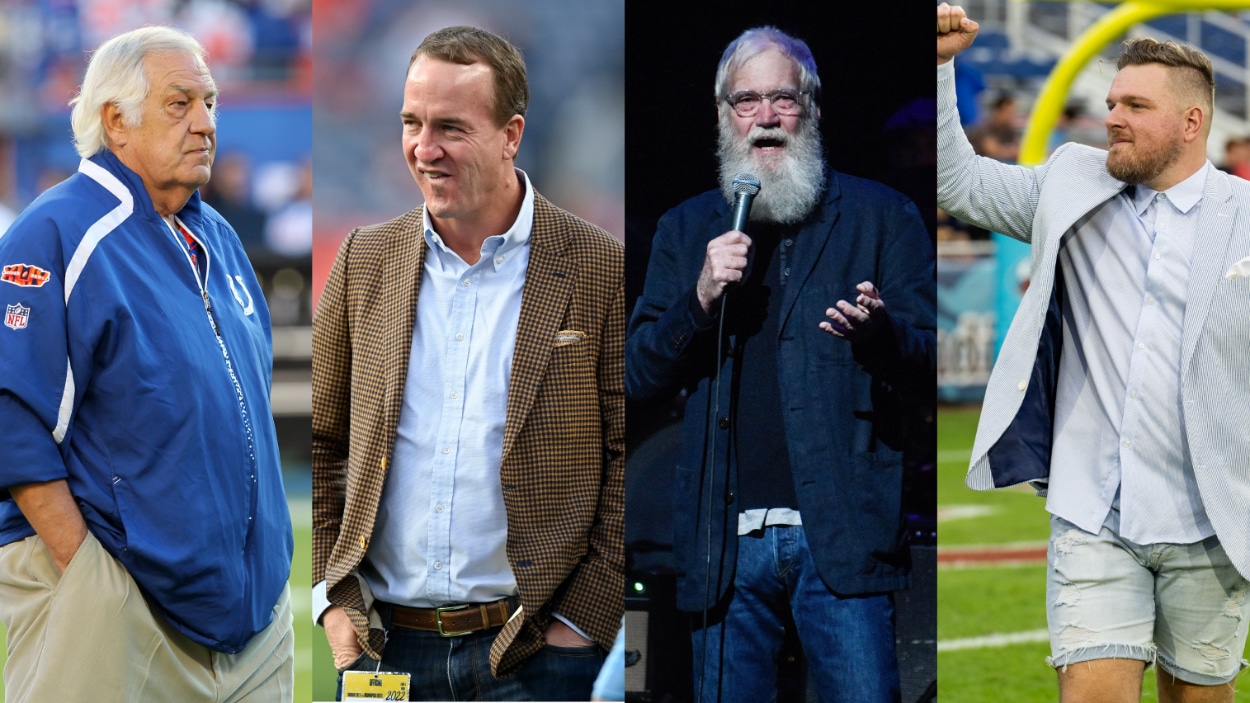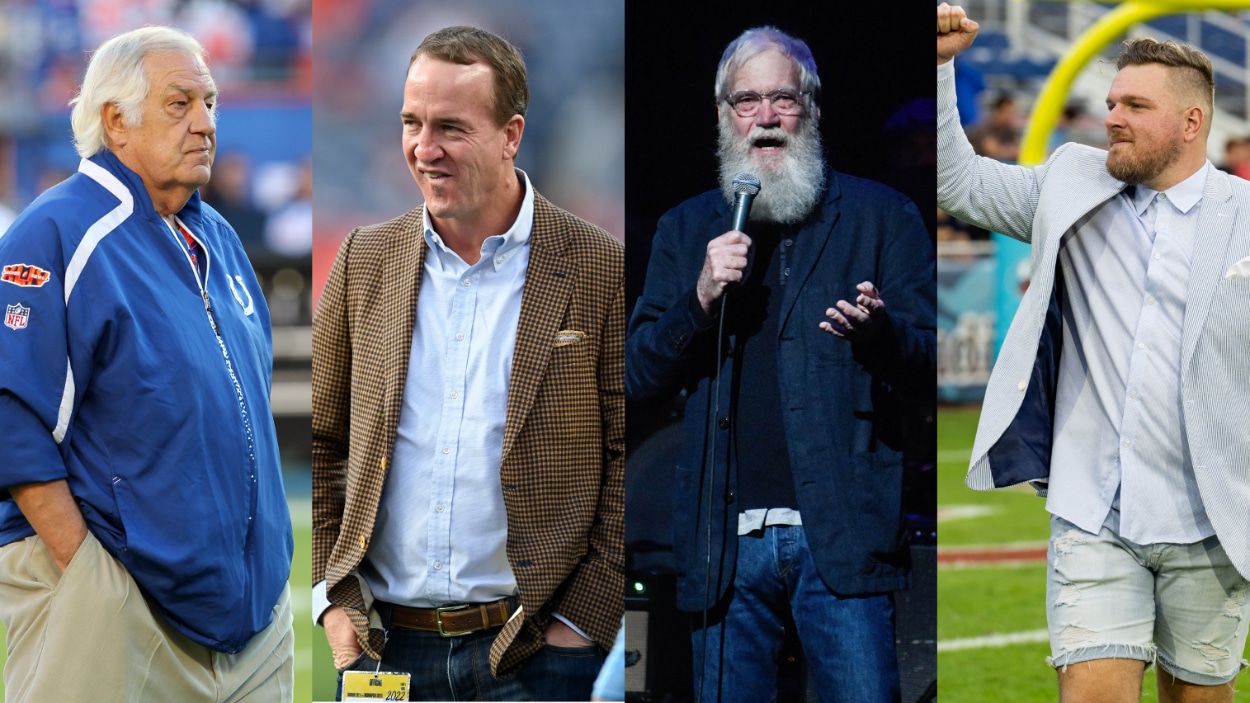 As long as we're getting the band back together, how about Jim Irsay, Jeff Saturday, and the Colts get now-84-year-old Tom Moore back to run the offense?
Moore was Manning's OC and consigliere for 13 seasons, from 1998-2010. While working together, Manning threw for 54,828 yards, tossed 399 touchdowns, completed 4,682 passes, and won four NFL MVP Awards.
The Colts would have to steal Moore away from the Tampa Bay Buccaneers, where he currently works as the team's Tom Brady whisperer in the official role of "Assistant Coach." Still, surely Moore would come out of semi-retirement on the West Coast of Florida if GM Manning wanted to get him back in the booth.
Tony Dungy, Defensive Coordinator
Tony Dungy is a Hall of Fame coach who — like Payton Manning and Jeff Saturday — was always better in the regular season than in the playoffs. However, he has one of the most prevalent NFL defenses in the game today — the Tampa 2 — named after a team he coached.
After years on NBC's pregame, postgame, and halftime show, Dungy probably doesn't want the smoke that comes with being an NFL head coach ever again. That said, maybe he would jump at the chance to work with his former protégés again without all the pressure.
Dungy would run a great defense with the talent already on that side of the ball in Indianapolis right now. The question moving forward is, would GM Manning ever draft him another defensive player again?
Pat McAfee, Special Teams Coach
Come on. What's more perfect than this?
Pat McAfee already lives in Indianapolis and is one of the biggest draws in sports these days. Whether it is WWE commentary, analysis on ESPN's College GameDay, or his uber-popular daily sports talk show, the Pat McAfee Show, getting into business with the former Colts punter is a gold mine these days.
McAfee can host his show, pop over to the facility to watch a couple of punts and kicks, "For the Brand," fly to the WWE show on Friday nights, hit GameDay on Saturday, and be on the sideline for the kickers and punters on Sunday.
Plus, he can bring "The Boys" — Boston Connor, Tone Digz, Ty Schmit, Zito, Foxy, and even Gump back from Canada — as assistants to give the Colts the most entertaining locker room in the biz.
Reggie Miller, Quarterbacks Coach
You know what Sam Ehlinger, Matt Ryan, Carson Wentz, Philip Rivers, Jacoby Brissett, and even Andrew Luck have been missing at the quarterback position the last decade? Swagger.
And who had more swagger than Indianapolis' favorite adopted son, Reggie Miller?
The NBA Hall of Fame sharpshooter doesn't need any NFL coaching experience (see Jeff Saturday). He's on TV! Sure, he's talking hoops on TNT, but it's basically the same thing.
Miller can show whoever the next star quarterback of the Colts is (Arch Manning?) how to launch it from deep and how to talk trash after you do it. That's all you really need when you think about it.
If Saturday can be the Colts' new head coach, Miller could, nay, should, be the next Indy superstar to shape the team at the most crucial position.
Dave Letterman, Team President
Speaking of favorite sons of Indianapolis, no Hoosier is more famous than long-time, legendary Late Night host David Letterman.
Letterman was born and raised in Indianapolis, and if Jim Irsay is looking to bring beloved figures into the Colts' fold, he couldn't pick anyone better than the former talk show host.
His resume includes stand-up comedy, late-night talk show hosting, television production, and IndyCar racing team ownership. In short, he seems just as qualified to be the president of the Colts as Jeff Saturday is to be the head coach.
Plus, the alternate broadcast opportunities for Colts games with Letterman, McAfee, and Manning would be absolutely epic.