NFL Owners are at War With Each Other as Jerry Jones Curses out Robert Kraft at League Meeting
There is lots of drama coming from the NFL owners meeting including two powerful owners fighting and one possibly going rogue.
The National Football League is a tight-knit group of 32 teams owned by 32 (plus) incredibly rich and powerful individuals and families. At the league meetings, these NFL owners get together and make decisions on the fate of America's most popular and powerful sports league. Usually, this is a private affair where the owners go in, make decisions however they do, and come out as a united front. However, at the 2022 NFL owners meeting, there has been some dissension in the ranks. News of tense disagreements is leaking out (in the case of Jerry Jones and Robert Kraft), and one owner, Jim Irsay, left the meeting, and flat-out said another owner, Daniel Snyder, needs to sell his team.
Jerry Jones and Robert Kraft had a heated exchange at NFL owners meeting
The two most powerful owners in the NFL reportedly had a heated exchange where Dallas Cowboys owner Jerry Jones cursed at New England Patriots owner Robert Kraft in a heated debate over Commissioner Roger Goodell's compensation, according to ESPN reporter Seth Wickersham.  
There have been reports for a while now that Jones isn't thrilled with Goodell or his incredible $63.9 million per year salary for a while now. Earlier this year, Papa John's founder John Schnatter told Jason Whitlock (h/t Sports Illustrated) that Jones and Washington Commanders owner Daniel Snyder "hate Goodell" and told the pizza CEO, "You need to take this guy out."
Other reports suggest that Jones has been a loud voice advocating for a bonus-based compensation package for Goodell, as opposed to a salary-based one.
That is allegedly what Jones and Kraft were debating in the 2022 NFL owners meeting when the Cowboys owner snapped at the Patriots boss. According to Wickersham, the two had the following exchange while discussing Goodell's compensation:
Jones, the lone dissenter in the owners-only session, eventually [told] Kraft, "Don't f*** with me."

Kraft replied, "Excuse me?"

"Don't mess with me," Jones said.

Jerry Jones and Robert Kraft at the 2022 NFL owners meeting
Despite Jones' objection and harsh rebuke of Kraft, the vote to approve Goodell's salary-based compensation package moving forward passed 31-1.
Jim Irsay called out Daniel Snyder
Jerry Jones and Robert Kraft weren't the only NFL owners to make headlines at the most recent meetings. Indianapolis Colts owner Jim Irsay caused a stir, too.
One of the hottest topics swirling around NFL owners is whether or not to vote on forcing Daniel Snyder to sell his team. The Commanders owner has been caught up in several scandals over the past few years and is becoming a major black eye for the league.
Reports recently came out, via ESPN, that say Snyder claimed the NFL "can't f*** with me" because "he has gathered enough secrets to 'blow up' several NFL owners, the league office and even commissioner Roger Goodell."
That didn't stop Irsay from sharing his thoughts on forcing Snyder to sell.
"I believe that there's merit to remove [Snyder] as owner of the [Commanders]," Irsay said. "I think it's something that we have to review, we have to look at all the evidence, and we have to be thorough going forward.
That was, by far, the biggest bomb dropped by an owner to the media in the ongoing Snyder saga and may be the first step in having him removed from the league.
The leaks are likely coming from NFL owners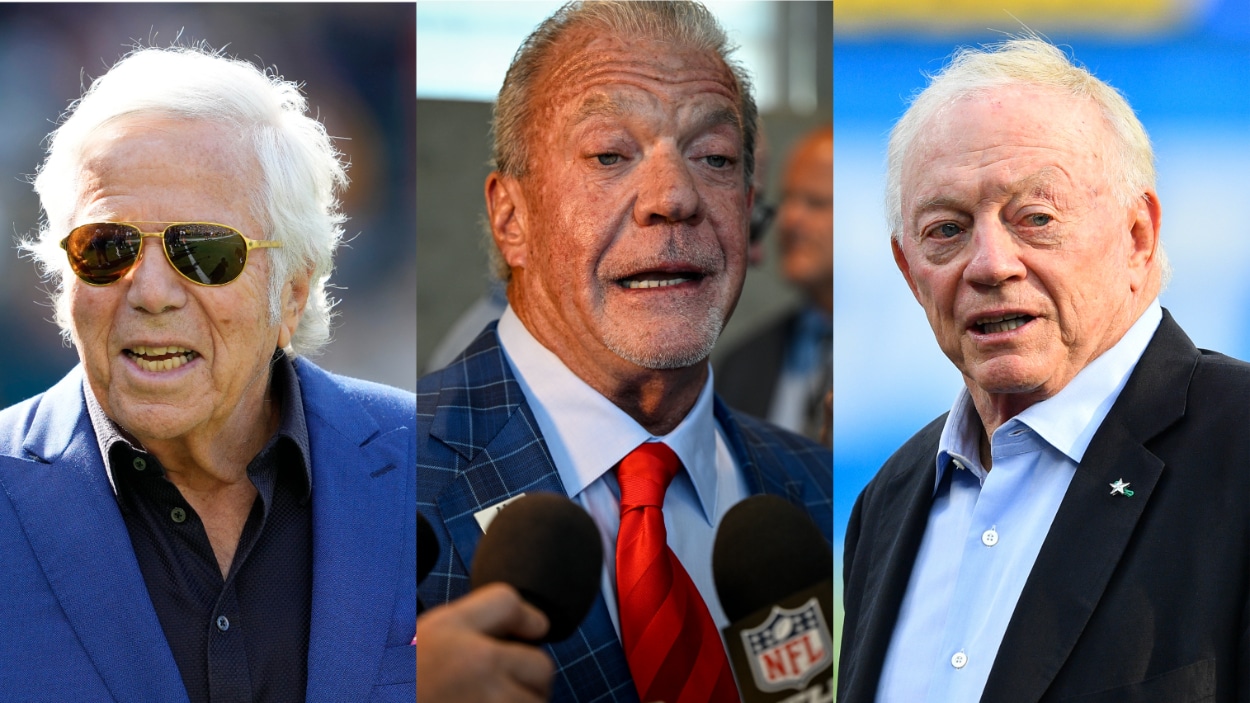 For years, the NFL owners meetings were held in relative obscurity. But in the 24/7 news cycle of 2022, that's no longer possible. And in the past, when news did leak out, it was exactly the message that the owners wanted communicated.
In some ways, the same thing is happening in 2022, but the leaks show a fractured NFL ownership pool.
The Jerry Jones/Robert Kraft leak came from a "privileged session," according to NFL insider Ian Rapoport on the Pat McAfee Show. That means the leak had to come from "an owner who speaks to reporters."
That owner or owners would seem to have an agenda that includes making Jones look bad.
As for Irsay, there's a chance he went rogue, which isn't unusual for him. However, another school of thought posits Irsay did this at the behest of other owners. The idea is that all of Irsay's skeletons are public, so there is no "dirt" Snyder can have on him. Because of this, he's the perfect NFL owner to float a trial balloon to see how the fans, media, and Snyder react when the suggestion of kicking him out comes up.
If that is the case, it adds even more intrigue to the 2022 NFL owners meeting saga.
Have thoughts on this topic? Keep the conversation rolling in our comments section below.