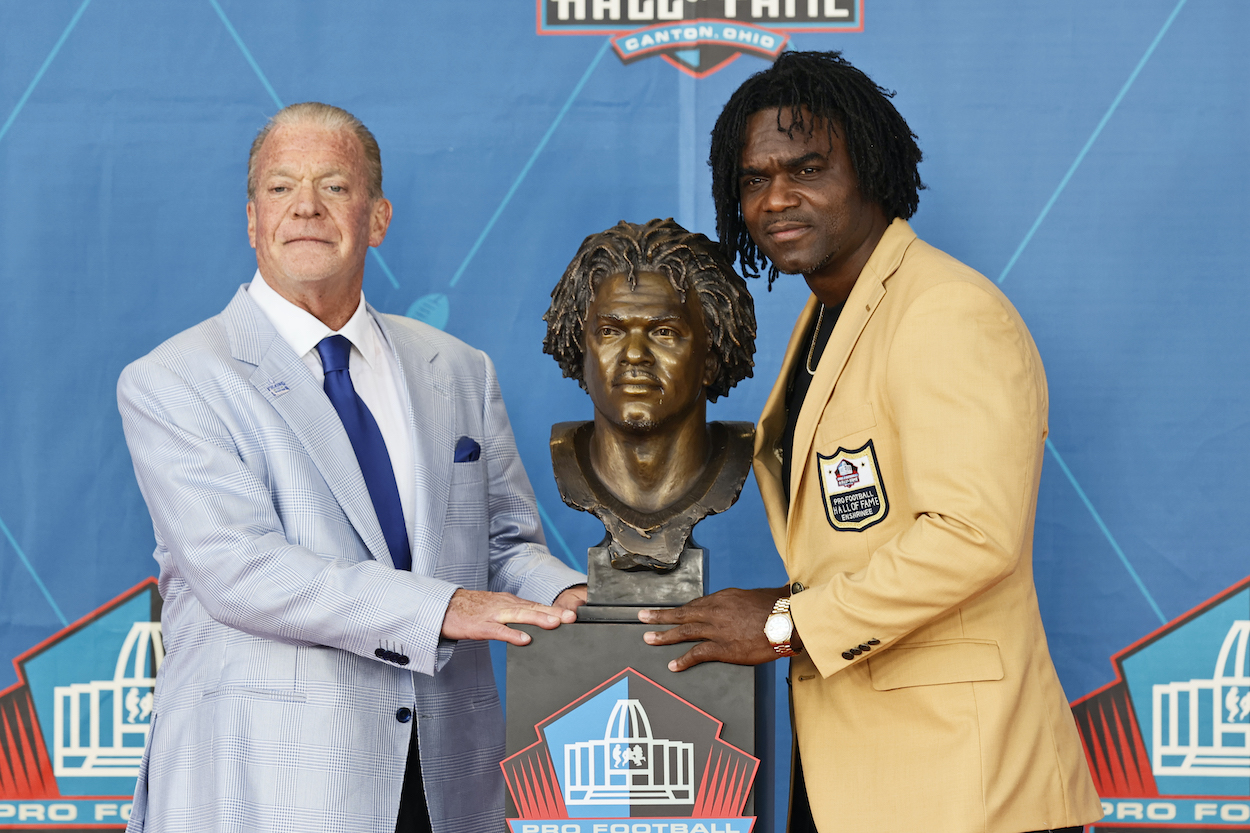 Indianapolis Colts Owner Jim Irsay Bought Edgerrin James a $700K Car to Celebrate the RB's Hall of Fame Induction
Indianapolis Colts owner Jim Irsay gifted Edgerrin James and incredibly expensive luxury car after introducing the RB before his Hall of Fame speech.
Edgerrin James and Indianapolis Colts owner Jim Irsay have always had a special relationship. The two are so tight that Irsay presented James during the latter's Hall of Fame induction ceremony. The owner also gave the former player an incredibly nice (and expensive) gift to celebrate the achievement.
Edgerrin James is now a Hall of Fame running back
Edgerrin James grew up in Immokalee, Florida, about two hours Northwest of the University of Miami, where the running back played his college football. James ran the rock for the Hurricanes from 1996-98.
While those Butch Davis-led squads didn't challenge for a national championship, the rosters had a lot of pro talent. NFL stars like Ed Reed, Reggie Wayne, and Santana Moss all played on those teams.
James rushed for 2,960 yards and scored 35 touchdowns at Miami. After that, Jim Irsay and the Indianapolis Colts made him the No. 4 overall pick of the 1999 NFL Draft.
"Edge" dominated the NFL his rookie season. He led the league in carries (369) and rushing yards (1,553) his first year. It's no surprise he took home the Offensive Rookie of the Year award along with a Pro Bowl appearance and his one and only first-team All-Pro nod.
In season two, James again led the league in rushing yards (1,709) as well as total scrimmage yards (2,303). He finished second that year in Offensive Player of the Year voting behind Marshall Faulk.
While James never quite reached those heights again, he became one of the best backs in the league for the next nine seasons. After seven campaigns in Indy, the Florida native played three seasons with the Arizona Cardinals before ending his with one year on the Seattle Seahawks.
All told, James retired with 12,465 rushing yards (13th all-time), 15,610 yards from scrimmage (16th all-time), and 91 total touchdowns (T-32 all-time).
The Pro Football Hall of Fame inducted James in August 2021.
Indianapolis Colts owner inducted the star RB into the Hall of Fame and gifted him an incredibly expensive car
Pro Football Reference gives NFL players an Approximate Value (AV) score to every player since 1960 to help "compare [players] across years and across positions."
James' AV from his time with the Indianapolis Colts is 112. That number puts him as the sixth most valuable player in the franchise's history. Only Peyton Manning (219 AV), Marvin Harrison (160), Reggie Wayne (153), Jeff Saturday (145), and Johnny Unitas (144) rank ahead of him.
As an all-time great Colt, James has a special relationship with the organization's owner, Jim Irsay. The two are so close, Irsay introduced James before his Hall of Fame induction speech.
The HOF RB recently appeared on the Pat McAfee Show to promote his new book, From Gold Teeth to Gold Jacket: My Life in Football and Business, and discussed his relationship with the owner.
James shared that he has an amazing "personal relationship" with Irsay and that "from day one," he was "real" with James, and the star runner always appreciated that.
McAfee also shared a clip from James' Hall of Fame parade where Irsay promised James, "I'll get you a car. Whatever car you want," to celebrate receiving football's highest honor. On the show with the former Colts punter, James finally shared what car Irsay bought for his star RB:
I got the [Rolls Royce] Phantom. The big Phantom. The reason I went with the Phantom — that was the car I was going to get myself, but that was later on in life. I wasn't ready right now. It's probably like an almost $700,000 — and [Irsay was] like, no problem.

Edgerrin James on the car Indianapolis Colts owner Jim Irsay bought him
Considering all the tickets James helped sell during his seven years (with six playoff appearances) on the Colts, a $700k car seems like a pretty reasonable gift from Irsay.
Where does Edgerrin James rank among all-time among running backs?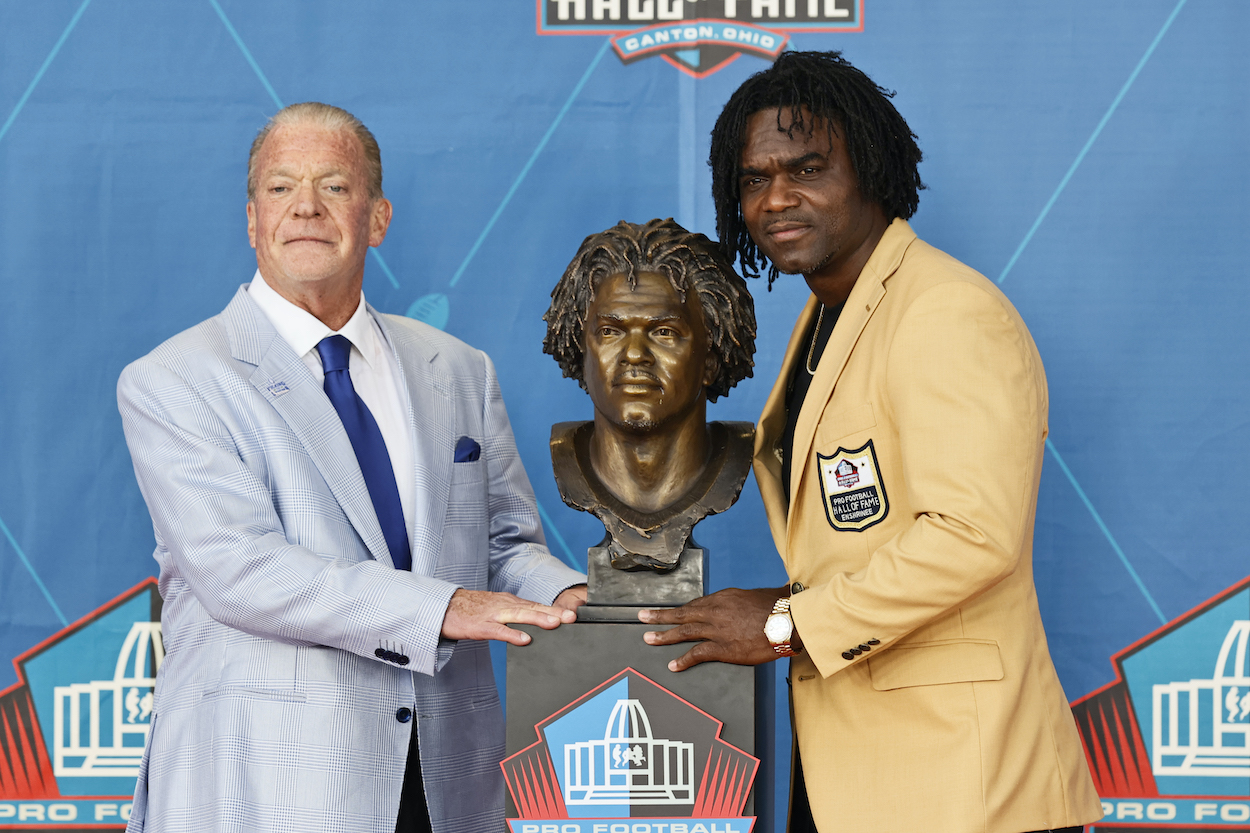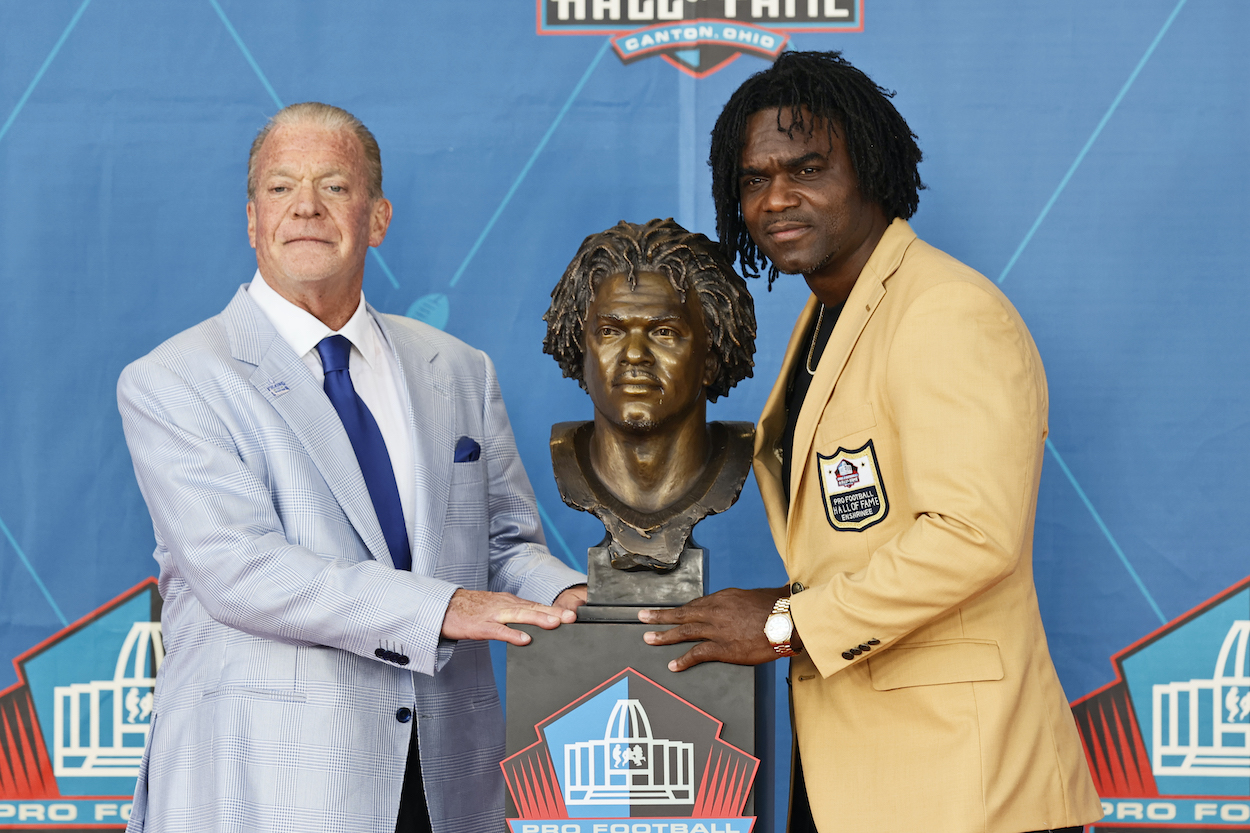 With a career AV of 135, Edgerrin James ranks T-125 with all players in NFL history. Among running backs, that AV puts him 10th overall. The RBs ahead of him are:
Emmitt Smith (169 AV)
Walter Payton (167)
Marshall Faulk (164)
LaDainian Tomlinson (158)
Barry Sanders (149)
Marcus Allen (143)
Tony Dorsett (137)
Franco Harris (136)
Thurman Thomas (136)
Closely following James on that list are Frank Gore (133), Curtis Martin (131), and Adrian Peterson (129).
This isn't a perfect system, but it does help with context. As good a career as James had, it's hard to rank him higher than the nine backs with higher AVs. Additionally, there are some backs that AV ranks too low who are also likely ahead of James because of their dominance in their primes. This includes Peterson, O.J. Simpson, Jim Brown, and Earl Campbell.
There are also arguments to be made for several other backs who would fall in the same general ranking area as James. This list includes Eric Dickerson, Jerome Bettis, Bo Jackson, Gale Sayers, John Riggins, Terrell Davis, and John Riggins.
That makes James somewhere outside the top 10 of greatest RBs ever, but in the top 20, which seems about right.
All stats courtesy of Pro Football Reference