How Many NFL Running Backs Have Won the Triple Crown?
Indianapolis Colts Jonathan Taylor is having a phenomenal season. In addition to leading his team to a No. 5 seen in the AFC playoffs (heading into Week 17), he's also racking up MVP-level numbers. He currently leads the NFL in all three RB Triple Crown categories: carries, rushing yards, and rushing touchdowns.  
The running back Triple Crown isn't as well-known as its baseball (average, home runs, RBI) or horse racing (Kentucky Derby, the Preakness, Belmont Stakes) counterparts. However, it is also impressive, although not quite as rare as in baseball (10 winners) or horse racing (13 winners). 
Since 1932, 23 RBs have won 33 Triple Crowns. This includes winners from leagues that would ultimately merge with the NFL as well. 
Here is a look at how many NFL running backs have won the Triple Crown through the years. 
The 1930s 
1937: Cliff Battles-Washington Football Team (216 carries, 874 yards, 5 TDs)
The NFL started in 1920 as the American Professional Football Association. The name changed to the National Football League in 1922, but the league didn't begin keeping official stats until 1932. 
That season, a rookie out of West Virginia Wesleyan named Cliff Battles won the rushing title with 576 yards and led the league in carries with 148. However, Chicago's Bronco Nagurski scored four touchdowns to Battle's three. Five seasons later, Battles led in all three categories, winning the first-ever NFL RB Triple Crown. 
The 1940s
1943: Bill Paschal-New York Giants (147 carries, 572 yards, 10 TDs)
1944: Bill Paschal-New York Giants (196 carries, 737 yards, 9 TDs)
1946: Spec Sanders-New York Yankees (140 carries, 709 yards, 6 TDs)
1947: Spec Sanders-New York Yankees (231 carries, 1,432 yards, 18 TDs)
1947: Steve Van Buren-Philadelphia Eagles (217 carries, 1,008 yards, 13 TDs)
1948: Steve Van Buren-Philadelphia Eagles (201 carries, 945 yards, 10 TDs)
1949: Steve Van Buren-Philadelphia Eagles (263 carries, 1,146 yards, 11 TDs)
From 1946-49, an upstart league called the All-America Football Conference mounted a serious challenge to the NFL. It is the league that gave us the San Francisco 49ers, the Cleveland Browns, and the original Baltimore Colts. It is also why we have two Triple Crown winners in 1947, the NFL's Steve Van Buren and the AAFC's Spec Sanders. 
One more notable achievement from Sanders and Van Buren's 1947 Triple Crown is that it is the first time this achievement was accomplished by a RB going for over 1,000 yards. Chicago's Beattie Feathers ran for 1,004 yards back in 1934 but didn't do the triple, and no one hit that benchmark again until '47. 
The 1950s
1953: Joe Perry-San Francisco 49ers (192 carries, 1,018 yards, 10 TDs)
1955: Alan Ameche-Baltimore Colts (213 carries, 961 yards, 9 TDs)
1956: Rick Casares-Chicago Bears (234 carries, 1,126 yards, 12 TDs)
1958: Jim Brown-Cleveland Browns (257 carries, 1,527 yards, 17 TDs)
1959: Jim Brown-Cleveland Browns (290 carries, 1,329 yards, 14 TDs)
The 1950s produced four running backs who won the Triple Crown five times. At the end of the decade, a 6-foot-2, 232-pound runner out of Syracuse emerged as one of the best backs in history. 
Jim Brown burst on the scene in 1957 and led the league in yards (942) and TDs (9). The next two seasons, he won the Triple Crown. Brown also took home the NFL's first-ever MVP Award in his rookie season and then won his second in his first Triple Crown season. Despite winning his second Triple Crown in '59, he missed out on a third MVP as Baltimore's Johnny Unitas won that year. 
The 1960s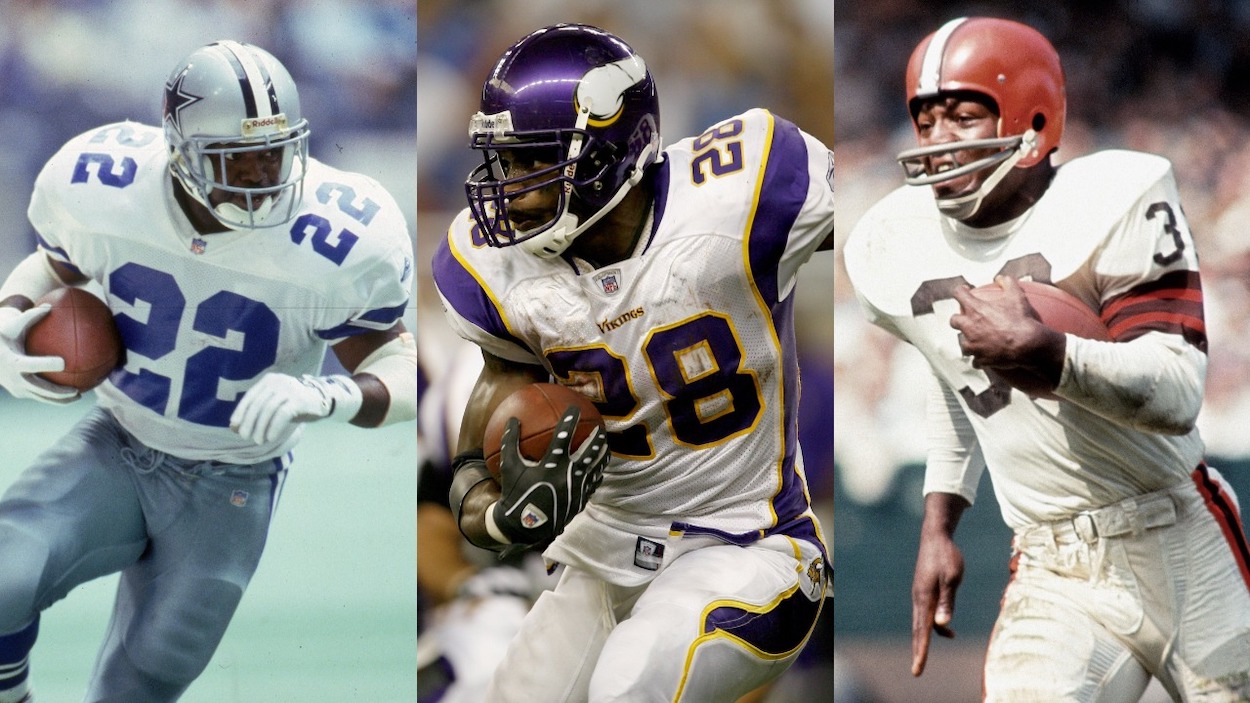 1960: Abner Haynes-Dallas Texans (156 carries, 875 yards, 9 TDs)
1962: Jim Taylor-Green Bay Packers (272 carries, 1,474 yards, 19 TDs)
1963: Jim Brown-Cleveland Browns (291 carries, 1,863 yards, 12 TDs)
1964: Cookie Gilchrist-Buffalo Bills (230 carries, 981 yards, 6 TDs)
1965: Jim Brown-Cleveland Browns (289 carries, 1,544 yards, 17 TDs)
1966: Jim Nance-Boston Patriots (299 carries, 1,458 yards, 11 TDs)
1967: Leroy Kelly-Cleveland Browns (235 carries, 1,205 yards, 11 TDs)
1968: Leroy Kelly-Cleveland Browns (248 carries, 1,239 yards, 16 TDs)
1968: Paul Robinson-Cincinnati Bengals (238 carries, 1,023 yards, 8 TDs)
The 1960s were the decade of the Triple Crown for running backs. Outside of 1961 and 1969, a runner pulled off the trifecta every year. And, like in the 1940s, there were two Triple Crown winners in 1968 as Cleveland's Leroy Kelly led all three categories in the NFL and Cincinnati's Paul Robinson did the deed in the upstart AFL. 
During this Golden Age of RB Triple Crown winners, Green Bay's Jim Taylor put up a touchdown mark that another winner wouldn't surpass for 33 years, while Jim Brown set a high-water mark for yards in a Triple Crown season that would last a decade. 
The 1970s
1973: O.J. Simpson-Buffalo Bills (332 carries, 2,003 yards, 12 TDs)
1975: O.J. Simpson-Buffalo Bills (329 carries, 1,817 yards, 16 TDs)
1977: Walter Payton-Chicago Bears (339 carries, 1,852 yards, 14 TDs)
The 1970s featured far fewer Triple Crown winners than the three preceding decades. But what it lacked in quantity, it made up in quality. Buffalo's O.J. Simpson put up the NFL's first-ever 2,000-yard season in 1973 on his way to an MVP award. After that, his sensational 1975 Triple Crown season didn't seem quite as impressive, although it certainly was. 
Chicago's Walter Payton followed in Simpson's footsteps by winning the Triple Crown and MVP in the 1977 season. These triples were also notable for the fact that they were the first ones where the winner had over 300 carries. As the NFL evolved, no RB would ever again pick up a Triple Crown with less than 300 carries.  
The 1980s
1980: Earl Campbell-Houston Oilers (373 carries, 1,934 yards, 13 TDs)
1987: Charles White-Los Angeles Rams (324 carries, 1,374 yards, 11 TDs)
As running back became a glamour position in the NFL — thanks in great part to the names that have appeared so far on this list — there was more talent and the position than ever and, in turn, fewer Triple Crown winners. For the next 34 years, starting in 1980, there would only be four Triple Crown RBs in the NFL. 
Earl Campbell's 1980 season is notable because he went over the dreaded 370 mark for carries. While his numbers did fall off in 1981, he still had a good season (and 361 more carries). It wasn't until 1982 when the Curse of 370 caught up to him, and he only played nine games. 
The 1990s
1995: Emmitt Smith-Dallas Cowboys (377 carries, 1,773 yards, 25 TDs)
The 1990s featured a host of iconic running backs, like Hershel Walker, Barry Sanders, Thurman Thomas, and Terrell Davis. However, no running back was more consistently dominant during this time than Emmitt Smith. 
While Brett Favre took home the MVP in 1995 — Smith actually finished third, behind Favre and Jerry Rice — the season was arguably the Dallas back's greatest year. He scored the most TDs of his career as well as posting career-highs in carries, rushing yards, receptions (62), receiving yards (375), total touches (439), and scrimmage yards (2,148). 
The 2000s
2005: Shaun Alexander-Seattle Seahawks (370 carries, 1,880 yards, 27 TDs)
If Emmitt Smith's 1995 Triple Crown shows how he dominated the decade, Shaun Alexander's 2005 feat illustrates the incredible heights the big Seattle back hit in a very small period of time. The former Alabama back played 123 career games over eight seasons but was one of the best backs in the NFL from 2003-05.
He made the Pro Bowl all three seasons, culminating in a Pro Bowl appearance, All-Pro nod, and MVP Award in 2005, along with his Triple Crown. After hitting the Curse of 370 on the dot in 2005, Alexander only played 27 more games over three seasons in the rest of his NFL career. 
The 2010s
2014: DeMarco Murray-Dallas Cowboys (392 carries, 1,845 yards, 13 TDS)
2015: Adrian Peterson-Minnesota Vikings (327 carries, 1,485 yards, 11 TDs)
2019: Derrick Henry-Tennessee Titans (303 carries, 1,540 yards, 16 TDs)
After just two Triple Crown winners in 27 years, Dallas' DeMarco Murray kicked off a decade where more RBs accomplished the feat since the 1970s. Murray also has the distinction of the most carries while accomplishing the feat in what was his only All-Pro season. 
Like Smith twenty years earlier, Minnesota's Adrian Peterson won the MVP a few years (2012) before his Triple Crown campaign. Unlike Smith, Peterson's triple wasn't his best season at all. It was, however, the only season he ever led the league in carries. 
The 2020s
2020: Derrick Henry-Tennessee Titans (378 carries, 2,027 yards, 17 TDs)
2021: Jonathan Taylor-Indianapolis Colts (?????) 
As the 2010s gave way to the 2020s, Derrick Henry posted his second-consecutive Triple Crown season in 2020. Unfortunately, after reaching the mark with just 303 carries the season before, it took him 378 to do it last season. The dreaded 370 Curse hit Henry in 2021, and he hasn't played since Week 8 with a foot injury. 
Despite not playing since Halloween, Henry is incredibly still sixth in rushing yards (937) and attempts (219) and tied for fifth in TDs (10) heading into the New Year. 
That opens the door for Jonathan Taylor to become the 24th running back to put up the 34th Triple Crown season in pro football history. 
With two games left to play in the season, his 297 carries and 1,626 yards are 17 carries and 467 yards ahead of Cincinnati's Joe Mixon. Taylor's 17 TDs put him three ahead of Arizona's James Conner and four ahead of Mixon. 
All stats courtesy of Pro Football Reference