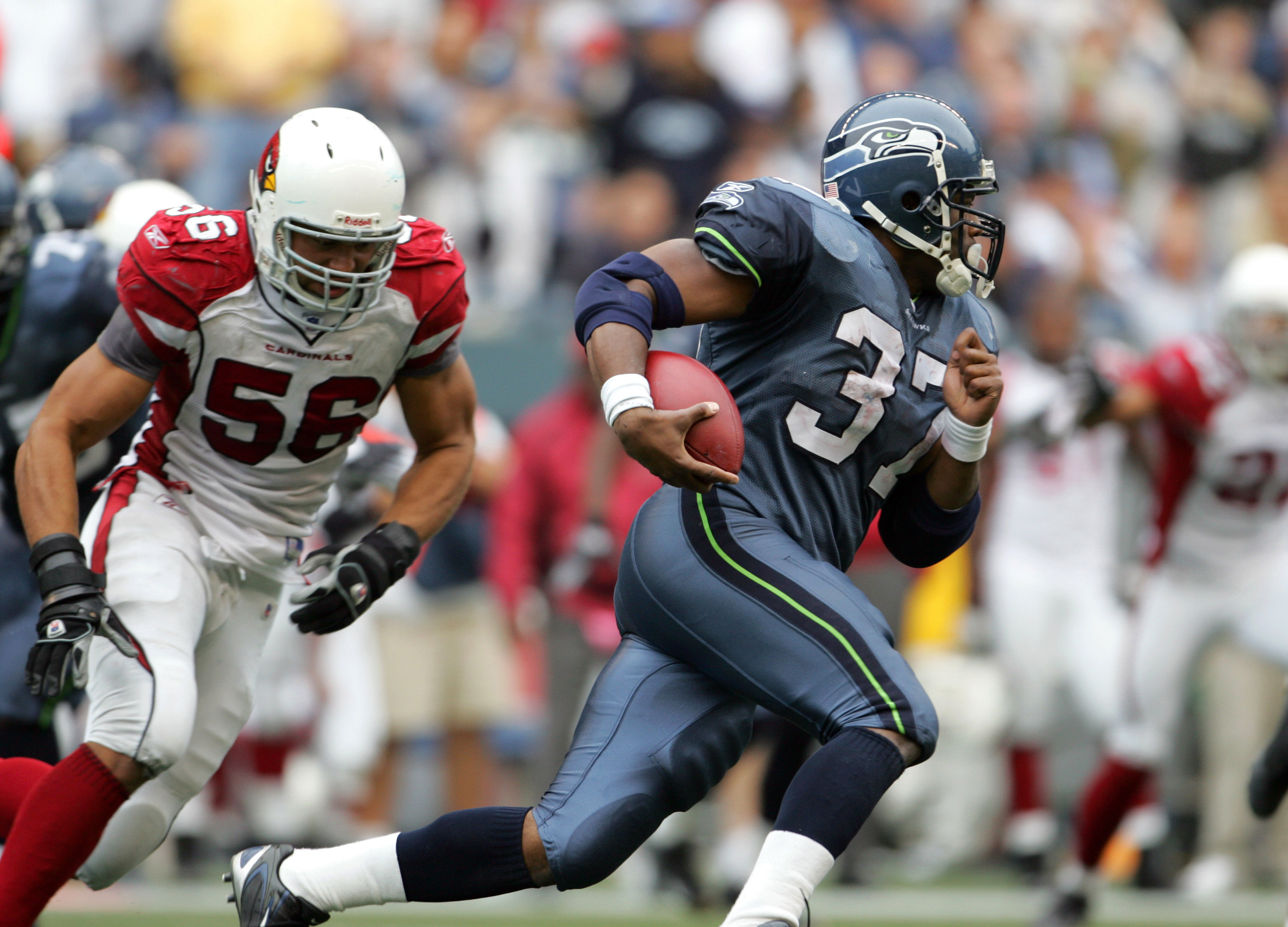 Why Is Shaun Alexander Not in the Pro Football Hall of Fame?
Why is former Seattle Seahawks All-Pro running back Shaun Alexander not a member of the Pro Football Hall of Fame?
He wasn't the flashy runner like Barry Sanders was with the Detroit Lions, but Shaun Alexander was one of the best. The former Seattle Seahawks running back put up some impressive numbers in his eight years with the Seahawks, but doesn't seem to get the respect of some of his peers, including LaDainian Tomlinson, Terrell Davis, and Curtis Martin – all Hall of Famers.
Shaun Alexander's football career
Shaun Alexander played four years of college football as a running back at Alabama. He rushed for better than 1,000 yards in his junior and senior years, including 1,383 in his senior year. He also racked up 19 rushing touchdowns in his final year with the Crimson Tide.
Alexander went on to become a first-round pick in the 2000 NFL draft by the Seattle Seahawks. He was selected with the 19th overall pick. After playing sparingly in his rookie season, Alexander burst onto the scene in his second year when he led the NFL in rushing touchdowns with 14. He also racked up 1,318 rushing yards and he caught a pair of touchdown passes.
After another outstanding season in 2002 when he rushed for 16 touchdowns and 1,175 yards, he then made three straight Pro Bowls. In those three years from 2003-2005, Alexander had 64 touchdowns (57 rushing) and had 5,011 rushing yards. In 2005, Alexander led the NFL with 1,880 rushing yards and with 27 touchdowns. He was named the league's MVP. The following season, Alexander broke his left foot and was limited to 10 games, but still managed 896 rushing yards and seven touchdowns. For his career, Alexander scored 100 rushing touchdowns (112 total) and rushed for 9,453 yards.
Shaun Alexander vs. Terrell Davis
Former Denver Broncos running back Terrell Davis preceded Shaun Alexander in the NFL, although they overlapped for two seasons. The two had similar careers, although Alexander's was a bit longer and statistically much better. Davis, however, was on a Broncos team that won a pair of Super Bowls and he is a member of the Pro Football Hall of Fame.
Davis, like Alexander, went to three straight Pro Bowls and was named the league's MVP after the 1998 season. That year, Davis rushed for 2,008 yards and 21 touchdowns, both league leaders. Like Alexander, Davis' MVP season was the final year he rushed for more than 1,000 yards. Davis had four very good seasons in the NFL, finishing with 7,607 rushing yards and 60 touchdowns.
Alexander rushed for 40 more touchdowns and more than 2,300 yards than Davis did in his career. Davis played seven seasons in the NFL, while Alexander played nine, although his final year was with the Washington Redskins and he had just 11 rushing attempts. Davis was inducted into the Pro Football Hall of Fame in 2017, while Alexander has not yet gotten the call.
Former teammate says Alexander is a Hall of Famer
In a March Sports Illustrated article, Shaun Alexander's former teammate, quarterback Matt Hasselbeck, said he believes Alexander is Hall-of-Fame material. "I sure do," Hasselbeck said. "I'm not an expert on the numbers and I was never that big into stats. When we were teammates, he was one of the best running backs in the game, a household name, on the cover of Madden, breaking franchise and NFL records seemingly all the time.
"I do not know of a better red-zone runner," Hasselbeck said. "There have been some great runners in NFL history that were Hall of Fame runners but weren't great goal line running backs. I think Barry Sanders might be the greatest running back of all time. But on the goal line or inside the three-yard line was not his strength."
Nate Burleson, another one of Alexander's former teammates, believes Alexander is very underappreciated. "He's a quiet individual who went out there and didn't talk about how great he was," Burleson said. "He'd rather do it on the field. And also I believe because it was a small window of time where he was the best running back in football."