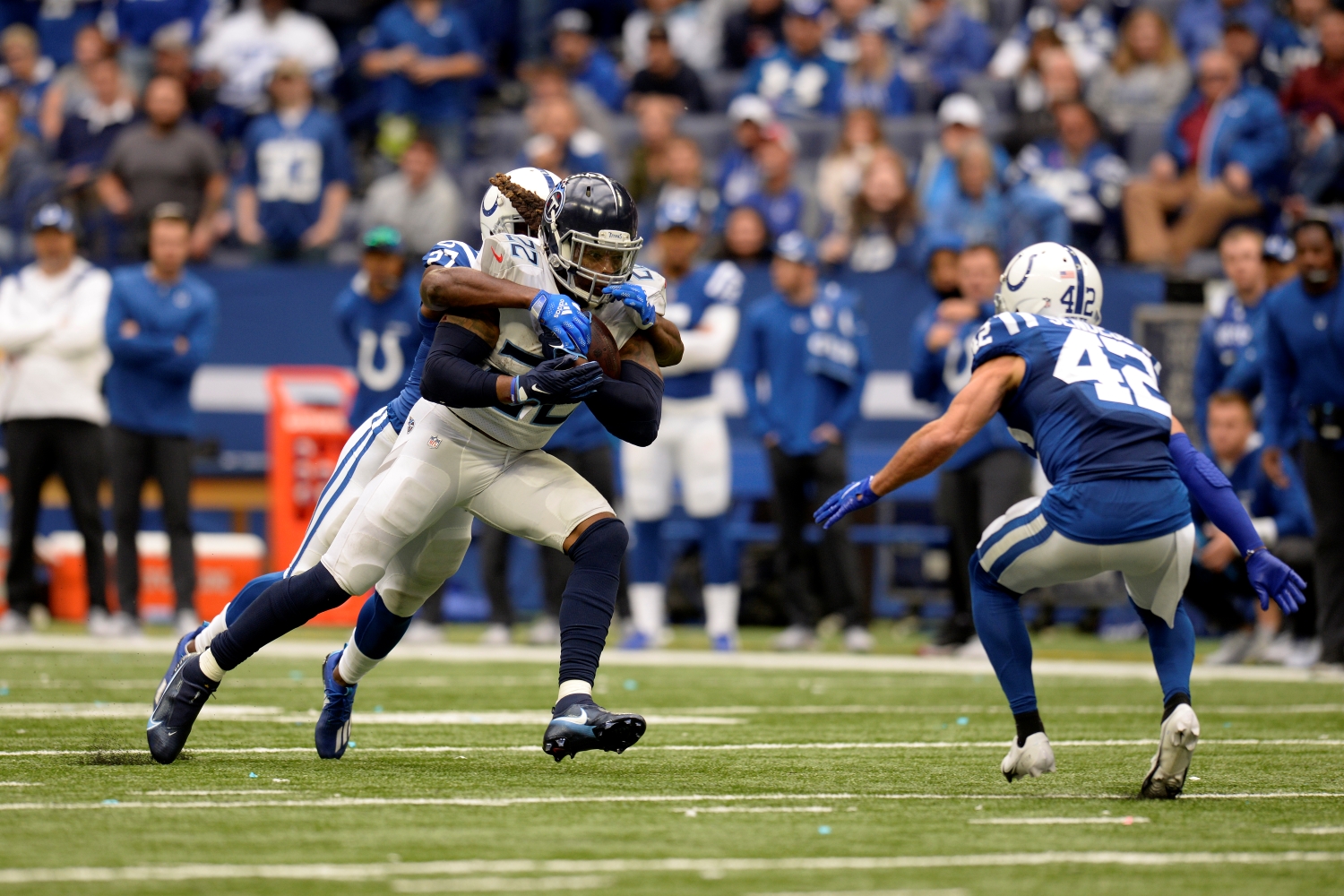 Derrick Henry's Season-Altering Setback Confirms the Curse of 370 Has Claimed Another Victim
Derrick Henry's season-altering injury confirms the Curse of 370 has claimed its latest victim. Have we already seen the best of the Titans star?
In a league where speedy wide receivers, athletic tight ends, and dual-threat quarterbacks generate ample attention, it's impossible to ignore the pure physical dominance of Tennessee Titans running back Derrick Henry. Tipping the scales at 6-foot-3, 247 pounds, the 2016 Heisman Trophy winner has earned a reputation as arguably the best player at his position by plowing his way through and running right past would-be tacklers.
But after getting off to a scorching start to the 2021 season, the NFL's leading rusher suffered a season-altering setback in a Week 8 win over the Indianapolis Colts that confirms the infamous "Curse of 370" has claimed its latest victim.
Derrick Henry's MVP-worthy season came to a crashing halt against the Colts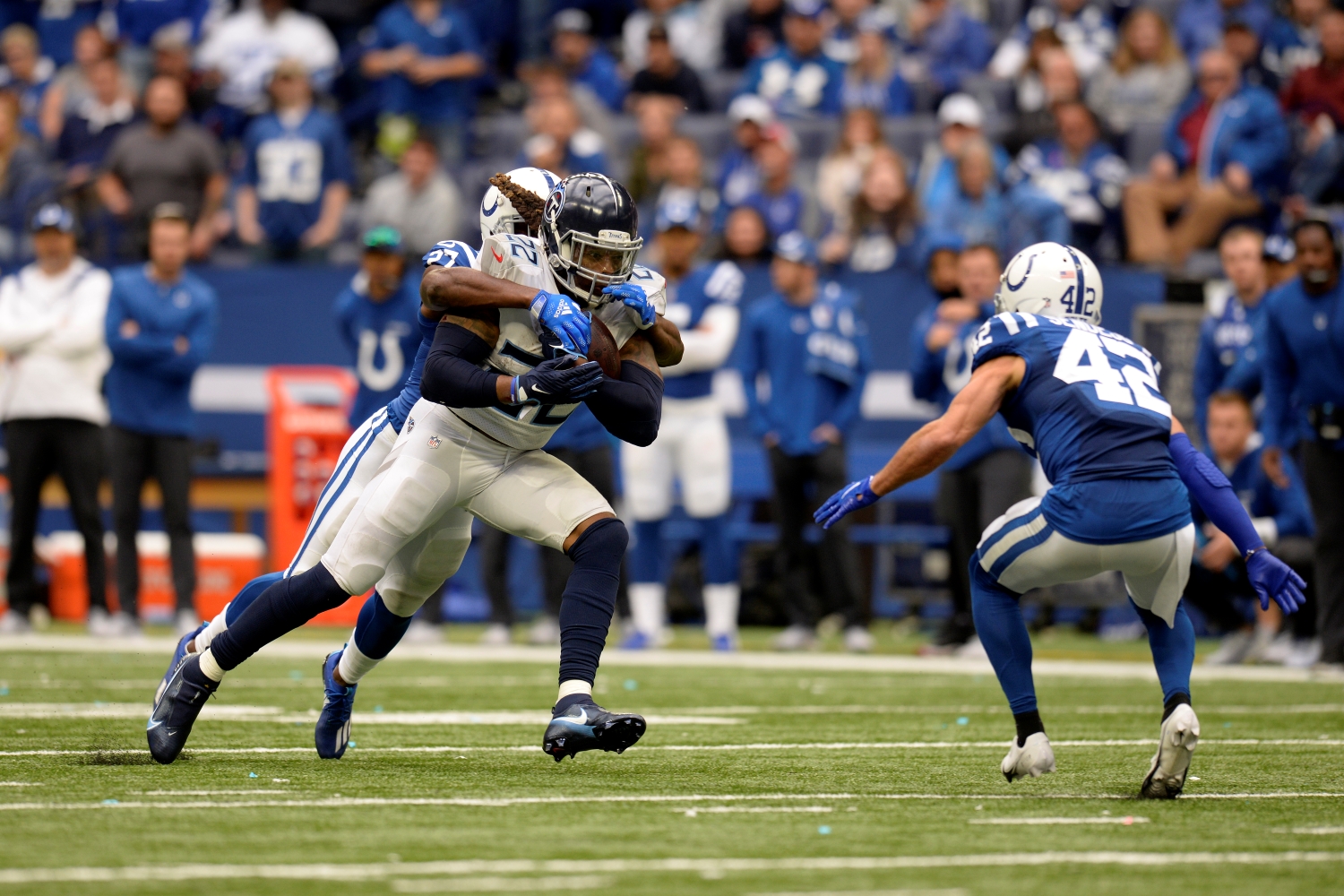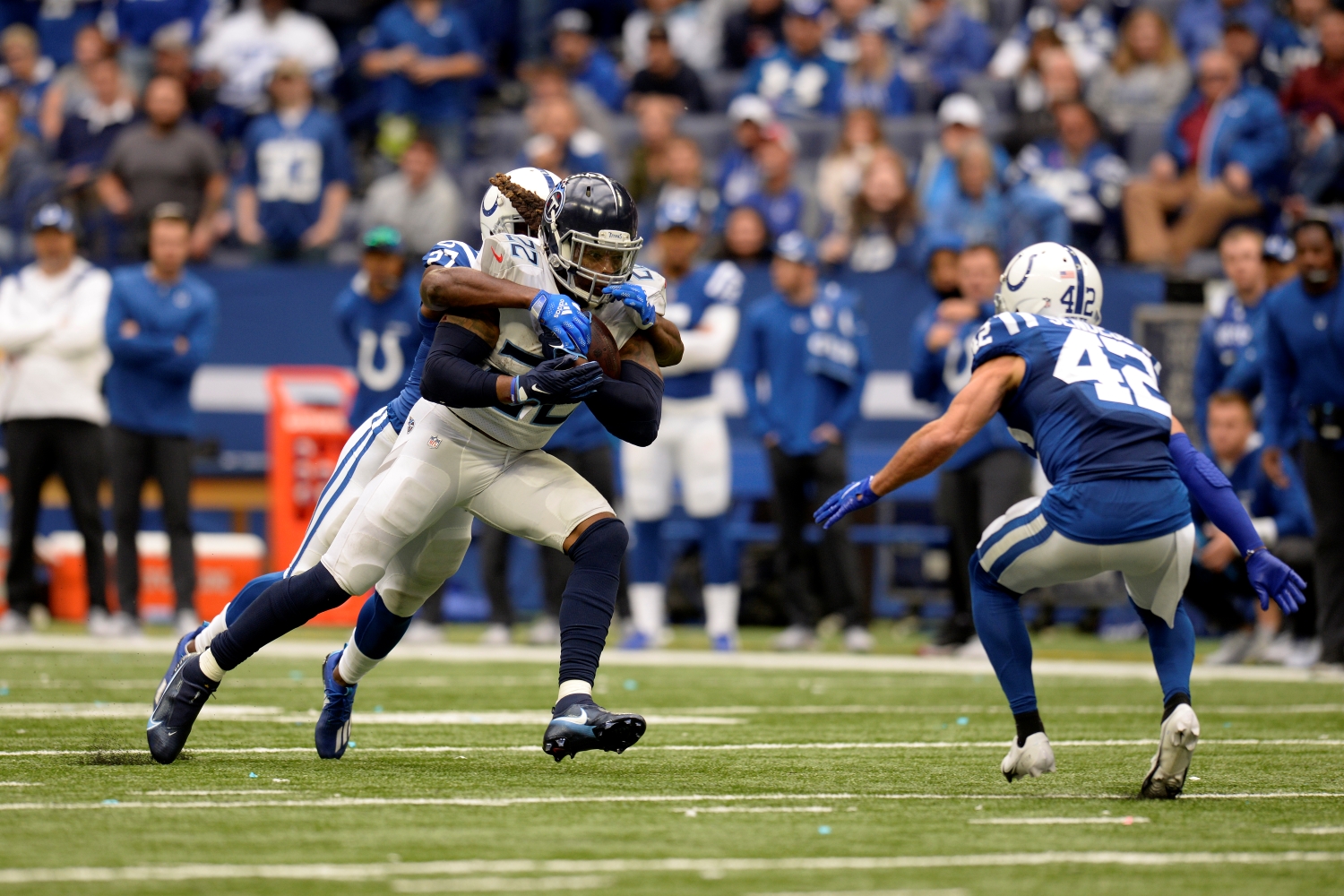 After leading the league in rushing for two straight years, Derrick Henry entered the 2021 season with a chance to strengthen his case for a spot in Canton. Although he found little room to run in Week 1, the two-time Pro Bowler firmly put himself in the MVP conversation by racking up prolific numbers across the Titans' next five games. Henry utilized his rare blend of power and speed to total 725 yards and 10 touchdowns on a whopping 145 carries between Weeks 2-6.
Coming off a grind-it-out effort against the Kansas City Chiefs, the 27-year-old running back couldn't get much going against the Colts.
Unfortunately for Henry, he may not have the opportunity to record his sixth 100-yard game of the season. In fact, Tennessee's most important player may not touch the ball until 2022.
According to ESPN, Henry sustained a right foot injury during his team's latest win. He will undergo surgery Tuesday morning. Titans head coach Mike Vrabel did not put a timeline on his bell-cow back's return.
However, sources told ESPN's Adam Schefter that Henry is expected to miss the remainder of the season. The Titans placed the NFL's leading rusher on injured reserve Monday and signed future Pro Football Hall of Famer Adrian Peterson to their practice squad.
With Henry sidelined indefinitely, the Titans obviously face an uphill battle to replace the production he provided. At the same time, it's fair to wonder whether his unparalleled workload played a role in his season-altering setback.
Ultimately, though, Henry's injury confirms the Curse of 370 is alive and well.
The Curse of 370 has officially claimed another victim
Don't believe in curses?
You may reconsider once you understand the significance of a single number: 370.
As it turns out, that figure represents a dangerous threshold for running backs. While every team would love to have someone who can carry the offense almost singlehandedly, history shows that players who exceed 370 carries experience a significant decline in subsequent seasons.
Aaron Schatz of Football Outsiders first coined the term nearly two decades ago when discussing former Miami Dolphins star Ricky Williams. Coming off a magical 2002 season in which he led the NFL in carries (383) and rushing yards (1,853), Williams recorded more carries (392) and nearly 500 fewer rushing yards (1,372).
He only ran for 1,000 yards once the rest of his career.
Of course, Williams isn't the only running back who backed up the 370-carry theory. Interestingly, you can wind the clock back to the '90s to find other examples.
Terrell Davis blazed a path to the Pro Football Hall of Fame by running for 6,413 yards and 54 touchdowns in his first four years with the Denver Broncos. However, after turning 392 carries into a league-leading 2,008 rushing yards and 21 touchdowns during the 1998 season, he only started 20 more games before knee injuries forced him to retire.
Ironically, '98 turned out to be the peak of Jamal Anderson's career, too, as the longtime Atlanta Falcons star recorded a league-high 410 carries for 1,846 yards and 14 touchdowns. The following year, he appeared in two games, and while he did record a 1,000-yard campaign in 2000, he retired after the 2001 season.
Need more evidence of the infamous curse?
Jamal Lewis turned in an All-Pro campaign in 2003 that included an NFL-best 2,066 rushing yards on a career-high 387 carries. After averaging 5.3 yards per carry that year, he slipped to 4.3 in 2004. And he actually recorded less than four yards per carry in four of his final five years in the NFL.
And let's not forget about ex-Seattle Seahawk Shaun Alexander. He won MVP honors in 2005 by finishing No. 1 in carries (370), rushing yards (1,880), and rushing touchdowns (27). However, his yards-per-carry average subsequently plummeted from 5.1 to 3.6, and he lasted just two more years in the league.
Hopefully for Titans fans, Henry will bounce back and remind everyone why he's generated MVP buzz in recent years. But the fact he recorded 378 carries in 2020 (more than any back in the NFL) and got hurt midway through the 2021 season certainly lends credence to the idea of the curse. Plus, it's fair to point out Henry's yards-per-carry average slipped from a career-high 5.4 in 2020 to just 4.3 through Tennessee's first eight games.
Henry's injury drastically changes the ceiling for a Titans team that should still capture a second straight AFC South title
With the leader of their offense likely out for the remainder of the season, the Titans seem destined to fall short of winning a Super Bowl title. Without a healthy version of Henry in the lineup, they simply don't have the firepower to keep pace with the top teams in the AFC. After all, the 2021 version of Adrian Peterson doesn't bring nearly the same explosion he did during his prime.
Ultimately, Henry's injury will force Ryan Tannehill and the passing game to step up. Luckily for Tennessee, A.J. Brown looks poised to have a big second half of the season now that he's healthy. Then again, with defenses no longer needing to worry about slowing down the Titans' superstar running back, Brown and Julio Jones could have trouble getting open.
The harsh reality of the situation is that no one can replace the value Derrick Henry provided. So, unless AP can rediscover his vintage form at age 37, don't expect the Titans to overcome their playoff woes.
All statistics courtesy of Pro Football Reference.