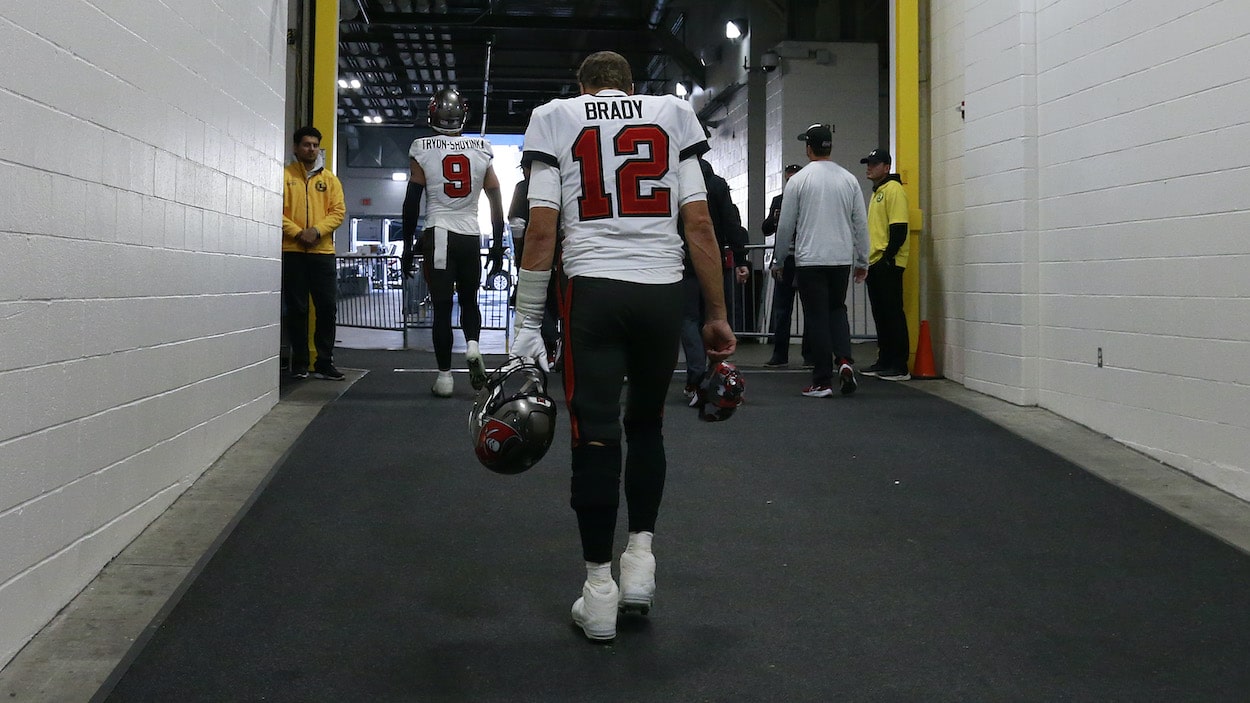 Super Bowl Champ Andrew Whitworth Says Tom Brady Did 'a Disservice' to Teammates Skipping Walkthrough for Robert Kraft Wedding
Andrew Whitworth says it was a big deal that Tom Brady skipped a Buccaneers walkthrough for Robert Kraft's wedding before Week 6 loss.
For over 20 years, Tampa Bay Buccaneers superstar Tom Brady has been the epitome of a winning NFL quarterback. He has a 246-76 career record as a starting QB, a 35-12 playoff record, and, of course, seven Super Bowl titles. At 45, though, things are finally starting to look like they're going in the wrong direction for TB12, and, interestingly, it may not be because of his physical abilities but his commitment to the game, as recently-retired Super Bowl champ Andrew Whitworth pointed out Monday during his visit with Colin Cowherd.  
Tom Brady lost after skipping team walkthrough for Robert Kraft wedding
Buccaneers QB Tom Brady doesn't seem to be approaching the 2022 NFL season with the maniacal dedication he approached the first 22 seasons of his career.
Brady retired at the end of last season, unretired 40 days later, then reported to Buccaneers training camp before leaving for 11 days. The uncharacteristic actions have led many to question the QB's dedication at the age of 45.
Heading into Week 6, Brady again reportedly went missing from team activities. This time it was skipping a pregame walkthrough to attend New England Patriots owner Robert Kraft's wedding, per CBS Sports.
The Buccaneers lost in Week 6 20-18 to the Pittsburgh Steelers and the quarterback combo of Kenny Pickett and Mitchell Trubisky.
On Monday, after the loss, longtime NFL offensive lineman Andrew Whitworth joined The Herd with Colin Cowherd and discussed Brady's current dedication (or lack thereof) to his team.
Whitworth said, "it's probably not a fun take to say, but to me, it bothered me" that Brady missed that team walkthrough. Whitworth noted that Brady was always the guy whose brand was, "You will never outwork me. You will never out-prepare me. I will outwork anybody in this business" But now, he's skipping crucial team activities for weddings.
The retired All-Pro tackle did say he totally understands how Brady is feeling. Whitworth shared that he didn't retire after winning a Super Bowl last season because he couldn't physically play at a high level anymore. He retired (at 40) mainly because "I don't always want to be here. And I don't always want to do this."
Despite sympathizing with the legendary QB, Whitworth thinks that if Brady is playing, he should be there, and it's "a disservice" to his teammates if he's not.. And he says it "bothered" him that Brady skipped "a pivotal day to get ready and prepare."
The Buccaneers suffered on Sunday after their QB's absence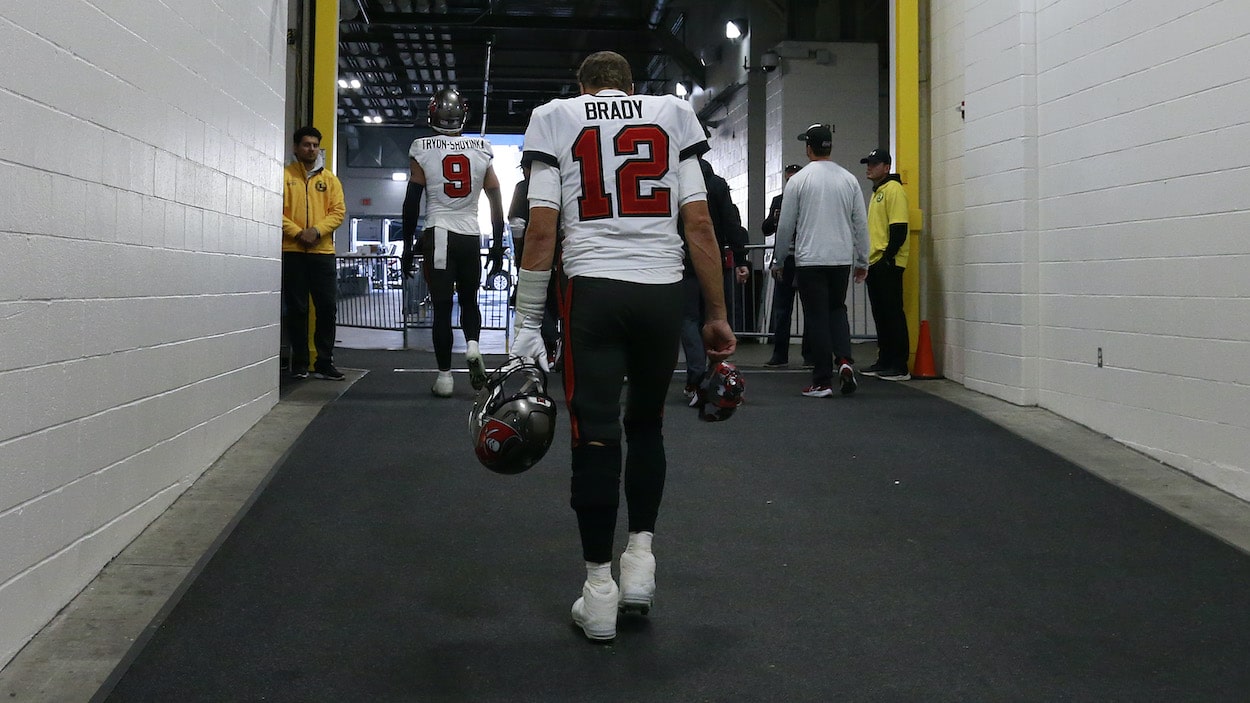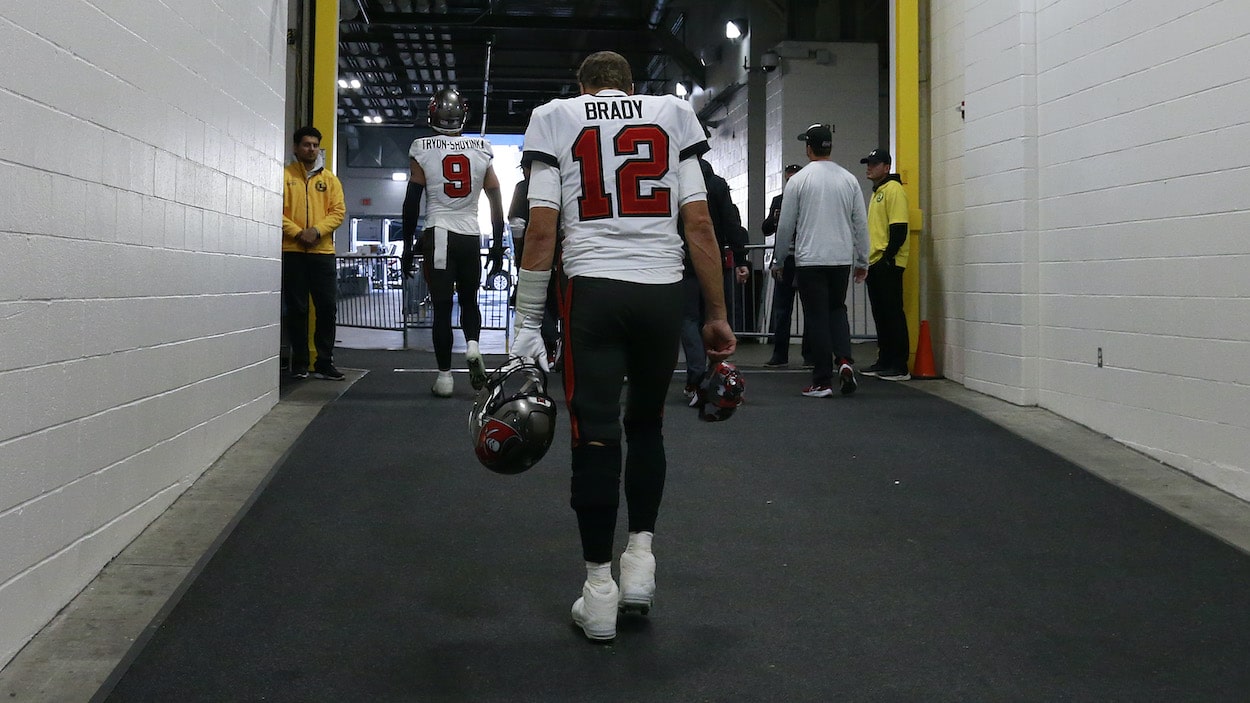 If Tom Brady attended Robert Kraft's wedding and the Buccaneers went up to Pittsburgh and blew the doors off the Steelers in Week 6, none of this would even be a conversation.
However, that's not what happened.
Tampa Bay played horribly on Sunday as rookie Kenny Pickett and the formerly benched Mitchell Trubisky combined for a touchdown and a field goal drive each to beat the Bucs 20-18. It was the Steelers defense, though, that was the real star of the show.
The 2022 Steel Curtain held Brady to 25-of-40 for 243 yards and one touchdown. The D also sacked the QB twice and hit him five times. The enduring moment from the game was Brady screaming at his offensive line on the sideline, which doesn't seem like it could have gone over well after the QB has skipped so much time this season.
To make matters worse, Brady's old coach, Bill Belichick, who still works for Kraft, declined his invitation to the festivities in order to prepare for his team's Sunday matchup against the Cleveland Browns.
The Patriots won 38-15.
Have thoughts on this topic? Keep the conversation rolling in our comments section below.