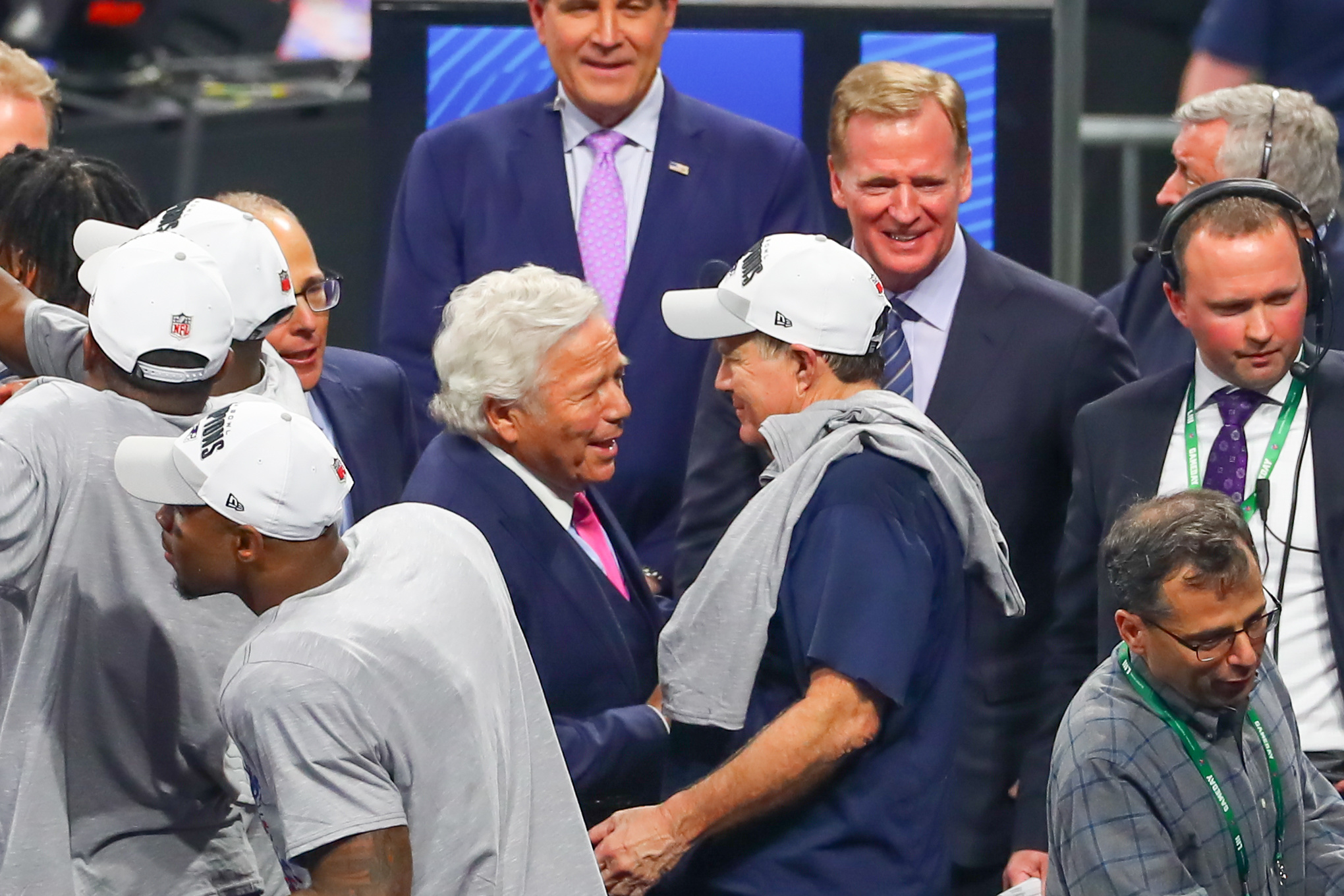 Why Aren't Bill Belichick and Robert Kraft Talking?
There are a lot of questions surrounding the Patriots after a rare losing season. Bill Belichick and Robert Kraft aren't answering them.
Heading into the 2021 NFL season, there are so many questions regarding the New England Patriots. The team is in a very unfamiliar position after undergoing their first losing season since 2000. While there are many questions to be answered, head coach Bill Belichick and owner Robert Kraft aren't providing any help.
Bill Belichick suffered through his worst season in 20 years
It wasn't a pretty season for the New England Patriots and their fans, and the ugliness began even before the season did. Veteran quarterback Tom Brady, who then was the owner of six Super Bowl titles, bolted Bill Belichick and the Patriots via free agency. Brady hooked on with the Tampa Bay Buccaneers and was looking for – and found – that seventh ring.
Meanwhile, the Patriots had no obvious plan to replace their departed legend. Backup quarterback Jarrett Stidham didn't appear to get a grasp of the starting job so the Patriots went out and signed former MVP Cam Newton. Newton and the Patriots struggled mightily in the passing game.
Newton finished the season with eight touchdown passes in 15 games. He threw 10 interceptions. Newton did some damage with high legs, scoring 12 rushing touchdowns. The Patriots failed to make the playoffs after going 7-9, their first losing season since 2000.
Is Cam Newton returning to the Patriots?
If it's up to Cam Newton, he'd be back in a New England Patriots uniform next season. Now that may be because he hasn't generated much other interest around the league and it could be one of the very few options for him. It could also mean that he's familiar with the system and he wants to show what he can do after a full year of preparation.
The Patriots are in much better financial shape than they were last season. New England could put some better pieces in the offense to help their quarterback. The Patriots could look to find their long-term solution through the draft and bring back Newton as the bridge guy.
Rumors around New England also state the Patriots would love to bring Jimmy Garoppolo back into the mix. Garoppolo is the oft-injured starter for the San Francisco 49ers and the Niners say they aren't looking to deal him. Despite that, he remains the Patriots' top choice, according to The Boston Sports Journal's Greg Bedard. "From what I gather from talking to people this week, over the past week, Jimmy Garoppolo still is far and away their Plan A," Bedard said, according to NBC Sports.
Why aren't Bill Belichick and Robert Kraft talking?
Ben Volin of The Boston Globe was a recent guest on WEEI's Ken and Curtis Show and said he was trying to get some answers to some of those frequently asked New England Patriots questions. Volin expressed his frustration when he attempted to reach out to head coach Bill Belichick and owner Robert Kraft. Neither were talking.
Host Ken Laird asked Volin where Belichick and Kraft are. "That's a great question," Volin said. "They've been hiding from the public and hiding from accountability and I've requested from the Patriots, can we walk to Belichick? Can we talk to Kraft? With Belichick, I was met with, 'well he never talks this time of year so you're never going to get him.' It's true. Twenty-nine, 30 teams at the combine give press conferences with their coach and GM, but not the Patriots because they're better than everyone else."
Volin then asked about Kraft's availability and was asked why he wanted to speak with him about the football team. Volin responded with, "Because he's the owner. He signs the checks. He's the first guy at the podium to hold up the Lombardi Trophy when they win the Super Bowl. I would love to hear from Kraft. They are really ducking accountability here."